Whether you're dressing up in costumes, taking the kids trick-or-treating, or carving pumpkins for your front porch, you're never too old for Halloween. In Baltimore, there's something for everyone during this spooky season, so make the most of October with theater performances, fitness events, live music, and kids' activities. 
DEADLY DANCE PARTIES
10/26: WTMD's Halloween Spooktacular
In partnership with local horror film extraordinaire Chris LaMartina, WTMD presents this Halloween bash complete with costumes, poetry, a séance, and, of course, local music. The live broadcast will feature area artists covering familiar Halloween jams, including The Lexington Arrows performing "She's Fallen in Love with a Monster Man," The Lushpockets reinterpreting "I Put a Spell on You," Eze Jackson taking on "Haunted House of Rock," and more. 1 Olympic Place, 8-11 p.m., $15-17
---
⇓ Article continues below ⇓
---
10/28: Believe in Music & Maryland Science Center's Halloween
Come dressed to impress for lots of live music, local beer, and scientific fun on the harbor. This year's lineup includes local acts Black Sage and Bond St. District, as well as Weezer, Allman Brothers, and Old Crow Medicine Show tribute bands. Maryland Science Center, 601 Light St. 8 p.m. $35-70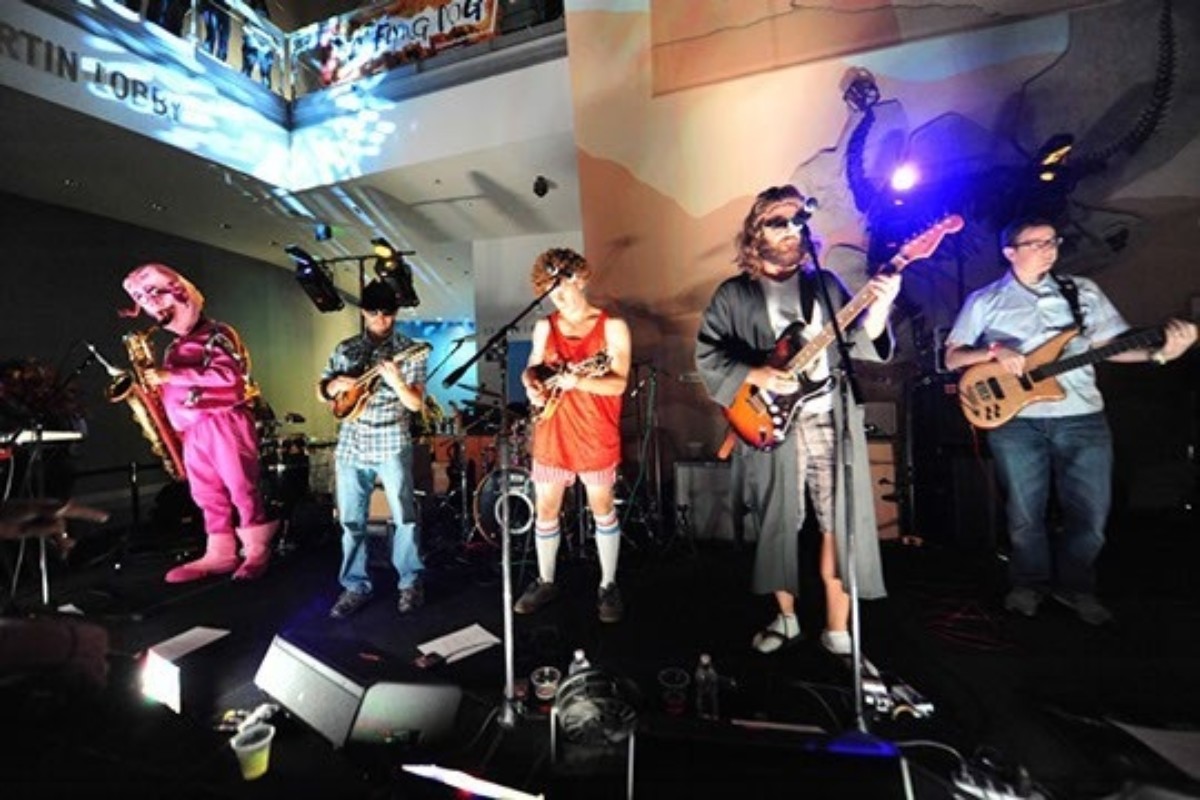 10/28: Glowball
After the kids are tucked in, head to the Creative Alliance to hit the dance floor with afrobeat headliners Underground System at this annual party following the Lantern Parade. Creative Alliance, 3134 Eastern Ave., 9:30 p.m., $10-13
10/28: The Lord Baltimore Masquerade Ball
Throw on a mask and don your Romance-era garb for this ballroom extravaganza at downtown's historic (and presumably haunted) Lord Baltimore Hotel. Indulge in a three-course dinner featuring  shrimp bisque, prime rib, and festive desserts like the "Dark and S'Morey" (dark chocolate cream, brûléed vanilla bean marshmallows, and graham crumble in a chocolate dome), before dancing the night away with classic tunes performed by a 10-piece band. At 11:30 p.m., the party moves up to the LB Skybar, where guests can enjoy craft cocktails and a gourmet breakfast buffet. The Lord Baltimore Hotel, 20 W. Baltimore St., 7 p.m., $48-100
10/28-10/30: Rocky Horror at Blue Pit BBQ
Get out of your seat to do the time warp at this spirited drag performance in Hampden. The weekend-long fundraiser for local organization Youth Empowered Society also features a nightly costume contest at midnight. Blue Pit BBQ & Whiskey Bar, 1601 Union Ave., 443-948-5590
10/28: Federal Hill-O-Ween
Shake your bones at multiple Federal Hill bars (think Mother's, Wayward, MaGerk's, and the like) at this annual pub crawl. Boo-zy drink specials will include $3 Miller Lites, $4 Blue Moons, and $4 Leinenkugel's Harvest Patch cans. Multiple locations including 1113 S. Charles St., 5 p.m.-12 a.m., $10
PETRYFYING PERFORMANCES
10/13-11/5: The Woman in Black
This Gothic thriller, set in the English countryside, comes to life in Fells Point. Fells Point Corner Theatre, 251 S. Ann St. Times & prices vary.
10/21: The Addams Family Burlesque and Variety
Head to the Ottobar for this sexy show featuring Fester, Morticia, Gomez, and other creepy and kooky characters. Ottobar, 2549 N. Howard St., 8 p.m.,410-662-0069, $15
10/26: The Stoop in the Dark
Stoop Storytelling presents tales of the unseen, unknown, and untold in a completely dark theater. The Senator Theatre, 5904 York Rd. 8 p.m. $2.
10/27: Burlesque-A-Pades Halloween Spooktacular
This NYC burlesque troupe celebrates the scary season with a show full of thrills and chills. Creative Alliance, 3134 Eastern Ave. 8 p.m. $22-25

10/27-11/25: Little Shop of Horrors
Pet plants turn deadly in this comedic, science-fiction horror story. Vagabond Players, 806 S. Broadway. Times & prices vary.
COSTUMED CARDIO
10/14: Zombie Zoom
For five bucks, wrap yourself in toilet paper (or whatever costume you crave) and run to support Baltimore City Recreation & Parks in this scenic 5K. Gwynns Falls Trail, 4921 Windsor Mill Rd., Gwynn Oak. 8 a.m. $5
10/28: KidsPeace Trick-or-Trot
Join the Baltimore Orioles for this dress-up 5K run or 1-mile walk to support kids in foster care. Oriole Park at Camden Yards, 333 W. Camden St. 8 a.m. $35-40.
KID-FRIENDLY FRIGHTS
10/26: Toddler Time Halloween
Dress up your tykes for this B&O Railroad Museum bash, offering kid-friendly crafts, treats, train rides, and a costume parade around the museum. 901 W. Pratt St., 10:30 a.m., 410-752-2490, $12-18
10/27-29: ZOOBOOO!
The local zoo transforms into a frightfully fun affair with costume contests, trick-or-treating, bounce houses, carnival games, and more. The Maryland Zoo in Baltimore, 1 Safari Pl. Fri.-Sun. 10 a.m.-4 p.m. Free-$19.
10/28: Spooky Science
Spend your afternoon with scary experiments, slime-making workshops, and a pumpkin roof-drop. Maryland Science Center, 601 Light St. 12-4 p.m. Free-$28.95.
10/28: BOOseum Bash
The kids' museum hosts an afternoon of creepy-crawly creatures, Halloween music, and a costume parade. Port Discovery, 35 Market Pl. 10 a.m.-5 p.m. Free-$15.95.
10/28-29: Witches & Wizards Weekend
Learn about the magic of railroads with train rides, edible potions, and quidditch games for the kids. B&O Railroad Museum, 901 W. Pratt St. Times vary. Free-$18.
10/28: Great Halloween Lantern Parade & Festival
Bring the entire family to enjoy lantern-making, live music, crafts, hayrides, and food truck fare before the 18th annual procession steps off from Patterson Park after sunset. Patterson Park Pulaski Monument, 3:30-8 p.m., Free.
10/28: SoBo Halloween Bash
Head to Riverside Park to celebrate the haunted holiday with friends and neighbors at this annual event featuring live music, crafts, beer and wine, and its own book nook. Riverside Park, 1800 Covington St., 1-5 p.m., Free
10/29: Trick or Treat for Tots
Come in costume for this self-guided adventure around the Robinson Nature Center, highlighting music, crafts, live animals, and healthy treats from MOM's Organic and David's Natural Market. Robinson Nature Center, 6692 Cedar Lane, Columbia, 410-313-0400, $5-10
10/30: Sugar Skull-Making with Artesanas Mexicanas
Bring your little monsters to make sugar skulls with the Creative Alliance for Día de los Muertos. Enoch Pratt Free Library, 158 N. Linwood Ave. 3:30 p.m. Free.
STARTLING SIGHTS
10/6-11/4: The Nevermore Haunt
This Charm City-inspired haunted house tells the story of mangled factory workers and vengeful sailors. The downtown attraction offers free shuttle service from the corner of Thames and Ann streets, so be sure to swing by one of the Fells Point bars beforehand for a little liquid courage to calm your nerves. 450 Mott St., 410-696-3313, $25
10/6-10/28: Watermark's Historic Ghost Walk
Tiptoe across the creaking floors of the historic Sands House—one of the Annapolis' oldest homes—on this creepy ghost tour, where costumed guides lead you around the capital's most haunted sites. Tour departs from Historic Annapolis Museum, 99 Main St., Annapolis, 410-268-7600, $14-22
10/7: A Toast Among Ghosts
Honor the life and legacy of Edgar Allan Poe in this former cemetery where the iconic poet once applied to be headmaster. With the Foundation for the Baltimore County Public Library, enjoy live music, local beer, food trucks, and ghost story readings for a good cause. Baltimore County Public Library, Reisterstown Branch, 21 Cockeys Mill Rd., Reisterstown, 7-10 p.m., $20-40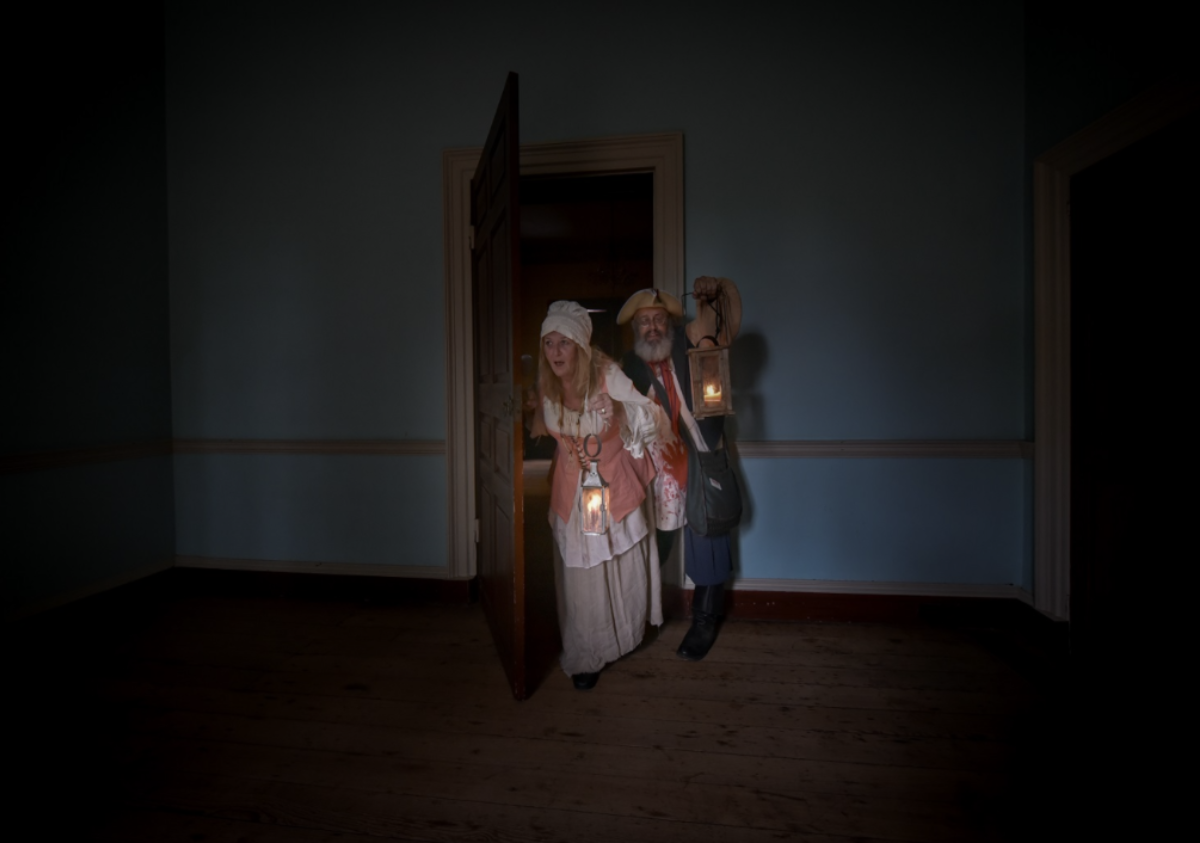 -Photography by Sabrina Raymond
10/13-11/5: CarnEVIL
 Witness Merriweather Park at Symphony Woods transform into the ultimate Halloween carnival, complete with escaped circus animals and creepy clowns running around the menacing midway. There will also be plenty of fair foods, local Jailbreak brews, and spine-chilling cocktails to go around. Merriweather Park, 10475 Little Patuxent Parkway, Columbia, 6-11 p.m., $21-63
10/19-28: MICA Haunted House
MICA's annual student-run production takes visitors on an immersive trip through a terrifyingly themed fun house. 1601 W. Mount Royal Ave. Thurs.-Sat. Times vary. $5-10
---
---