Baltimore police officer Caesar Goodson Jr. was acquitted Thursday morning of all charges, including second-degree depraved heart murder, that he faced related to the arrest and transportation of Freddie Gray, who died of spinal cord injuries suffered while in police custody last April.

Goodson had pled not guilty to second-degree murder, manslaughter, manslaughter by vehicle, assault, reckless endangerment, and misconduct in office. He had opted for a bench trial instead of a jury trial and Baltimore Circuit Court Judge Barry Williams announced his ruling in a packed courtroom after closing arguments concluded earlier this week. A small group of activists gathered outside the downtown courthouse to protest the decision.
Prosecutors alleged that the 46-year-old officer gave Gray a so-called "rough ride," a claim they later backed off from after a lack of clear videotape evidence or witness testimony supporting that theory. They also accused Goodson of negligence when he failed to seatbelt Gray during several stops made while Gray was handcuffed and shackled, but left unsecured in the back of a transport van.
City prosecutors argued as well that Goodson neglected to provide Gray with medical assistance after the 25-year-old indicated that he needed to be taken to the hospital.
Goodson's defense team emphasized that Gray was uncooperative and potentially dangerous, and that the officer used reasonable discretion to not seat belt him. Goodson's lawyers also argued that Gray did not display physical symptoms or injuries that required immediate medical attention at the various stops during his transportation.
In reading his verdicts, Judge Williams repeatedly said that prosecutors did not demonstrate that Goodson's actions in driving the van—or inactions, in failing to properly secure Gray or transport him to hospital—were "intentional or deliberate and not an error in judgment."
"There was no credible evidence presented at this trial that the defendant intended to commit a crime," Williams concluded. The official transcript of the verdict can be found here.
Specifically, Williams said that prosecutors did not prove that Goodson gave Gray a "rough ride" or behaved differently than a "reasonable officer" in similar circumstances. Williams also said that prosecutors did not demonstrate with certainty that Gray's ultimately fatal spinal cord injury would've been apparent before the final stop at the Western District police station. Williams said that despite testimony from the state medical examiner's office that Gray's injuries most likely occurred between one of the early stops in Gray's transportation, weight also had to be given to the testimony of Officer William Porter, who said that Gray did not appear to be injured during his interactions with the detainee.
"When you've worked with and spent time with Freddie Gray's family and loved ones—it's not a good feeling right now," Tessa Hill-Aston, president of the Baltimore chapter of the NAACP, said in an emotional moment outside the courtroom immediately after the verdict was announced. "For someone to be dead after they were okay and when no crime was committed by Freddie Gray is alarming. I have nothing against the police. I respect police officers and the job they do. We need them. But the police have to change the way they treat young black men, particularly in poor communities."
"Some of the rules and policies regarding the police are starting to change, but it's too late for Freddie Gray," Hill-Aston added. "Advocates and the people who live in these communities have plenty of work to do."
Judge Williams also presided over the bench trial last month of Officer Edward Nero, the second Baltimore police officer to stand trial in Gray's death. Nero was also acquitted on all charges.
Defense attorneys for Nero, as well as those for Porter, whose previous case related to Gray's death ended in a hung jury, had argued that ultimate responsibility for buckling detainees rested with Goodson as the transport van driver.
Outside lawyers observing the Goodson trial said they did not expect convictions on any counts, given the evidence presented and the high burden of negligence in criminal court versus a negligence finding in a civil suit.
"Prosecutors have to prove intentional misconduct and I don't think they did that—so that means he's found not guilty," attorney J. Wyndal Gordon said. "The evidence wasn't there. Does that mean he's [Goodson's] innocent? Criminally, yes. But morally, I don't think so. I think all the officers are morally responsible [for Freddie Gray's death]."
"In the court of public opinion, did something go wrong?" Wayne Cohen, a George Washington University law professor, asked rhetorically. "Yes. But a guilty verdict on any of the charges [would've been] very surprising. In holding an individual guilty of criminal charges, you have to look at the evidence. With the people I've spoken with, the feeling is that it's just not there."
There is a high bar in criminal court because of the potential to take away someone's "life and liberty" [a jail sentence]," Cohen continued. "There's a lower bar for wrongful death claims in civil court."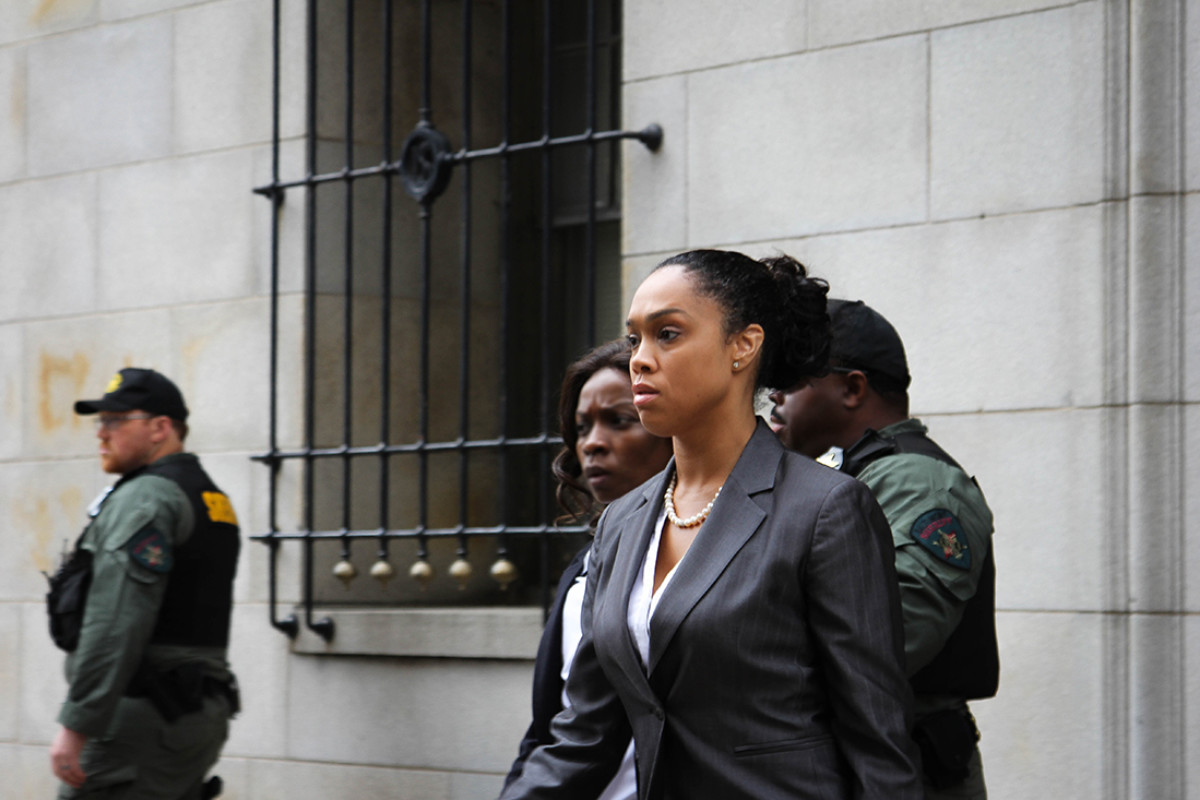 Baltimore state's attorney Marilyn Mosby leaves the courthouse on Thursday morning. -Meredith Herzing
Cohen said he thought that City State's Attorney General Marilyn Mosby might have moved too quickly in bringing charges against the officers—not, for example, fully thinking through the strategy required in putting police officers on trial. Gordon said he didn't think that a failure to earn convictions to date meant that Mosby had overreached.
"Judge Williams ruled against defense motions to dismiss the charges in these cases," Gordon said. "That shows these were credible and viable charges. It took courage to bring charges against police officers—especially once you realized the police officers investigating the case were not necessarily going to be supportive of efforts to bring these officers to trial."
As far as police leadership accountability in terms of Gray's death while in custody, Cohen pointed to the $6.4 million city civil settlement with Gray's family. He also noted changes in police practices and procedures, including cameras in the back of police vans and a mandatory seat-belting policy.

University of Baltimore professor and criminologist Jeffrey Ian Ross said that it's unusual for a city to settle with a civil case prior to the resolution of criminal charges, suggesting perhaps that city officials had assumed one or more criminal convictions in the Gray case. Ross added that, despite the failure of prosecutors to earn convictions in their first three attempts, the trials of Porter and the other officers would likely go forward.
"At this point, the investigations and a lot of work by prosecutors has been done," Ross said. "I think they [the trials] will go forward. If for no other reason than avoiding public dissatisfaction."
Porter is scheduled to be tried again in September. Officer Garrett Miller, who faces similar allegations as Nero, including assault and reckless endangerment, and Lt. Brian Rice, who faces a manslaughter charge, are scheduled to go to trial in July. Sgt. Alicia White, a supervisor who arrived on the scene of Gray's arrest and transportation, also faces manslaughter charges, among other allegations. Her trial is scheduled for October.
All the officers have pleaded not guilty.
The Peoples Power Assembly, which has been among the groups leading local protests since Gray's death, gathered outside the courthouse for the verdict. The group has held small protests during trials for the three officers, who have gone to court to date. They are planning a second event tonight at 5 p.m. at Pennsylvania and North avenues in West Baltimore, to discuss the outcome of the trial.
Additionally, protestors were chanting "Send those killer cops to jail" and "What's the problem? The whole damn system. What's the solution? Revolution." The Baltimore Police Department said they are prepared for any protests that might arise from the verdict.
"We have an open line of communication with our stakeholders," BPD spokesman T.J. Smith told The Sun. "Not only is the Police Department prepared, but the community is, too. This is a partnership."

Mayor Stephanie Rawlings-Blake released a statement, urging residents to wait for all of the trials involved in the Freddie Gray case to come to a close.
"We once again ask the citizens to be patient and to allow the entire process to come to a conclusion," Rawlings-Blake said in the statement. "I am proud that we as a community have come together to move our city forward over the past year. I know that the citizens of Baltimore will continue to respect the judicial process and ruling of the court."
---
---