-Photo by David Colwell
Hitting the highway this fall, but can't agree on an itinerary? We've picked three scenic getaways with stops to suit just about anyone's agenda, whether you're a nature nut, a history buff, a comfort seeker, a chronic shopper—or maybe a little bit of each. Mix and match these highlights to create the perfect autumn road trip. Now all you have to do is decide who's driving.
-Shutterstock
Meander the Mountains
Head west on Interstate 70 and Alternate U.S. 40 through the foothills into dark Appalachian forests. Picnic beneath the pines or hike the Appalachian Trail as it shimmies along ridges offering unbeatable views of three states. When you're ready, pick a country road and meander past silent Civil War battlefields to the Potomac River. Then tramp the steep streets of Harpers Ferry, WV, where the past, present, and two scenic rivers converge.
Nature
Before there were Washington Monuments in Baltimore or D.C., citizens of tiny Boonsboro marched up South Mountain on July 4, 1827, to erect a stone mini-memorial to the first President. Today, visitors can drive the slope to Washington Monument State Park (301-791-4767) and walk to this rustic lookout (rebuilt in the 1930s). Bring a camera; the 360-degree views are spectacular and you may spy migrating hawks. Next, travel west to Williamsport to enjoy foliage along the C&O Canal Towpath. The National Historical Park's Visitor Center (301-582-0813) has maps of a 1.5-mile route leading to a surviving lock house and a stately stone aqueduct. Or bring bicycles and cruise south to Falling Waters, where Confederate troops once escaped across the Potomac. Too pooped to pedal? Spread a blanket at Williamsport's Riverbottom Park and watch fallen leaves float by like fragile toy barges.
History
Don't miss Washington Monument State Park's (301-791-4767) new museum. Exhibits include an amusingly detailed account of the monument's construction and a narrated diorama depicting the Battle of South Mountain, a prelude to the Battle of Antietam in nearby Sharpsburg. Even 150 years later, it's profoundly moving to think of the 23,000 soldiers killed, wounded, or missing at solemn, bucolic Antietam National Battlefield (301-432-5124). Self-guided auto tours will deepen your empathy. Conclude your tour in Harpers Ferry, WV, where the National Park Service has turned the city and neighboring Bolivar Heights into a living museum honoring the community's industrial, cultural, and violent past. Only have two hours? Spend them in Lower Town, the historic district comprising two-dozen attractions, including museums devoted to John Brown and the Civil War.
Comfort
Value, fresh ingredients, and haute home cooking, here are three food finds along your route. For lunch, try Cannonball Deli in Harpers Ferry (304-535-1762), popular with hikers and locals for its sandwiches and sociability. Order a lamb or chicken gyro and admire the intricate walking sticks the owner carves. (They're also for sale.) Those white vans with black spots you see roaming rural roads? Follow one home to South Mountain Creamery in Middletown (301-371-8565) and buy bottled (yes!) milk, eggs, farm-churned butter, and luscious homemade ice cream. You could bypass Frederick, but don't if it's breakfast, lunch, or dinnertime. Family Meal (301-378-2895), chef Bryan Voltaggio's homage to mom-cooked meals, elevates comfort food. Think fries cooked in duck fat with yummy dipping sauces (smoked ketchup, salsa verde) and chicken pot pies miniaturized as creamy, veggie-stuffed fritters.
Shopping
Before his big hike, explorer Meriwether Lewis stocked up on weapons and tools in Harpers Ferry. Today, you can buy essentials and luxuries in Lower Town. Appalachian Trail trekkers love The Outfitter at Harpers Ferry (888-535-2087) for hiking, cycling, and other outdoor equipment. It sells tenderfoot gear, too, like "I hiked the width of the Appalachian Trail" T-shirts. (Fill your water bottles at its bamboo spigot.) At Tenfold Fair Trade Collection, a global gift shop (304-579-8525), make purchases with a peaceful conscience from stock that includes colorful Ikat shoulder bags from Nepal, rustic birdhouses from the Philippines, and fused-glass earrings from Chile. Don't miss the National Park Bookshop (304-535-6881), a not- at-all-musty trove of local history and culture, from brick-thick Civil War tomes and soldiers' caps for the kids to Appalachian cookbooks and music CDs by West Virginia's fiddle-playing senator, the late Robert Byrd.
---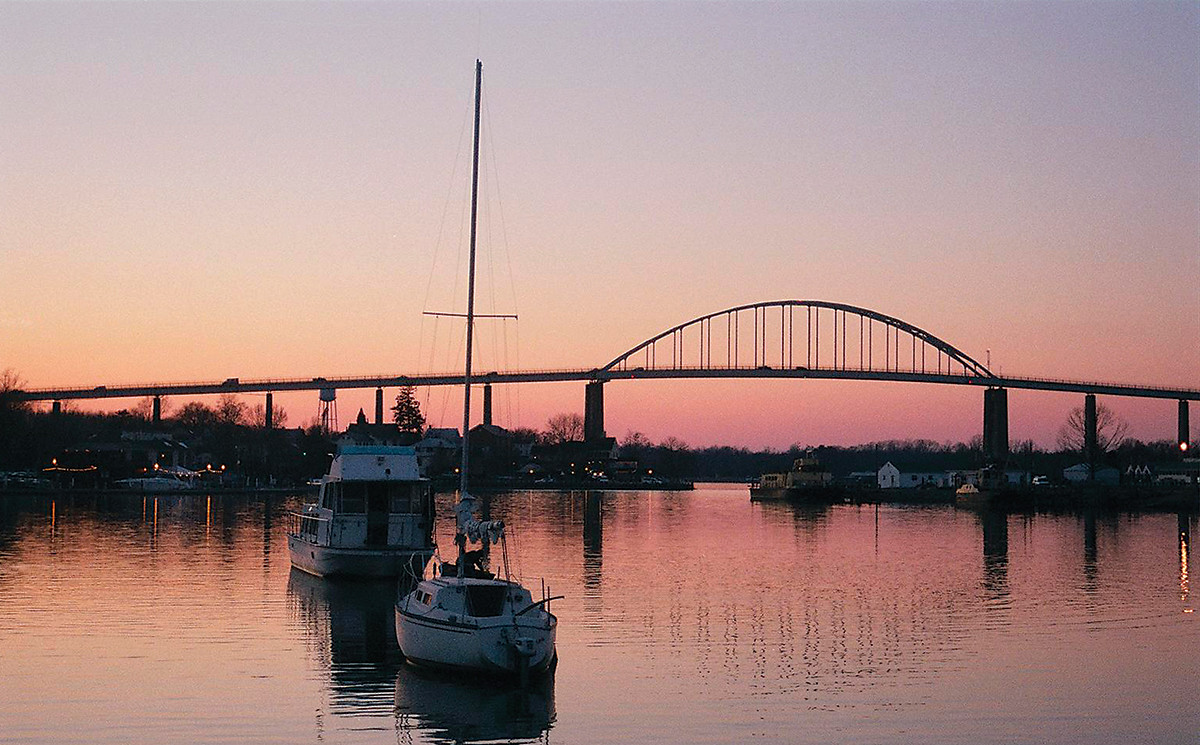 -Shutterstock
Water, Water Everywhere
Summer dictates you reach the Eastern Shore via the Bay Bridge.
But in fall, take I-95 north instead (U.S. 40 if you're ambling) to explore the woodsy and watery nooks of the upper Chesapeake Bay. Count hawks as they soar above a bluff or pretend you're a raptor as you zip-line over a Delaware pond. Stop to eat, shop, and be awestruck by ship traffic in Chesapeake City, whose historic canal still means (big) business.
Nature
Abandon I-95 at MD 272 and head north, stopping at North East Creek to photograph Gilpin's Falls Covered Bridge. The road ends to the south at Elk Neck State Park (410-287-5333), 2,100 acres of wooded beauty wedged between two rivers. At Turkey Point, join local birders as they count migrating hawks. Drive north, past Elkton, to Fair Hill Natural Resources Management Area (410-398-1246), ex-galloping grounds of the du Pont family. Ramble miles of scenic trails made for hiking, cycling, or (appropriately) horseback riding. Rent a steed from Fair Hill Stables (410-620-3883) and mosey over Foxcatcher Farm Covered Bridge. Type A's, are we? Swing through the foliage at Lums Pond State Park in nearby Bear, DE, (302-368-6989), home of Delaware's first (brand-new) zip-line course Go Ape Treetop Adventure (800-971-8271). This is leaf-zooming: five lines (four crossing the 200-acre pond) plus rope ladders, a trapeze, and Tarzan swings.
History
In Elk Neck State Park, enjoy commanding views of the Chesapeake from Turkey Point Lighthouse (410-287-8170) perched on a 100-foot-high bluff. Turkey Point had more women keepers than any of the other lighthouses on the bay. Hear their stories of hardship and vigilance during weekend tours. Automated now, Turkey Point Lighthouse guides ships transiting the nation's busiest canal, the Chesapeake & Delaware, which opened in 1829. Loop around the Elk River to Chesapeake City (twin towns bisected by the canal). At the C&D Canal Museum (410-885-5622) in South Chesapeake City, you'll learn how long it took to hand dig this 14-mile shortcut to the port of Baltimore (26 years) and see the workers' humble earthmovers (wooden buckets) plus a giant waterwheel used when the canal had locks.
Comfort
Chesapeake City's "main street" is 450 feet wide, and traffic watching is wildly popular. Grab a front-row seat on the deck at Schaefer's Canal House (410-885-7200), a north shore institution that reopened last fall after years in renovation limbo. Order something frosty, anything crab, and admire the parade of jumbo ships and jaunty speedboats. Booking an upper-floor room at the Ship Watch Inn (410-885-5300), a genteel South Chesapeake City B&B, is like having a skybox for the canalcade—only closer to the action. Find a rocking chair and prepare to feel Lilliputian as a 600-foot ship stuffed with Toyotas passes your balcony. Prefer less activity? Elk Forge Bed & Breakfast outside Elkton (410-392-9007) offers 14 exquisitely decorated rooms and suites and a day spa on five acres of woods and gardens. Fireplaces, couples' whirlpools, and sunset walks spell romance to us.
Shopping
Stop at North East's Day Basket Factory (410-287-6100), where they've been hand weaving handsome split-oak baskets for over 130 years. A picnic basket or market basket makes a handy fall travel accessory. Just sayin'. Get inspiration and ingredients for a lush yard at Terra Joy Edible Landscapes in North East (443-480-5417). This nursery/gift shop preaches that landscaping with herbs, fruit trees, and berry bushes makes your backyard look and taste great. Beats mowing, too. Shop South Chesapeake City's Bohemia Avenue for these and other treasures: boomer-vintage playthings at Toys from the Attic & More (410-885-2554), accessories for garden-lovers at Thyme in the Garden (410-885-2647), vintage stoneware at Katydids (410-960-0855), handcrafted silver, pewter, and turquoise jewelry at My Jewelry Place (410-885-2005), and women's fashions at Chick's (410-885-3933).
---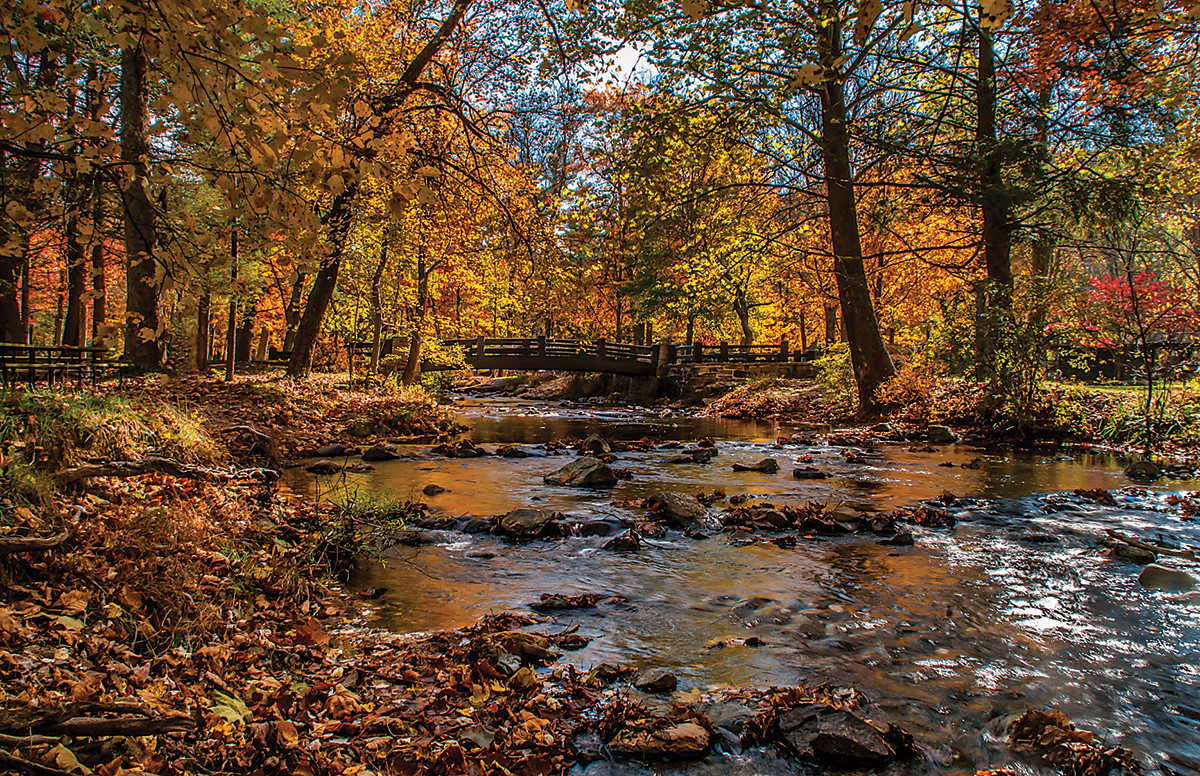 -Shutterstock
Through Fields & Forests
Take the Northwest Passage, MD 140,
to Westminster, then head for south-central Pennsylvania, a land of apple orchards, limestone streams, fall festivals, and deep forests. Buy apples and fresh cider at a fruit stand. (They're everywhere.) Tour Gettysburg National Military Park's 150th anniversary exhibits. Explore mountain trails on foot or fat tires. When it's time to slow down, visit the idyllic village of Boiling Springs, PA, for a leisurely meal and some holiday shopping.
Nature
From Gettysburg, take U.S. 30 west into Michaux State Forest (717-352-2211), 85,000 acres of mountainous woodlands laced with trails for hikers, mountain bikers, and equestrians. Ramble scenic gravel roads on two or four wheels, hugging ridges and plunging through pine and hardwood forests dotted with lakes and streams. Drive Michaux's super-scenic north-south thoroughfare, PA 233, which links three state parks nestled within the forest, (south to north) Mont Alto (717-352-2161), Caledonia (717-352-2161), and Pine Grove Furnace (717-486-7174). Nosh lunch at Mont Alto's vintage picnic pavilion. Wander an ancient pine and hemlock forest in Caledonia. Climb a mountain trail at Pine Grove Furnace for knockout views from Pole Steeple Vista. Don boots and backpacks to tackle the other super-scenic path through this enchanting forest: the Appalachian Trail, 37 miles of which transit Michaux.
History
If the movie moved you, imagine how you'll feel walking where Lincoln delivered the Gettysburg Address 150 years ago. Gettysburg National Military Park (717-334-1124) deserves a day's visit. Don't miss the themed galleries and evocative, ginormous cyclorama, or The Soldiers' National Cemetery where Lincoln gave his haunting speech. Then head west on Lincoln Highway (U.S. 30) to visit Thaddeus Stevens Blacksmith Shop in Caledonia State Park, where the fiery abolitionist owned an iron works. At the Appalachian Trail Museum (717-486-8126) in Pine Grove Furnace park, learn about the trail's pioneers and hikers, including a Keds-wearing grandmother. Ask a park ranger about the bizarre legend of a quarryman who drowned trying to save his lunch-pail dessert, a slice of pumpkin pie. His hairy hand reputedly haunts the quarry (now Fuller Lake), where glowing jack-o'-lanterns are set adrift in tribute around Halloween.
Comfort
Need a retreat from Gettysburg's anniversary hubbub? Here are two lodging options less than an hour away. Reserve one of six beautifully decorated rooms and suites at Sheppard Mansion (717-633-8075), a luxurious Select Registry B&B in downtown Hanover, PA, another battle-proud town. "The Picket," a bronze statue in the town square, honors the 1863 Battle of Hanover. Or rest at Allenberry Resort Inn and Playhouse (717-258-3211), a rambling country inn and theater on a noted fly-fishing stream in Boiling Springs. Choose from 61 guestrooms in three lodges and a stone mansion or four private cottages. For sustenance, dig into Allenberry's hearty Pennsylvania Dutch buffets or opt for lighter fare like salads and paninis. Whether you dine Dutch or a la carte, do try Allenberry's iconic sticky buns.
Shopping
This is farm country: Stock up on local bounty. Buy Nittany apples, Niagra grapes, plump pumpkins, fresh cheeses, and other locally sourced foods at Hanover's Carriage House Market (717-633-8075). The market, run by the owners of Sheppard Mansion, also sells fine kitchen accessories. Get a jump on holiday shopping in Boiling Springs. Tucked on a side street, The Village Artisan Gallery (717-258-3256) sells distinctive, handcrafted-in-America gifts, including Pennsylvania crafts like Shaker boxes and scherenschnitte, an intricate paper-cutting technique. Watch the in-house carver as she details her whimsical folk-art figures. Don't know a woolly bugger from a woolly mammoth? No matter. Stop by Yellow Breeches Outfitters (717-258-6752), a fly-fishing mecca named for the local trout stream. Besides waders, tackle, and hand-tied flies (e.g. woolly buggers), the shop sells Orvis clothing and local gifts next to a picturesque lake