So that happened.
The weirdest thing about the craziness that transpired at the end of last night's otherwise ho-hum Oscar ceremony was that there had already been this kind of Moonlight vs. La La Land culture war brewing. The general sense had been that La La Land, another "white savior" film, was going to beat out Moonlight, an authentic story about the gay, African-American experience. And, for a few seconds, it seemed like that was exactly what happened. In fact, I'm guessing most people assumed that, when La La Land executive producer Jason Horowitz announced Moonlight was the real winner, he was just being diplomatic. There's been a traditional lately of white artists acknowledging their inherent privilege over their black competitors. Most recently, Adele spent her entire Grammy acceptance speech gushing about Beyonce. A couple of years earlier, the rapper Macklemore actually apologized to Kendrick Lamar for beating him at the Grammys.
So when Horowitz said, "Moonlight is the winner," it seemed like perhaps he was trying to quash the controversy that had been bubbling up. But no, Moonlight was the actual winner. Producer Fred Berger was mid acceptance speech when he got wind of the news. "We lost by the way," he added sadly, at the end of his speech. Then Horowitz, a model of menschiness under pressure, held up Moonlight's winning card to prove that he wasn't kidding. And suddenly, the cast and crew of La La Land was ushered off the stage, and a jubilant if baffled cast and crew of Moonlight was ushered on. Truly one of the most surreal, chaotic, and awkward things I've ever seen on live TV. (I feel enormously sorry for both parties involved: For La La Land, to have experienced this humiliating and painful bait and switch, and for Moonlight, whose moment of glory was overshadowed—briefly I hope—by the controversy.)
So how did it happen? The moments leading up to and right after the announcement were made have already been studied like the Zapruder film, but to the best of my understanding, presenter Warren Beatty was handed the wrong envelope, the one for Best Actress. So when he ripped it open, it read "Emma Stone for La La Land." What he should've done in that moment was say, "I believe they handed me the wrong envelope." Instead, he stared at it, sputtered a bit, and handed it to his co-presenter, Faye Dunaway to confirm that she was seeing what he was seeing. Dunaway, assuming Beatty was doing a (bad) bit, didn't notice Emma Stone's name and, anxious to keep the show moving, blurted out, "La La Land." Basically, it was a perfect storm of ineptitude and miscommunication.
In order, I blame whoever did the screw-up back stage (might this be the last we see of Academy accounting firm Price Waterhouse Coopers?), then Beatty, and finally Dunaway, who in my opinion was kind of set up to make the mistake. For a great analysis of what went down, read this story in The Washington Post.
Putting aside the cringiness of it all, Moonlight's win was truly historic. For starters, the film was made on a tiny budget ($1.5 million), with an all-black cast and a black writer and director. Secondly, it's about a gay black man, making it the first Best Picture winner of all time to deal explicitly with the gay experience (unless you count Midnight Cowboy, which I don't.) Thirdly, it's an art film—more about images, sensations, and stirring your emotions than plot. I've been prognosticating the Oscars for 20 years and I can safely say that no film like Moonlight has ever won in that time. Oscar tends to go to with accessible crowd-pleasers, historical epics, or message movies. I'm not sure if this is a game changer or a one-year aberration. Here's hoping it's the former.
As for the rest of the show, it all kind of fades into the background to be honest, but there were some of the usual highlights and lowlights. Let me briefly break it down.
Jimmy Kimmel:
I give the clever host a B-minus. His opening monologue was funny—his asking Meryl Streep if she was she wearing "an Ivanka" and his naughty Moonlight "happy ending" quip were the best jokes—but it felt like the kind of thing he does every night on his show. I tend to like a bigger, splashier opening Oscar numbers, in the Billy Crystal tradition. (On that front, I preferred Jimmy Fallon's La La Land extravaganza which opened the Golden Globes.)
The Matt Damon roasting was funny—"his acting seems so effortful" was a particularly good line—but pretty insiderish (you had to be a fan of Kimmel's show to fully appreciate what was going on) and maybe went on a few too many jokes? At one point, they flashed to Damon and he seemed to be getting annoyed. But maybe that was just…acting!
What should have been an adorable bit—the Hollywood tour bus unsuspectingly being led into the show—just kind of died on the vine. For starters, none of those people seemed particularly surprised (are people really that jaded? Or did they suss out what was happening as they waited patiently backstage?). And then, as the bit went on (and on), it started to take on an awkward "look how nice we are to the little people" quality.
Kimmel's tweets to Trump were funny ("u up?") but his ongoing jokes about Mahershala Ali's name were just frat-boy dumb.
Finally, he handled the disastrous ending as well as can be expected, cracking jokes, and even having the presence of mind of name-check Steve Harvey, who caused a similar mix-up at the Miss Universe Pageant. (Outside of the Moonlight gang, Harvey is probably the happiest guy in America right now.)
The speeches:
Honestly, I was expecting a lot more explicit anti-Trump stuff, so I was pleasantly surprised. (Not because I would've disagreed with the message; I just had a fear everyone would be trying to out-"woke" each other and the whole thing would get painfully sanctimonious.)
That being said, one of the most powerful moments of the night came when The Salesman won for Best Foreign-Language Film. The film's director, Asghar Farhadi, had boycotted the Oscars to protest Trump's Muslim ban, and he sent his surrogate, Iranian-American engineer Anousheh Ansari, on stage to read a statement on his behalf. It said, "I'm sorry I'm not with you tonight. My absence is out of respect for the people of my country and those from other six nations who have been disrespected by the inhumane law that bans entry of immigrants to the U.S. Dividing the world into the U.S. and our enemies categories creates fear—a deceitful justification for aggression and war." Yowsa.
Mahershala Ali, who won Best Supporting Actor for Moonlight, revealed that he's having the Best. Week. Ever, as his wife just gave birth four days ago. Awwww.
Best supporting actress winner Viola Davis delivered a powerful and emotional speech about the importance of art and its capacity to exhume the dead (and their stories) and to celebrate life. (Afterward, Kimmel quipped that she would be winning an Emmy for it. I wouldn't put anything past her.)
The awards:
Here's a complete list of the winners. Beyond Moonlight, not too many surprises, unless you count Hacksaw Ridge's surprising two wins. (I guess Mel Gibson has been fully embraced by Hollywood again. Yay?). Also, say it with me people: "Suicide Squad: Oscar winner." *Shudder*
As I predicted, Casey Affleck edged Denzel Washington for Best Actor, surprising most Oscar prognosticators.
When all was said and done, I was thrilled with the La La Land/Moonlight split (that is, Chazelle winning for Best Director and Moonlight winning Best Picture.) While I preferred Moonlight, both films were great. (And I predict there will be plenty more Oscar glory in Barry Jenkins' future.)
The fashion:
Definitely more hits than misses and distressingly few disasters. C'mon people, where's the bad taste?!?
Here's a brief breakdown:
The worst: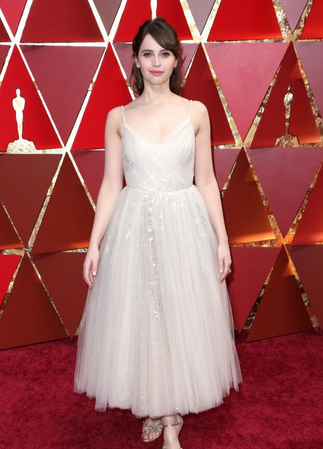 To me, Dakota Johnson's dress was a bit too Queen on the Planet Zazbot; Felicity Jones looked like she was about to go to her Sweet Sixteen. As for Janelle Monae, I think she's one of the most exciting fashion stories out there. She took a chance; this one didn't work for me.
The I'm not sure: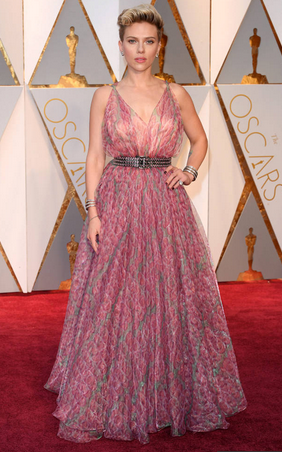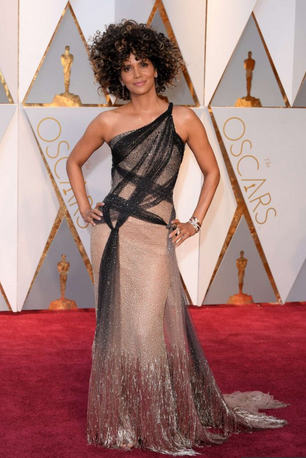 Loved Scarlett's hair, wasn't sure about the dress; loved Halle's dress, wasn't sure about the hair. So there you have it.
The best: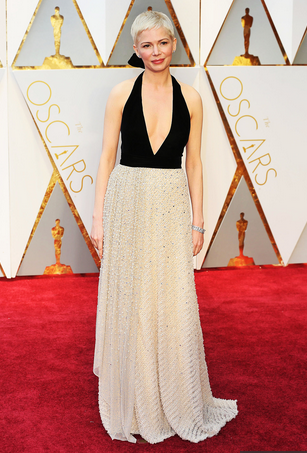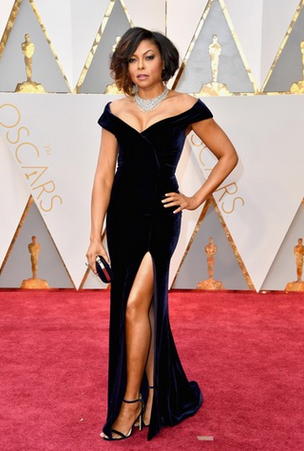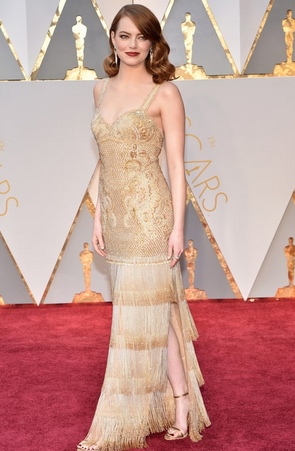 To break it down: Michelle Williams out Twiggy-ed Twiggy and it was glorious; Tariji P. Henson was the epitome of drop-dead Oscar glamour; Hailee Steinfeld's dress literally took my breath away; Emma Stone was H to T (that's "head to toe" for the Tyra Banks impaired) perfection; and David Oyelowo pulled off that tricky tuxedo (one false move and you look like a cater waiter) like a superstar.

And that's it. This completely nutty Oscar ceremony felt like one final bouquet from 2016, huh? What a wild ride.
---
---