Though the snowy scene outside suggests otherwise, spring is on its way. As a matter of fact, it officially arrives Monday. So, along with our monthly dose of environmental news, we've compiled your ultimate spring cleaning guide—for your community and yourself.
Spring Cleaning
Parks
Mayor's annual Spring Cleanup: April 29, 9 a.m.-1 p.m. Participating residents can earn credits toward their stormwater fee. Communities and individuals are encouraged to register by calling 311.
Patterson Park will host several clean-up events over the coming weeks:
Tree mulching - March 25, 9 a.m.
Boat lake trash clean-up - April 1, 8 a.m.
Pagoda clean-up and gardening - April 9, 9:30 a.m.
Earth Day clean-up - April 22, 9 a.m.
Druid Hill Park: March 25, 10 a.m.-12 p.m. Clear debris, leaves, trash. No experience necessary.
Project Clean Stream - Alliance for the Chesapeake Bay has an interactive map that lists various stream cleanups throughout the Chesapeake Bay's watershed. Clean-up events occur through May 27.
Clothing/Accessories
Consignment/Cash
B'more Betty: High-end consignment shop in Fells Point/Habor East accepts on-trend women's clothing, handbags, shoes, jewelry.
Uptown Cheapskate: High-end consignment store with five locations in Maryland, including Annapolis, Bel Air, and Timonium. Accepts men's and women's clothing and accessories.
Vogue Revisited: High-end consignment shop in Hampden accepts on-trend women's clothing, shoes, and accessories.

Women's Clothing Exchange of Baltimore: White Marsh/Nottingham-based high-end consignment shop, accepts men's and women's items, plus a limited number of household goods. Semi-annual sale runs March 15-21.

Radcliffe Jewelers: Accepts precious metal jewelry, watches, silver décor items, and precious stones at both its Pikesville and Town Town Center locations.
Smyth Jewelers: Accepts gold or silver jewelry, watches, silver décor items, and diamonds or high-quality precious stones at all three locations: Timonium, Ellicott City, and Annapolis.
Donation/Recycle
Ruth's Closet: Associated with the domestic violence nonprofit House of Ruth. Needs all styles of women's clothing, shoes, accessories. Tax-deductible.

Dress for Success Baltimore: Accepts women's professional wear. Tax-deductible.
Suited to Succeed: Accepts women's professional wear. Tax-deductible.
Success in Style: Accepts men's and women's professional wear and accessories. Tax-deductible.
Goodwill Industries of the Chesapeake: Dozens of stores and donation boxes throughout Maryland. Accepts just about everything, including men's and women's clothing, shoes, accessories, appliances, non-fabric furniture, books, sports equipment, tools, and vehicles. Tax-deductible.
Nike Factory Store at Arundel Mills: Recycles rubber-soled shoes, even if they're not Nikes. Two locations: Arundel Mills and Queenstown Outlets.
Home Goods
Consignment/Cash
Play It Again Sports: Accepts sports equipment at four locations: Baltimore, Ellicott City, Westminster, Frederick
The Sound Garden: Accepts records, CDs, DVDs, video games
Normals: Accepts records, CDs, DVDs, VHS, video games, books
Donation/Recycle
The Loading Dock: Accepts building materials, architectural salvage, furniture. Tax-deductible.
Second Chance: Accepts building materials, architectural salvage, furniture. Tax-deductible
Habitat for Humanity of the Chesapeake ReStore: Accepts furniture, appliances, building materials, tools, exercise and sporting equipment, housewares, and more at six locations: Sandtown, Glen Burnie, Columbia, Dundalk, Halethorpe, and Timonium. Tax-deductible.
Book Thing of Baltimore: Awaiting rebuilding after a fire in 2016, but accepting donations during special weekend hours. This weekend, March 19, 10 a.m.-4 p.m. at 3020 Vineyard Lane. Accepts books, records, CDs, and DVDs. No magazines. Tax-deductible.
OrchKids: BSO-sponsored after-school music program for city students. Accepts working musical instruments. Especially in need of cellos, violins, violas, trumpets, french horns, trombones, tubas, baritones, clarinets, flutes, oboes, and bassoons. Tax-deductible.
Velocipede Bike Project: Accepts bikes, materials, parts, tools. Tax-deductible.
Household Hazardous Waste
Many cleaners, home-improvement materials, and car- and lawn-care chemicals can be recycled only during municipal household hazardous waste days. Here's the 2017 schedule for Baltimore City and surrounding counties.
Baltimore City: April 7-8, 9 a.m.-5 p.m at the Northwest Citizens' Convenience Center, 2840 Sisson Street. Then one per month through October.
Baltimore County: April 9, 9 a.m.-1 p.m. at Eastern Sanitary Landfill, 6259 Days Cove Road, White Marsh. Many items also accepted regularly at the county's three drop-off centers: White Marsh, Cockeysville, and Halethorpe.
Anne Arundel County: April 1, 8 a.m.-2 p.m. at Millersville Landfill & Resource Recovery Facility, 389 Burns Crossing Road, Severn. Then one per month through October (except for August) at county facilities in Severn, Deale, Glen Burnie.
Howard County: Saturdays, from 8 a.m.-4 p.m. beginning April 1, Alpha Ridge Landfill Residents' Convenience Area, 2350 Marriottsville Road, Marriottsville.

Carroll County: May 13, 8 a.m.-12 p.m. 1250 Old Meadow Branch Road, Westminster, includes paper shredding.
Also: The following stores often run lightbulb, battery, and/or paint take-back/recycling programs: Best Buy, Ikea, Lowe's, Home Depot, Target, Apple, Radio Shack, Batteries & Bulbs.

Prescription Drugs

Getting rid of unused prescription medications is important for environmental reasons, as well as personal health and safety. But for years, there were few options for disposal except flushing them down the toilet, pouring them down the drain, or bagging them with the trash. But more and more places are offering prescription take-back programs. Below are some community-sponsored programs in Baltimore City and the surrounding counties.
Baltimore City: Disposal boxes at all 9 police precinct stations, plus several locations at The Johns Hopkins Hospital.

Baltimore County: 12 drop-boxes for unused prescription medicines
Anne Arundel County: Five 24-hour drop boxes, one at each district station plus one at police headquarters. Two other drop-boxes available Monday-Friday, 8 a.m.-4 p.m.
Howard County: Three permanent drop box locations and one at Wilde Lake Village Center for National Prescription Drug Take-Back Day.
Harford County: Six permanent drop box locations.
Carroll County: Eight drop boxes at police stations throughout the county
Walgreens has installed safe medication disposal kiosks in over 500 pharmacies across the country. There are five in the Baltimore area, which you can see on this map.
When in doubt, consult the DEA's website for a searchable data base of drug-take back locations near you.
Good News Grants
Two Baltimore nonprofits nabbed prestigious grants over the past few weeks. First, local gleaning organization Gather Baltimore nabbed one of 11 grants doled out by The Conservation Fund, a nonprofit that seeks to demonstrate the economic feasibility of "green" businesses and organizations. The grants ranged from $5,000 to $10,000 and Gather Baltimore will direct its funding toward building additional on-site cold storage for the surplus food it collects and and redistributes to food insecure people in the area.
Second, The Friends of Herring Run Park (FHRP) received a big boost last month with the announcement of a $24,500 grant from the Chesapeake Bay Trust. The funds will go toward litter removal and prevention at Herring Run Park, a 375-acre strand of recreation and green spaces along the Herring Run in Northeast Baltimore. Specific plans include adding more trash cans, organizing monthly cleanups, hosting field trips with an anti-littering message, and creating a public art installation. "Herring Run Parks are a community treasure now, and with this money we can really pull together volunteers in a new way and raise awareness about how to decrease littering in our parks," said Laura Gillis, board president of Friends of Herring Run Parks. "We are going to make the parks even more beautiful for all community members to enjoy."
Baltimore Greenway Trails Network Rolls Along
For the last two years or so, Rails to Trails Conservancy and Bikemore, the city's preeminent biking nonprofit, have been working toward what they call the Baltimore Greenway Trails Network. The network would be a 35-mile loop of urban trails around the city center, with occasional tendrils jutting out to critical outlying sites. Thanks to the Jones Falls Trail, Gwynns Falls Trail, and the Herring Run Trail, much of this 35-mile loop already exists. According to the Baltimore Greenway Trails Network website, "only 10 additional miles are needed to close critical gaps."
Now the coalition is turning its attention to two proposed segments that would complete east-west connectivity along the top of the loop. The first segment would connect Gwynns Falls/Leakin Park with Druid Hill Park, skirting the northern border of Coppin State University. The second leg would run for 1.42 miles along 33rd Street from The Johns Hopkins University to Lake Montebello. A meeting was held earlier this month in Waverly to receive public input on the design process for this portion of the trail. Currently, the plan calls for a path down the center of 33rd Street's 40-foot-wide median, which supporters say is consistent with Frederick Law Olmsted 1904 landscape plan for Baltimore and good land-use practices because the bike path would add accessibility to overlooked green spaces. Supporters envision installing the infrastructure in chunks.
a .35-mile section on E. 33rd Street between Saint Paul Street and Greenmount Avenue
a .62-mile section from Greenmount Avenue to Loch Raven Boulevard
a .46-mile section from Loch Raven Boulevard to Lake Montebello
An open house event to provide feedback on proposed designs for the West Baltimore trail segment is scheduled for March 20 at Mondawmin Mall. RSVP here.
OPACY Goes Green
The O's can add green to their palette of orange, black, and white. The team is doing its bit for the environment with the installation of a new lighting system at Oriole Park at Camden Yards. The project, which has taken a team of 10 people since January to complete, saw the replacement of 796 fixtures with LED bulbs. The O's estimate the new illuminations, which are individually programmable for light shows, will last for about 15 years and reduce energy consumption by about 54% over the previous equipment. They new lights also produce no replay flicker, making them compatible with HD broadcasts. It's a real win-win.
Drought Conditions
Maryland needs a drink. Last week, the Maryland Department of the Environment issued a drought warning for the state's central region, which includes portions of Baltimore, Carroll, Cecil, Frederick, Harford, Howard and Montgomery counties that aren't served by public water and sewer pipes. A drought watch, which is less severe than a warning, was issued for the Eastern Shore, as well. MDE officials analyze four metrics to determine drought: precipitation, stream flow, groundwater levels, and (in some regions, including Central) reservoir levels. While an MDE spokesman called this week's winter storm a "welcome" bit of precipitation, the region will need more than the 2 inches recorded at BWI to make up for an unusually dry winter.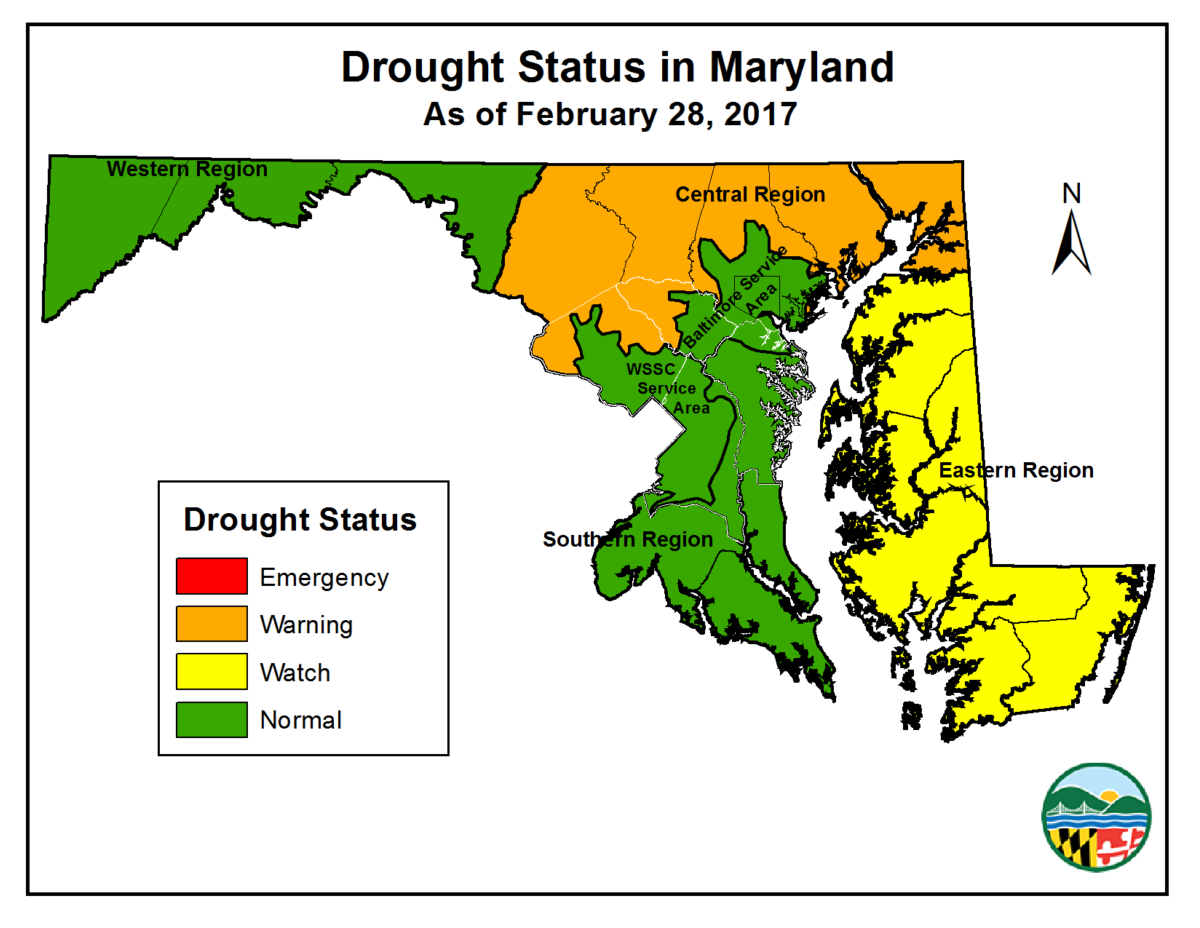 "The 'water year' begins October 1. That's when water use drops after the periods of higher use from late spring through summer, meaning precipitation can go toward replenishing the water supply," explains Jay Apperson, the deputy director of communications for MDE. "Snow that gradually melts into the ground is particularly good for recharging groundwater." The Baltimore region has recorded 5.79 inches of precipitation thus far in 2017, 2.07 inches fewer than average. The drought warning triggers more frequent testing and evaluation by the MDE, and Maryland Secretary of the Environment Ben Grumbles says, "Water conservation and efficiency are always smart—especially during extended periods of reduced rainfall."
---
---