This year marks two decades of Katwalk Boutique bringing fabulous garments and accessories to the women of Baltimore. Stepping into the Fells Point boutique feels like entering an avant-garde paradise, with pastel painted walls and mannequins covered head-to-toe in trendy styles. We stopped by Katwalk to ask owner Toni James about her special traditions, favorite trend, and longtime style icon.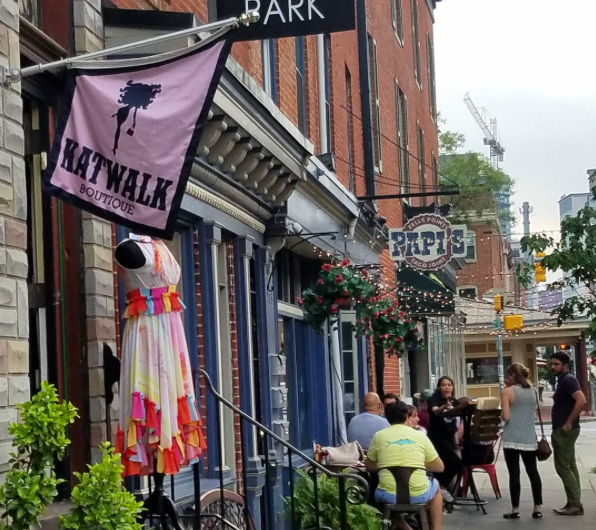 Where did the name for your boutique come from?
TJ: The name comes from the runways of Paris, like walking on a catwalk. My husband came up with it—we used to go to a lot of fashion shows and all of the models come out on the catwalk.
What's your favorite item in the store?
TJ: My favorite item is the track pants with the embellishments. Right now leisurewear is hip, so instead of the traditional track pants we tried to do something different and beautiful.
---
⇓ Article continues below ⇓
---
Does your boutique have any special traditions?
TJ: The fashion seat! Everyone who comes in takes a picture in the fashion seat. We believe in customer service, so when someone comes in, no matter if they're buying something or just taking a stroll in the Katwalk, we are going to treat them the same way.
Describe the typical Katwalk Kutie.
TJ: The Katwalk Kutie is someone who loves themselves. They're confident, and they're not afraid to stand out in a crowd.
What inspires the style of Katwalk?
TJ: It's not about style; we don't follow trends. We follow what the Katwalk customer will love for that season. It's all about quality, fit, and what will make that person feel confident when they walk down the street.
Who is your style icon?
TJ: Diana Ross. When I was five years old, she triggered the passion that I have for fashion. Everyone who knows me knows I love Diana Ross.
What Baltimore treat is your guilty pleasure?
TJ: Moe's Seafood. My husband and I go almost every Friday night; I love everything on the menu. 
What is special about the location of Katwalk?
TJ: I think it's the people—no matter who comes through the boutique everyone is happy and has a great attitude.
What is your current favorite fashion trend?
I love kaftans. We've been buying them ever since we opened up in '97. I love if they're embellished, sequined, or hand painted—I'm a kaftan girl.
How are you celebrating 20 years of Katwalk?
TJ: On September 23, we are having a huge fashion show with other Baltimore designers. We don't just want to celebrate Katwalk, we want to celebrate other designers in Baltimore. It's also a charity event for Shoes That Fit. We give away brand new shows to kids in need year round.
---
---