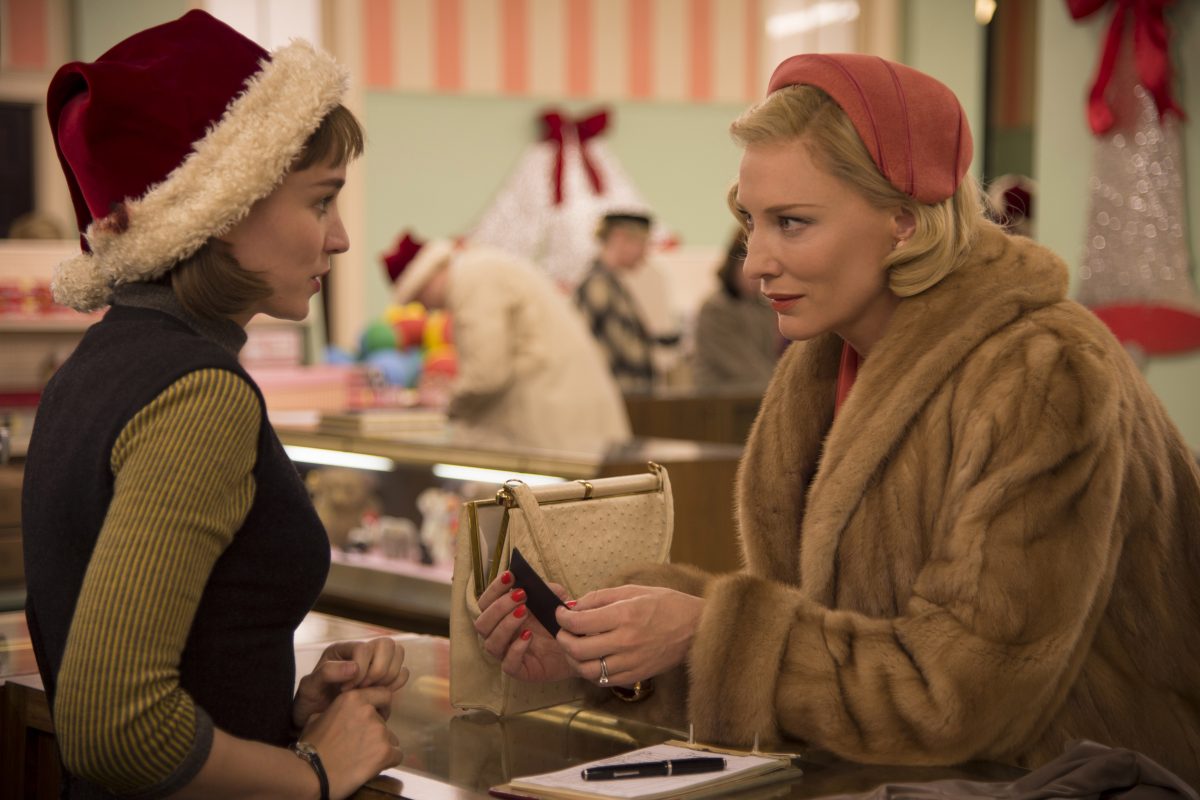 TWC
The intro is usually where I make grandiose pronouncements about the recurring themes we saw in the Year in Film, but those kinds of neat summations tend to be forced (although the paradoxical ruthlessness and beauty of nature came up a lot) and besides, no one reads intros anyway. I did 25 films this year—like a crazy woman!—because there were four films I absolutely adored (Carol, Room, Brooklyn, and Amy) and 21 films I liked a whole lot.
Let's go to the list.
In some cases, I used excerpts from my own previously published reviews.
1. Carol – Never has the impossible glamour of Cate Blanchett been used to better effect than in Todd Hayne's ravishing and romantic film about a forbidden lesbian affair in 1950s Manhattan. The contrast between what our heroines present to society—two platonic friends, out to lunch or on a road trip—and what's burning beneath the surface, is what gives the film such potency. (Baltimore opening date TBA)
2. Room – Story of a mother and son held captive in a small shed—and the sense of wellbeing she gives him despite their predicament—is one of the most emotionally intense cinematic experiences in recent memory. Brie Larson is outstanding as a woman who powers through her own fear and anger to be a rock for her son (a remarkable Jacob Tremblay). It feels good to feel this much at the movies. (My review.)
3. Brooklyn – Featuring a luminous performance from Saorise Ronan, a wonderfully empathic script by Nick Hornby, and stunning, painterly cinematography by Yves Bélanger, this story of our heroine's journey from Brooklyn to Ireland (and from girlhood to womanhood) is the very essence of a simple story, beautifully told. (My review.)
4. Amy –The story of Amy Winehouse, as she goes from precocious child to drug-addled superstar, is a horror film of sorts, where the monster is fame. Because Asif Kapadia's film has so much home footage, it creates an incredible intimacy; it feels at times that Winehouse herself is whispering in our ears. The film will leave you in awe of Winehouse's once-and-in-a-generation talent, enraged by those who exploited her, and shattered all over again by her loss. (My review.)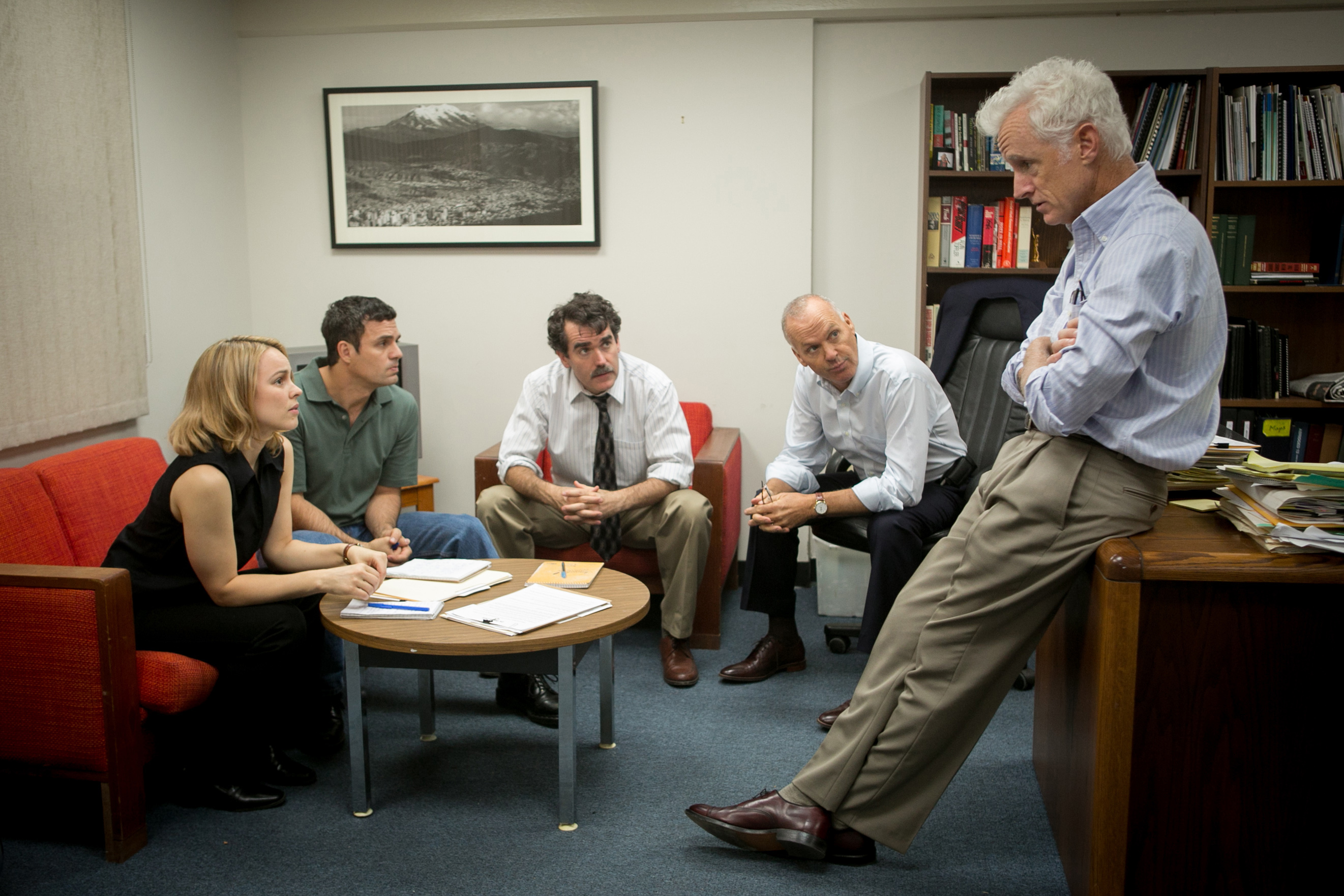 5. Spotlight Urgent, outraged, old-fashioned entertainment about the deep-dive investigative unit at The Boston Globe who uncovered the Catholic priest pedophile scandal. The film features juicy performances from most of the cast, including Michael Keaton and Mark Ruffalo as journalists and Stanley Tucci as a righteously angry lawyer who advocates for the victims. A love letter to newspapers that, more than anything, shows us how deeply entrenched systemic cover-ups can be. (My review.)
6. Inside Out Pixar's most inventive film yet. It guides us inside the headquarters of the mind of tweenage Riley after she moves from Minnesota to San Francisco. The combination of a strange new house plus hormones wreaks havoc with her emotions. Where in the past, the chipper Joy (Amy Poehler) ruled the roost, now suddenly Sadness, Anger, Disgust, and Fear—in turns morose, snarky, hilarious, and ineffectual—move in. The film's subtle genius is its acknowledgement that without those other emotions—Sadness in particular—true Joy is impossible. (My review.)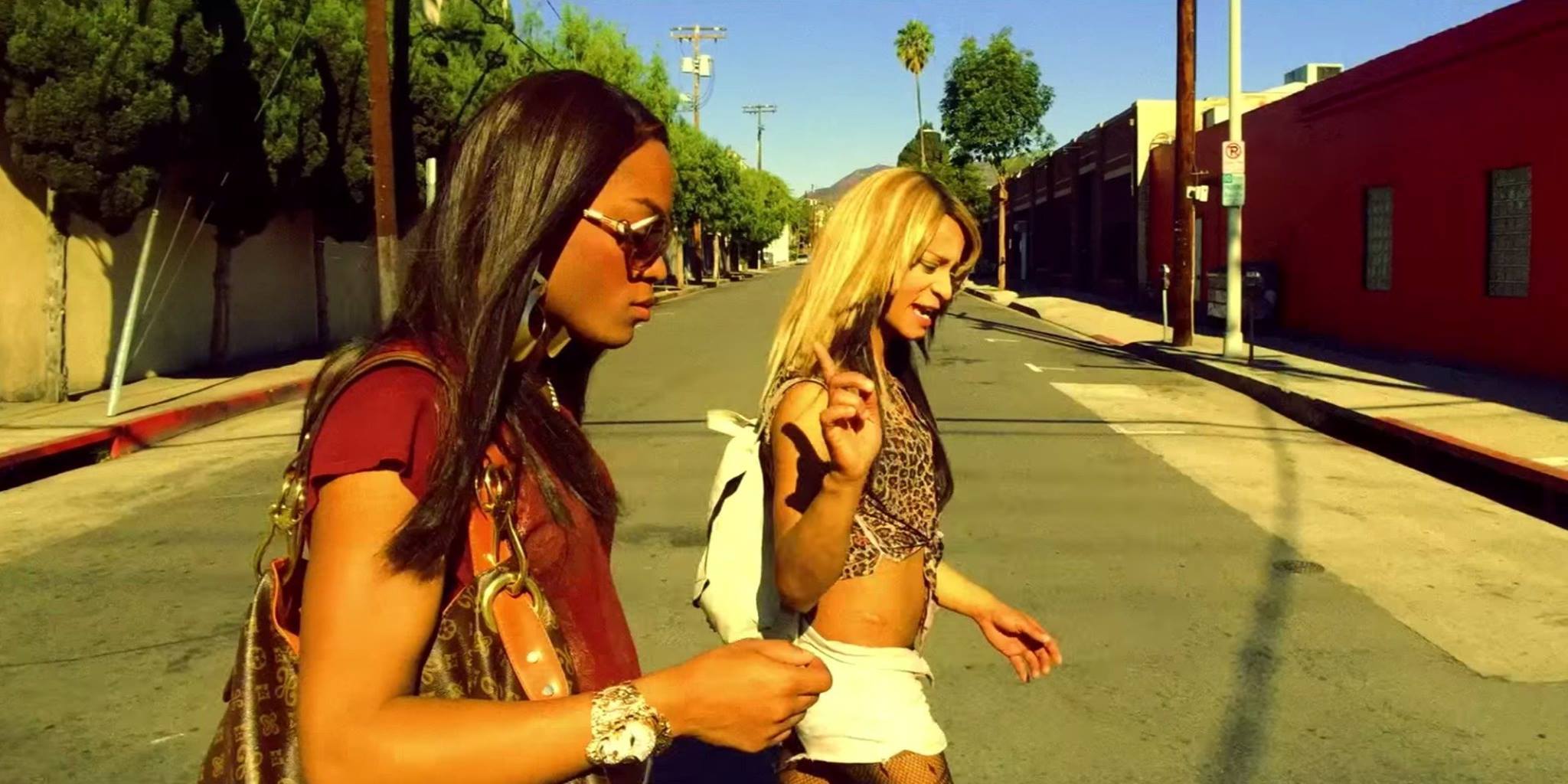 7. Tangerine This hilarious odyssey of trans sex workers, donut shops, cab drivers, air fresheners, betrayal, and friendship on the Sunset Strip will have you screaming with laughter and crying over the ineffable poignancy of it all.
8. Beasts of No Nation Oliver Twist in hell. After members of his family are murdered, a young African boy named Agu (Abraham Attah) runs to the woods, where he is taken in by the dangerous, swaggering Commandant (Idris Elba) and trained to be a killer for his mostly teenage rebel army. Cary Fukunaga's tale, about how Agu loses his innocence but never his humanity, is as beautiful as it is brutal. The final scenes, impossibly, leave room for hope.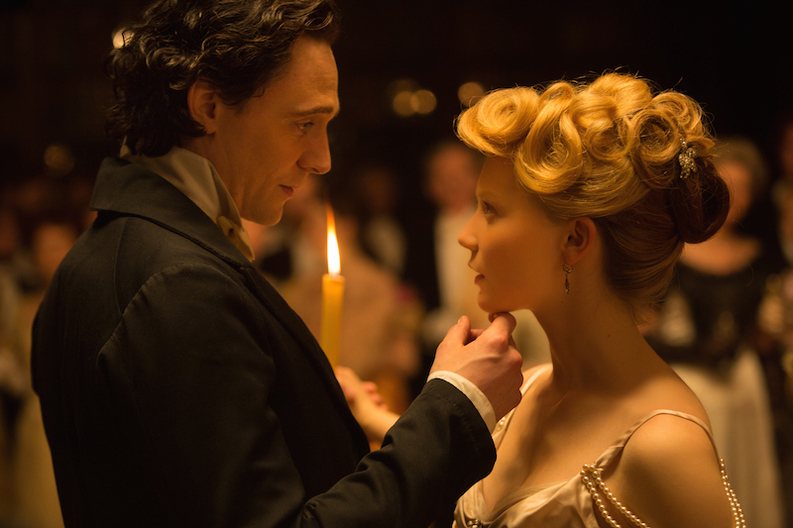 9. Crimson Peak The master Guillermo del Toro ramps up all the elements of gothic horror—the de rigueur decaying old mansion sits on a clay mine and blood-like clay oozes through the cracks in the foundation—in this lushly romantic (and plenty scary) tale of an American girl (Mia Wasikowska) who marries a dashing Englishman (Tom Hiddleston) and moves to his secluded childhood home. Keep your eye on the suspiciously possessive sister (Jessica Chastain) (My review.)
10. Phoenix In post-war Berlin, a Jewish woman (Nina Hoss), left for dead in the concentration camps, returns to her husband after she's had facial reconstructive surgery and he doesn't recognize her—or chooses not to. More than just a tale of this woman and her husband's betrayal, Christian Petzold's film is about our human need to return to normalcy, to deny atrocities, to discreetly look away when things become too unspeakable. The final scene packs a wallop.
11. The Martian The subtitle to Ridley Scott's wildly entertaining sci-fi might very well be: Science, Hell Yeah! It tells the story of an astronaut (Matt Damon), left behind on the Planet Mars, who has to fend for himself—or "science the shit out it" as he colorfully describes it. The film's loosey-goosey sense of humor doesn't detract from its incredible suspense, or the awe Scott clearly has for those who choose to master and venture into the unknown. (My review.)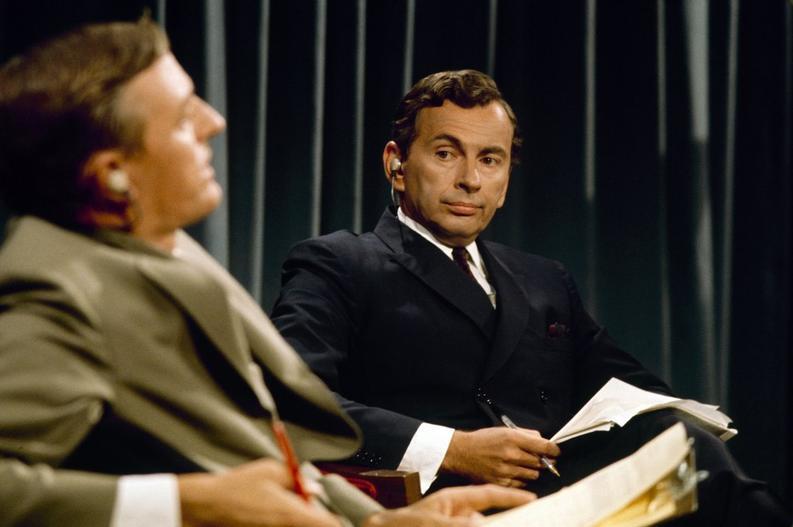 12. Best of Enemies In 1968, a sputtering ABC turned to two public intellectuals on opposite sides of the political spectrum—the devilishly mischievous Gore Vidal and the patrician, pellucid William F. Buckley Jr.—to save their network. (Oh, how times have changed.) Many critics have noted that these debates ushered in the age of pundit TV—shows like Crossfire and Hardball, where politically at-odds commentators hurl broadsides at each other. This is true, but not the whole story. The debates also ushered in, or at least crystalized, no less than the beginnings of the modern conservative and liberal movements as we know them. (My review.)
13. The Revenant Death Wish meets the trials of Job in the Wild West. Left for dead after a vicious bear attack, a tracker (Leonardo DiCaprio) must find his way back to base camp to avenge the death of his son, who was murdered by a hunter (Tom Hardy). Alejandro G. Iñárritu's powerhouse of a film can be grueling—it makes most Westerns seem downright dainty—but it's not without its moments of beauty and grace. And a fully-committed DiCaprio—splayed open, both literally and metaphorically—is remarkable. (Baltimore opening date: January 8)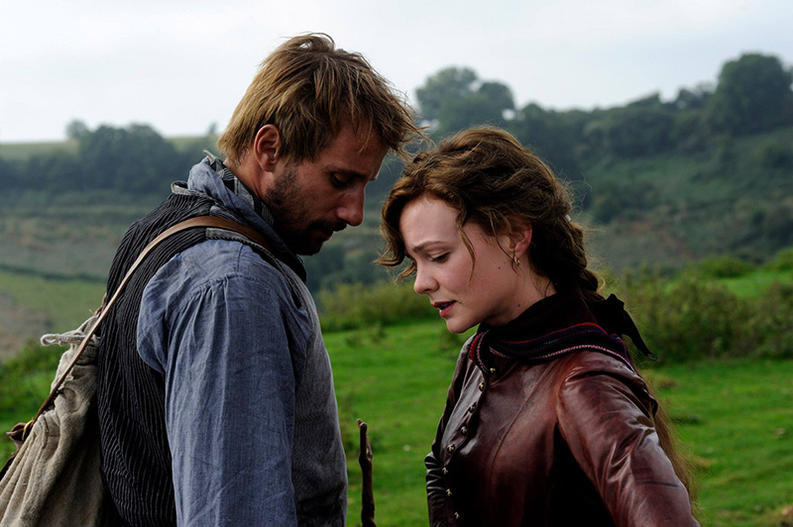 14. Far From the Madding Crowd Achingly romantic retelling of Thomas Hardy's classic novel features a magnetic lead performance by Carey Mulligan, playing a wildly independent woman who has three suitors—one too desperate, one too charming, and one just right. It takes her a long time to figure out that the right man has been there the whole time, but in Thomas Vinterberg's lushly gorgeous adaptation, it's more than worth the wait. (My review.)
15. 45 Years The genius of Andrew Haigh's subtle film is that he shows us a marriage that is believably comfortable and lived-in and then disrupts it in the most unexpected way. About to celebrate their 45th anniversary with a big party, a married couple (Charlotte Rampling and Tom Courtenay) is shaken by the news that the body of his old lover, who died on a mountain climbing vacation some 50 years ago, has been found, perfectly preserved. The husband isn't so much pining away for his lost love but for his lost youth—and in his fog of existential pity, he alienates his wife. Without any histrionics, Rampling will quietly devastate you.
16. James White An angry young man (Christopher Abbott) cares for his ailing mother (Cynthia Nixon) in a deeply tender way. Featuring two brilliant performances by the leads, Josh Mond's jangly, agitated debut might also be the most unexpected love story of the year.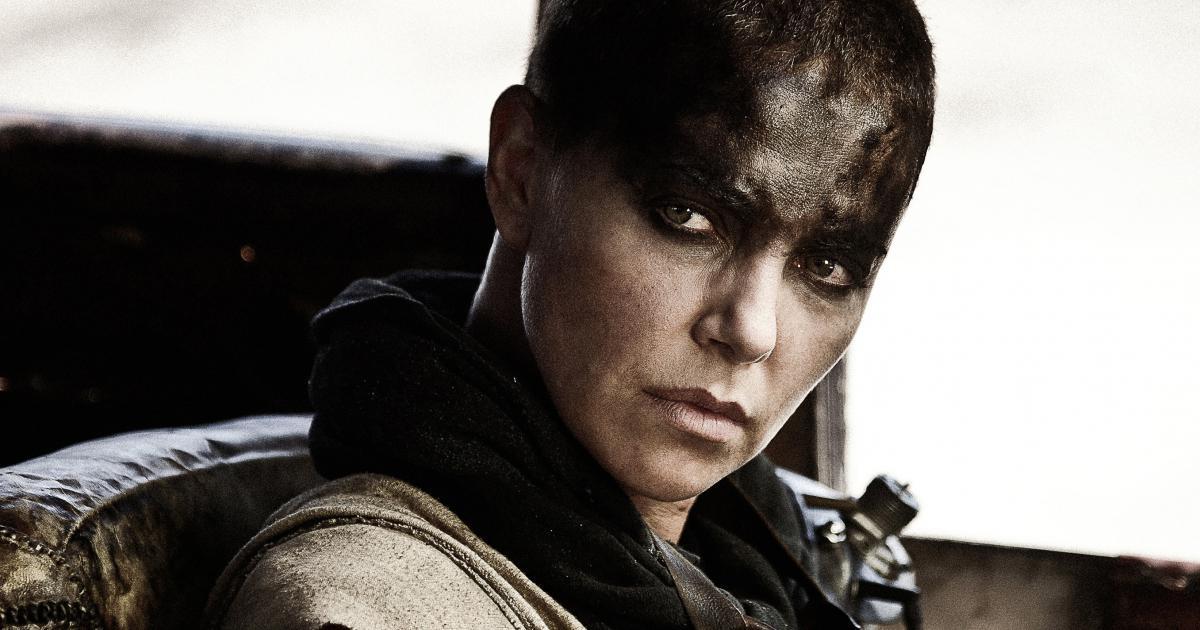 17. Mad Max: Fury Road I didn't love it quite as much as some other critics, but George Miller certainly brings an obsessive artist's vision to his scuzzy, dystopian world. And in the bald, badass Furiosa (Charlize Theron), he gives us a heroine for the ages. (My review.)
18. While We're Young Yeah, it falls apart in the end, but before that, Noah Baumbach surgically dissects the arrested adolescence of an entire generation (mine!) as two Gen-Xers (Ben Stiller and Naomi Watts) become preoccupied with a pair of millennial hipsters. (My review.)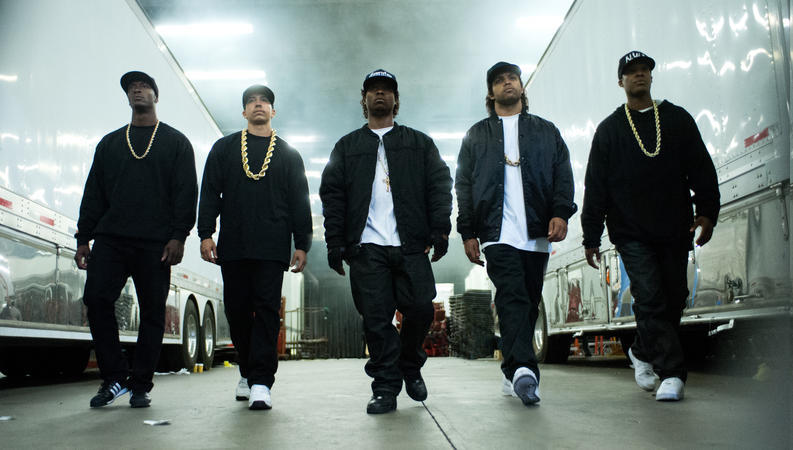 19. Straight Outta Compton In some ways, this film about seminal rap group N.W.A. plays like a traditional musical biopic—we have the rise, a period marked by youthful excess, the break-up, and the reconciliation. But the all-too-relevant backdrop of Rodney King-era L.A and the realness and rawness of N.W.A.'s music, not to mention the passionate and heartfelt performances of the film's three young leads—especially Jason Mitchell as the doomed Eazy-E—gives the film its undeniable power. (My review.)
20. The End of the Tour Road trip film that follows Rolling Stone writer David Lipsky (Jesse Eisenberg) as he interviews author David Foster Wallace (Jason Segel) on the last leg of his Infinite Jest tour is mostly about the profound loneliness of genius. Lipsky is jealous of Wallace's success, not noticing (or caring) that Wallace is actually miserable. Segel plays Wallace as a man yearning to be understood by others and by himself. He will break your heart. (My review.)
21. Diary of a Teenage Girl A 15-year-old girl (a great Bel Powley), a budding artist and expert at self excavation, loses her virginity to her mother's wastrel, if languorously sexy boyfriend (Alexander Skarsgard) and becomes somewhat obsessed with sex. Her good-hearted but neglectful mother (Kristen Wiig) is too busy partying to see what is happening. The film, which is steeped in both 70s kitsch and attitudes, is cool, weird, and defiantly nonjudgmental. (My review.)
22. The Big Short The film almost plays like an elaborate con, albeit one that uses its powers for good. How do you tell the essential—lest we're doomed to repeat it—story of the 2008 mortgage market collapse, without bogging us down in arcane financial jargon? By presenting it at breakneck speed, using big stars, postmodern digressions, and a giant wink. The great cast—Christian Bale, Steve Carrell, Ryan Gosling, et al—aids and abets. (Baltimore opening date: December 23)
23. Clouds of Sils Maria A glorious house of mirrors—everything in the film is a simulacrum of something else— about an aging actress who resists playing the matriarch. Juliette Binoche is wonderful as the reluctant doyenne; Chloe Grace Moretz perfectly obnoxious as her carefree young doppelgänger. And, playing the actress's keenly observant personal assistant—yet another doppelgänger —Kristen Stewart is inscrutably cool.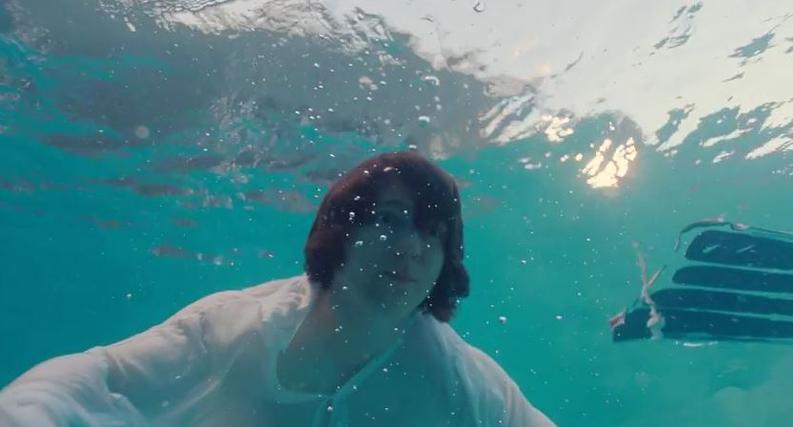 24. Love & Mercy When Brian Wilson, the genius behind the Beach Boys, sang about "Good Vibrations" they were in direct contrast to the bad vibrations that haunted him almost every day. In Bill Pohland's inventive biopic, we see both the younger Wilson (a haunting Paul Dano) creating his masterpiece "Pet Sounds" and we see Wilson as a middle-aged man (John Cusack) in the 1980s—now broken, drug-addled, and under the thumb of an abusive, megalomaniacal doctor (Paul Giamatti)—just as he begins a tentative and possibly healing romance with a good woman (Elizabeth Banks). (My review.)
25. Anomalisa Charlie Kaufman's film uses uncanny stop-motion animation to tell the story of a sad sack misanthrope—ironically, he's an author of customer service self-help books—on a business trip in Cincinnati. I had some issues with the film's gender politics—specifically, all the female characters were either desperate or gullible or both (although the film's one sex scene is surprisingly tender and, yes, even sexy). But the film's deep reservoir of sadness has stuck with me. By using animation, Kaufman compels us to look closely at the banal. (Baltimore open TBA)