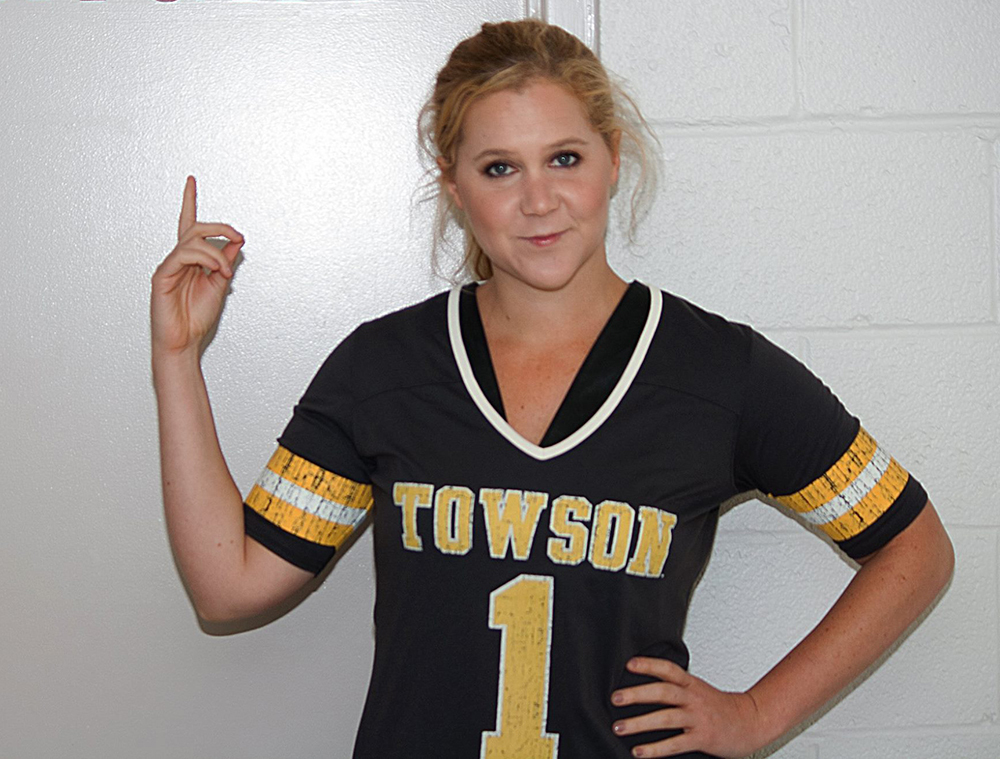 Courtesy of TU News/Katie Simmons-Barth
From the very beginning of her set, it was clear that Amy Schumer was playing to the crowd.
"Towson! What's up?" the comedian said when she came on stage at Towson University's SECU Arena on Sunday night to commemorate the school's anniversary. "One-hundred and fifty years—we did it!"
That produced the first of many laughs around the arena, which was predominantly filled with Towson students, alumni, and some faculty and staff. Schumer's set continued to play like one giant inside joke, making the show feel more intimate than the arena's 5,000-seat capacity. She discussed everything from getting dropped off at her dorm, Tower D, the first day of freshman year ("Is this a mental hospital for children?") to Greek life at the school ("I wasn't going to pay for friends . . . because I didn't have any money.")
Schumer has often said publicly that her college experience was not her finest hour, full of unhealthy eating, binge drinking, and self-loathing. But her brilliant comic timing and overly candid storytelling managed to glean humor even from her darker days. "I got really fat and hooked up with disgusting people," she said. "Basically I lived off crab dip and pretzel dogs . . . This stain on my jeans? From crab dip tonight. Worth it!"
Plus, the audience certainly appreciated her name-dropping Towson landmarks. "The last time I blacked out, it was at The Colony," Schumer said, referring to the apartment complex on Kenilworth Drive, before proceeding to tell a tale of a one-night-stand gone awry. "I would bring home guys from CVP that looked like that Quizno's creature," she said later about her times at Charles Village Pub in Towson. Casa Mia's, a former York Road restaurant with a notoriously lax ID policy (it's now a Season's Pizza), also earned a shout-out. "They would let anyone into Casa Mia's. You didn't need an ID, just a picture of yourself from a birthday party and they'd let you dance to 'Thong Song' all night."
Throughout the show, however, Schumer also touched on serious topics like body acceptance, which came to a head last week when a Glamour magazine article called her "plus size." She said she was asked to lose weight for her movie Trainwreck, but acknowledged that she didn't feel right about it. "My Cabbage Patch face just needs a body with a little more weight on it," she said. "Otherwise I look like a Thanksgiving float of myself."
The comedian also discussed her advocacy for gun control laws, after two women were gunned down in a movie theater while seeing Trainwreck, and her endorsement of Hillary Clinton for president. She recounted a hilarious tale of sitting next to Clinton at a fundraiser, getting drunk, and trying to persuade the Secretary to do shots of tequila. "I think if you've met someone, you have to vote for them," she concluded.
And while not all of her material was exactly great PR for the school, she did discuss some of her Towson highlights, like meeting her roommate with whom she is still friends (and who was in the audience), working at a kickboxing gym on campus, really enjoying her theater courses, and graduating in 2003. Well, sort of.
Apparently, there was still an outstanding "post" fee of $200 on Schumer's account that she never paid, so she didn't receive her diploma until several years later when her teachers came to a show that she was doing at The Lyric.
"They finally gave me my diploma," she said, pausing for effect. "But not until I handed over that $200."
Schumer continues her national tour, which culminates in Madison Square Garden in New York on June 23. Season five of her Comedy Central show Inside Amy Schumer, of which the audience got a sneak peek, premieres on April 21.