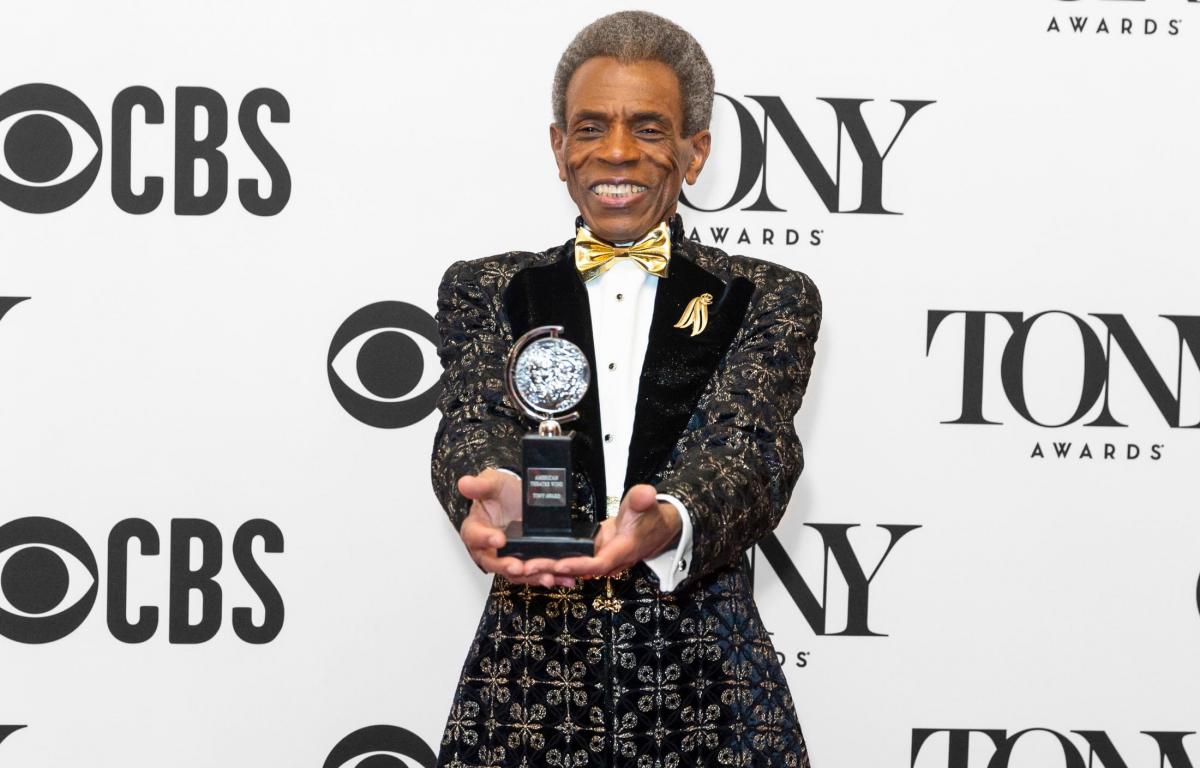 Ovidiu Hrubaru/Shutterstock
As a high school student, André De Shields had to take two buses across town to get to Baltimore City College. He took one from his home in Northwest Baltimore to the intersection of North Avenue and Charles Street. There, he would catch another that would eventually take him to school. 
Through the window on his commute, he would watch as the scenery changed—past The Alameda and through the Johns Hopkins campus—shifting from a Baltimore that he knew to one that was whiter, and less familiar. De Shields calls that break on North Avenue the "demarcation point." 
"That was a huge journey of exploration in my young life because that was the racial demarcation between Black Baltimore and white Baltimore," he says. "Not only would things change physically, but they would change politically, they would change emotionally and intellectually." 
Throughout high school, he acted at Baltimore's Royal Theater and "planted the seeds of his dreams" on Pennsylvania Avenue, which he says was the "cultural spine" of Northwest Baltimore. He left in 1964 to go to college in Wilmington, Ohio, and went on to make a name for himself with theater roles in Stuart Gordon's Warp! in 1973, The Wiz in 1975, and Play On! in 1997—a performance that earned him a Tony nomination. He got his biggest break more recently, playing Hermes in the Broadway musical Hadestown and winning the Tony Award in 2019 for Best Actor. 
Though his career has relocated him to New York for nearly 50 years, he's never forgotten where he came from. It's that sense of hometown pride that inspired De Shields to collaborate with the Baltimore Symphony Orchestra (BSO) during the days of quarantine last year. In a series of virtual meetings with BSO officials, De Shields pitched a musical performance that pays homage to Baltimore, the orchestra, and his alma mater, City College.
 "Since I'm a musical performer I thought, 'Where can I reach out in Baltimore where I have a community to make this happen?'" he says.
From December 3-5, De Shields, alongside members of the BSO and singers from Baltimore City College, will perform the brand new show, "An Evening with André De Shields," which takes audience members on his personal journey through Baltimore—using the city as a character in the narrative. 
It's a way for him to share his personal connections to the people and places that were important in his upbringing, while also paying homage to other significant figures in Black history who were associated with Baltimore. 
"I have not forgotten that Baltimore is in my blood," he says. "I have not forgotten that I am the man I am today because I was reared in the city that also claims Thurgood Marshall, Frederick Douglass, Billie Holiday, and others. So there is reason to give Baltimore its due, but not if those of us who benefited from it don't remind those who don't know about it."
We met with De Shields over Zoom to discuss the upcoming performances, his celebrated return, and how the Baltimore he once knew has evolved throughout the years.  
How did the opportunity to collaborate with the BSO come about?
Two years ago, when I won the Tony Award, I was in touch with the artistic director of the Baltimore Symphony Orchestra, and we thought that we could make use of my newfound celebrity by doing a concert [at the Meyerhoff.] Then the pandemic hit. So that idea did not have a future. Then, [artistic planning manager] Maria Veres took over the position and came back to me through my agent and said, "We like this idea. Can we build on it?" So it has taken us the 18 months of the pandemic to realize what is going to happen for the three performances in December. At which time, I hope I will be able to successfully share with Baltimore how much of a responsibility it has had in my personal success.
How has the city changed since you left to pursue your career in New York?
The neighborhood I grew up in, which is now called Upton, did not have that title at the time. We were just considered Northwest Baltimore. But the cultural spine of Northwest Baltimore was Pennsylvania Avenue, where we planted the seeds of our dreams, more often than not at the Royal Theater, The Regent, and The Met. All of those brick-and-mortar examples of architecture and dream-planting are gone because of that very curious protocol called urban renewal, which swept through in the late '60s and early '70s. Then the Inner Harbor was reclaimed with the aquarium and the hotels. I started to learn from people who would come to me and say, "Oh, you're from Baltimore? Such a pretty city." And I would say to them, "Oh, you've [only] been to the Inner Harbor, haven't you?"
Still, there is a huge racial divide. There is systemic racism in Baltimore. There is generational trauma. Part of that is because those of us who do achieve success leave the city and do not return. So I'm trying to change that. Even if I don't come back to Baltimore to live, I come back to visit my family. I want to come back as a native son to show that I have not forgotten where my roots are.
What was the process of curating the soundtrack for the concert like?
I'm working with my orchestrator in New York. And of course, via Zoom, we are communicating with the powers that be in Baltimore. I work with my orchestrator, my orchestra then works with the BSO conductor, whose responsibility is going to be to translate what my orchestrator and I create to the musicians in the symphony. 
You mentioned that Baltimore is one of the characters in the show's narrative. Can you expand on that?
We're not treating Baltimore as only a piece of history, we're treating Baltimore as an entity that you can actually communicate with. For instance, the overture is going to be a tribute to Eubie Blake, who is also a native son of Baltimore. From there, we will be collaborating with the school chorus from Baltimore City College. All of the individual elements that are pieces of this puzzle have Baltimore in common, and we all have the same goal—to burnish Baltimore once more. And in terms of selecting the individual songs, they are all about life lessons. Not necessarily from the political point of view, but certainly from the transformational and arts community point of view, all the songs are about equity, diversity, and inclusion. They're about how art can transform individual lives, how art can alter governments, how art can be the change that we want to see in our society.
Can you tease any of the songs the audience can expect to hear in the performances?
A few of them are from shows that I've done. I'm doing the signature song from The Wiz called "Believe in Yourself." None of this could be possible if I had not learned the lesson of believing in myself—which all started in Baltimore. Another one of the choices is what we have come to know as the Black national anthem, "Lift Every Voice and Sing." We call it the Black national anthem, but its lyrics are universal and inclusive. We're doing, "What a Wonderful World," so that we can change the perspective we have when we look around and we see only stress and frustration and negative energy, when indeed we can change that through our art and through our consciousness.
And, of course [we will honor Baltimore as] one of those stops for the birth of jazz, which we know is America's form of classical music and gift to the world. It started in Delta country, Louisiana, but as it traveled north in Kansas, in Chicago, in St. Louis, it hit Baltimore before hitting New York. These are the things we have to remember and know about our legacy so that we stop being nostalgic for a past that doesn't want anything to do with us any longer. We have to cultivate a nostalgia for the future and build a new Charm City—a city that deserves that moniker.  
When you think of this show as a manifestation of your return to Baltimore, what comes to mind?
Part of it is selfish. I'm from Baltimore, I have family that still lives there, but I've never worked at Center Stage and I have yet to work at the Baltimore Symphony Orchestra [until now]. So, I'm simply trying to create a skyhook so that people can look and say, "If he can do it, why can't I?" And if I can do it, why can't I say that part and parcel of my success is that I am from Baltimore? Everyone who comes to New York from wherever they are born, claims New York. So why not claim Baltimore? Why not put Baltimore back on the map, not only as a place to leave, but as a destination to come to? It's a huge responsibility, but somebody's got to take the leading role here, and I'm willing to do that. And if I ever retire, maybe it'll be in Baltimore. So they got to be ready for me to come home.
What do you hope that viewers take away from this show?
I want to bring all stripes of color, politics, attitude, age, generation, and gender to the BSO. Now, when I was growing up in Baltimore, it was an exclusively white dominion. And when I would come back to visit my family, I would say, "Oh, this concert is going on at the Meyerhoff. Let's go see it." And the automatic response was "There's nothing at the Meyerhoff for me." So I want to change that. I want people of every consciousness to look at the Meyerhoff and the BSO and be able to find something to enrich their individual lives. I know it's a huge undertaking, but if all of the partners that I have invited to help in this experiment bring something to the table like a potluck dinner, then everyone will leave satisfied.