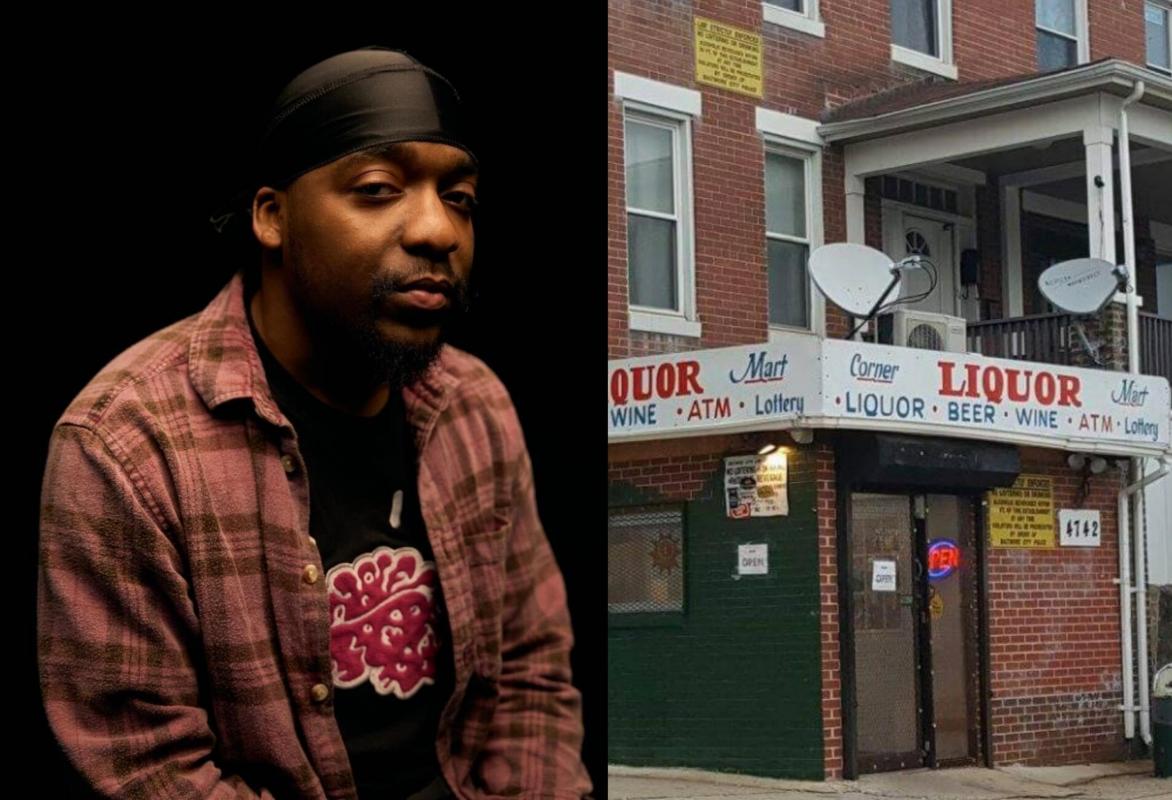 —Courtesy of APoetNamedNate/Corner Liquor Mart
As a child growing up in Southwest Baltimore, APoetNamedNate (APNN) was at the corner store quite frequently—sometimes near his grandmother, who lived off of Greenmount Avenue, but mainly at a shop at the intersection of Frederick Avenue and Tremont Road. 
"It's different now, but back in the day, that's where we always got the Lemonheads and Big Red gum," remembers the poet, filmmaker, and music producer, who grew up in Beechfield. "We could always get a sandwich or a chicken box. And then, you had the hug drinks and the Mistics. I loved a good Mistic. It was an interesting place to be, growing up." 
As an adult, APNN says that corner stores in Baltimore have taken on an elevated meaning. "You never know who's gonna come out of the store," he says. "You think it's some guy who lives around the way, and he's [actually] a visual artist, or guitar player, or drummer, or producer, or collage artist, or poet. When I got into the art scene, all these different people with all of this amazing talent were people I had already seen at the corner store."
Fittingly, on May 22 at Motor House, APNN plans to pay homage to the ubiquitous corner shops—and all they mean to Baltimore—with Westside Poetry, an evening of performances designed to take the audience to "Ova West Convenience." Prior to the 7 p.m. show—which will also feature fellow poets Lady Brion, Gayle Danley, Kondwani Fidel, Nia June, and Kenneth Something, as well as comics BruceDaddy and Khairy Creek—the Station North arts venue will host a local market toting artisan goods. 
"When I came up with this idea, I wanted to highlight the symbolism of [the corner store]—both negative and positive," APNN explains, calling it "a staple that's been holding the Black community up for a long time. Sometimes, it's people's closest grocery store. And for a lot of Black kids, it's where they have their first interactions with Asian culture and other ethnicities. It's a place where kids can have a safe haven."
For June—a Baltimore-born poet, performer, filmmaker, and arts educator—a corner store on Denison Street in West Baltimore was where she often ran errands with her cousins as a child.
"So many kids remember getting money from their grandmothers to go to buy an ingredient, like milk or eggs…and during the summer, it was always an event to walk to the corner store and get snacks," June says. "We used to get the SpongeBob ice cream with the gumball eyes, and all kinds of chips. They were like 25 cents a bag then—maybe even cheaper than that. "
In addition to sharing the stage with likeminded artists this Sunday, much like APNN, June looks forward to giving Baltimore corner stores their overdue props. 
"It's great to celebrate them," June says. "They're such an average part of our lives, but when you look at how Baltimore is represented, the communities where most of the corner stores are [located] are shunned from the public eye. And if they are represented, it's related to poverty or crime. I think that's what makes this [show] so special. It's drawing out the beauty in something that has a stain on it. It's pulling out the culture and the good things about neighborhoods [that people] demonize so often here." 
APNN also acknowledges the stigma that remains tied to corner stores.
"This is an honoring and a celebration in spite of that," he says, adding that he wants this Sunday's audience to keep an open mind. "With each individual artist, there's going to be a different atmosphere, a different mode, and different story. You may even feel like you're on a different block, depending on who's up there at the moment. People are going to speak on some beautiful things. And it's all wrapped around the time you just so happened to be getting a bag of chips. I want people to take something away from that."