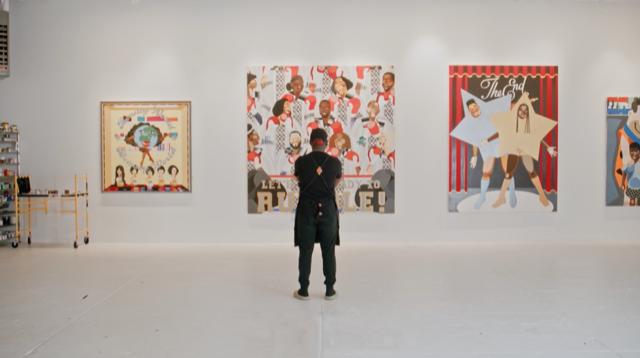 —Courtesy of Clark Vandergrift
"What is art?" That's the question that Baltimore native and Tony Award-winning actor André De Shields poses in the trailer for the city's beloved Artscape festival. "Oils on a canvas, the shape of light, the movement of form and figure, the sounds of a city, the deliberate craftsmanship of a master's hand, or the manifestation of a feeling?"
The answer is left to viewers of the visually moving promotional film—which was released in the fall by the Baltimore Office of Promotion & the Arts and took home two trophies for Best Internet Commercial and Best A/V Sales Promotion at the American Advertising Federation of Baltimore's annual ADDY Awards held at the Senator Theater last week. 
Around the video's 90-second mark, the background music fades, and De Shields looks into the camera to announce the long-awaited revival of America's largest free arts festival, which took a three-year hiatus due to COVID-19 but is slated to return to an extended footprint throughout Bolton Hill, Mt. Vernon, and the Station North Arts & Entertainment District September 22-24. (As longtime locals know, the event is typically held in July, but it was pushed to September this year in hopes of avoiding excess heat.) 
The comeback follows the January resignation of BOPA's CEO Donna Drew Sawyer after its decision to cancel this year's Martin Luther King Jr. Day parade–which sparked pushback by city government and the surrounding arts community about the nonprofit's commitment to Baltimore's arts and culture events. 
But Tonya Miller Hall—former chief marketing and programs officer for BOPA who now serves under Mayor Brandon Scott as senior advisor of art and culture for the city—assures that local artistry, in all of its forms, will be at the forefront of this year. 
"While this is Baltimore's much-beloved festival—a 40-year-old festival—a lot of artists weren't always invited to the party, if that makes sense," says Miller Hall, who helped with creative direction for the trailer. In years past, "The likes of [painter] Ernest Shaw and [photographer] Devin Allen may not have participated or been able to show their work. So, this [trailer is] a love letter to local performers—to showcase the breadth of work, disciplines, and practices of local talent here."
She's referring to a past lack of dedicated effort in celebrating the Black artists of our majority Black city. Meanwhile, the film, produced by local producer Adrienne Hammel and written and directed by local filmmaker Clark Vandergrift, features a diverse cast of well-known local artists of color, including saxophonist Brandon Woody, muralist Jaz Erenberg, and multidisciplinary artist Derrick Adams. Rapper Eze Jackson performs an original song based on Vandergrift's script, titled "City Love," while city influencers like Chyno (aka "The Boy With the Blue Beard") and "Bowtie Bob" Nelson also make appearances. 
Vandergrift notes that, to achieve the right feel, the creative team had to think about the big picture—including artists of all disciplines. 
"If you were to go to an elementary school and tell a third grader to draw a picture of an artist, they would draw a picture of a painter with an easel—that's what comes to mind," Vandergrift says. "But we had this list of characters in front of us, and it was apparent that [being an artist] was so much more than that. I started thinking about all the different people who were in the film and the ways that they bring things to the table. What truly is art? And how do you define it?" 
The COVID-19 pandemic paused Artscape from 2020 through 2022, and following an era of uncertainty surrounding its future, Miller Hall hopes that the video spurs a renewed sense of excitement for the festival. She met De Shields a few years ago and thought he would be the best person to tap into that feeling.
"He has that voice," she says, adding that, after reaching out to his team, the actor was on board within 24 hours. "He's iconic—people just love him, and he loves Baltimore." 
Both Vandergrift and Miller Hall knew that they wanted the film's participants to be shown in their own elements, both making and consuming art in well-known locations like Graffiti Alley in Station North and the Dutch Courage bar in Old Goucher. 
As for De Shields, whose stirring call-to-action serves as bookends to the video, "I heard his voice in my head when I was writing," says Vandergrift, who calls working with De Shields a "career highlight."
Miller Hall, who hopes to screen the trailer at local theaters by late summer, says she's thrilled with the reception since its online debut last October. With the festival just over six months away, and lots of work still to do beforehand, BOPA hopes that "What is Art?" will remind Artscape fans of all the creativity that Baltimore has to offer.
"The first time I showed it to an audience, I teared up," Miller Hall says. "I'm so excited every time I show it. And it still gives me goosebumps."