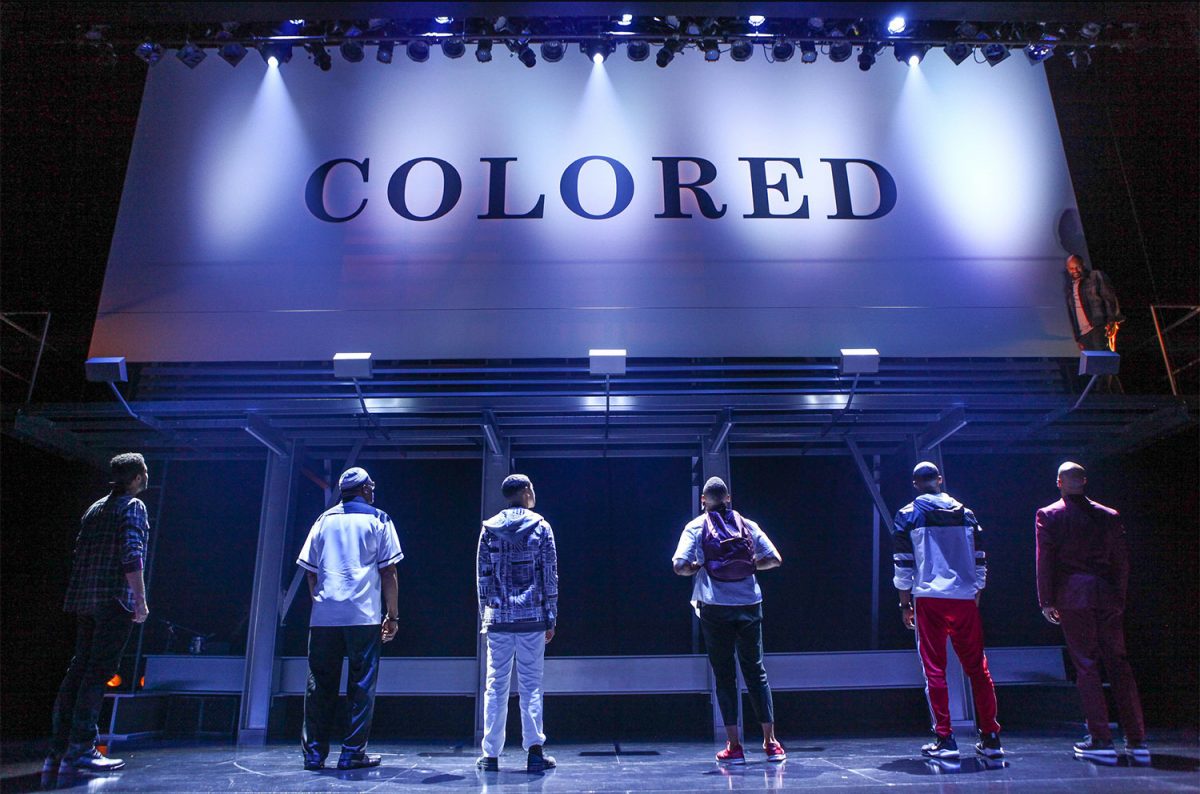 Photography by Michael Davis via Baltimore Center Stage
"Who is a colored man?" a man named Depression queries from a spotlight on an otherwise dimly lit stage. A towering white billboard with the word "colored" written in all caps across it in black looms behind him. This question, along with the backdrop, set the foundation for Thoughts of a Colored Man, a new production from playwright Keenan Scott II and director Steve H. Broadnax III running now through November 10 at Baltimore Center Stage.
"I was very excited when Center Stage decided to add us to their season this year," Scott shared during an artist talk with the cast moderated by Delegate Nick Mosby at the Reginald F. Lewis Museum of African American History and Culture last week. "Baltimore and the plight that young black men face here is very similar to how I grew up in the '90s in New York. Baltimore was the perfect place for this piece."
Though he is originally from Queens, New York, Scott spent the latter part of his adolescence in Southern Maryland. His history as a spoken word artist and experiences living in the suburbs of Washington D.C. and the bustling borough of Queens inspired many scenes in the play.
"My initial inspiration was to write a piece that really spoke to people from my generation," he said, "People from the communities that I am from, and who really embody and encompass my family."
Described by Scott as having "one theme, seven variations," Thoughts of a Colored Man showcases snippets from the lives of seven black men presently living in gentrified Brooklyn, New York.
Each character has an allegorical name that represents a broad range of human emotions, including Wisdom (Jerome Preston Bates), Passion (Brandon Dion Gregory), Depression (Forrest McClendon), Lust (Reynaldo Piniella), Happiness (Jody Reynard), Love (Ryan Jamaal Swain), and Anger (Garrett Turner). The use of the names is an imaginative way to contextualize specific nuances of black masculine identity. "I did not see [those] stories when I was studying theatre," Scott said.
Depression, whose story is one of martyrdom, is the only character who reveals his name early on. He gave up a full scholarship at MIT to assist his mother in raising his brother. His love for his family is unwavering, but he is constantly teased for the way he speaks, and he is insecure about his life and job as a clerk at Whole Foods.
He works to provide for his family, but despite the double shifts, his labor never changes their condition. The audience doesn't learn the names of the other characters until the end of the performance, but it is through their dialogs with each other, and their internal monologues, that we learn why they are rightfully named.
Stripped-down props transform street corners into barbershops, and secluded parks into a grocery store. Ntozake Shange's seminal play, For Colored Girls Who Have Considered Suicide When the Rainbow is Enuf was another major inspiration.
Scott plays with language to illuminate a timely and longstanding discourse about the power of words, America's history of racial categorization, and the burdened legacy of identity.
"There is a visceral response when we see the word 'colored,'" Scott replied when asked why the billboard, which dominates the stage and towers over the audience, is such a prominent feature in the set design.
As James Baldwin noted in The Fire Next Time: "Color is not a human or a personal reality; it is a political reality." The billboard is an inescapable reminder of that political reality. When asked what he hopes audiences will experience after viewing the play, Scott remained optimistic, "I hope people will walk away with more empathy."