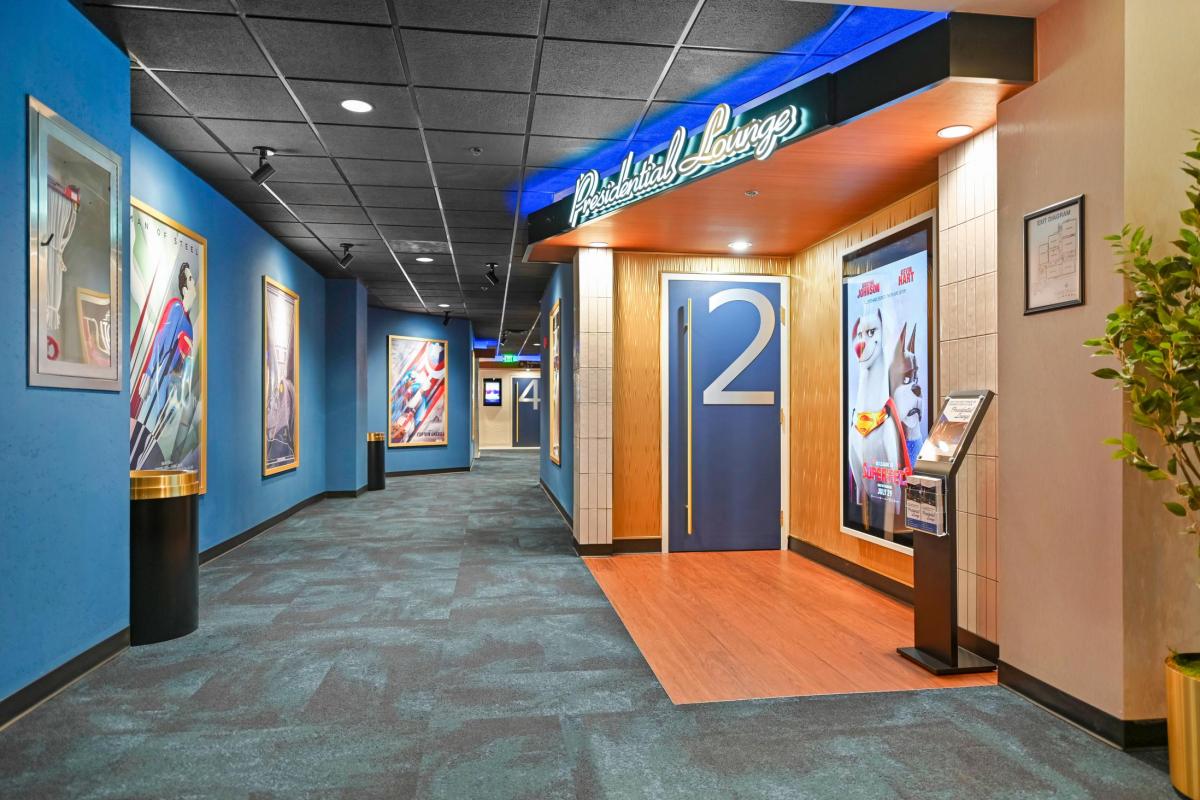 Harbor East Cinemas' new Presidential Lounge will host movies, live music, magic, comedy, and other community programming. —Courtesy of Harbor East Cinemas
Especially throughout the past few years, movie lovers have become accustomed to catching new releases from the comforts of the couch. But Baltimoreans will soon have more of an incentive to go to the theater, as two city cinemas—one new, one refurbished and reopened—unveil major upgrades. 
Last week, Harbor East Cinemas—a rebrand of the former Landmark Theatres on South President Street, which reopened to the public last November—capped off its top-to-bottom renovations with the introduction of its new Presidential Lounge. The transformed auditorium will host movies, but also become a space for local entertainment like magic, music, and comedy. Its debut comes on the heels of other updates like a fully renovated lobby with fresh furniture and exposed bulb light fixtures; heated seats in some of the theaters; and a new concessions area with upgraded food and bar offerings. 
Additionally, on Thursday, May 4, the brand new Warehouse Cinemas—which also operates locations in Hagerstown and Frederick—is slated to make its debut in the former CineBistro and adjacent Growler USA spaces at The Rotunda in Hampden. The expanded theaters, retrofitted with luxury recliners and top-of-the-line projectors, will also feature a curated food-and-drink lineup, as well as a self-serve beer wall with 32 local taps in the lobby. The interior renovation features hand-painted tile and finishes by Artstar Baltimore and a custom, retro Wizard of Oz mural by Annapolis artist Jeff Huntington.
"We like to [bridge] that gap between enjoying a great movie and having a good time with food and cocktails involved," says Louise Wheeler, Warehouse Hampden's community liaisons manager.
The concessions lineup at Warehouse (which will open with showtimes for Love Again and Guardians of the Galaxy Volume Three this week) includes snacks like a brie and gruyere grilled cheese; fries and soft pretzels with beer cheese; Old Bay honey chicken bites; and an entire lineup of Korean-style corn dogs inspired by classic films. (Think: The sweet-and-spicy "Miyagi" topped with Sriracha mayo, or the Frito-crusted "Nacho Libre" topped with cotija and lime crema.)
Harbor East Cinemas has partnered with Lib's Grill, which has locations in Perry Hall and Fulton, to add flatbreads in classic cheese, barbecue blackened chicken, and prosciutto provolone flavors to their menu of classic movie snacks. (There's talk of vegan and gluten-free pies, too.) Both establishments have plans to curate themed cocktails to go along with the flicks on the marquee. 
Although it might seem easier to watch movies on your favorite steaming service at home, Ginny Lawhorn—the longtime former beverage director of Landmark Theatres who now serves as Harbor East Cinemas' special events coordinator—sees this new era of moviegoing as a way for locals to treat themselves.
But she also acknowledges that it's an investment, which is why the team was thoughtful about the new offerings that came with the overhaul—especially with regard to introducing community programming. Warehouse also plans to involve the community with a monthly brunch club featuring themed food and drinks, half-priced beer happy hours on Wednesdays, and monthly Film League meetings meant for fans of foreign, classic, retro, indie, and artistic flicks to connect through their love of film. 
"To have those shared experiences—to have a reason to take the time to exit your otherwise overly-engaged life, and take two-and-a-half hours for yourself—feels kind of decadent at this point," Lawhorn says. "With all of us managing so much, we need to be mindful of how we're asking folks to spend their time and money."
Lawhorn also says that she's glad to see Charm City's classic arthouse theaters, like The Charles, The Senator, and The Parkway, enhanced by the new venues—which she hopes will provide the community with more opportunities to connect. 
"Aside from art museums, there are very few places [besides movie theaters] where you can go and be in a room of strangers and share an important milestone," she sums up. "Being able to have those safe environments for people of all ages and backgrounds is more important than it may feel."