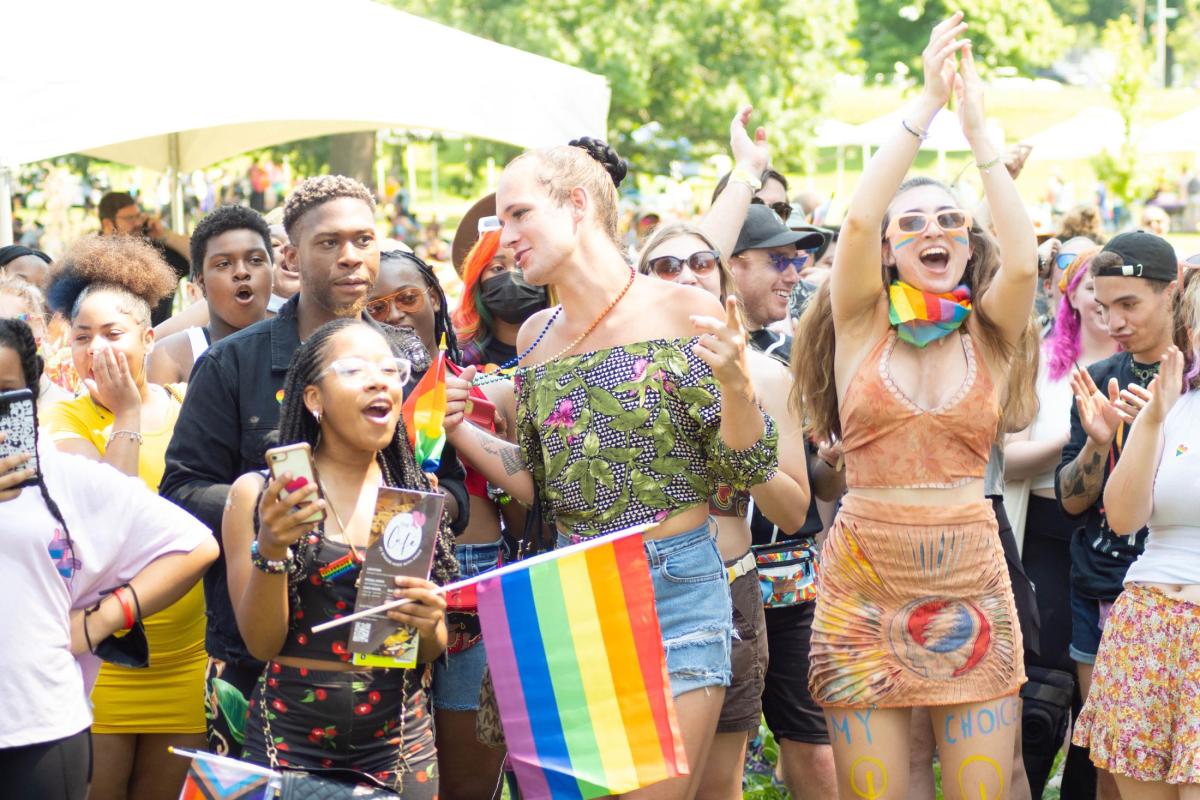 The annual Pride in the Park festivities return to Druid Hill Park June 25. —Photography by Caver Imaging via Baltimore Pride
After a record-breaking turnout for last June's Pride events in Baltimore, the Pride Center of Maryland is going all out once again with a lineup of passionate performances and powerful exhibits celebrating the LGBTQ+ community all month long. The events range from adults-only bar crawls to family-friendly street festivals, all leading up to the annual High-Heel Race, Pride Parade, and Block Party in Central Baltimore on Saturday, June 24; and the Pride in the Park bash at Druid Hill Park on Sunday, June 25. 
The theme for the year's festivities is "One Love, One Heart, One Pride," recognizing togetherness within a diverse community. According to this year's Pride coordinator Abdul Ali—a local poet, cultural worker, and community advocate—it's a message that stresses the importance of love and acceptance of all members and their allies.
"In so many ways, our country is divided, and our communities can be divided," Ali says. "Sometimes we forget this message of unity and love, but it's really important, and it's a big part of Pride. I hope that folks will have a great time and feel genuinely welcomed as a part of Pride regardless of how they identify."
Aside from The Pride Center's many planned happenings, dozens of other Charm City restaurants, businesses, and organizations are also hosting rainbow-themed parties and festivals to promote equality and acceptance throughout the month. Here are a few to check out: 
Parades & Parties
6/24: Baltimore High Heel Race
Thirty minutes before the parade steps off on North Charles Street, throw on your heels and get ready to run in this fun-yet fiercely competitive tradition. E 25th St. & MD-139 12 p.m.
6/24: Baltimore Pride Parade
Plan your most festive 'fit and find a spot along the parade route (it steps off at North Charles and 33rd Street, passes Wyman Park, and descends into a block party at N. Charles and 23rd Street) to watch dozens of groups march for unity. Look out for colorful flags, floats, banners, balloons, marching bands, and energetic performers throughout the two-hour procession. North Charles St, 1-3 p.m.
6/24: Pride Block Party
After the parade concludes, keep the party going with the annual gathering in Station North. Jam to bangers by headliner Remy Ma (think: "Conceited: There's Something About Remy" and "Feels So Good") as you explore vendors, food, and more. Between North Ave & 23rd St, Charles St, 3-9 p.m.
Pride Outside
6/9: Bark After Dark: A Dog-Friendly Drag Show at Bark Social 
Dress up your pup in their most fabulous outfit and head to this Canton hangout for a lively drag performance by favorites Evon Dior Michelle, Sapphire Dupree, Pariah Sinclair, and Amber St. Lexington. Food and drink specials for both dogs and humans (think: $2-off beer, wine, and seltzer) will be highlighted throughout the evening. 3822 Boston St. 8-10 p.m. $20. 
6/16: Youth Pride
Kids ages 12-18 will have a blast at this carnival-themed party—packed with games, music, contests, and giveaways—at Baltimore Unity Hall. The event is hosted by Baltimore's Star Track Adolescent Health Program, which aims to increase access to healthcare for all city youth. 1505 Eutaw Place, 6-9 p.m.
6/17: Pride of Mt. Vernon
Spend your Saturday celebrating at this annual street festival featuring dozens of vendors, local artists, live music, activities, and food. Read Street between Charles and Cathedral Streets. 1-8 p.m.
6/22: Grits & Grind
In collaboration with Baltimore Pride, Merritt Clubs Downtown is hosting this hour-long workout that combines 30 minutes of Les Mills Grit Strength with 30 minutes of Zumba. Before class starts, be sure to purchase a signature Merritt Pride tank ($21.) Ten dollars of each shirt purchased will be donated toward the efforts of the Pride Center. 210 E Centre St. 6:15 p.m. $10 donation. 
6/25: Pride 5K
Cue up your Pride playlist and walk, jog, or run your way through this inaugural Pride 5K at Druid Hill Park. The race descends into the annual Pride in the Park festival. (See below.) 900 Druid Park Lake Dr. 9 a.m. $40-45
6/25: Pride in the Park
R&B singer K. Michelle (of Love & Hip-Hop: Atlanta fame) is headlining this Sunday Funday in the park. Explore goods by local makers, listen to live music, and take in sights and sounds of lively drag performances all afternoon long. Druid Hill Park, 12-6 p.m.
6/25: Uncovered: A Baltimore Pride Rooftop Party
With a birds-eye view of the city as your backdrop, party the evening away at this LB Skybar bash. Tiered ticket options range from general admission access—including a la carte food and drinks and music spun by DJ Kleena—to full tables and VIP cabanas. Lord Baltimore Hotel. 20 W. Baltimore St., 6-10 p.m. $25-$300. 
Eats & Drinks
6/10:  Pride Bar Crawl at Power Plant Live
Embark on a colorful adventure throughout the downtown bar district, which will be offering themed cocktails and live DJs at multiple spots all night long. A portion of every ticket sold will benefit The Trevor Project, a national nonprofit that focuses on suicide prevention efforts within the LGBTQ+ community.  34 Market Place, 3-10 p.m. $15-40. 
6/16: Twilight on the Terrace
At this beloved fundraiser at Gertrude's Chesapeake Kitchen, support the Pride Center's 40-plus community programs for LGBTQ+ people across the state. The gala features food, music, an open bar, and dancing under the stars. 10 Art Museum Dr, 7-11 p.m., $150 GA, $175 at the door.
6/18: Baltimore Pride Community BBQ
Head to the Pride Center's Mt. Vernon headquarters for this cookout honoring Pride, Father's Day, and Juneteenth. Organized in partnership with B & Dee's Baltimore Love Inc., a local nonprofit that serves meals and provides clothing and toiletries to Baltimoreans in need, the get-together will feature free food, drag performances, local vendors, and live music spun by DJ T-N-T. 2418 Saint Paul Street, 2-6 p.m.
6/22: Pride on the Harbor
Attend a rooftop happy hour featuring local drag performers, live music spun by DJ sweet spot, and a special guest appearance by RuPaul's Drag Race star Mo Heart. The price of admission, which includes three drink tickets, includes a donation to Free State Justice, Maryland's statewide advocacy organization that aims to improve the lives of low-income locals in the LGBTQ+ community. Four Seasons Hotel Baltimore. 6:00 p.m. $85. 
6/23: Ridin' the Rail: Baltimore Pride at the B&O
Ever wanted to experience a live drag performance on board a moving train? Now you can with this special B&O event. Grab a cocktail in the roundhouse and bring it on board the train ride along the first mile of track ever laid in the United States. On the ride, enjoy performances by the likes of  Aave Blue, Kayden Amore' Chole, Stormi Skye, and Ervena Chloe. After the train returns, stick around the museum for an after party featuring live music by DJ James Nasty and Kotic Couture. 901 W Pratt St. 6:30- 11:30 p.m. $28-85.
Drag Performances
6/10: Pride at Peabody
Spend your afternoon sipping pints, enjoying food truck fare, and taking in an interactive drag show. Performers on deck include Dustyn Dawn, Chanel Belladonna, Hazel, and Baphomette. Peabody Heights Brewery 401 East 30th Street, 12-2 p.m. $15 
6/15: Drag Bingo at Ministry of Brewing
Test your luck at drag bingo with the chance to win free drinks and swag. This event is 21+, with beer and ciders available for purchase.  1900 East Lombard Street, 6:30 -10 p.m. $15.
6/17: Drag Queen Story Hour: Pride Month Edition
Bring the kiddos to the Hampden branch of the Enoch Pratt Free Library to hear stories of self love and acceptance, read aloud local drag queens. Spots are limited, so be sure to arrive early. 3641 Falls Road. 10:30 a.m.
6/23: Haus Pride with Detox and Laila McQueen at Topside
With the Washington Monument glowing in the distance, enjoy an evening of drag performances by RuPaul's Drag Race favorites, plus meet-and-greets and a premium open bar on the top floor of Mt. Vernon's Hotel Revival. 101 W. Monument St. , 7-11 p.m., $50 – $75
6/24: Illusions Drag Show and Brunch
Start your Pride Weekend off right with this comedic and high-energy drag show at Mother's in Federal Hill. Chow down on classic brunch fare and sip mid-morning booze while enjoying moves by Derek Skye Villaverde, Allie Kazam, Scarlet Starlet, Jada B. Trinity, Cali Blaq, Georgette Chevalier, Sunrize Highway, and Inferno K. Bonet  1113 South Charles Street, 11 a.m. – 2 p.m. $15.
Arts & Entertainment
6/7-6/18: Frozen the Musical
The Hippodrome is selling discounted tickets for this widely loved musical, with a portion of the proceeds going to the Pride Center. 12 N Eutaw St. Prices and times vary.
6/10: Made with PRIDE Maker Market
Make your way to Open Works in Greenmount West to mix and mingle with tons of vendors from the local LGBTQ+ community, who will be exhibiting jewelry, home decor, art, clothing, and more. There will also be live music and eats and drinks. 1400 Greenmount Ave. 10 a.m.-4 p.m.
6/11: Pride Sip & Paint
Local artist Michael Bruley is leading this no-experience-necessary workshop at Pariah Brewing Company. While sipping suds, create your own rainbow-designed Natty Boh portrait.  Participants who arrive decked out in their most colorful outfit will be entered to win special prizes.  1700 Union Avenue. 4-7 p.m., $30.
6/13: Pride and Justice: A Talk with Rev. Freeman L. Palmer
At Roland Park Presbyterian Church, get a better understanding of the need for Pride as Rev. Freeman L. Palmer discusses the intersection between racial justice and justice for the LGBTQ+ community. 4801 Roland Ave. 7-9 p.m.
6/15: Chesapeake Arts Center Pride Month Exhibition Reception
Celebrate the opening of this exhibition featuring works from local LGBTQ+ artists—including David Ayala, Ricky Chenoweth, Shawnna Giles, and Oliver Maddox—with an evening of food, drink, and discussion. If you can't make the opening reception, the exhibit in the Brooklyn Park center's Gallery 194 is open to the public through July 31. 194 Hammonds Lane. 6- 8 p.m.
6/20: From Twilight into Sunshine: LGBTQ+ History in Maryland
At Enoch Pratt's Central Library, learn about some of Baltimore's earliest LGBTQ+ activists and the work that they did for their community. The talk, held in collaboration with Baltimore Heritage's LGBTQ+ Walking Tour guides, will rewind the clock all the way back to the 1830s, "from trans sailors to lesbian philanthropists to the West Baltimore drag balls of the Jazz era." 400 Cathedral Street, 6:30 p.m. – 8:00 p.m.
6/24: Satur-slay Pride Comedy Showcase at Zissimo's
Get in a few belly laughs at this Saturday-evening showcase in Hampden, featuring some of the best and brightest LGBTQ+ comedians in the area. 1023 West 36th St., 8-10 p.m.