All Together Now
The next generation takes over at Bill's Music, a Catonsville institution.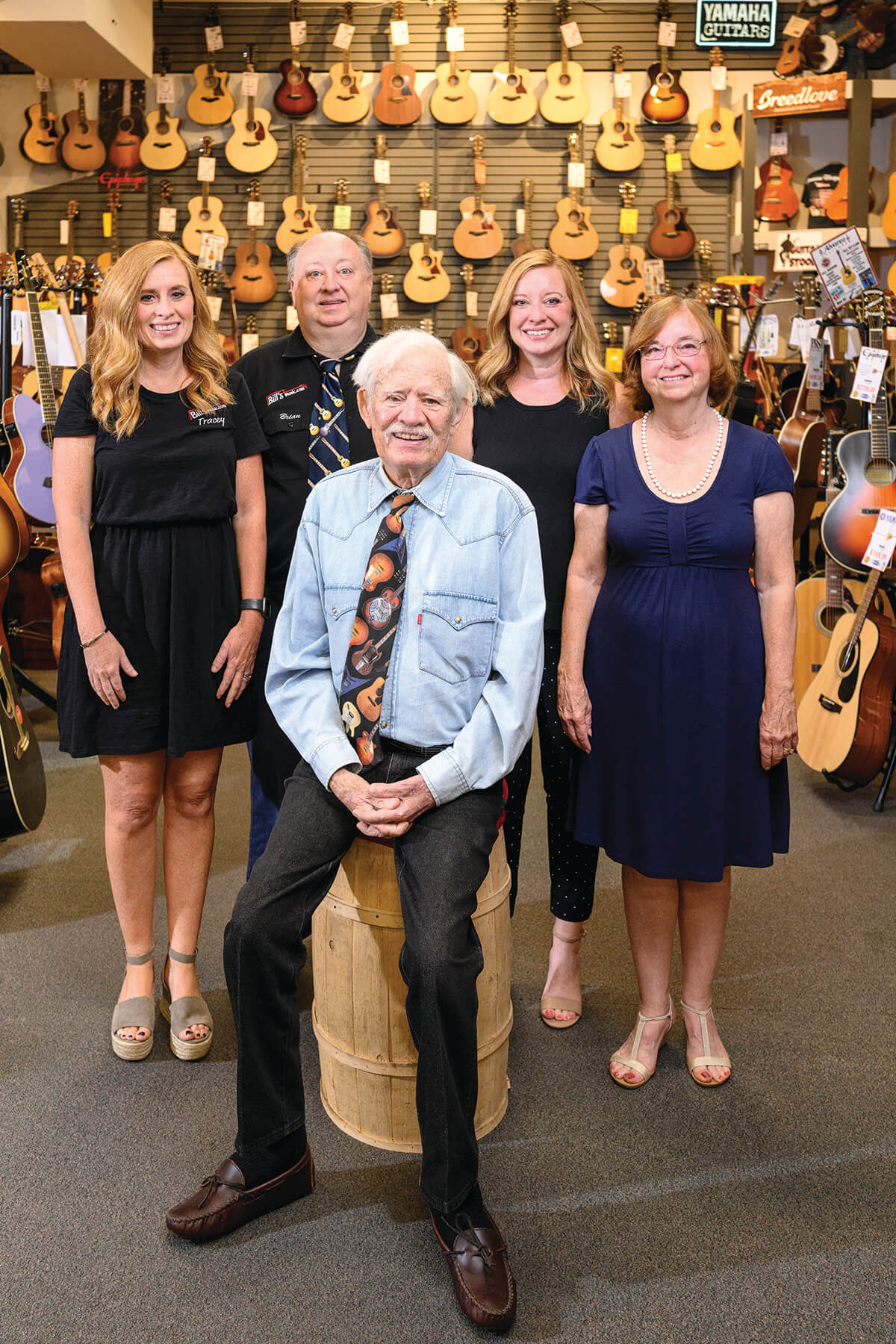 Gary "Groove" Massey places three Shure 58 microphones on the counter at Bill's Music and reaches for his wallet. A bass player who's worked with the likes of Chico DeBarge and R&B duo Ruff Endz, Massey wears a T-shirt repping his band (DemBmoreKatz) and says he's been shopping at the Catonsville store for more than 40 years.
"I bought my first bass amp and cabinet here when I was 13," he says, "and I've been coming back ever since. They have everything a musician could possibly need."
"WE BELIEVE IN MUSIC" hangs in large red letters over the front door, and the shop backs up that motto with an impressive inventory. On any given day, you'll find hundreds of acoustic guitars mounted on the walls, aisles of colorful electric guitars in display cases, stacks of amplifiers and speakers, full drum kits, dozens of keyboards and electric pianos, violins and cellos, an assortment of brass instruments, accordions, mics and mic stands, mixing boards and lighting rigs, DJ equipment, racks of sheet music, crates of vinyl records, and a dizzying selection of cords, pedals, straps, and strings. Poke around and you might also spot a sitar, dulcimer, and a barrel of didgeridoos and rainsticks.
"There's a definite 'wow' factor when you come in here," says Massey, "but the vibe isn't intimidating. It's a community-based store where you can have real conversations with friendly people, people who know you."
As if on cue, an employee calls Massey by name and asks if he's ready to check out. It's Brian Higgins, the store's general manager and the son of owner Bill Higgins. They exchange greetings and, after a clerk comes over to ring up the sale, Brian wanders off to help another customer. Massey says Brian epitomizes the spirit at Bill's and recalls once heading to a gig and realizing he'd forgotten to pack a keyboard stand. Turning onto Frederick Road, he spotted Brian locking up for the night.
"He literally had the key in the lock when I pulled up and told him my situation," says Massey, who recounts how Brian unlocked the door, told him to run inside and grab a stand, and refused any payment. "Tell me where else are you going to get that kind of service? That's what friends do for friends, though it's actually more like family."
That familial vibe, figuratively and literally, has proven essential to Bill's survival. In addition to Bill's son, Brian, his two daughters, Jamie Reese and Tracey Kern, and son-in-law also work at the store. His wife, Nancy, has worked there, too.
"A family member is here almost all the time," says Brian. "We recently went away together, and it was the first time in 20 years that at least one of us wasn't in the store. We work hard. We put a lot into it."
It's why they've been able to overcome serious challenges over the years, including changes in musical tastes, the arrival of big-box stores, the rise of online shopping, and COVID. But in some ways, Bill's now faces its biggest challenge yet: the retirement of its namesake founder.
Bill Higgins settles into a rocking chair in an office off the showroom floor at Bill's. Now 78, he still bears a resemblance to the portrait that's adorned the store's signage for decades. The black-and-white drawing, dating back to the 1970s, was originally created for a music column he wrote for The News American. The mustache and hair may have turned white, but the welcoming smile endures.
Bill opened the shop in 1965. At the time, he rented a 400-square-foot space (currently the Peace of Sunshine head shop) at the corner of Frederick Road and Mellor Avenue. A Catonsville High School graduate, he worked briefly at the Social Security Administration but had a passion for rock music, especially The Beatles and The Rolling Stones. He picked up the guitar and developed enough talent to put together a couple bands and recruit students for lessons.
After going around to people's houses for a year, he figured it would be more profitable to teach from a central location. He quit Social Security, took the Mellor Avenue space, and put a Bill's Music sign in the window. He charged $2.50 a lesson and says the timing was perfect, "because everybody and his brother wanted to play 'Satisfaction' when the guitar rush hit."
He bought guitars for students and, fortuitously, got into a conversation with a supplier delivering instruments to the store he frequented. Bill asked if he could buy product directly from the supplier and was told he just needed a resale license.
"I got that resale license and had my first supplier," recalls Bill. "Gradually, I learned about other suppliers and started going after guitar lines like Fender and Gibson, and things just took off."
He hired two instructors to handle lessons and devoted himself to sales. It turned out he had a knack for it. "I didn't have any money, but I had plenty of energy," he says.
"I became the frontman, because I really liked selling."
Bill smiles at Nancy, who pulls up a chair, and credits her for helping take things to the next level. She was dating Bill and working at the National Security Agency (NSA) when the shop opened. She got off at 4 p.m. and joined him at the store until closing time, usually 9 p.m. When Bill suggested she might work full-time, Nancy took a leave of absence at the NSA.
"I never went back," says Nancy, who handled the bookkeeping. "We got so busy, and I really enjoyed working together."
"THERE'S A DEFINITE 'WOW' FACTOR WHEN YOU COME IN HERE, BUT THE VIBE ISN'T INTIMIDATING."
"As soon as we got a little something going," adds Bill, "we went ahead and got married." The couple celebrated their 55th wedding anniversary this year.
The shop moved from its basement digs to a storefront across Frederick Road until the mid 1970s, when Bill bought the building that now houses the shop. A major renovation in 1996 produced the current 36,000-square-foot iteration of Bill's, a far cry from its humble beginnings. Bill says Chuck Levin's Washington Music Center, a D.C.-area institution since the late 1950s, inspired him to think big.
"It was the state-of-the-art music store," says Bill. "I'd go over there and think, 'Man, I'd love to have this someday.' Well, my store kept getting bigger and stronger, and, one day, I had my version of that."
It anchors a music-centric corridor, which also includes Appalachian Bluegrass, The Piano Man, and the Trax on Wax record store. It's one of the primary reasons that stretch of Frederick Road was designated "Music City, Maryland" by the state.
Bill and Nancy laud their workers for such growth and stability. Some salesmen worked 10 or 20 years, and three early employees stayed at Bill's for more than four decades. Two of them retired a few years ago, while Ron Cook continues to repair and tune up instruments just as he has since 1965.
Their children have worked there for decades. "It's time to give them a shot at running things," says Bill, who says COVID concerns kept him away from the store for more than a year. "They're ready for it."
The next generation is firmly in place. Brian started working at Bill's at 14 and now has his father's job. Tracey has taken over her mother's job, handling the accounting and paying the bills. She also oversees the music lessons. Jamie manages the website and online sales, as well as social media. Tracey's husband, Leni Kern, works in online sales, too.
"At this point, we have customers bringing in their kids," says Brian. "In fact, I see customers who bought their first guitar here bringing in grandchildren for their first guitar."
Jamie sees more women coming in, especially young girls. "They're 10, 11, 12 years old," she says, "and they're coming for electric guitars and drums. Before, they might be getting violins or flutes, but girls are branching out."
"We see it in our lessons program, too," says Tracey. "There's a new generation of girls coming for lessons and taking over a little bit with the rock instruments."
Guitars and amps are still the most popular sellers at Bill's, but changing tastes have led to a more robust stock of electronic gear as more people make music on computers or give podcasting a try. Sales soared during the pandemic.
"Last year was the biggest selling year for guitars in the history of the music industry," says Brian. "People also needed equipment for Zoom meetings, setting up home studios, broadcasting church services, or just for something to do. They bought everything we had."
Pre-COVID, for instance, Brian may have ordered half a dozen audio interfaces for the store. During lockdown, he was ordering 100 at a time and struggling to keep up with demand. Due to limited staffing, family members worked overtime. "It was non-stop," says Brian, "and we were exhausted every day. It actually turned out to be a good year for us. We were shocked."
Going forward, they'll need to focus on daunting challenges posed by Amazon and other online retailers. Bill's outlasted the big-box stores that popped up in the 1990s with its winning mix of competitive pricing and customer service. Now, they're working to simultaneously grow Bill's online presence and make the brick- and-mortar store even more of a destination. They now rent gear and instruments, buy used instruments, and have rehearsal spaces available.
"OUR BUSINESS IS ALL ABOUT BUILDING AND MAINTAINING RELATIONSHIPS. IT'S LIKE A FAMILY."
The Higgins kids, like their father, understand the value of self-promotion. With Nancy and Leni in tow, they recently flew to Atlanta and taped episodes of Family Feud with Steve Harvey. "It was so much fun doing that together," says Brian. The segments will likely air in February.
Brian, Jamie, and Tracey—who all live about a mile from the store—enjoy getting together when they aren't working. They regularly meet for dinners and try not to talk too much shop. They acknowledge the significance of Bill stepping aside, but feel they've been well prepared. He taught them to buy smart and to always be honest and fair with customers, says Jamie. "He gave us the tools to survive no matter what."
"Our business is all about building and maintaining relationships," says Tracey. "It's like a family."
It's been that way at Bill's since 1965.