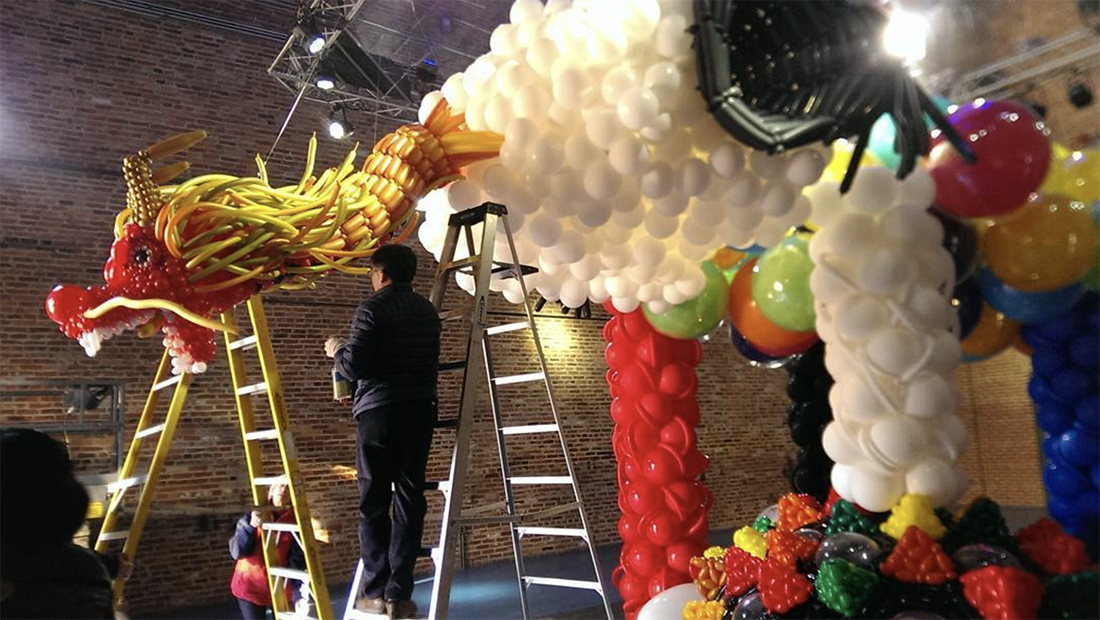 AVAM
"I cannot see you and I cannot see the sculpture," blind South Korean balloon artist HongSeok Goh told the crowd gathered at the American Visionary Art Museum hours after he recently completed a massive, four days-long balloon installation—more than 20 feet long and 15 feet tall—inside the museum's warehouse barn. "But it makes my heart pump harder."
Making his first installation in the U.S., Goh said that his work was inspired by AVAM's current mega exhibition, The Great Mystery Show. He described his piece as a metaphor for the universe, envisioning and building a bold, enormous elephant standing over a sprawling tortoise. The vastness of the universe is represented by the immense elephant, Goh explained, and the passage of time by the slow-moving, imperturbable turtle.
The four colors of the legs of the elephant—red, blue, white, and black—highlight the colors of his country's flag. A dragon's head and gaping mouth perched at the end of its trunk symbolizes the human imagination.
Goh arrived in Baltimore with his wife and a small team of assistants, whom he calls his "Korean Balloon Avengers," courtesy of a South Korean grant. They went an extra mile or two to keep the sculpture up for several weeks, literally inflating a balloon inside each balloon, adding a sealant as well. Goh said through an interpreter that he slept just two to three hours a night to complete the project .
One reason he likes to make balloon sculptures, Goh says, is that his works are inevitably temporary, and the process of inflating air into something beautiful that slowly fades away signifies "the ephemeral life of all things and the greater cycle of Nature." Another reason is that his pieces make the air that surrounds people—which they cannot see, as he cannot see—suddenly visible.
Goh was also helped by Los Angeles-based balloon artist Addi Somekh, who has been twisting balloons for 26 years. "This is not normal ballooning," Somekh said. "He's had to invent new ways of doing things out of necessity and it is incredibly precise and sophisticated. And make no mistake, he is doing the work and directing us," Somekh added. "He goes from the intricate work of the dragon's head to the rear of the elephant and knows just where everything is. It is not like he's partially sighted, either. I've seen him ask his wife a question and watch her make a few lines in the palm of his hand, but that's it."
As a teenager, Goh contracted a virus that began to destroy the optical nerves in his eyes. Now 46, he has been blind for almost 25 years. As a young man, he described himself as athletic, an avid baseball player, soccer player, and cyclist with no artistic training or interest. "I began to twist balloons when I was 28, so I could have a job to do for the rest of my life."
The installation is expected to remain up this week and next inside AVAM's Anita Roddick Tall Sculpture Barn.