'Baltimore Anthology' Presents Unique Take on the City Through the Eyes of Local Writers
A part of Belt Publishing's City Anthology Series, the short story collection, out June 28, is co-edited by Gary Altmeter and Rafael Alvarez.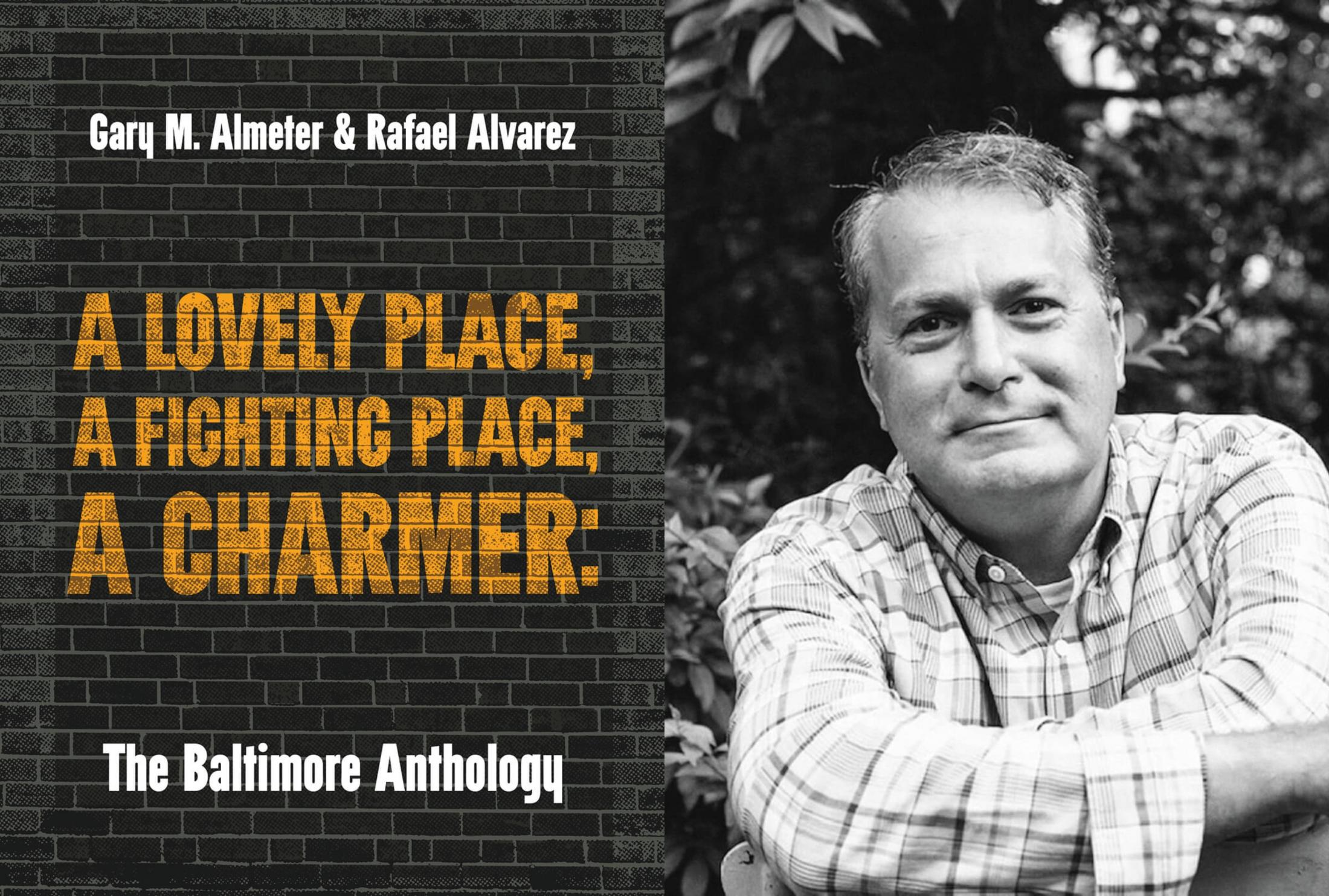 An attorney by day, Gary Altmeter is the author of two books—the 2019 memoir, The Emperor of Ice Cream, and the forthcoming novel, Kissing the Roadkill Back to Life—as well as a contributor to McSweeney's. Along with former Sun reporter and writer/author Rafael Alvarez, Altmeter is also the co-editor of A Lovely Place, A Fighting Place, A Charmer: The Baltimore Anthology—three dozen essays from city writers, poets, and journalists (including myself) as well as stories from a reporter-turned-pastor and Congressman John Sarbanes.
The diverse collection features the saga of 19th-century Baltimore grave robbers and a history of the city morgue by Bruce Goldfarb, an award-winning writer and the executive assistant to the state's Chief Medical Examiner, and a letter and plea to Baltimoreans from New York Times bestselling author D. Watkins. Overall, readers get personal explorations of family and local history, and a wide-ranging account of what the city feels like today—from growing up in a changing Park Heights to urban gardening in Bolton Hill—as well as reflections on life during COVID-19 and the legacy of Freddie Gray.
You taught school in New York City and then came here for law school. When did you become a writer?
A friend and I were talking about goals and his goals were all about bungee cords, airplanes, and continents, and I was like, "I want to be a partner at the firm and save money for college for the kids." He just offhandedly says, "You need new goals." I thought, I do need new goals. My favorite website is McSweeney's [the daily humor site of McSweeney Publishing] and so I said, "Don't laugh. I've always wanted to publish something there." It isn't The New Yorker, but there's some gravitas. I don't know your experience with rejection, but I became very familiar with it. When they finally accepted something, it was euphoria.
How did you and Rafael Alvarez get together on this project?
He and I were in Portland in 2019 for the Association of Writers and Poets Conference and hung out. Then when we got back, I asked him if there'd ever been a Baltimore Anthology. I'm from Buffalo originally and there's a book called The Buffalo Anthology by Belt Publishing. So, I called or emailed Belt, I've forgotten which I did first, but they're out of Cleveland and they have this whole thing called the Rust Belt Series that's really cool. I said, "Look, I don't know if Baltimore's in the Rust Belt or not. If it's not, it should be. Here's what we're thinking."
Your piece, "The Proclaimers," is built around the moment of catching someone listening to music you didn't expect—an '80s Scottish alternative rock band, for instance—and remembering not to prejudge people and remain open to the little surprises of city life.
I mentioned this in the essay, but that happened before, too, when I heard somebody whistling, "Running Up That Hill," by Kate Bush. I turned around and it just wasn't your typical Kate Bush listener, or so I thought, and yet these ideas of what music listeners should look like persist.
One thing that's interesting is half the writers seem to be native Baltimoreans and the other half are transplants, who have fallen in love with this lovely, scrappy, charming city.
The collection is less about crabs and Ocean City and those things; it's more about after the superficial uniqueness wears off. Some of the gems are from writers who grew up here, but I think outsiders also sometimes have more of an appreciation for the ordinary than a local would. Representation, in terms of geography of the city, was important, but I don't think the insider-outsider perspective was conscious. It just happened.
What is a personal favorite?
There's one called, "What I Miss About Baltimore." I love that one because there's that perfect balance between melancholy and funny. The writer lives in Boulder now and is not supposed to miss Baltimore but does. He misses snowballs and the squeegee kids. Misses Happy Hour, the pink and yellow pens from Big Boyz Bail Bonds, and Barry Glazer's commercials. He catches himself feeling optimistic about the city and then trying to convince himself he's wrong, which is something we probably all do.