Private Eyes
Boudoir photography takes off.
The minute I enter the studio tucked away on a secluded road near Govans for my first-ever boudoir shoot, I feel like I've made a huge mistake. With lingerie that I purchased from a cheap overseas website and my fiancé's black and red football jersey in hand, I contemplate running back to my car, but it's too late, as boudoir photographer Candice Kemp has seen me. In fact, she'll soon be seeing much more of me.
"Come on in," coaxes Kemp of Candice Michelle Boudoir. "Relax, we're going to have a good time." Of course, she won't be the one who will soon be nearly nude in front of a camera. I try to convince myself that my fiancé will love these photos of me as a wedding gift, but I'm definitely having second thoughts. This whole photoshoot was my best friend's suggestion, and I had somehow agreed it was a good idea. I've always considered myself a bit of an exhibitionist, but lately things have changed.
Growing up, I was always the thinnest person in the room, maxing out at just over 120 pounds. I loved my body and, yes, how much everyone envied my slim stature. But that was before I gained more than 50 pounds over a span of three years. After being diagnosed with hypothyroidism, an under-active thyroid condition that caused me to put on the weight so rapidly, I started to feel differently about my body. For the first time in my life, I have a belly that I can't quite get used to and more thighs than I can handle—and I hate it. If I had decided to do this five years ago, I wouldn't have been so reluctant. But that was then. This is now.
As the studio door shuts with a gentle click, I'm escorted to a makeup chair where a friendly face greets me with a simple smile and words of encouragement. "You'll do fine," says hair and makeup stylist Javon Harris. "Once you get started, your nerves will fade away."
Taking a deep breath, I close my eyes and prepare myself for what is about to come.
"More and more women are taking it upon themselves to redefine what it means to be sexy."
During the 1920s, the art of boudoir photography began to really take off. At that time, it was illegal to have nudity in photographs, but American photographer Albert Arthur Allen pushed the envelope by posing nude women, typically more on the curvy side, against romantic backdrops. He wanted to show that sex appeal was "human appeal" by thrusting it into the public eye.
Fast-forward to the 1950s, when the focus shifted to pin-up girls—shapely starlets like Marilyn Monroe and Dorothy Dandridge who appeared in Esquire magazine and were considered the ideal. These pin-up girls wore stockings, corsets, men's ties and hats, and were among the first to use props in their photos.
Once magazines like Playboy came about, that form of photography became less fashionable, but it's recently seen a resurgence. Over the last decade, boudoir photography has established itself as a successful add-on for wedding photographers as gifts for brides to give their grooms. And because of its emphasis on curvy physiques, it has also become a feminist declaration, a way for women to boost their own self-esteem and celebrate their bodies no matter what their size. "More and more women are taking it upon themselves to redefine what it means to be sexy," says Kemp. "Here in Baltimore, women with all different sorts of backgrounds are inquiring about shoots and are deciding to show off their photos in more than just an album."
In Maryland, buoyed by social media, there are dozens of boudoir photographers, both amateur and professional, jumping onto the scene almost daily. Many women like to mark special occasions like birthdays, anniversaries, divorce, and even body-altering surgeries through these photos. Sharing them on social sites like Facebook, Instagram, and Pinterest has only fueled the movement. Kemp says that her clientele grew exponentially after she shared her work on Instagram. "Once I built my portfolio and had enough images to share online, I did," she says. "People began emailing and calling left and right because it was something they really wanted to try."
Most sessions are typically an hour-and-a-half to two hours long and cost anywhere from $100 to $1,500, with packages including everything from digital prints to photo albums to wall-sized canvases. For photographers like Lisa Mathews of Hunt Valley-based Lisa Robin Photography, boudoir is simply an added benefit to her already booming wedding photography business. "Boudoir is something for me to do during the week to sprinkle in my schedule, but I love it," she says. "There's no set demographic for this, you don't have to lose weight to do it—you just have to be confident."
Mathews and Kemp have seen women of all sizes, shapes, and ages in front of their cameras. Kemp says that her clientele are women who simply want to feel good about themselves. "It's all about getting out of your own head," she says. "As women, we need to remember what we can look like when we drop the ponytails or lose the sweatpants—you forget that you are a sexy woman and you want to feel sexy."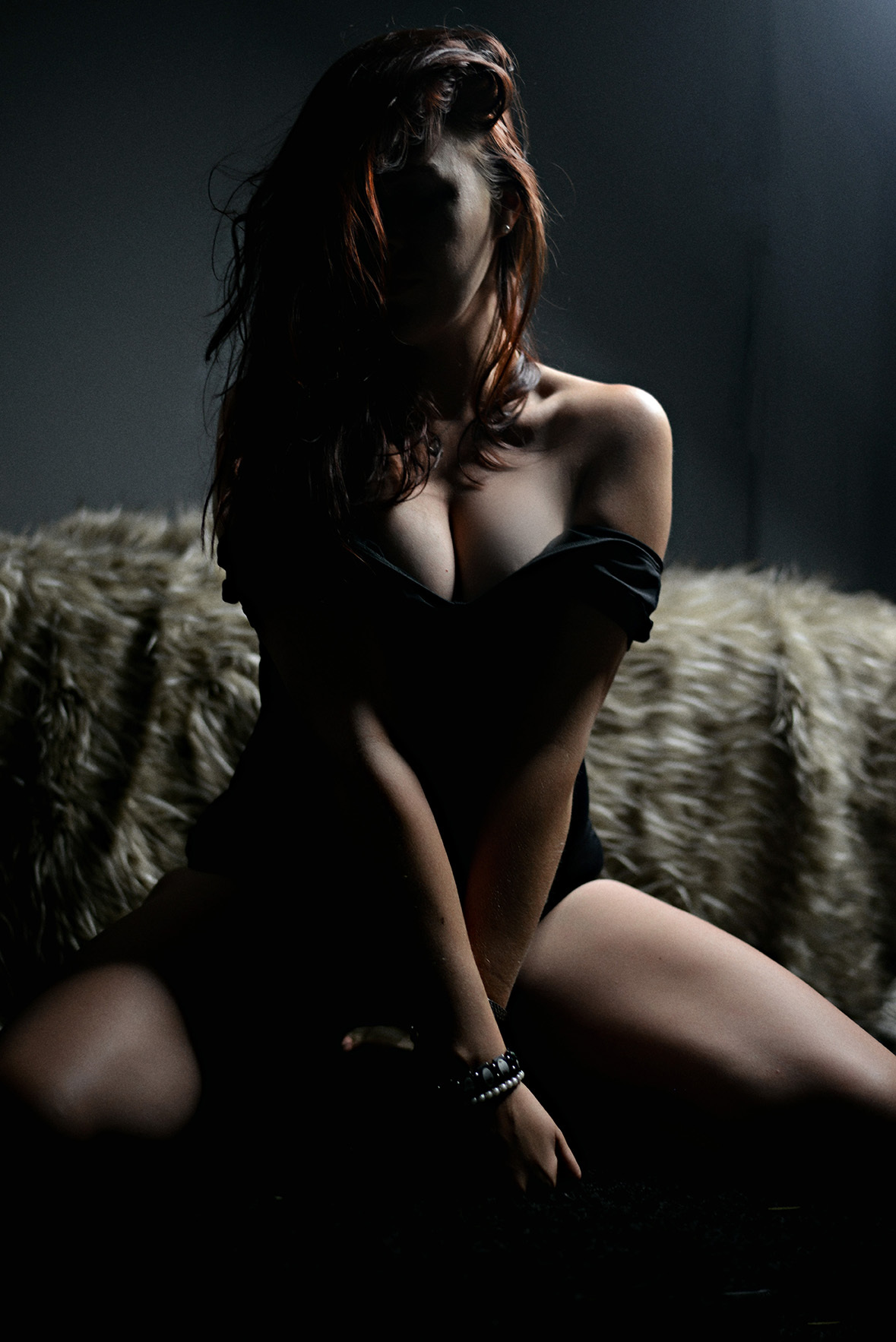 There's no right or wrong way to shoot boudoir, experts say, and each photographer has a distinct style. Photographers like Mathews tend to lean toward more editorial and high-fashion styles of images, while Kemp likes to toe the line between risqué and classic. "My brand is more sexy, glamorous, along the lines of Playboy," Kemp says. "That line is easily crossed with just a change of the head or hips. I feel like my clients tend to want to walk that line without crossing it."
Former Playboy model Joanna Tiger knows a thing or two about posing for seductive photos. Building on what she learned working for the men's magazine for eight years, she began her boudoir business, Three Boudoir, in 2009. Although Tiger isn't a photographer, she plays an integral role in the styling, posing, and training of her shoot stylists.
"I never thought I would use my Playboy experience for anything," she says. "I mean never. I have degrees in biology and chemistry, who would've thought that it would ever come into play?"
Now with six locations across the U.S.—the first studio was in Annapolis—Tiger says that her company does more than just capture risqué images, they're also promoting self-love. "Maybe they're celebrating a divorce, or something like a double mastectomy or lumpectomy, or getting them before [the surgery] and then they come see us after they're healed and ready to start a different journey with their body," she says. "We also work with a lot of women who are victims of sexual assault or sexual abuse and they're looking to reclaim their sexual agency."
Capturing these images is only half the battle. Many women arrive feeling self-conscious and nervous. It's the photographer's job to create a sense of ease for every client they shoot. "This is an abnormal experience for people, the best thing I can do is be normal," says Mathews. "The misconception is that these women are ultra-scandalous and used to this." She typically dresses casually with no makeup to make the women feel less pressured to be flawless and has them create a playlist that will help them relax while they're being photographed.
Takia Hansley, a 37-year-old Baltimore-based life coach, is what Kemp calls a "repeat offender" when it comes to boudoir photos. She has sat for three different sessions over the past two years. What began as an anniversary gift for her husband grew to mean so much more. "It's a confidence booster," she says. "After the first time I was like, 'I need to do this like once every month.' I felt so grown and sexy, like I could do anything. It's like going out with your girls, it's good for your soul."
One thing that all photographers agree on is that women should always wear something they feel comfortable in. "You can always tell when a woman isn't comfortable in what they chose to wear—it shows up in the pictures," Mathews explains. The photographers do not provide clothing and it is up to the client to choose. Because every client is different, it's also up to them to determine how much nudity will be involved. Some prefer a slight show of cleavage, while others may be willing to be completely nude.
"I never know what I want to wear," Hansley admits. "I have such a good time doing the shoots that the clothes are always a secondary thought. I usually just peruse the internet until the very last minute and buy something that I hope will look sexy."
Many photographers use beds, chaises, couches, fur rugs, and bathtubs to create various scenes for the shoot. And, of course, posing is also key. Over the years, certain positions—arched back, arms across the chest, body draped across the couch—have evolved as the go-to poses. In fact, this genre wouldn't be boudoir without them.
"Everything we as photographers do is to accentuate what you like and minimize what you don't," explains Kemp, who often poses women lying on their sides to play up their curves. "Photoshop is a no-no. I don't manipulate anybody's body because I want you to walk out of here feeling confident, but I need you to be confident because you see you and not an idealized version."
"I look in the mirror and there's an audible gasp . . .'Wow, I look amazing,' I say to no one in particular."
My hair and makeup are finished. I look in the mirror and there's an audible gasp. It came from me. "Wow, I look amazing," I say to no one in particular.
With my voluminous hair and sultry, vampy makeup, I slowly approach a leather bench in front of a beautifully made, queen-sized bed covered in satin sheets wearing nothing but my fiancé's football jersey and black lace panties. "Take a deep inhale and let it out," Kemp advises. I do as I'm told, and the camera begins to click with every move I make.
With each new pose I feel sexier, more confident, and definitely more in love with a body that I usually hate. I find myself not caring about my less-than-flat stomach or the stretch marks on my thighs. I realize that as long as I love the way I feel in my own skin, that's all that matters. I emerge from Kemp's studio two hours later feeling like a better version of myself—a self that I could love no matter what.