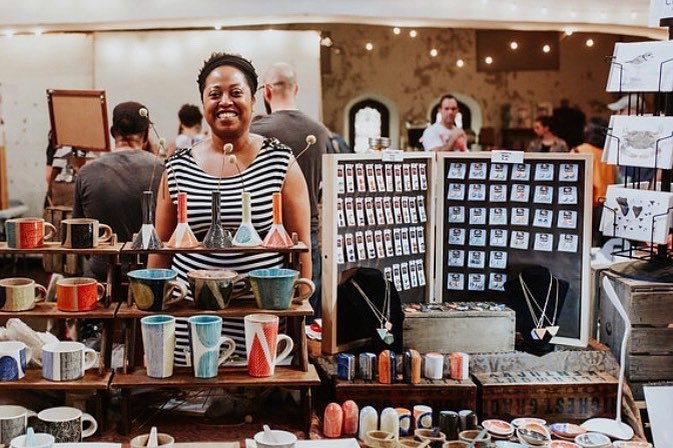 @charmcitycraftmafia via Instagram
Sometime in between Thanksgiving and the first week of December is when that first wave of gift-giving panic typically hits. What do you do when you're determined to find the most thoughtful, personalized presents for your loved ones, but want to do it without breaking the bank?
Luckily, the Charm City craft scene has your back with a plethora of pop-up markets happening throughout the holiday season. Mark your calendar for these local bazaars, which feature tons of regionally made gifts that will make you the talk of this year's celebration.
11/17: Baltimore Vintage Expo
Swing by this Best of Baltimore-winning market for rare and retro finds. Equipped with its original art deco architecture and design, the renovated Ideal Arts Space in Hampden is a fitting venue for the showcase. This time around, organizers are offering early-bird tickets for shoppers hoping to get a first look at all of the vintage clothing, accessories, furniture, and decor. 905 W. 36th St. Free-$12. 443-529-5937. 11 a.m.- 6 p.m.
11/22-12/24: Christmas Village in Baltimore
Modeled after traditional German Christmas markets that date back to the Middle Ages, this Inner Harbor fête is not one to be missed. Enjoy the vast display of handmade ornaments and nutcrackers while sipping hot chocolate and sampling fresh-baked apple strudel. The Christmas Village is hosting a special preview weekend November 17-18 this year for locals looking to get a jumpstart on their shopping. West Shore Park. 501 Light St. Free.
11/23: Shop Black @ Open Works, a Black Friday Pop-Up Shop
Forget waiting in line at Best Buy. If you're hoping to score killer gifts while strengthening our local economy, look no further. This Black Friday, support local makers of color and check out the second annual Shop Black Pop-Up, hosted by Open Works. 1400 Greenmount Ave. Free. 410-862-0424. 9 a.m.-4 p.m.
11/23-24: BAZAART Holiday Art Market
Make the most of Black Friday and #SmallBusinessSaturday by checking out the American Visionary Art Museum's annual holiday art market. Regional artists, makers, and craftspeople will come together to transform the museum's Jim Rouse Visionary Center into a mecca of creative gift giving. 800 Key Highway. Free. 410-244-1900. Times vary
11/24: Small Business Saturday Pop-Up Party at Get Shredded Vintage
Celebrate Small Business Saturday in style at this all day pop-up party hosted by Get Shredded Vintage in Charles Village. There will be snacks and drinks galore, tarot card readings, unique clothing and accessories from local designers, and even a DJ spinning from 4-7 p.m. There's no better way to work off a lingering, Thanksgiving-dinner food baby than by dancing from rack to rack and shopping along the way. 3101 St. Paul St. 443-717-1826. 11 a.m.-7 p.m.
11/29: Holiday Artisan Market
Now in its 14th year, this holiday tradition hosted by The Park School features locally produced paintings, photography, jewelry, ceramics, furniture, and sculpture work, as well as homemade pantry products like honey and granola. There will even be a caricature artist on-site to keep the kiddos busy while you browse all of the handmade wares. Park School of Baltimore, Davidson Lobby, 2425 Old Court Rd. 410-339-7070. 3:30-6:30 p.m.
12/1-2 & 12/8-9: Star Bright Farm's Barn Market
Infuse your gift giving with authentic Chesapeake charm by shopping Star Bright Farm's two-weekend holiday market. Natural home, kitchen, and body products available for purchase are made from the very crops grown on the farm. Other local artisans join in for the fun, and cookbook author Nancy Baggett will be leading three sessions on cooking with lavender for those looking to impress their families with something new this holiday season. Star Bright Farm, 2950 Garrett Rd, White Hall. Free. 10 a.m.-4 p.m. each day
12/6–12/9: MICA Art Market
More than 250 MICA students are preparing their pieces for this yearly sale, which invites shoppers to discover work by emerging and established artists alike. Wander around the showcase to browse jewelry, illustrations, prints, posters, mosaics, stationary, clothing, toys, wrapping paper, and more while chatting with each of the artists about their designs. 1300 W. Mt Royal Ave. 410-669-9200
12/8: Holiday Makers Market 2018
Green Spring Station is a shopping destination in its own right, but for one Saturday only, the retail haven will take things up a notch and give us even more to love. More than 20 local vendors will be showcasing their goods at the marketplace, including our faves Wight Tea Company and Knits, Soy & Metal. Don't miss DIY workshops from the likes of organic skincare pros Deep Leaf Organics. 10751 Falls Road, Lutherville. 10 a.m.- 4 p.m.
12/8: Makers Alley
Coffee from Park and Perk will be on hand to banish the sleep from your eyes as you check out the unique gifts available at this Saturday-morning market, which is returning to Local Color Flowers for its sixth year. Look out for one-of-a-kind gifts like floral salt-and-pepper blends by Juniper Culinary Apothecary, original designs from Pangea Printing Co., and more. 3100 Brentwood Ave. 410-262-1494. 9 a.m.-12 p.m.
12/8: Towson Town Center Local Makers Event
The Towson Town Center becomes a one-stop-shop on December 8, when local artists and makers flock to the Level 3 Center Rotunda to set up shop. The pop-up event makes it easy to find the perfect gifts under one roof for everyone on your list, from techy teens to funky aunts. 825 Dulaney Valley Road, Towson. 410-494-8800. 10 a.m.-4 p.m.
12/11: Women's Unity Artisan Market
As the holidays draw closer, "spare time" on the weekends to search for gifts can be hard to come by. The answer for anyone looking for unique gifts and running short on time? This second-annual market held in Mary Gardella's Clipper Mill photography studio on a Tuesday evening. Gather together to browse creations from local female artisans, and sample signature beverages from Lyon Distilling Company and Le Monade. 3500 Parkdale Ave., Ste. 5. Free. 5-9 p.m.
12/14:Under $500 Sixth Annual Affordable Art Sale
Collectors of all kinds will unite at Maryland Art Place for this aptly named holiday exhibit that offers affordable artworks priced at $500 or less. Mingle with other enthusiasts over beer, wine, and light bites while perusing all of the pieces for sale on a first-come, first-served basis. 218 W. Saratoga St. 410-962-8565. $25. 7-10 p.m.
12/15: Holiday Heap
Charm City Craft Mafia is back at it with a stellar lineup for its recurring holiday hangout. Beneath the strung lights at St. John's Church, browse goods from the likes of veteran vendors like Annie Howe Papercuts and The Broken Plate, as well as newbies Genevieve Williamson Jewelry, Dorpare Tea, La Loupe Design, Vesta's Natural Apothecary, and Yinibini Baby. Coffee and treats from Bird in Hand will be available with early-bird admission, which also includes a swag bag full of goodies from participating makers. 2640 St. Paul St. Free-$25. 9 a.m.-5 p.m.
12/16: For the Greater Goods Market
Grab some lunch at R. House to fuel up for what's sure to be an epic day of holiday shopping. Every month, this market takes over the garage of the Remington food hall to showcase local vendors and raise money for a charitable cause. December's market boasts more than 70 local vendors, selling everything from handmade ceramics and home goods to unique clothing and jewelry. 301 W. 29th St. Free. 11 a.m.-4 p.m.