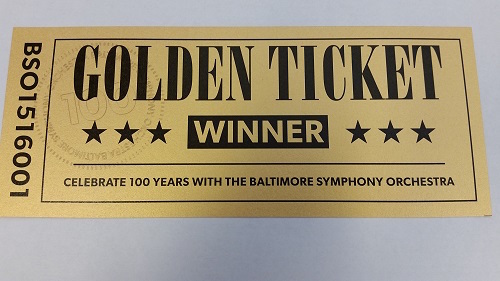 Courtesy of Baltimore Symphony Orchestra
To celebrate its 100th season, the Baltimore Symphony Orchestra is putting on a scavenger hunt, Willy Wonka style.
One hundred golden ticket packages are hidden across central Maryland, Washington, D.C., and Montgomery County, hidden "in plain sight in a clear, plastic envelope" according to a Twitter post. Each one includes tickets for you and nine others to one of the concerts in the 2015-16 season.
The BSO has posted a list of clues on its website.
"Where the history of medicine finds its future," one reads. "Baltimore brunch spot inspired by Miss McDowell," is another.
Winners are encouraged to post photos on social media, tagging the BSO. So far, it looks like one lucky person found one at Fells Point music store The Sound Garden.
And if you're one of the lucky Charlie Buckets, Baltimore magazine wants to know, too. Tag us at @Baltimoremag on Twitter and @Baltmag on Instagram.
Happy hunting!