The List: April 2023
From Feastival to Mr. Trash Wheel's Earth Day Birthday, here are the events to pencil in this month.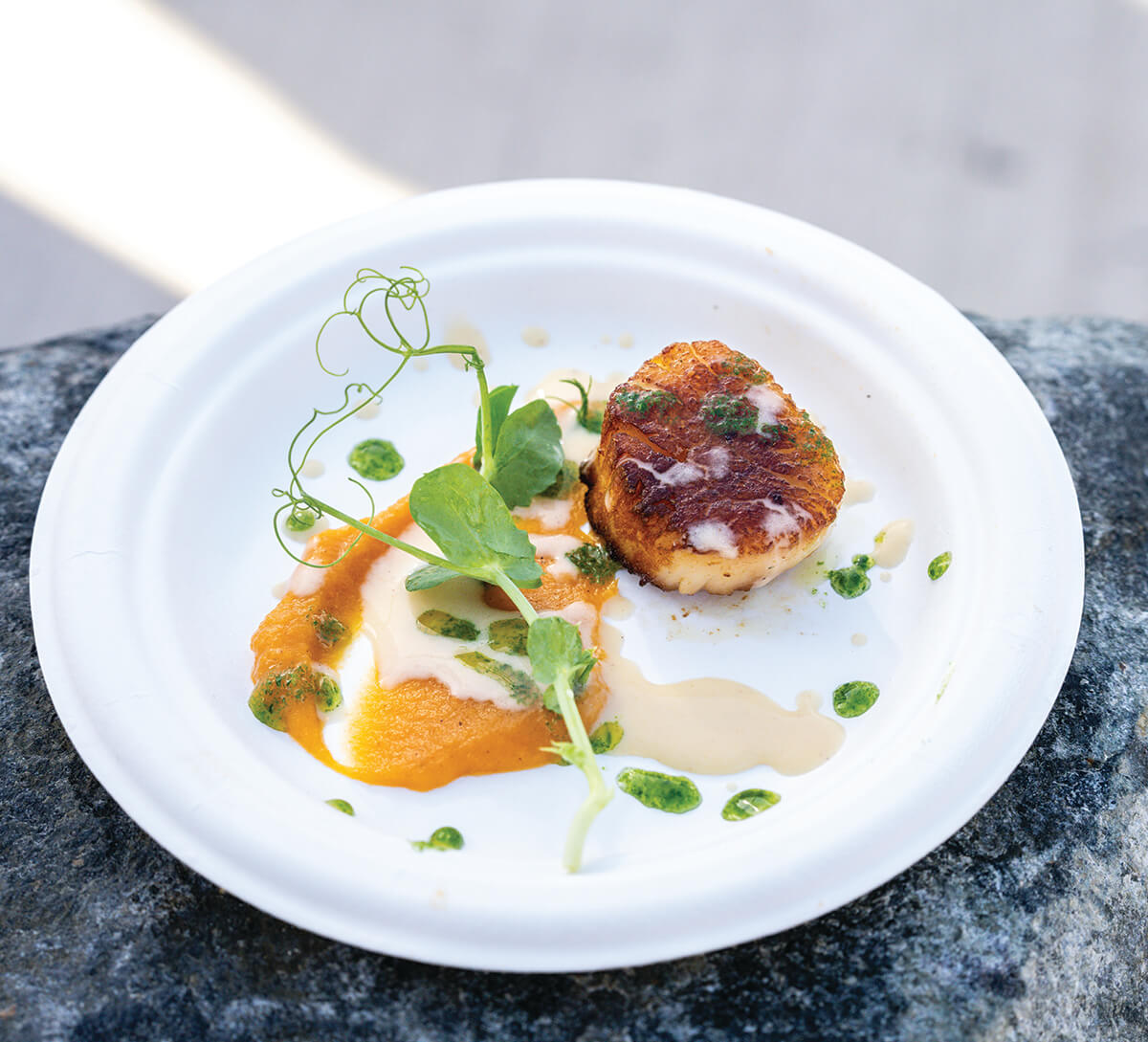 4/22: FEASTIVAL
This month, a foodie favorite gathering returns to Baltimore to support a very worthy cause. For years now, Feastival has offered epicureans the chance to taste the best of what our city has to offer—from mixologist-made cocktails to gourmet bites from local chefs—all to raise funds to end Cystic Fibrosis (CF). Affecting roughly 40,000 children and adults in the United States, CF is a progressive and inherited genetic disease, targeting the lungs and other organs.
While there is currently no cure for CF, those who attend Feastival—which will be held this year on April 22 at Rash Field Park—can help make one a reality by purchasing a ticket or a group package with pals. The fest's vendor lineup will include returning favorites like Taharka Brothers ice cream, Blue Pit BBQ & Whiskey Bar, Copper Shark, BLK Swan, and Tito's Handmade Vodka, with new vendors like The Urban Oyster also in the mix. Rash Field Park. 1-4 p.m. $125-5,000.
4/1: HIGHLANDTOWN MURAL AND HISTORIC PAINTED SCREENS TOUR
Meet at High Grounds Coffee Roasters for a walking tour of Highlandtown, with stopping points to marvel at the neighborhood's iconic art. High Grounds Coffee Roasters. 12:30-2:30 p.m. $25. 
4/1: THE SEASONS
Joined on North Howard Street by vocalist Rebecca Wood, hometown pianist Nicholas Bavani plays selections from Tchaikovsky, Chopin, Ravel, Satie, Philip Glass, and more while New York artist Michelle Mannix crafts an abstract work. Le
Mondo. 3 p.m. $20. 
TO 4/2: BALTIMORE FINE ART PRINT FAIR
In Pigtown, check out limited-edition prints, portfolios, and books made by burgeoning and seasoned artists. Baltimore Innovation Center. Times vary. $15-85.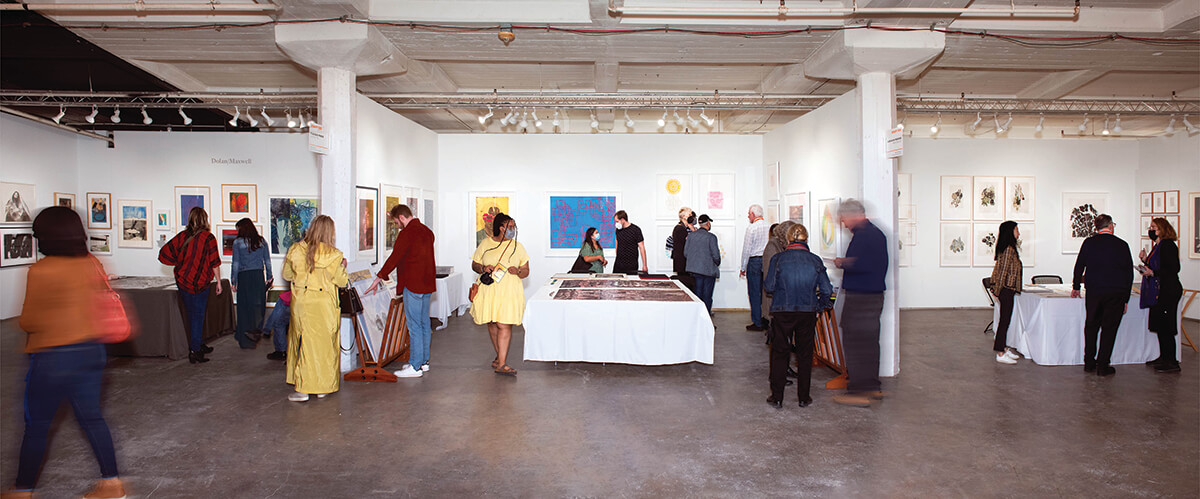 TO 4/2: THE SOUND INSIDE
At Everyman Theatre, this play packs on the suspense to explore the rare bond between an Ivy League professor and her gifted student, Christopher. In time, the duo's stories and their lives begin to overlap in unexpected ways. Everyman Theatre. Times and prices vary.
TO 4/2: TINY BEAUTIFUL THINGS
Cheryl Strayed's bestselling tale of healing, brokenness, love, grief, and shared humanity is fitted for the stage. Center Stage. Times and prices vary.
4/6: M**DER MYSTERY
Bring Fido along to solve a classic case of "whodunnit" at Bark Social, complete with toothsome bites and booze throughout the night. Bark Social. 7 p.m. $40. 
4/7: BRUCE SPRINGSTEEN AND THE E STREET BAND
Baby, he was born to run. Bruce Springsteen and his E Street Band are headed to Charm City's new CFG Bank Arena with a show sure to knock your socks off. CFG Bank Arena. 7:30 p.m. Tickets starting at $270. 
4/7-10: EGGSPLORATION WEEKEND
Bring your own basket from home and take the little ones downtown to hunt for Easter eggs at Port Discovery. (Supplies are limited.) Port Discovery. 10 a.m.-1 p.m., 2-5 p.m. Free-$21.95. 
4/7: MORTIFIED BALTIMORE: SPRING BREAK
In Highlandtown, this heartwarming and hilarious series brings adults on stage to share embarrassments from teenhood (love notes, diaries, unearthed song lyrics, poetry—you name it). Creative Alliance. 7 and 9:30 p.m. $15-25. 
4/8: THE EAGLES
"Take it Easy" with the Angeleno rock band, which is set to shake CFG Bank Arena with its greatest hits. CFG Bank Arena. 8 p.m. Tickets starting at $154.
4/8: OUTDOOR SCULPTURE TOUR
From Vollis Simpson's 55-foot whirligig to Dr. Evermor's repurposed scrap-metal comprised bird band, learn more about the AVAM's sculpture garden through this guided tour. American Visionary Art Museum. 11 a.m. 
TO 4/9: IMAGINARIUM
On East Pratt Street, this experimental, interactive showcase carves a space for guests to dream about the future of Black Baltimore. Reginald F. Lewis Museum. Times vary. Free-$12.
4/12: LUCIUS
The indie pop band makes a stop in Baltimore with tracks from its most recent album, Second Nature. Rams Head Live! 8 p.m. $30.
4/12: MIKE
The Rapper behind Beware of the Monkey takes Ottobar with Slauson Malone 1, Sideshow, and CRUZIN. Ottobar. 8 p.m. $20.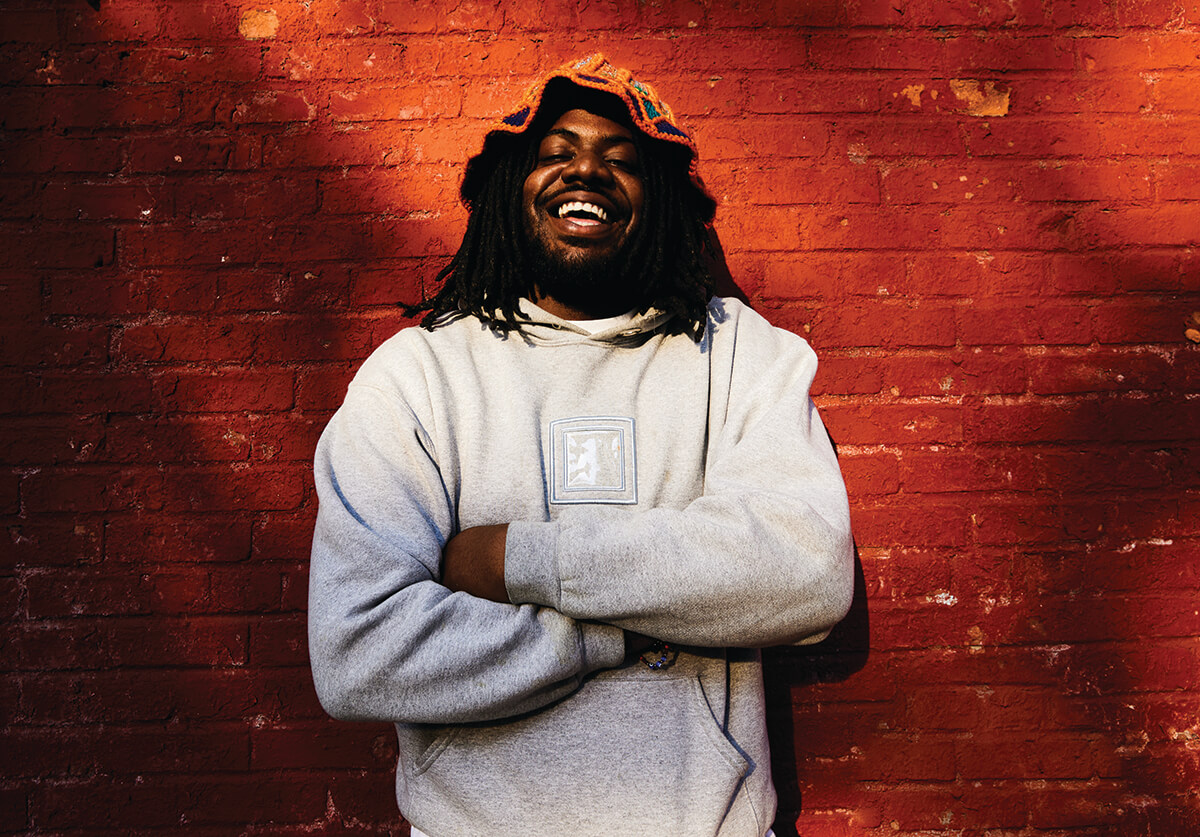 4/14: CHORAL ARTS GALA
At the Baltimore Museum of Industry, this program rings in 57 years of local music-making with live tunes, delicious eats, and tantalizing auction items. Baltimore Choral Arts Society. 6:30 p.m. $250-6,000. 
4/15: THE BIG SCIENCE BIKE PARTY
From bikes to trikes, this Science Center party will explore the inner workings of wheeled, human-powered vehicles. Catch hands-on demonstrations, craft your own reflective patch, and learn what makes the perfect helmet to protect that precious head of yours. Maryland Science Center. 12-4 p.m. Free-$26.95. 
4/15: GRATEFUL DEAD FOR KIDS
In Towson, WTMD's Saturday Morning Tunes series continues with a family-friendly set from Grateful Dead tribute band, Ed Hough's Dead Collective. The Recher. Times vary. Free-$69.95. 
4/15: PAJAMA PARTY LATIN DANCE NIGHT
Throw on your favorite PJs for some salsa dancing lessons with a side of local beer in Station North. Plus, stick around to catch a DJ set. Guilford Hall Brewery. 8 p.m.-12:30 a.m. $10. 
4/15: VINTAGE BLACK EXPO
On North Howard Street, browse vintage clothing, music, books, accessories, decor, and more from local Black-owned businesses. Eubie Blake Center. 11 a.m.-7 p.m. Free-$100.
TO 4/16: HADESTOWN
At the Hippodrome, this widely acclaimed play combines two mythic tales to bring us one extraordinary love story. Hippodrome Theatre. Times and prices vary. 
TO 4/16: THE JOHN WATERS COLLECTION
Charm City's Pope of Trash, beloved filmmaker John Waters, gifts the Baltimore Museum of Art with upwards of 400 lewd and captivating works, a portion of which will be on view at the museum's Nancy Dorman and Stanley Mazaroff Center for the Study of Prints, Drawings, and Photographs. Baltimore Museum of Art. Wed.-Sun. 10 a.m.-5 p.m. 
4/16: HOLI
At Wyman Park Dell, take part in the sacred Hindu festival with Indian food, fun for tots, and color celebrations. Sweet 27 and Friends of Wyman Park Dell. 10 a.m.-3:30 p.m. $15. 
4/20: ARE YOU SMARTER THAN A BCP STUDENT?
Watch as Baltimore Curriculum Project students and hometown celebrities compete to see who knows their trivia. Baltimore Museum of Industry. 5:30-9:30 p.m. $100. 
4/21: BALTIMORE TATTOO ARTS FESTIVAL
At the Baltimore Convention center, hundreds of the world's best tattoo artists will be waiting to apply your ink. While getting tatted up, watch out for TV personalities, cool merchandise, and rousing competitions. Baltimore Convention Center. Times and prices vary. 
4/22: BALTIMORE'S SPRING FAIRY BALL
Dress up in wings and dance your heart out on St. Paul Street with the likes of faeries, goblins, elves, and ogres. 2640 Space. 6-11 p.m. $30-50.
4/22: CREATURE FEATURE
After a three-year hiatus, Creative Alliance's famous fundraiser returns with an homage to horror movies from the 1950s. Wear a creepy costume, sip themed cocktails, and stay tuned for music brought by bands like Super City. Creative Alliance. 8 p.m. $55-250. 
4/22: MR. TRASH WHEEL'S EARTH DAY BIRTHDAY
Celebrate the friendly, floating garbage interceptor with performances, live critters, and a new Peabody Heights hard seltzer made for the occasion. Pierce's Park. 3-6 p.m. Free-$20.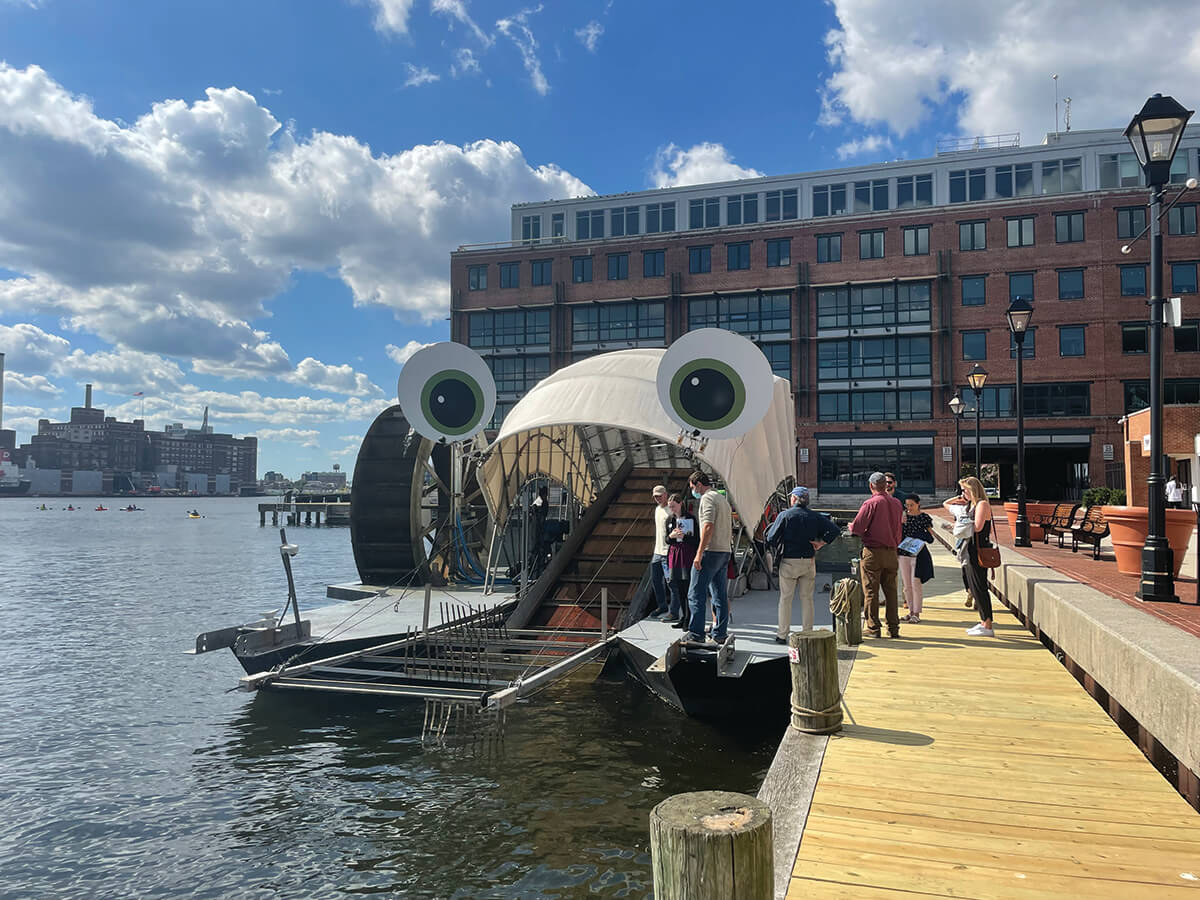 4/22: PATIO CONCERT TO CELEBRATE DON'T COUNT ME OUT
Join local musician Steve Martel and Rafael Alvarez, author of Don't Count Me Out: A Baltimore Dope Fiend's Miraculous Recovery, for tunes and conversation at The Ivy Bookshop. The Ivy Bookshop. 7 p.m. 
4/23: PIOTR ANDERSZEWSKI
After 10 years, the Hungarian pianist makes a grand return to Baltimore with works by Bach, Webern, and Beethoven. Shriver Hall. 5:30 p.m. $10-44. 
TO 4/23: QUILT EXPO 2023
The Baltimore Heritage Quilt Guild's beloved event boasts upwards of 300 handstitched creations, along with demos, tours, a silent auction, and discounted finds. Maryland State Fairgrounds. 10 a.m.-5 p.m. $12. 
4/24: WOMEN OF SPARROWS POINT
At Enoch Pratt Library's Hamilton branch, labor historian Bill Barry discusses the women who worked at the Sparrow Point steel mills. Enoch Pratt Free Library. 6-7:30 p.m. 
4/27: TAKE BACK THE NIGHT
This fundraising event for Ballet After Dark, which specializes in supporting survivors of trauma and sexual assault, includes two drink tickets, small bites, and one big chance to win two tickets to Beyoncé's Renaissance World Tour. Eubie Blake Cultural Center. $75-125. 6-9 p.m. 
4/28-30: WAVERLY BOOK FESTIVAL
Baltimore receives a brand new book festival marked by author meet and greets, discussions, and a lot to thumb through from participating stores in Waverly, like Urban Reads and Normal's. Waverly. Various locations and times. 
4/29: PYREX AND VINTAGE FEST
Historic Havre De Grace teems with vintage glassware and a slew of one-off goodies from the past, thanks to this semi-annual event thrown by vintage shop JoRetro. 127 N. Washington St. 9 a.m.-4 p.m.