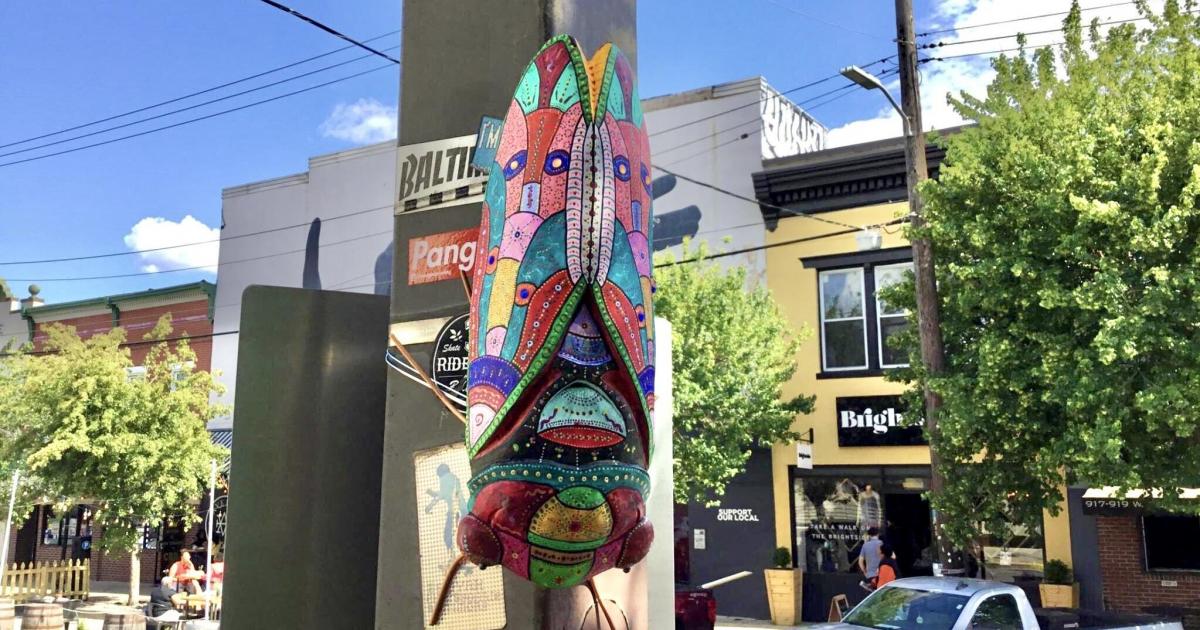 A decorated cicada on the Avenue in Hampden. —Courtesy of Formstone Castle Collective
Michael Bowman steadily pours pre-weighed plaster into a bucket of water—tilting the container with one hand and drill-mixing the concoction with the other. A hot breeze brushes through, swirling the plaster powder up in the summery air. 
Bowman, spattered with white plaster dust like a mad pastry chef, cares more about moving fast than he does about the 90-degree weather. 
"As soon as that first plaster dust hits the water, the timers are ticking," he says, while sticking his arm into the bucket to homogenize the mixture more. After a few quick taps and a swift pour—all within 15 minutes—three 10-inch-wide by 20-inch-long silicone cicada molds are already filled with milkshake-like plaster. 
Compared to the Brood X cicadas, which are 17 years in the making, Bowman's plaster cicadas, which only take days to harden and dry, emerge eternally faster. But not fast enough. 
Bowman, the lead artist from Formstone Castle Collective, is still working around the clock in his backyard studio to cast as many cicadas as he can, hoping to create more bug sculptures for Cicada Parade-a—his collaborative community art project that brings locals together to celebrate the reemergence of the cicadas in Maryland. To commemorate the natural wonder, Bowman creates the cicada sculptures, invites local artists to decorate them however they like, and displays them around Charm City and beyond. 
"There's only one chance in 17 years to get it right," says Bowman, who turned his 10-foot-wide 1860s Upper Fells Point row house into a cicada manufacturing hub. With the plaster cicadas emerging as quickly as their natural counterparts, the urban backyard is rapidly running out of storage space. (Some sculptures have even found a home under his grill top.)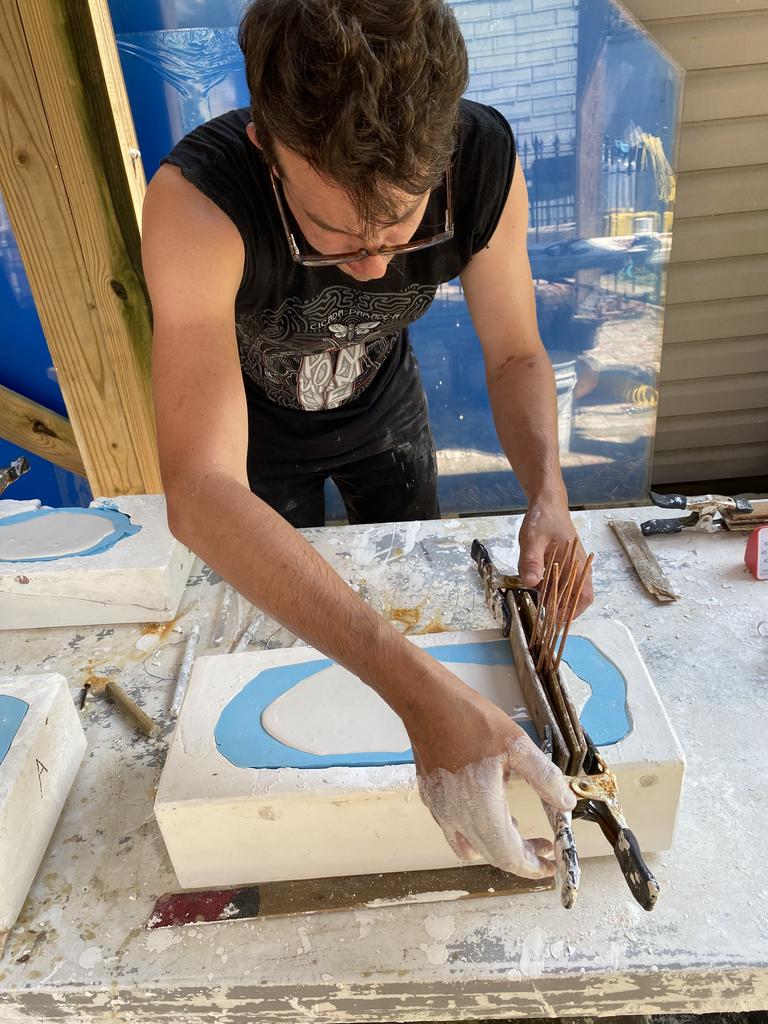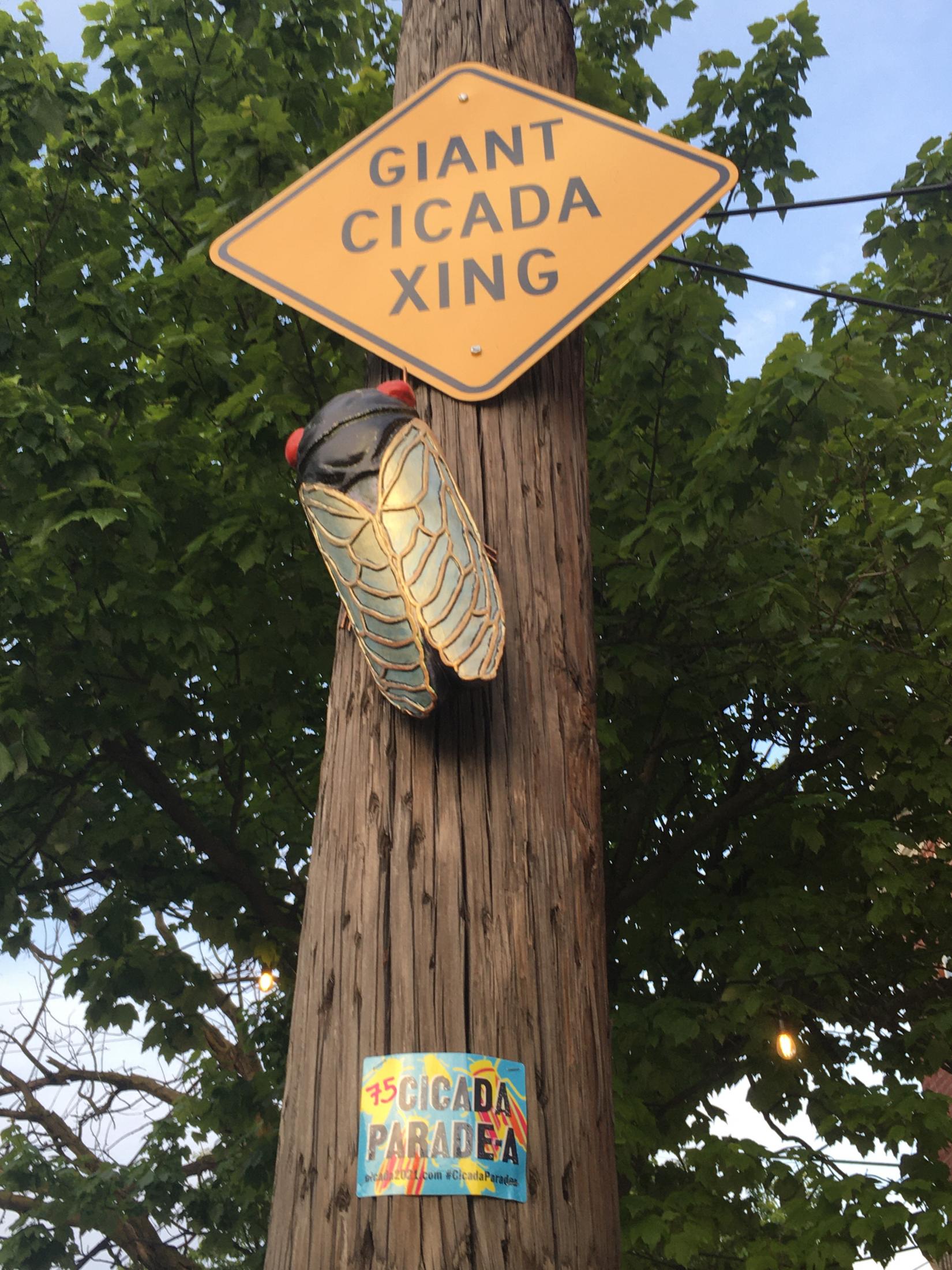 Emergence is just the very first step for the showpieces in Cicada Parade-a. Next, Bowman dispatches the newly casted cicadas, as blank canvases, to hundreds of local artists who use their own unique styles to impart personal meaning to the sculptures—covering them in everything from paint to rhinestones to mosaic tiles. 
Kayla Morgan, a Baltimore-native artist, painted cicada No. 288. Her bug, named Claros Cicada after the ancient Greek sanctuary, depicts the stubborn plants that arise through the ruin cracks, bearing a message of what she calls, "resilience through community." 
"Throughout the last year and a half, we were much like the cicadas for the last 17 years—kind of isolated and alone in our own homes, not really forming communities in a traditional sense," Morgan says. "Now that we're starting to repair and heal from everything, we are able to come together and to emerge." 
Morgan's cicada is displayed at The Avenue at White Marsh shopping center, which sponsored a series of 17 sculptures for Cicada Parade-a. 
"My first reaction was I have to have them here," says Lisa Geiger, a marketing manager for The Avenue at White Marsh. "They're beautiful, and we wanted to be a part of that."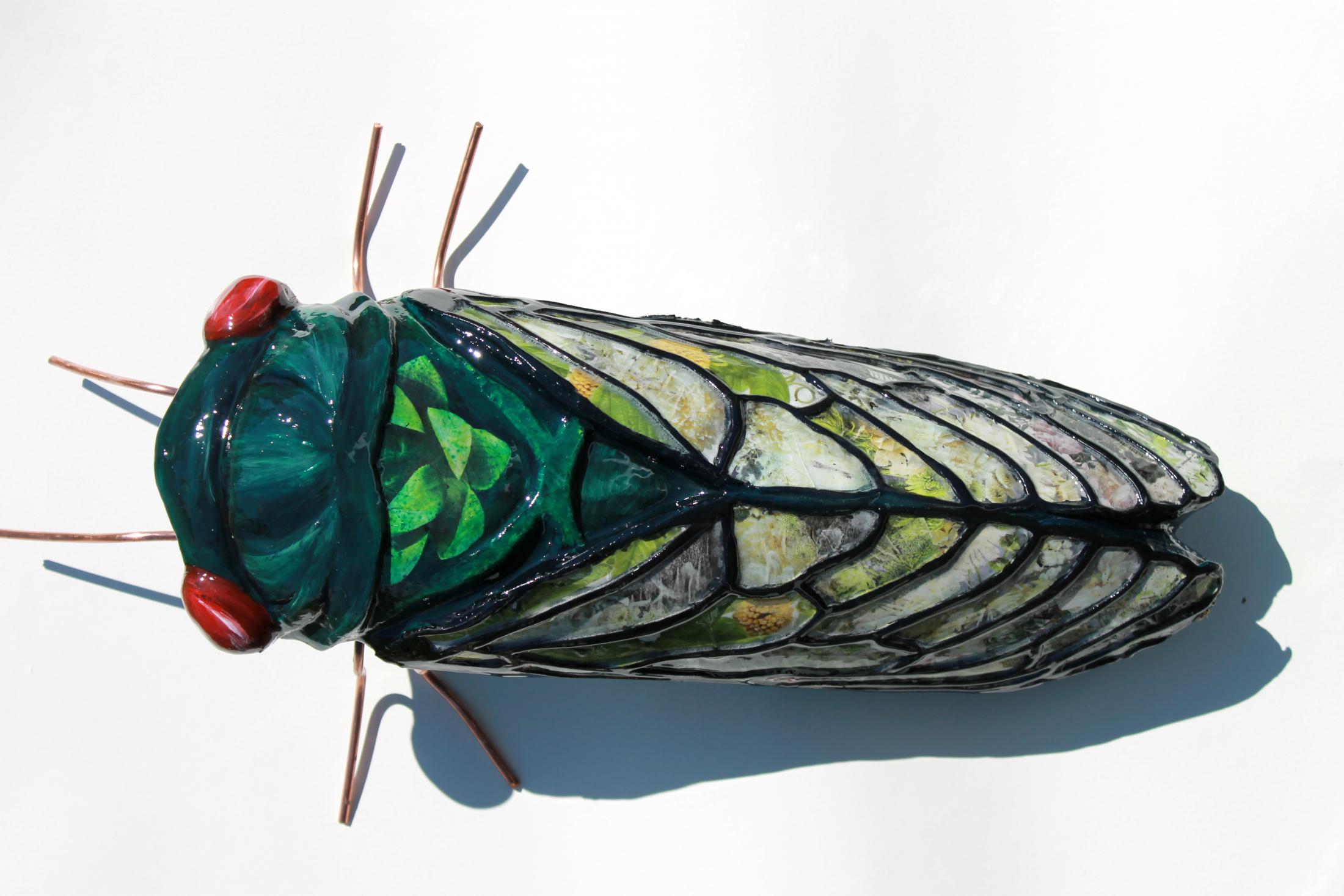 With funding from The Maryland State Arts Council and other sponsors, so far, Bowman has created more than 400 cicadas, with about 130 of them decorated and hanging across the central and northern part of the state. And the project has also branched out to merchandise and even community performances. 
"I think it just brings a sense of excitement and happiness," says Nicole Evanshaw, co-owner of the Hamilton-based Silver Queen Cafe that sponsored seven bugs throughout the neighborhood. "You pass by the same places day after day after day, and they start to wear on you. Then someone looks up, and they see [the cicada], it brings a smile." 
But Bowman is not stopping yet. He hopes to create 500 cicadas for the Parade-a so that more people can celebrate the noisy bugs before they disappear back to the earth. He also wants to show the world Charm City's warm, creative heart. 
"We wanted to show people—what a lot of us in Baltimore know—that there's still good news coming out of Baltimore," he says, "and there are still things that put smiles on people's faces." 
Check out some of the other Cicada Parade-a works of art out in the wild:
—All images courtesy of Formstone Castle Collective