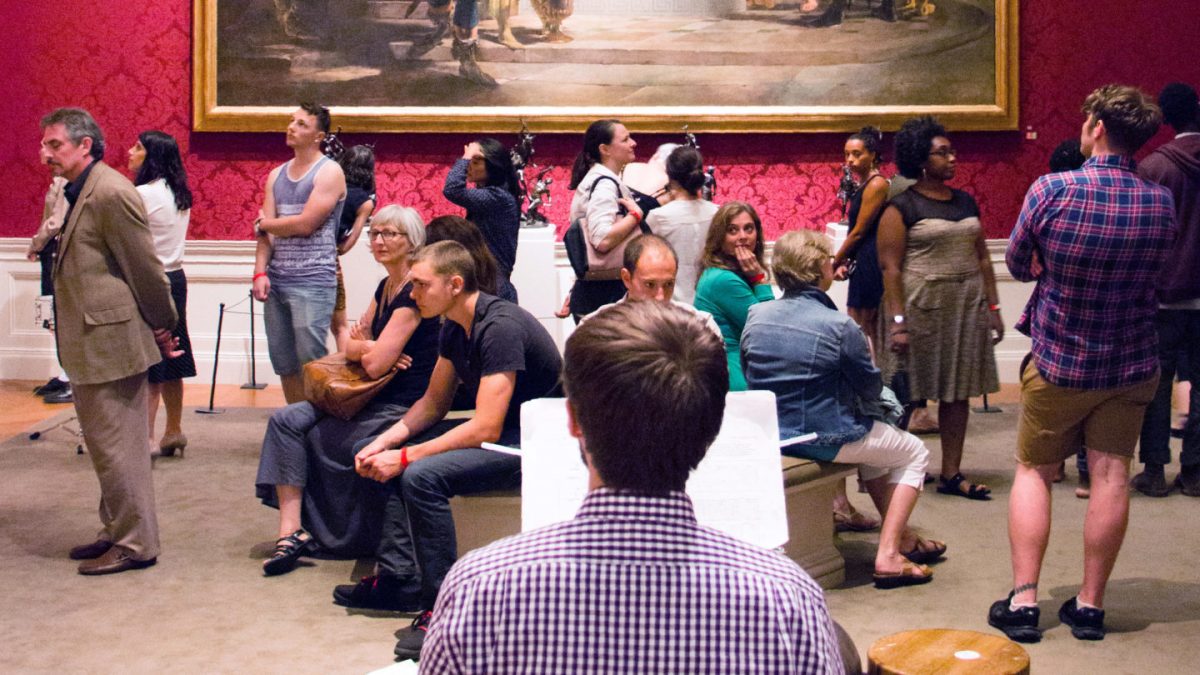 The Walters Art Museum
Visual Art
First Fridays Free Curatorial Tour: Meleko Mokgosi: Acts of Resistance
As part of a free series at the Baltimore Museum of Art, curators give tours of exhibitions they curated and explain the shows in further detail, providing rich insight into the artists and their work. This month, senior curator of contemporary art and department head Kristen Hileman will lead a group through the much-talked-about show Meleko Mokgosi: Acts of Resistance. Mokgosi explores race and gender through intimate yet larger-than-life portraits and paintings of domestic environments. Curatorial tour from 2-3 p.m. Aug. 3; the show remains up through Nov. 11. Baltimore Museum of Art, 10 Art Museum Drive.
We Are Everywhere: Travels of the African Diaspora
Photographer Schaun Champion will show images from Baltimore and around the world that represent the African diaspora in her exhibit We Are Everywhere: Travels of the African Diaspora at Ida B's Table, a beloved Southern soul food restaurant in downtown. The show is part of the monthly series Necessary Tomorrows, created by resident curator Sharayna Christmas to feature work that complements the visit and mission of the restaurant. Opening reception and artist talk, 5-8 p.m. Aug. 7. Ida B's Table, 235 Holliday St.
Counterweight
Sera Boeno, Cevahir Özdoğan, and Noa Heyne examine concrete as a material and as a gender—its cultural and sociological implications and history—in the show Counterweight. Artist talks, a printmaking/archiving workshop with Lebanese archivist and artist Celia Shaheenon (Sept. 9), and an exhibition catalogue release on Sept. 21 will accompany the show. Aug. 10-Sept. 21, opening reception from 7-10 p.m. Aug. 10. The Menial Collection, 243 W. Read St.
Music
Summer in the Squares: Symphony Number One
Pull up a chair (or blanket) for the finale of this season's Summer in the Squares. Symphony Number One will perform at Mount Vernon Place for the free series of shows that bring the work of emerging composers to the stage alongside beloved pieces by classical greats. During this show, the Baltimore-based chamber orchestra will feature the Aaron Copland's "Appalachian Spring" alongside new works and pop favorites. 7-8:30 p.m. Aug. 29, Mount Vernon Place, 699 Washington Place
Baltimore International Surf Music Showcase
Four instrumental surf acts from around the world will take the Ottobar stage this month for a totally tubular night. Headlining the show will be Surfer Joe, based in Italy and often called the "international surf ambassador." The legendary California surf band The Volcanics, and Les Agamemnoz (France) will also perform alongside local surf rockers the Flying Faders. 8 p.m. Aug. 15. Ottobar, 2549 N. Howard St.
Art/Sound/Now: Suldano Abdiruhman and The Compositions
In collaboration with the High Zero Foundation, The Walters Art Museum will present its annual ART/SOUND/NOW, featuring artists creating soundscapes throughout the museum's various gallery spaces. This year's event highlights work by interdisciplinary artist Suldano Abdiruhman, a member of the artist collective BALTI GURLS and cofounder of 4c Gallery. 7-8:30 p.m. Aug. 23. The Walters Art Museum, 600 N. Charles St.
Film
High Fidelity / Empire Records Double Feature
When a beloved music shop in Baltimore turns 25, a nostalgic screening of two cults classics is in order. The Sound Garden was born in 1993, and shortly thereafter, the films Empire Records and High Fidelity were released—in 1995 and 2000, respectively—both set amid the backdrop of record stores. And if watching these back-to-back on the big screen weren't nostalgic enough, please note they'll be screened on 35mm. 7-11 p.m. Aug. 30. The SNF Parkway Theatre, 5 W. North Ave.
Theater
Variations on Sacrifice
Rapid Lemon Productions will present its annual Variations Project this summer with Variations on Sacrifice. Eleven 10-minute plays by local authors will premiere during two weeks, followed by a third week (new this year) of staged readings of eight additional plays. Audiences of 2017's Variations on Magic voted to select this year's theme, Sacrifice. Plays, Aug. 3-12; staged readings, Aug. 16-19. Baltimore Theatre Project, 45 W. Preston St.
Literary Arts
'Sentiments' by Press Press: Baltimore Book Launch
What could be better than a summertime potluck? A summertime potluck hosted by Press Press, with readings to satiate your palate. The launch of "Sentiments: Expressions of Cultural Passage," the latest publication by Press Press, will feature readings about creating sanctuary, by Bilphena Yahwon, Rami Karim, and others, beginning at 5 p.m., plus a reading of "Manifesto for Sanctuary-Building & Sanctuary-Keeping." Bring along a snack or something to grill at this community potluck of Baltimore creatives. 3-7 p.m. Aug. 11. Press Press, 427 N. Eutaw St.
Miscellanea
Comedy, Music and Poetry Showcase with Heda Rose and Guests
A lineup of Baltimore talent will take the Motor House stage for an evening of poetry, standup comedy, and music, headlined by vocalist, songwriter, actress, model, activist, and film producer Heda Rose. The remaining lineup includes comedian Larry Lancaster, comedian Ebony "Miz Jaxxxn" Jackson, comedian Ray Diva, and poet Gradalove. Heda will perform a comedy set and music set with a live band. 8-11 p.m. Aug. 31. The Motor House, 120 W. North Ave.
Fluid Movement's 'The Water Ballet'
The Baltimore-based performance art group Fluid Movement channels the master of suspense Alfred Hitchcock for its latest production, "The Water Ballet" at Patterson Park. Take a deep dive into all that horrifies you. Day and night shows, Aug. 3-5. Patterson Park.