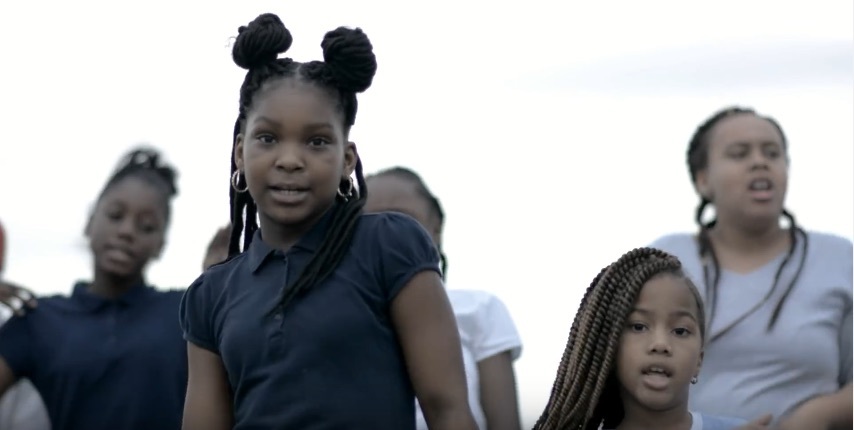 Guns Weak film still.
Events
Toward Equity in the Arts
April 13, The Walters Art Museum, 600 N. Charles St.  This talk will examine how race and class have impacted access and inclusion practices for funding, promotion, and exhibition opportunities in the arts, and will look at efforts to improve equity in these areas. The conversation includes Jess Solomon of Art in Praxis, Sheila Gaskings, and Darryl Ratcliff. Jonothan Gray and Chelsea Gilmer will open the evening with performances of their spoken word poetry. The annual lecture is held in honor of the Walters' founding Director of Education, Ted Low, and focuses on an important current topic in the museum field.
Starts Here Reading Series
April 15, Bird in Hand Coffee Shop, 11 E. 33rd St.  This latest reading in the series hosted by Best of Baltimore winner Jen Michalski features Elise Levin, the director of the MA in Writing program at Johns Hopkins University, and Meghan Kenny, who held the Tickner Writing Fellowship in Baltimore and now lives and teaches in Lancaster, Pennsylvania.     
Bromo Spectacular
April 22, 29, various locations in the Bromo Arts District
These free, 90-minute walking tours of the arts district that includes downtown and the Howard Street corridor will invite people into invisible public spaces and storied buildings while learning about the speculative and spectacular efforts shaping the neighborhood. This free, 90 minute New Public Sites walking tour will feature little known histories, urban design successes and challenges, and current artist-led redevelopment projects, including Le Mondo and Current Space.
Exhibits
Thought Forms
April 20-May 27, C. Grimaldis Gallery, 523 N. Charles St.  This exhibition of paintings by Lisa Beck, Lydia Dona and Joan Waltemath stages the work of these New York artists who have simultaneously developed distinct practices in conceptual abstract painting. They are united by their strategic approach, in which a painting operates as a structural field that animates the subject's relationship to architecture, machinery, and the universe surrounding it. 
Sacrifice
April 13-May 14, Motor House, 120 W. North Ave.  About this exhibit, artist Rene Trevino writes: "History is subjective; there are many blurred lines and so much distortion.  Context and point of view are very important. One person's hero is another person's villain…it depends on who tells the story.  As a gay Mexican-American I have always felt excluded and under-represented by history.  By using a historical context as a backdrop for my work, I can reweave these "lessons" of the past."
Performances
David London's Weekend of Magic
April 13-15, Theater Project, 45 W. Preston St.  Magician David London combines magic with storytelling, comedy, puppetry, philosophy, surrealism, and that which cannot be defined, to create original shows of magic unlike anything you have experienced before.
Rise Bmore
April 19, Union Baptist Church, 1219 Druid Hill Ave.  This free evening of words and music, of and for Baltimore, is in honor of Freddie Gray, who died on April 19, 2015. The event starts with a conversation featuring writers Sharea Harris, LOVE the poet, Brittani McNeill, and Hannah V. Sawyerr. The concert that follows features music by Peabody Conservatory professor Judah Adashi, Tariq Al-Sabir, Ruby Fulton, Lafayette Gilchrist, Brooks Long, and Martina Lynch, as well as poetry by Tariq Touré and images by Joseph M. Giordano.  
A Short Reunion
April 20-30, Single Carrot Theatre, 2600 N. Howard St.  For its latest play, Single Carrot is breaking out of its theatre space and onto the streets of Remington. Local businesses have partnered with Single Carrot to help transform this sprawling piece – a Frankenstein hybrid of never-before-seen shorts – into a short walking tour of the neighborhood. Charmington's, Miller's Court, Parts & Labor, Sweet 27, B. Willow, and Brick and Board will all be stops on the journey, along with neighborhood landmarks like the Remington 'R'. In addition to creating new foot traffic and introducing potential customers to the businesses, A Short Reunion will give audience a taste of the complex and changing flavor of the neighborhood as a whole.
Spectral Lines
April 23, Maryland Science Center, 601 Light St.  Digital art, science, and music meet on and under the Planetarium dome. Local artist, Kevin Blackistone, inspired by extrasolar planets, manipulates computer software to create digital art for the Planetarium dome. The immersive visual art is enhanced by live music performed by Baltimore band Wume. 
Charm City Bluegrass Festival
April 29, Druid Hill Park, 900 Druid Park Lake Dr.  This fifth iteration of this celebration of all things bluegrass (and in a stunning setting) has a heck of a lineup, including Supergroup, which blends members of Yonder Mountain String Band and Leftover Salmon, The Lone Bellow, and local boy Cris Jacobs.
News
The Enoch Pratt Free Library announced this week that Heidi Daniel would be taking over as president and chief executive officer. Daniel has served as the executive director of The Public Library of Youngstown and Mahoning County in Ohio since 2012. Daniel called the Pratt "one of the crown jewels of public libraries in the country, and I believe it is an integral part of the future success of Baltimore."
You might remember that a few months ago we brought you the story of Throw, a documentary that told the story of East Baltimore resident Coffin Nachtmahr, who found acceptance among a subculture of yo-yo "throwers" and it turns out, he's a virtuoso. He now helps others find a creative and social outlet by sharing what inspired him. Earlier this week, Throw was named as a nominee in the 21st Annual Webby Awards by the International Academy of Digital Arts & Sciences. The nomination for the Internet's highest honor is in the category of Documentary – Branded, where it will be judged against four other films. Other Webby nominees include the Netflix series Stranger Things, Pokemon Go and Beyonce.
The students who are a part of the iRhyme program at  Lakeland Elementary Middle School have done something most of their peers have not—they've created and starred in a music video, Guns Weak. And that video won the grand prize earlier this month at an art contest sponsored by Shock Trauma's Violence Prevention Program. Take a look at it here: