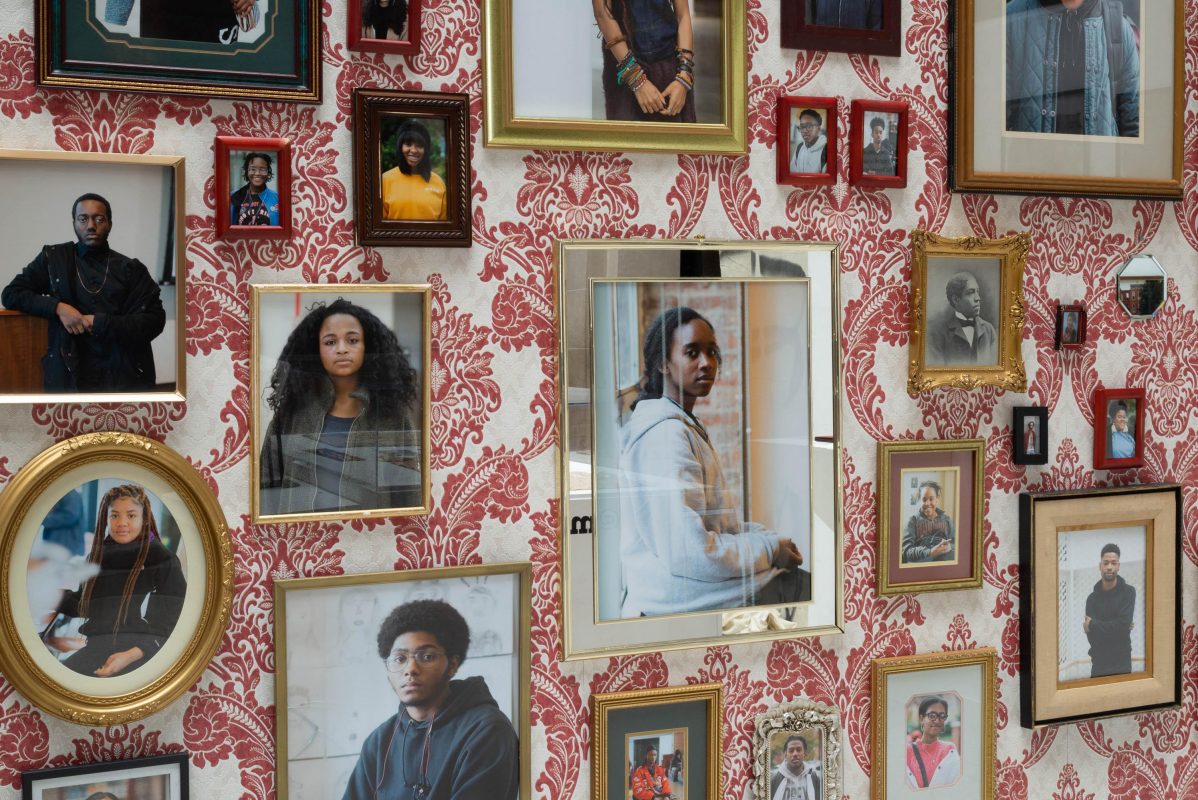 Deyane Moses
In 1891, Harry T. Pratt became the first African-American student granted admission to attend Maryland Institute College of Art. More than 100 years later, MICA still struggles to equitably reflect the demographics of Baltimore City. Blackives, an exhibition and online database curated by senior photography student Deyane Moses archives the portraits and oral histories of black MICA students and alumni.
When Moses' review of the school's nearly 300-page autobiography yielded only one page of information about non-white students, Moses decided to create her own archival project. Armed with her camera and a desire to erect a new monument for underrepresented populations, Moses ventured to photograph every black student she saw on campus. Those random and serendipitous encounters rendered a portfolio of beautifully earnest portraits, candid moments that document students who often feel invisible. The gesture offers a vulnerable bridge to connect with others who may feel a kindred kind of isolation. To be a person of color attending a predominately white institution of higher education can be a solitary experience.
Blackives is a living history developed to affirm black students and instigate shifts in MICA's established diversity and inclusion policies and practices. The popularity of the exhibition triggered a lengthy response from the school's president, Samuel Hoi. In the memo, President Hoi acknowledged the segregationist history at MICA and vowed to "strive forward to fulfill its diversity, equity, inclusion, and globalization (DEIG) goals." As a result, the exhibition was extended through March and reinstalled in the atrium of the school's Main Building.
Shortly before the opening of Blackives, Moses and other black MICA students staged an intervention to memorialize Robert H. Clark, one of the first African-American students denied admittance because of his race. The intervention, Take Back the Steps, successfully blocked the entrance to the building for 63 minutes, one minute for every year black students were denied enrollment to attend. At the event, Moses issued a statement that contextualized a history of omission that few in the MICA community knew about.
We spoke with Moses and Clyde Johnson, associate dean at the Center for Identity & Inclusion about the exhibition, the community's response, and their hopes for increased diversity on campus.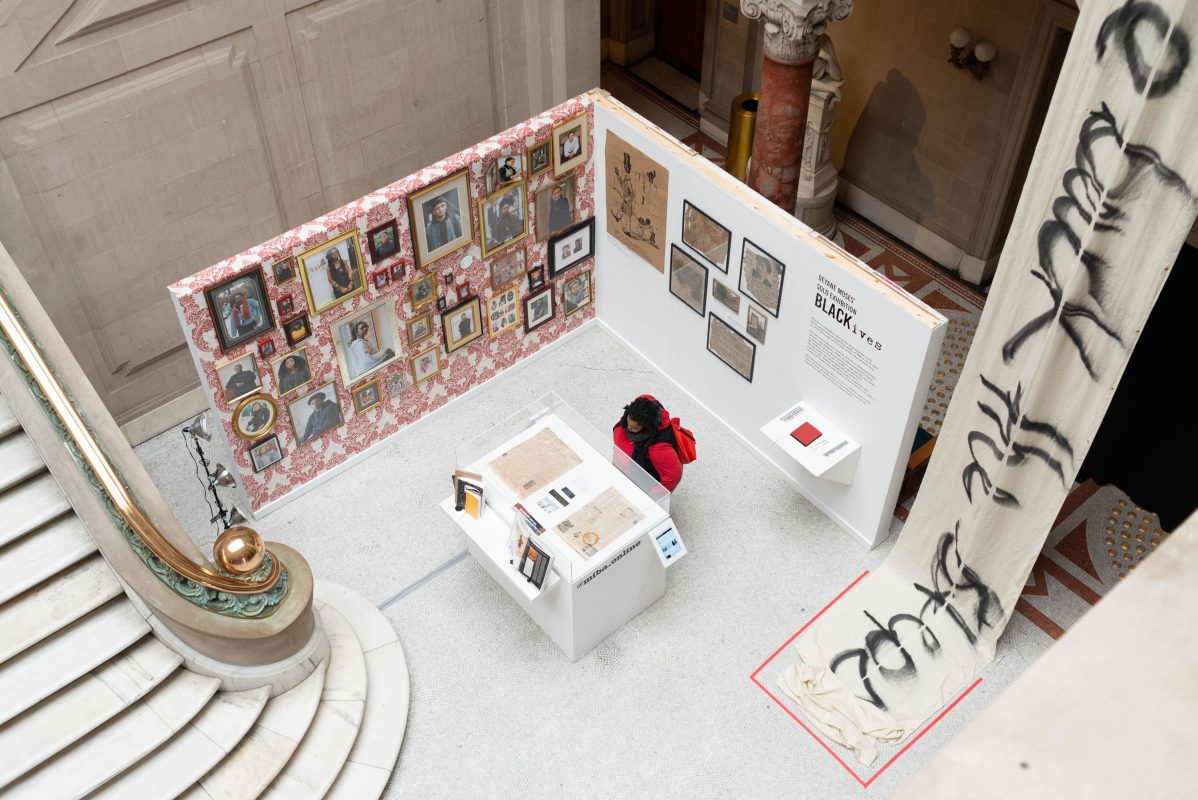 Blackives is an exhibition, but it is also an online database?
Deyane Moses: Yes. Maryland Institute Black Archives is the database which houses all the articles I found online, but I'm also collecting oral histories from the students who are currently here. The articles that I found from back in the day, the ways that they described black people, our voices were lost. The Afro supplemented for some of those voices, but they were around in the 1890s. So it was important to retrieve those voices now and to also speak to alumni and faculty. That's how the project is moving forward, by looking at the past present and moving forward into the future. Many students at MICA don't feel like they have support and mentorship.
What has the response been from black students and alumni about their experiences at MICA?
DM: They feel like they are not supported, especially when it comes to critiques. Classes are not that diverse. A lot of times I am the only black student in my photography classes. For the first time in my senior year, there are three other senior photography students in the same class with me. We talked about that. I also went to the black student union and talked to them about the low retention rate of black students at MICA. The show has been well received and everyone wants MICA to do more for black students and to support them.
Why now is the school and President Hoi speaking up about this issue and how will it effect the school's approach to increase the diversity of its faculty and student body?
Clyde Johnson: We have just ended a nearly three-year president's task force on diversity, equity, inclusion, and globalization. It entailed auditors looking over policies and programs regarding students of color, our LGBTQIA communities, and every aspect of diversity. We just did that and we've created a hopefully powerful document that should now be in implementation phase. These are new policies, new hiring guidelines. We have heard students say that the school does not have enough faculty members of color. So we have hired trainers to learn about implicit bias in the hiring process. I think we are working in tandem with this conversation. What Deyanne's exhibition has done is reminded us that the work we are doing is urgent. Here's the history, let's do the work.
I love that the exhibition looks like a living room and the wall of student portraits feel like members of your family.
DM: The majority of the portraits are of undergrad and graduates and my mentor, Colette Veasey-Cullors. They are my family. Everyone was really supportive. If they had a second, they let me take their portrait. I just asked that they focus and look at me so that, when others saw the wall, there would be a strong presence—they would know that we are here. The wallpaper is inspired by the 1890s, when the first black graduate, Harry T. Pratt, started. I wanted the feeling of home but also an awareness that you were in a museum.
You received some criticism from some students and staff about covering the statues in the Main Building with black curtains.
DM: I love this building, but I always noticed the white sculptures. Black people are not in those histories. I asked that they be covered, out of respect for black history as important by itself, outside of those histories. Some people are really upset about it.
What are your hopes for the exhibition?
DM: I would like it to be a permanent fixture somewhere in MICA and for the database to continue. I hope this is the beginning of other colleges admitting their histories so they can make change there, as well.