Dancing with the Stars
Mountain Lake Lodge's Dirty Dancing weekends let you have the time of your life.
"Are you here for the wedding or Dirty Dancing?" asks the strapping young man who greets me under the stone porte-cochère of Mountain Lake Lodge. It's a valid question, and one with an easy answer that nonetheless sticks in my throat. 
I've just driven nearly six hours down the length of Virginia's Appalachian spine and then six miles up a winding mountainside road to arrive at this old-fashioned resort high in the mossy green peaks of southwestern Virginia. As the travel editor for this magazine, I am here on assignment, but it's not an assignment that has been foisted upon me. Truth be told, it's an assignment I finagled for myself. I first conceived of a story on Mountain Lake Lodge more than a year ago after discovering the following:
In 1986, Mountain Lake Lodge stood in for the fictional Kellerman's resort during the filming of Dirty Dancing, the timeless coming-of-age tale starring Patrick Swayze and Jennifer Grey.   
The resort is in Pembroke, Virginia, and, therefore, a potential weekend destination for our readers. 
Mountain Lake Lodge is in the business of hosting Dirty Dancing-themed weekends to capitalize on its connection to the cult classic, which is celebrating its 30th anniversary this summer—August 21, to be exact.
So, yes, it seemed appropriate to do a story, but I could have easily assigned it to another writer. I didn't, though, because I feel proprietary about Dirty Dancing. I have so many memories bound up with the movie. I watched it at slumber parties, made up dance routines to its soundtrack, and, when I got older, let its near constant presence on basic cable accompany many a Saturday afternoon nap or laundry-folding session. I have probably seen it more times than any other movie—and, truth be told, I probably like it more than any other film. It might not be the best movie ever, but it's my favorite.
Make no mistake, there is a cult of Dirty Dancing.
So, yeah, dude, I am here for Dirty Dancing. But I am suddenly self-conscious, very aware that I am a 36-year-old single woman who has just driven six hours to attend a weekend devoted to a movie whose key lines include, "I carried a watermelon," "Nobody puts Baby in the corner," and "You're wild!" It does feel, somehow, less than dignified. I stifle the urge to blurt out, "I'm here on assignment!" and confirm—accompanied by the most blatant "I-know-how-ridiculous-this-is" smirk I can muster—that I am, indeed, here to have the time of my life.  
Thankfully, the strapping young man—who I later learn is the resort's marketing manager, Josef Koefer—seems oblivious to my neuroses. 
And, really, why would he be bothered? These Dirty Dancing weekends are a crucial part of Mountain Lake Lodge's business. The resort has existed in one form or another since the 1850s, and its connection to the movie isn't the only reason people visit—its location within a 2,600-acre nature preserve near both the Appalachian Trial and Virginia Tech keeps it busy year-round—but about a quarter of the resort's business is tied up in being the closest thing Dirty Dancing fans have to a shrine. And make no mistake, there is a cult of Dirty Dancing. If there is anything I will learn before the weekend is over, it is that I am not alone in my attachment to the movie. Oh boy, am I not alone.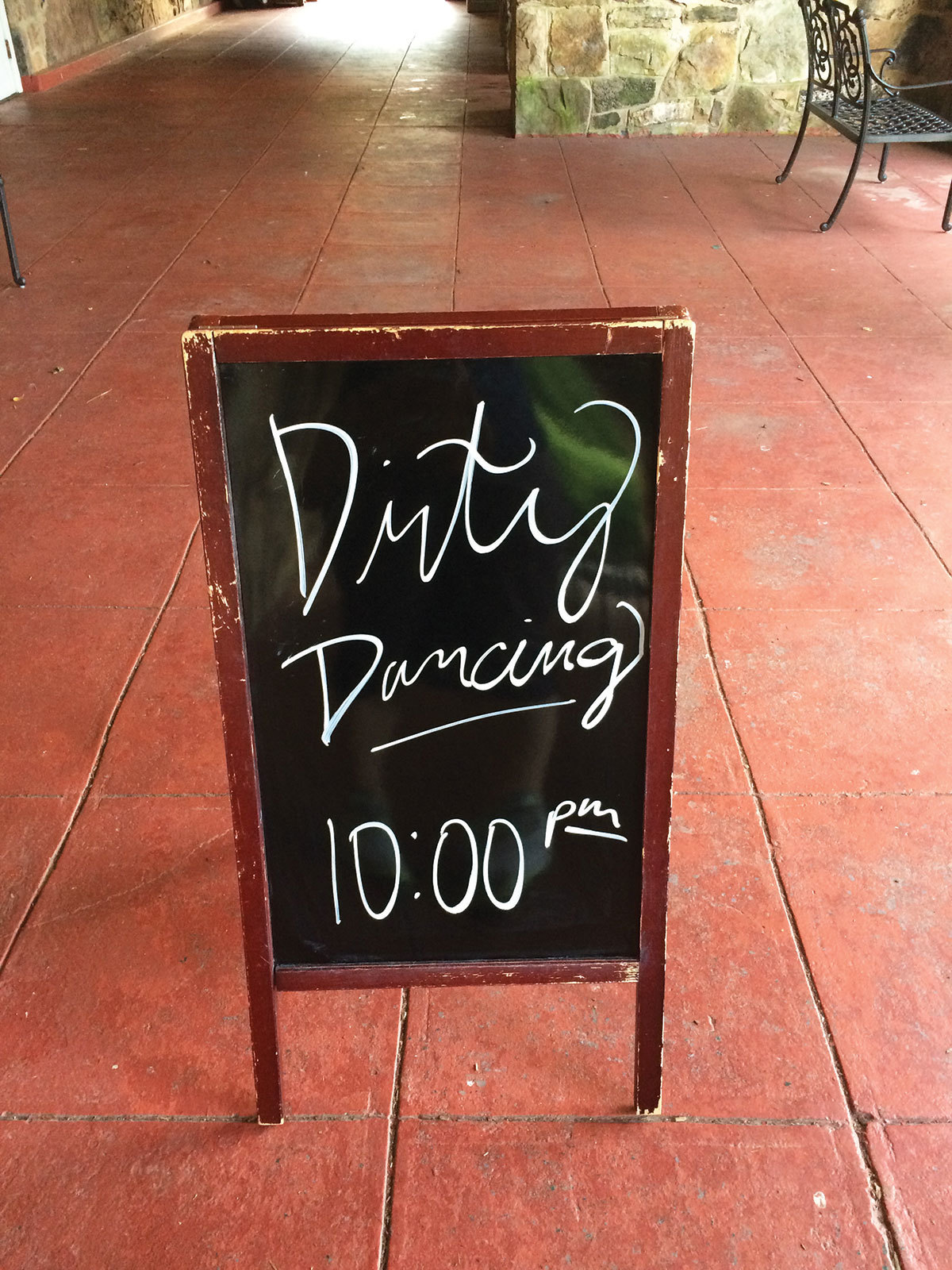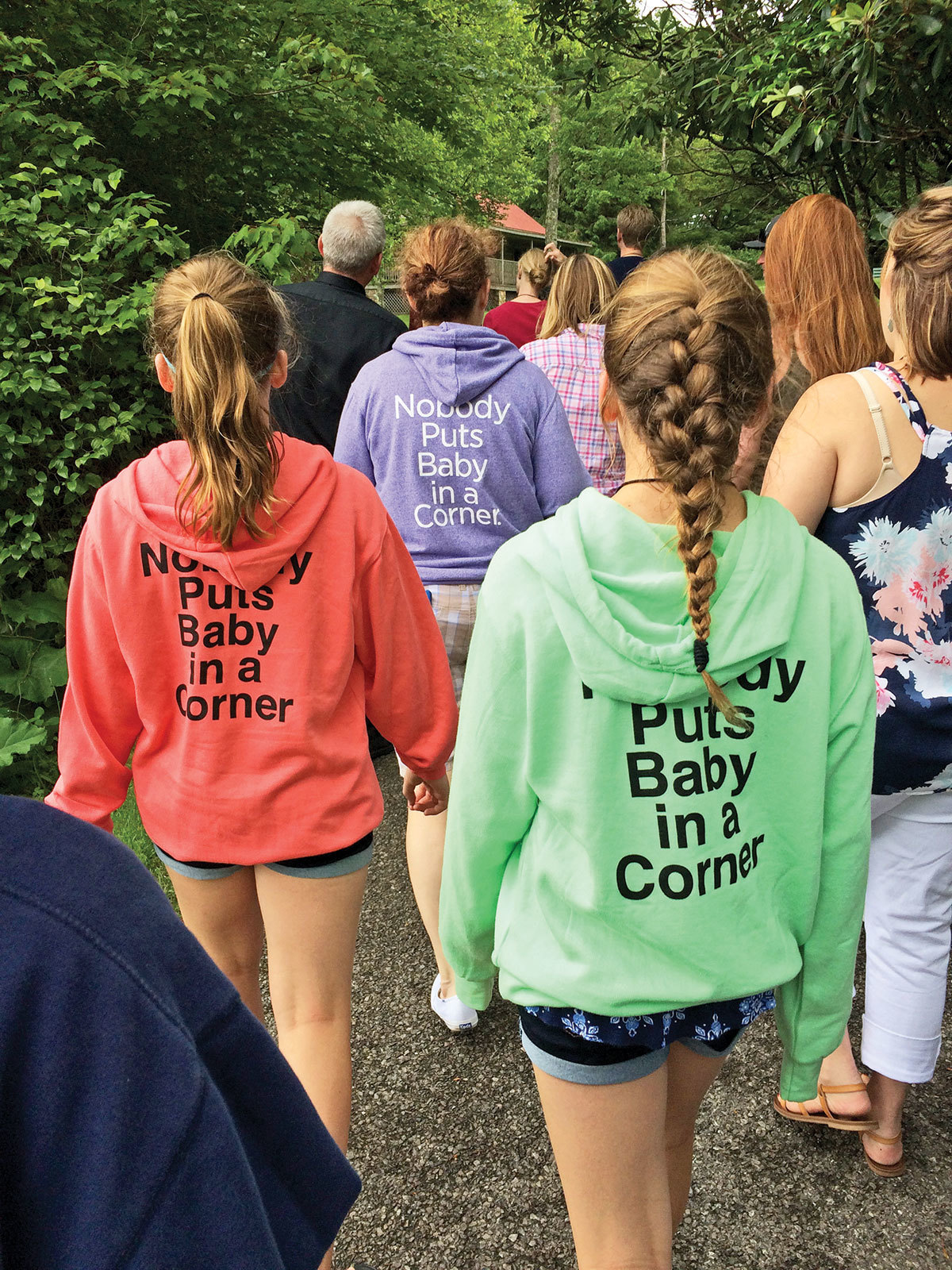 Advertising the Friday screening and souvenir sweatshirts abound. —Amy Mulvihill

Pilgrimaging is nothing new. Just about every culture has partaken in some form of it since time immemorial. While the practice is most closely associated with sites of religious significance, secular destinations—like the National Baseball Hall of Fame or Graceland or Gettysburg—inspire equal amounts of reverence. Whatever the destination, I believe the desire is borne of the same impulse—to somehow channel the ephemeral through contact with the physical. Like, maybe somehow, if you dig your heel into the green shag carpet in the Jungle Room at Graceland, you will be better able to understand Elvis's soul, and, in some sense, better able to possess him. It's pure magical thinking, of course—a futile attempt at ownership—but I find it touching because I think it's compelled by love. 
Mountain Lake Lodge's management understands this and cultivates the connection. The resort hosted its first Dirty Dancing-related event in 1988, the year after the movie was released. Over time, the format of the event has evolved and demand has ebbed and flowed. In 2013, Heidi Stone became Mountain Lake Lodge's general manager and scaled back the hotel's reliance on Dirty Dancing, renovating some of the accommodations and adding an adventure center with a ropes course, archery tag, and the tallest inflatable slide in the U.S. But she understands that, for a certain visitor, none of that matters. 
"People are coming here, essentially, to see Kellerman's," she acknowledges. 
So wherever you look, there are reminders—some subtle, some not—of the resort's cinematic legacy: a large sign reading "Kellerman's Mountain House" stands proudly on the front lawn; a glass cabinet inside the main lobby showcases movie merchandise; signposts scattered around the grounds point out the locations of crucial shots; and one TV in the bar plays the movie on a continuous loop. All employees are required to watch the movie at least once before they start, so they can answer any questions guests may have. 
"If there's a server that has snuck in and not watched the movie, people get mad," says Stone.   
"People are coming here, essentially, to see Kellerman's," acknowledges Stone.
But if you like the movie enough to attend a Dirty Dancing weekend, you probably don't need any help recognizing the iconography. Just follow a footpath and there's the gazebo where Penny led the conga line and told guests, "Oh, come on ladies: God wouldn't have given you maracas if he didn't want you to shake 'em!" And hey, there's the so-called Virginia Cottage, the log cabin where Baby's family stayed in the movie (and in which lead actress Jennifer Grey bunked during filming). Walk into the main lodge's dining room and just try to suppress the image of Baby pouring a pitcher of water down the crotch of Robbie the Creep's pants and warning: "Stay away from me, stay away from my sister, or I'll have you fired." Around virtually every corner, there's a familiar sight that will pull from the recesses of your brain a quote you had no idea you knew. 
Stone admits she and the staff sometimes tire of the movie, but not of witnessing guests' excitement.
"It's like taking a kid to Disney World. You may have been there 25 times, but the kid hasn't, and they're like 'Whoa!'"
People's excitement is often deepened by a sense of wonder, she says, because they "don't think we exist."
But Mountain Lake Lodge does exist and it provided the backdrop for the majority of the film, including all the dining room scenes, the aforementioned gazebo scene (plus another during which Baby confronts her father for giving her the cold shoulder), the scenes in the Houseman's cottage, and most of the exteriors, including the iconic lift in the lake. The remainder of scenes were shot in Lake Lure, North Carolina, and on a Hollywood soundstage. 
Says Stone: "This is the only place . . . where you can stay and eat and you can have a whole weekend here."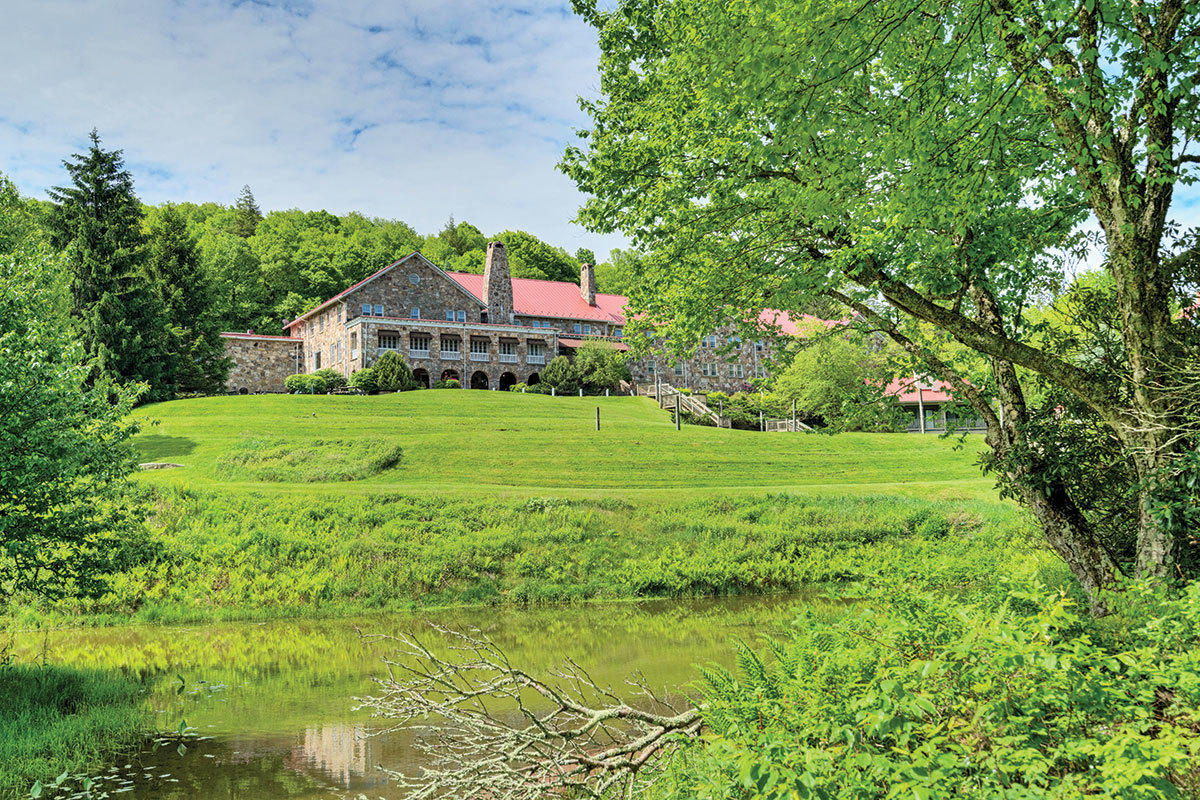 So what is a Dirty Dancing weekend like? Starting at $350 for a double-occupancy room in the lodge, the package includes three meals a day and a slate of activities.
It begins Friday evening with a dance party and ends Sunday morning with a scavenger hunt. In between, there are group and private dance lessons, a second dance party, a screening of the film, lawn games, and a guided tour of filming locations by resort beverage manager Mike Richardson, who has worked at the resort off and on since 1990 and has become the staff's resident Dirty Dancing sage. 
"Like an ornithologist has a list for birds, I have one for countries people have [visited] from," says Richardson. "I have managed to scratch off every country in Europe, except for three . . . and I have every country in this hemisphere except for Cuba, Haiti, and Nicaragua."
Dirty Dancing's multiplatinum-selling soundtrack. I hug the wall like I've just carried a watermelon up to the rocking staff quarters.
As expected, the group skews female and young (mostly 20s through 40s; the youngest is a 7-year-old from Dallas, Texas, here with her mom). Still, there are more couples than I thought there'd be. 
Near the outside bar, I corner Andrea and Jeff Bush of Richmond, Virginia, and ask how they ended up here.  
Unsurprisingly, Andrea, 38, is the fan. She grew up loving the movie and chose "(I've Had) The Time of My Life" as the last song of their wedding reception 10 years ago. ("We did not do the lift because I was much, much heavier and that was not happening," she says.) She has been asking Jeff to book this weekend for a couple of years now, and finally just did it herself, informing him that it is his birthday present to her this year. 
Jeff's response? "I said, 'Aren't I awesome?'" 
Jokes aside, he says he's happy his wife is happy. He's just going to need a little more alcohol before he can get out on the dance floor. 
"A few more drinks in him and he'll be dancing up a storm. He'll think he's Patrick Swayze," says Andrea.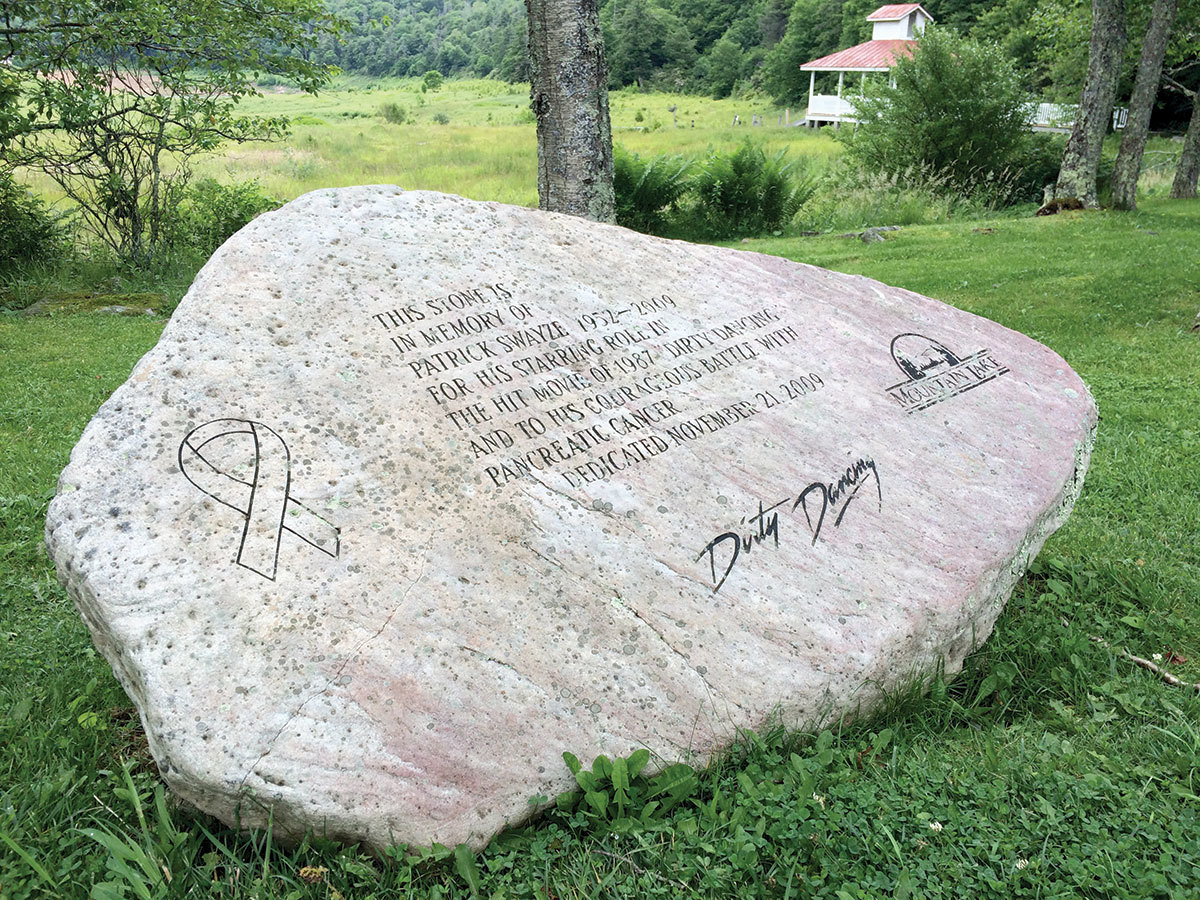 The dance party includes a costume competition, and many guests are dressed as their favorite character. There are lots of Babys—demure, daddy's girl Baby; leotard-wearing Baby; finale dress-wearing Baby; and more than a few Babys carrying watermelons, either the actual fruit or inflatable beach ball versions, which can be found for sale in the gift shop. But there are also people dressed as more obscure characters: Penny, Lisa, even a spot-on Mrs. Schumacher complete with extra wallets in her handbag. (If you haven't seen the movie—why? how?—Mrs. Schumacher and her husband are a seemingly nice older couple who are later uncovered as thieves.)
Seeing the wit of the costumes relaxes me. "Oh, thank God," I think, "People are in on the joke." 
The occasional borderline camp of the movie is part of its charm, so it's entirely appropriate that the weekend walks the same line.
There's a group of 21 thirtysomething women here for a bachelorette party, and while they're genuine fans of the movie, they shimmy through the weekend tongue firmly planted in cheek.
One member of the bachelorette party, Damaris Phillips of Louisville, Kentucky, is dressed as Penny during her big crying scene, in which she's slumped against the kitchen wall, wrapped in a blanket, terrified because she's pregnant by Robbie the Creep who now wants nothing to do with her. 
"I went to dinner with running mascara on my face. I look insane," she says with a laugh. "[But], if you understand and you're here for the movie, it does make people smile. It is a very friendly group and it feels like there's camaraderie among all the people that are here because it is such a wacky, delightful thing." 
On the other hand, I later overhear one older woman say she comes to every Dirty Dancing weekend. (There are four per summer.) Maybe she's here for the yuks, but I doubt it. I see her side, too, though.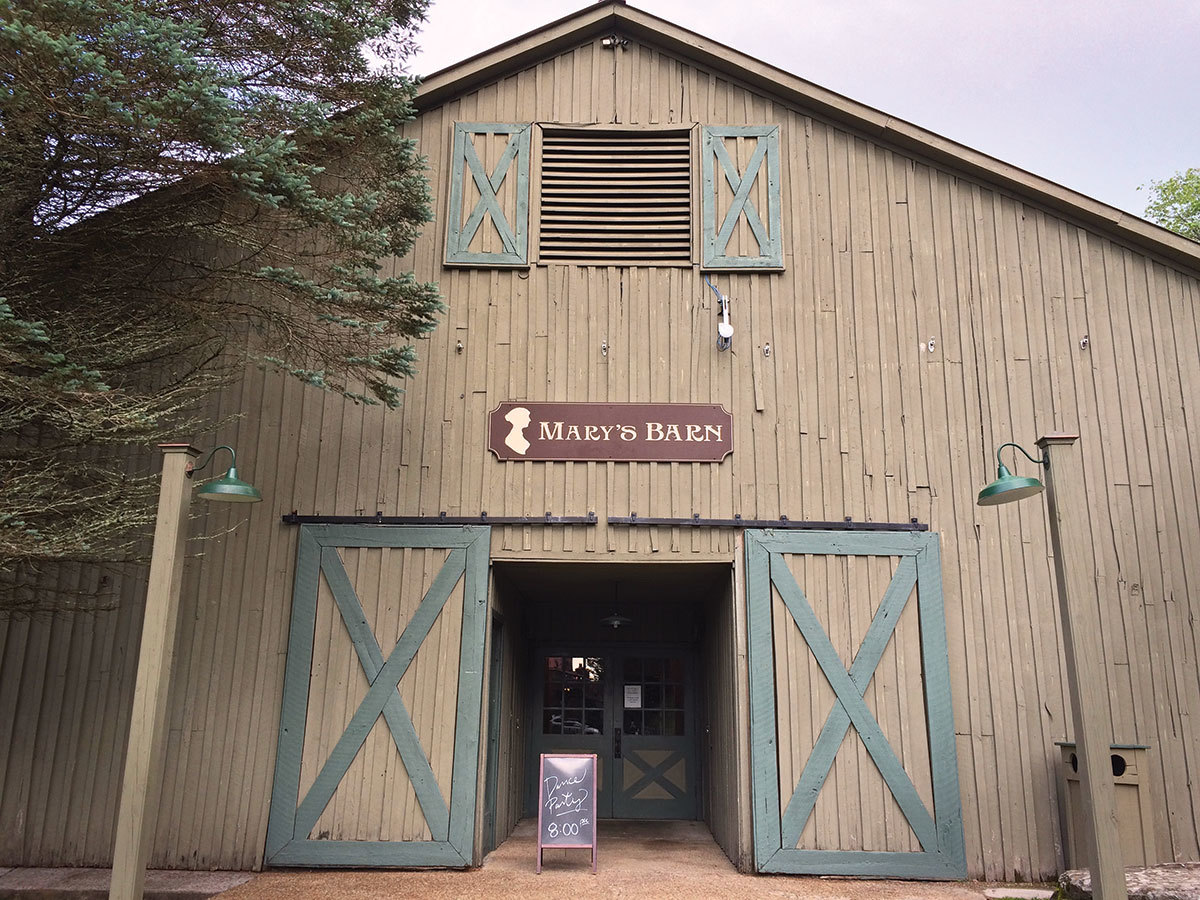 After the dance party, the film is screened in the hotel's basement ballroom. I feel too wired to sit, though, and venture out to the dock to stand in the breeze and hear the frogs and crickets chirp and whir in the night. Due to natural geological cycles, the lodge's titular lake has receded drastically. It's about one-fifth the size it was when the movie was filmed. Geologists expect it to come back at some point, but now, the uncovered lakebed is a carpet of scrub and wildflowers, though none of this is visible to me in the pitch black. I stand there and think about time, about cycles, about nostalgia, and about the things that last. 
Then I wander back up to the lodge and reenter the screening just as Baby and Johnny are returning to Kellerman's from their secret performance at the Sheldrake Hotel. They are starting to fall in love, and the awkward tension hangs heavy. The sounds of crickets and frogs fill the air around them, and at first I can't tell if those sounds are emanating from the film or from real life. I'm not sure it matters. 
I sit and watch the rest of the film and come away impressed. I don't know that I've watched it, except in snippets, in years.   
Watching it again, as an adult, I'm heartened to see it's actually a well-made little movie. Fleet, nimble, and fun, it deftly addresses issues of sex, class, and family in less than two hours. (Martin Scorsese, take note!) And, of course, it makes you want to dance.
I look at the room full of mothers and daughters, husbands and wives, old friends and new, and I think: "Why, exactly, should I be embarrassed about liking this movie? If these are my people, so be it." 
Tomorrow night, at the second dance party, no Johnny Castle will come out of the crowd to lead me around the floor, but I will still dance.