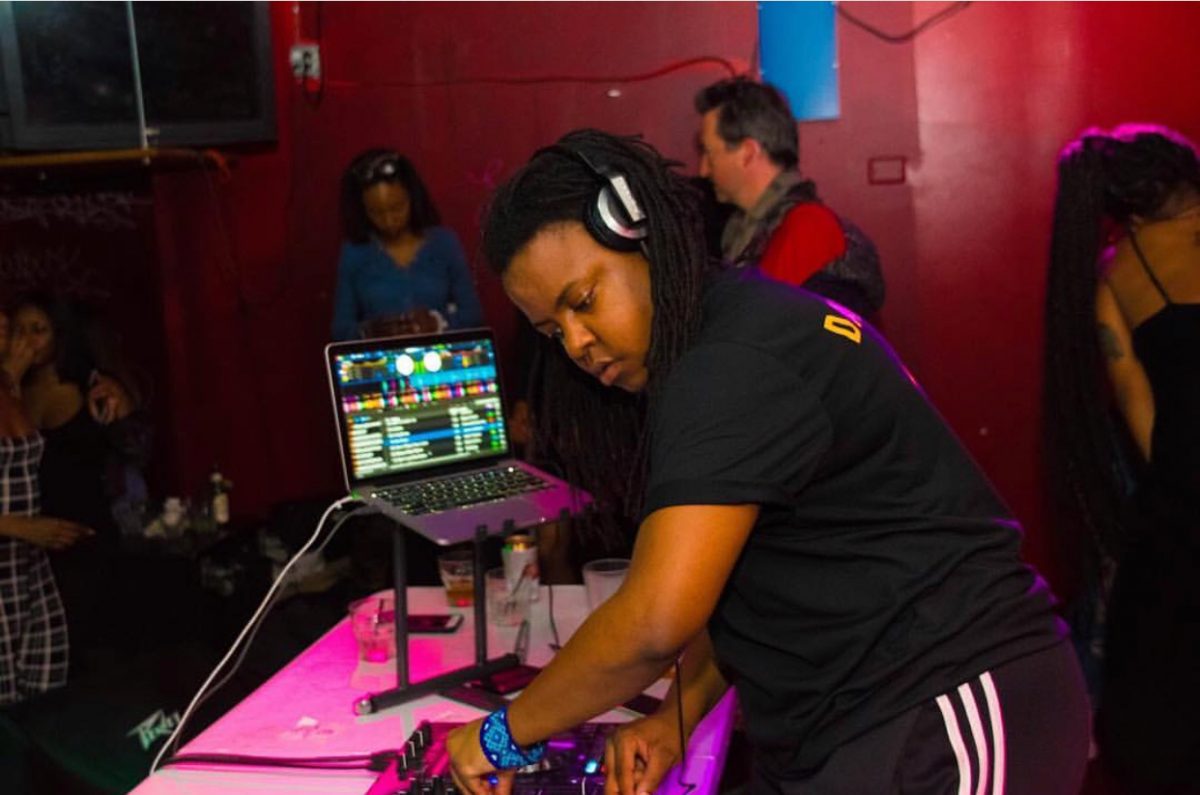 Baltimore Griot/Syden Allen
Jessica Hyman is one of the most hardworking DJs in Baltimore. As her moniker, Trillnatured, she has made a name for herself as a master of feel-good grooves, appearing on dynamic bills from The Crown to The Baltimore Museum of Art, even cementing her own monthly dance party, Version, as a vital part of the Baltimore arts scene for its dedication to and celebration of the queer community. We sat down with the lauded Balti Gurls artist to discuss her musical upbringing, discovering her passion, and giving back to the youth. The next Version kicks off Saturday, May 12, at The Crown, at 10 p.m. Next month, she will also host a special Baltimore Pride edition on June 16.  
---
You grew up outside of the city?
I grew up in Harford County, which is a red county—it's conservative, it's white, it's farmland, at least up top. In the middle of the county, you've got Edgewood, which is where I grew up, and Aberdeen, which are browner, blacker, and include a lot of folks who moved out from the city. I went to an almost predominantly black school, but if I'd lived on the other side of a particular street, I would have gone to one of the predominantly white schools. My adolescence would have been a lot different. That's where I got into club music and listening to 92Q.  
You've talked about not discovering hip-hop until middle school. What was your initiation?
When I was a kid, because I attended a mostly white elementary school, I was listening to Spice Girls, N'Sync, Ace of Base. Then one day, when I was like 10 or 11, I was in the car with a friend who was listening to 92Q. "Big Willy Style" by Will Smith was on. I was like, 'Woah, what is this?!' From there, I just went back and learned all the music and fell in love with '90s hip-hop and R&B.
 
Was your family musical?
My dad was always playing music. He listened to everything, but his favorites were, and are, Luther Vandross, Sade, Phyllis Hyman, Regina Belle. Those artists are really special to me. But as my brother and I started listening to hip-hop, he would listen to what we were listening to, too. He was always on top of it—the cool dad. I think that's where my love for collecting music came from.  
Even before I started DJing, I was borrowing CDs from my friends, copying them on the computer, and putting them on my iPod. I'd listen to the radio and if I didn't know a song—this was before Shazam—I'd write it down then get on Limewire. I'd stay up late and just download all night. I loved gathering music and playing it for other people. If there was a cookout at my grandmother's house or Christmas dinner, they'd tell me to bring my iPod.  
As you got older, did you start going to see live music yourself?
My first show probably wasn't until undergrad, when I started going out. But the important time is when I decided to come out, because that's when I started going to the Hippo and the Paradox and watching all the DJs. The first time I approached a DJ was at the Hippo. Her name was DJ eXeL, and she'd fill in for DJ Rosie every once in a while. I went up to her after the party was over and asked if I could come stand in the booth and watch her play next week. I just became enamored by the dopeness of it all. I was drawn to it.
 
Do you think coming out inspired you to pursue this newfound passion?
That was a time of developing confidence and a new sense of self. It was also awesome to see another queer woman DJing. If I didn't have those experiences at the Hippo, I don't know if I would have paid attention or connected to that whole experience.  
How did you make the transition into DJing yourself?
I had just been sitting on it, but a couple of years later, I finally decided to try it. In 2014, I bought a controller with a refund check. DJ eXeL gave me some tips and taught me how to count beats, and from there, I watched a lot of YouTube videos and learned the fundamentals. I learned blending and transitions. I got a couple books and read about the history of dance music and discos. I didn't learn on vinyl, so I don't play traditionally, but the most important thing is you being able to read and talk to the crowd. My goal is just to refine my skills. Four years feels like a minute but it's still early in my career. I have to remind myself of that. I started playing for a certain reason and I have my own trajectory.
 
How would you describe your sound or style?
I'm not a genre DJ. I play everything. I mix club music in with hip hop and R&B and stuff you wouldn't expect, like Avril Lavigne. I like to be unpredictable. I'm always thinking about music all the time. I can't even listen to music like normal people because I get so excited. I have an endless note in my phone with songs that come into my head as I'm walking or that I hear coming out of somebody's car.  
You put a lot of those songs on display at Version, your dance party which is now in its second year with at The Crown. How did that come to be?
I had been playing at The Crown every now and then, and in January 2017, I got the opportunity to start a new residency. I did it for a year before deciding to make it a queer party. I shied away from it for a little while; I thought it might pigeonhole me or have an effect on the crowd volume. But when the anniversary was coming up this year, I thought, let me go for this.  I needed to be more intentional about declaring what kind of space it was. It was a hole that needed to be filled; an explicitly queer party, by a queer DJ, does not exist, at least not at The Crown. And it works. Kotic Couture has been an awesome partner. He's a classic MC. He's just really good at what he does. The vibe feels better. And it's continuing to grow. This month, I'll be bringing in Tomi Yeyo from D.C., and in June, it's usually the second Saturday of the month, but I worked it out to be on the Saturday of Baltimore Pride, which will be awesome.  
You also now teach young people through Baltimore Youth Arts.
This is the first time I'm connecting my youth work with the arts. I've worked at CCBC as an academic coach, in Student Life, as an Outward Bound counselor, but now I'm doing community arts. BYA has its own studio in the old Platform Gallery space, where the youth participate in programming or just drop in to hang out. They also have a couple of partnerships. I've been at the Lillian Jones Rec Center in Sandtown for a few months now. I set up in a room and kids just come in and work with me. There are a few consistent ones who are really feeling it. A lot of them are really young, like elementary school, but they pick up on things really quickly. I'm working on figuring out how to give them skills that actually stick. It's my favorite part of the week. At the end of the spring, I'll start at the juvenile jail downtown, doing classes once a week. After I get my master's in social work, I'll actually be able to do my own programs. I'm so close, I just gotta finish.  
Do you think you learn better through experience?
Things didn't really start meaning anything to me until I got out of school and started making connections. I majored in gender studies in undergrad but I was just reading the books and talking the talk. It didn't really resonate or ignite anything in me. Now that I'm part of Balti Gurls—going around talking about being a queer woman and what that means to me personally and building a platform for other queer folks—it all clicks. Balti Gurls has helped me come into my identity as an artist. I didn't really feel like I was one, or that I fit into the scene. But being part of a women-of-color artist collective means not only that I see myself as an artist but that other people do, too. That's where I started building my sense of community, not feeling so alone in the music scene with a bunch of guys.  
You meet your girlfriend, Jenné Afiya, through Balti Gurls. Do you inspire each other through your art?
It's been interesting to work closely with someone that I'm dating. She's very supportive, even just in the sense of showing up and being there. Sometimes I'll get in the dumps about a bad show, or about not getting booked, and she'll just talk me out of it and encourage me. I'm definitely hard on myself; that's a thing for a lot of performers.  
What are some areas for growth that you still see within the local scene?
Venues and resources. Baltimore has such a rich artist scene, but we need to pay more attention to each other and prop each other up more than just pulling all our best artists out a couple times a year for big things like Light City. We need that support all the time. The Crown is very special for that; I see that continuing on and becoming a legendary place. It already is a legendary place. But we're still sort of segregated. I want us to come together more. I see myself continuing to build with Balti Gurls, continuing to work with youth, taking my platform and using it to give back. Hopefully I make a couple new DJs out of it.