Risqué Reading Series 'An Evening of Vintage Smut' Grows in Highlandtown
Led and curated by Waltherson resident Jocelyn Broadwick, the series features monthly readings and occasional adult Mad Lib-style events at Rust-N-Shine.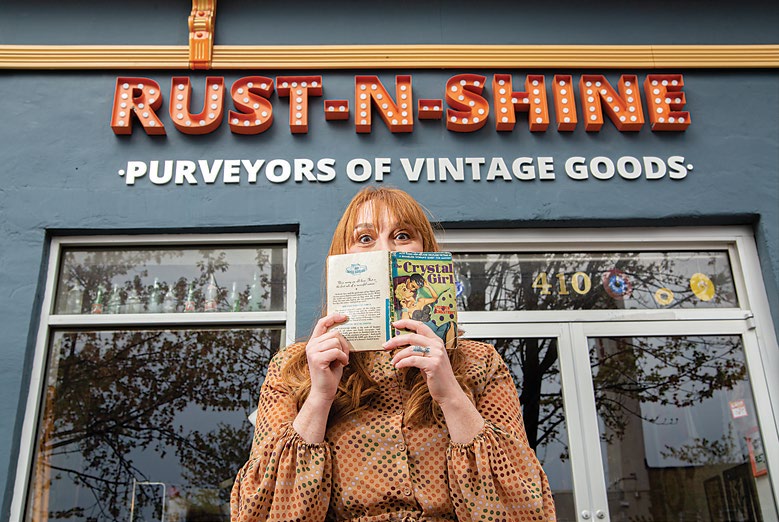 Jocelyn Broadwick couldn't have foreseen that she would one day be known as "Highlandtown's Reigning Mistress of Smut." Raised in a devout religious household, at "the height of purity," as she puts it, the Waltherson resident, pictured, insists that she had "never been a regular smut reader," referring to books or magazines with themes of sex and eroticism. Even now, the domestic violence worker doesn't keep them on her bookshelf. "The writing is just awful," she says.
All that changed about four years ago, thanks to Kinsley Ross and Kevin Bernhard, owners of the Highlandtown vintage retailer Rust-N-Shine.
During one of the neighborhood's First Friday Art Walks, the store had just received a pile of raunchy, retro novels—the sort with pin-up-worthy damsels on their book jackets—and the three shared a laugh while perusing the delivery.
"I had been [drinking sangria] and apparently it had been decided that I'd be the one to read these books aloud," Broadwick says, laughing again, adding that she had no recollection of officially agreeing to spearhead a public reading. But sure enough, a month later, "We tried it, people liked it, they wanted us to do it again."
And thus began An Evening of Vintage Smut.
The series, led and curated by Broadwick, kicked off with monthly readings and occasional adult Mad Lib-style events at Rust-N-Shine, with items in the store used as makeshift props. When the pandemic hit, she facilitated 30-minute readings via Facebook Live, which were a hit.
"The stories are about sex, they're provocative, you never know what's coming, but a lot of times, people come to us expecting something sexy, which is a complete misunderstanding," says Broadwick, who notes that the books are often more offensive than sexy.
Nonetheless, the main thing that keeps her fans coming back is a sense of humor about it all. "What's funny is how problematic these books are—though none of this is something that we joke about," she says, referencing the racism, misogyny, and homophobia throughout the storylines. "It's just funny to collectively be like, 'What the f*ck? How did people read this and enjoy it?'"
Broadwick, who is now an agnostic, says the series—which is set to host its first-ever "Miss Mistress of Smut" pageant this month—helped her to assert her sexuality and reckon with her former religious ties.
"It's like a reclamation, where I'm able to feel powerful and sexy and have agency," she says. "Seeing local business leaders, politicians, family, friends—some people bring their children, which I wouldn't recommend—it just brings everyone together. It's a quintessential Baltimore thing."