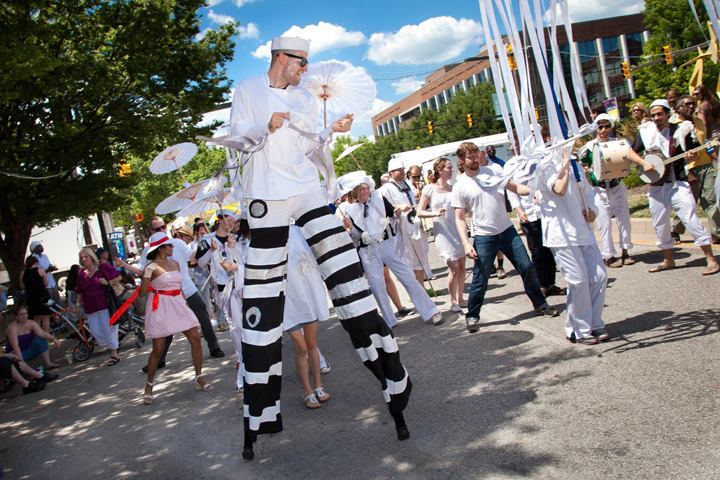 Baltimore Office of Promotion & The Arts
Let's be honest—what we love most about Artscape is the way the city is transformed for three days and nights into an art-loving, community-vibing, dancing-in-the-street big party. In fact, one of the best things to do, in our opinion, is simply walk around Charles Street and Mount Royal Avenue, soaking up all the sights and sounds of summer in the city.
But we'd be remiss if we didn't weigh in on the extensive list of performances, exhibits, installations, and family events that make up the country's largest free arts festival that runs July 21-23. So without further ado, we give you our list of what not to miss at this year's camp-themed Artscape.
One of the biggest visual cues that Artscape will have arrived will be the appearance the larger-than-life works of art in Mount Vernon and Station North. Take the Charles Street Trail, for instance, where, between Penn Station and Lanvale Street, you can meander among works by three artists that hint at more mysterious encounters than a typical wander in the woods. (And, apparently, you should watch for a Sasquatch!) Then, there's Let's Build a Big Campfire!, a 20-foot-tall sculpture made from steel and logs that features a marshmallow on a 30-foo-long skewer. Large scale, indeed.
Mount Royal Avenue at Dolphin Street will transform into Aquarium Falls, a participatory installation presented by the National Aquarium in collaboration with visual artist and Maryland Institute College of Art graduate Kasey Jones. Festival-goers will assist Jones in the creation of a waterfall created entirely of repurposed plastic materials, and playfully explore a park-like landscape complete with a winding stream, stepping stones and trail activities.
And while camping is thought of as a way to get away from it all, Who's Watching (Charles Street by Penn Station) reverses this by exploring aspects of surveillance. This installation brings viewers into one of two physically separated custom framed tents. Initially, participants may be aware only of the chamber into which they are entering, without knowledge that they are watching each other. The live feed will be erratically interrupted by surveillance footage from 2015 now available online, connecting the surveillance occurring live in the space with historical surveillance in Baltimore City.
So, yes, on Friday, the MICA Main Stage will feature Sheila E., Prince's drummer, collaborator, and former fiancé (he proposed to her on tour while performing "Purple Rain", swoon.) And that crazy Gypsy punk band Gogol Bordello takes the stage on Saturday and Sunday features soulsters Robert Randolph and the Family Band. But make sure to check out J. Pope and the Hear Now, the funk-infused Baltimore group whose debut album Soul Searching has made a splash since its release this summer.
At the Morgan State University Sound Off Live! Stage (Mount Royal Avenue near Lafayette), check out Wordsmith (Saturday 2-3 p.m.), a rapper and musician who will perform with the Baltimore Symphony Orchestra next season, and Super City (Sunday, 1-2 p.m.) a indie quintet made up of Towson University grads.
The Johns Hopkins University Station North Stage has a diverse lineup that is so perfectly Baltimore, from Baltimore City Public Schools students (Friday 12-1:30 p.m.) to punk rockers Natural Velvet (Sunday 4:30-5:30 p.m.) and PLRLS (Sunday 7:15-8 p.m.). Also check out up-and-coming rapper Martina Lynch (Saturday 2-3 p.m.) and Wing Dam (Saturday 8-9 p.m.), who make a return trip to their Baltimore hometown from their new digs in San Diego. And don't for get about the George Michael Tribute on Friday night.
 One of our personal favorites this year is Dance Camp (Charles Theater parking lot), where you don't have to be a budding ballerina to get the full workshop and performance experience. In fact, the schedule was artfully designed to provide the audience with an experience of a typical day at camp. Each day, campers can wake up to morning yoga, attend dance workshops, listen to a fireside chat and, most importantly, just dance. Competitions, games, and talent shows are spread throughout the three days so you can participate and cheer on your favorite professional crews and dancers. Check out all types of battles, choreography workshops, even Parkour instruction, and as the days eases into night, check out a special version of 4 Hours of Funk and a Mobtown Ballroom-sponsored dance party with a live jazz band.
Celebrate the return of film to Artscape at the newly opened Parkway Theatre, home of the Maryland Film Festival. On Friday from 6-9 p.m., programming starts with a free feature film, Wet, Hot American Summer. On Saturday and Sunday from 12-6 p.m., a variety of free short films are shown throughout the day with filmmaker Q&A's.
An Argentinian dance company that blends precise footwork, drumming, and a 17th-century style South American song, Che Malambo brings their fast-paced footwork and traditional drumming to the Modell Performing Arts Center at the Lyric (Saturday and Sunday, 1 and 6 p.m., 140 W. Mount Royal Ave.).
Per usual, Theatre Project presents dance performances, including a Dirty Dancing tribute (Saturday 12:30-2 p.m., 45 Preston St.), where you can audition to join the company.
In addition to the BSO presenting a concert of classical favorites, the Meyerhoff (1212 Cathedral St.) will also host the Dunbar High School Alumni Jazz Band, the Polytechnic Institute Extradition Step Team, and the Baltimore City College "Knights of Jazz."
The Brown Center at the Maryland Institute College of Art (1301 Mount Royal Ave.) features a broad-reaching program, including the Victoria Piano Trio performing music of the great outdoors by Gershwin and Beethoven (Friday 3:30-4:30 p.m.), Baltimore Concert Opera exploring what makes up an opera with an engaging program for kids (Saturday 3:30-4:30 p.m.), and Full Circle Dance Company presenting a new work based on the experiences of Harriet Tubman (Saturday 6:30-7:30 p.m.).
These small but might performances have the advantage of choosing wherever and whenever they want to perform during the festival. And while you might not be able to plan to see them, if you do encounter them, we guarantee you'll be entertained. It's an eclectic mix, from Smallfoot, a mysterious giant creature who roams Artscape and drum students from the BSO's OrchKids program to belly dancers, a dance crew, and the skating wizards of It's My Skate Night.
Experience an unbelievable performance from Dimitri Reeves, who's won acclaim as a Michael Jackson impersonator (Friday 8-9 p.m.). On Satuday, check out Spirit of Ma'at, (11:30 a.m.-12p.m.) a Baltimore based troupe that mixes traditional belly dance with hip-hop, African and modern dance, and a showcase by Bmore Than Dance and Follow the Art (7-7:30 p.m.) that features of a variety of dance styles including popping, b-boy, ballet, tap and modern hip-hop. And on Sunday, Tradiciones Bolivianans (2:30 – 3:30 p.m.) take festival-goers on a trip to South America.