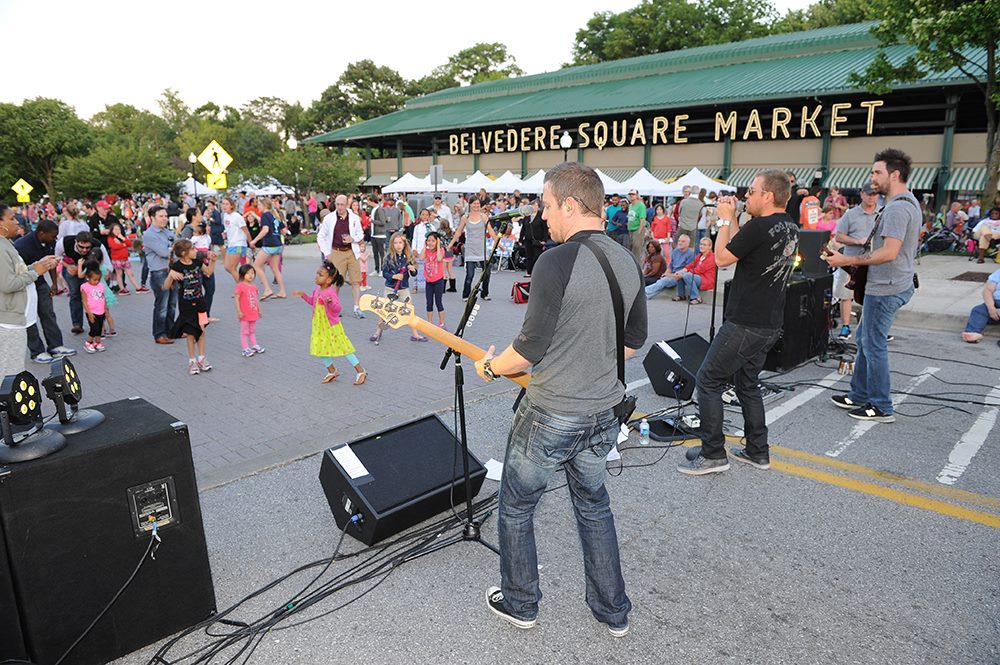 Courtesy of Belvedere Square Market
Who says you need to book a sitter when a live music show rolls into town? On Friday nights throughout the summer, grab the kids, pack a few lawn chairs, and let local bands provide a sunset soundtrack at any one of these community concert series.
Feet on the Street: After the stalls from the Towson Farmers' Markets close on Thursdays, Alleghany Avenue transforms into a makeshift concert venue. On Fridays through September from 6:30 to 9:30 p.m., grab a seat on the curb or set up a chair in the street and sing along to local bands like The Majestics and Crushing Day. While activities like face-painting and a moon bounce are offered for kids, the event also boasts a full bar with beer and wine for adults. Alleghany Avenue between Washington Avenue and York Road, Towson, 410-825-1144, Free admission.
Frederick Road Fridays: Hang out in one of the county's most tight-knit 'hoods on Friday nights through August from 6:30 to 8:30 p.m. This summer-long festival, hosted by the Catonsville Chamber of Commerce, offers free activities for kids and live music headliners ranging from the throwback tunes of Appaloosa, to the alternative covers of Faded Image. Proceeds from beer and wine sales benefit a different local charity each week. 15 Mellor Avenue, Catonsville, 410-719-9609, Free admission.
Free Friday Night Summer Concert Series: Hunt Valley Towne Center draws in hundreds of music lovers every Friday with this outdoor series that puts a keen focus on the classics. From 7:30 to 9 p.m., take a trip down memory lane and expose the kids to some old-school covers from bands like The Regal Beagles, Good Rockin' Daddies, and Legend. A handful of Hunt Valley's restaurants take turns hosting a beer and wine garden every week, so be sure to treat yourself to a boozy beverage to celebrate the weekend. 118 Shawan Road, Hunt Valley, 410-785-3770, Free admission.
Music on Main Street: Akin to slurping down frozen custard at The Cow, this series has become a weekly summertime ritual for hundreds of Reisterstown locals. From 7 to 10 p.m. on Friday nights through August, kick back on the lawn of Franklin Middle School and watch the sun set while bobbing your head to local headliners like The Uncommitted, The New Romance, The Blatant '80s, and Lovely Rita. Food vendors are frequently on site, but the school is within walking distance of a few local restaurants if you want to eat in the area before the show. 10 Cockeys Mill Road, Reisterstown, 443-695-2308, Free admission.
Summer Sounds at the Square: Now in its 12th season, this Friday-night bash combines a diverse live music lineup with eats and drinks from some of Belvedere Square Market's most notable merchants. From 6 to 9 p.m., crack open a can of Summer Shandy from Atwater's, snack on crawfish from Tooloulou, or sip a cold glass of chocolate iced tea from Pure Chocolate by Jinji while getting down to the likes of Kanye Twitty, Junkyard Saints, and Nelly's Echo. The event also features a designated kids' area with bubbles, sidewalk chalk, and toddlers dancing way past their bedtime. 529 E. Belvedere Ave., 410-464-9773, Free admission.