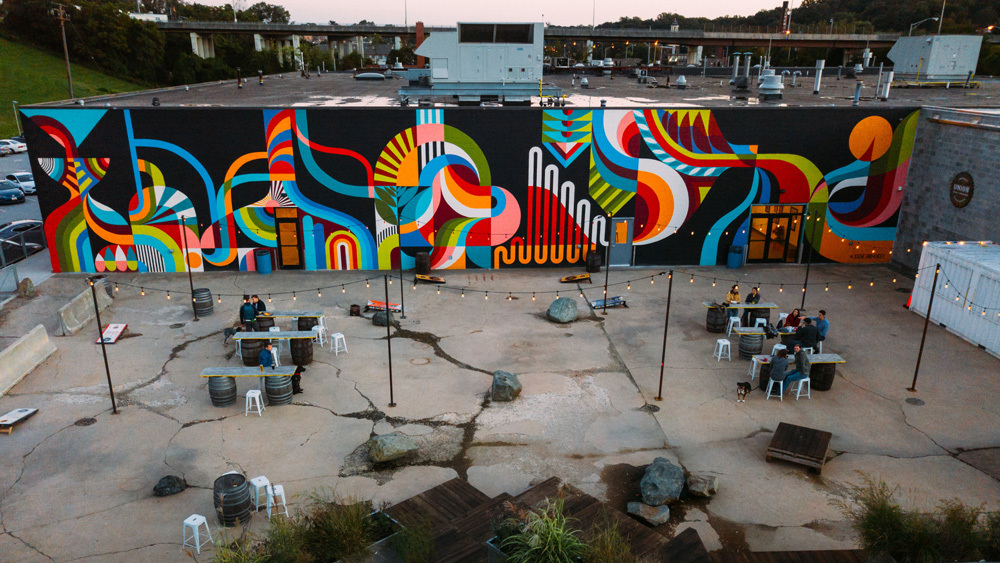 Jessie and Katey
It's hard to miss the large, bright, swirling mural at Union Collective when traveling southbound on the JFX. The vibrant colors on the wall pop, almost looking animated. That was the idea that the Baltimore-based art duo Jessie Unterhalter and Katey Truhn had in mind when they were commissioned to create what is now the ID tag of the newest space in Hampden.
Although they are both originally from New York, the MICA graduates have made Baltimore their home. They have become known for transforming public spaces into vibrant experiences both locally and internationally. Their most recent work, a multimedia mural at MICA's newDolphin Design Center, was one that they were most excited to complete as it brought them back to the place where they met.
We caught up with the duo to find out what inspires their work, new projects, and what it's like to work as a team.
How did you two get to this point after meeting at MICA nearly 20 years ago?
Jessie Untherhalter: We were 18 when we met and we hit it off. We were best friends and started making work alongside each other at MICA. We were both pretty inspired by the city of Baltimore.
Katey Truhn: Both of us had other jobs, and we knew we really wanted to get back into art. Making public work seemed to make sense because we were always really inspired by the environment we were in. We really wanted to do something that involved other people and affected other people outside of the art world.
What was your first project together outside of school?
JU: I guess the first actual project, that we got funding for, was an open call through BOPA [Baltimore Office of Promotion and Arts]—it was a mural on Harford Road. By the time the open call came around, we had made the decision that we wanted to go for this career move and we scoured the internet for open calls and applied for every single one.
Visual art is traditionally very independent. How do you make it work together?
KT: It's actually so great. Basically having someone to work with and bounce stuff off of and come up with new ideas is amazing. Just for logistics of painting huge walls like Union and MICA, doing that by yourself would be really hard—it's already challenging with two people, like holy shit. It's really nice. I think being an artist is a pretty solitary career in a way, so it's really nice to have someone to do it with.
Has there ever been an instance where it seems like there are "too many cooks in the kitchen?"
JU: We're collaborative every step of the way. Usually we are really hands on so we draw everything first and draw out the buildings to scale on a piece of paper. We usually have a bunch of different designs going for one space and we just pass the paper back and forth. We keep revising it and then we pick which one we like and use Photoshop to color it in.
When we're designing, we always account for every window, every door and try to play with all the elements that are in the space because that kind of informs our design. It's a challenge every time that makes it a little more exciting.
How much flexibility do you have in coming up with the designs?
JU: It depends on who's commissioning it. With Union, they really wanted us to use our style to tell the beer story. But with MICA, they were really open to whatever we designed.
KT: I think that if you're working with a company that is selling a brand or product, you have to work within their product lines. But if you're just making art for art's sake, we get to do whatever we want.
How long, start to finish, did it take for you to complete the mural at Union Collective?
JU: It was like three weeks for the first part and then two weeks for the second part.
KT: Yea, that was a really big wall [laughs]. The bricks were super old and I guess had never been painted before—they absorbed so much paint. It was very hard to work on that surface, which was really surprising to us, but we used so much paint. We had a couple of assistants here and there, but for the most part, it was just the two of us. It was really crazy, our bodies were rock hard after [laughs].
What was it like to work on the mural at your alma mater?
JU: We actually just finished yesterday, woo hoo! We thought it would be fun doing a project at MICA since we went there, reflecting on that time it was really experimental for our growth as artist.
It was a great opportunity to explore this new incorporation of materials that we've been wanting to do. It's cool because you can see it from so far down the block and it's already really high in the air so it's something that people can experience from far away. I think we wanted to make it really loud in a way—the recycled cans catch the light and they reflect so it's really bright and at some points in the day it looks like lights on the wall. And the recycled colored bags that we used wave and you can see that from a distance so it becomes this sort of live action. We just wanted to try something wacky and new and figured Baltimore would appreciate that.
Do you feel like the bright, bold murals is your signature style?
JU: I didn't think the MICA mural was that similar to the Union one, but so many people have come up to us asking if we did the Union one also. So I guess so, our signature style is in there somewhere.
KT: You want these murals to be big celebratory statements that you want people to enjoy, so it just makes the most sense for us because that's what we are drawn to. Bright colors, excitement, and high contrast—it really draws people in.
Of all the places in the country you have done murals, why did you decide to stay in Baltimore?
KT: We both really like it here and I think for now this feels like home—we have roots here.
JU: It's also been a really great community that has fostered our art-making. It's one of those places where you can experiment and it's totally accepted. I feel like before we started working together, we were involved in so many community projects—whether it was big theater projects or painting for friends—there was a lot of collaboration in the city and that makes you think you can do and try anything and you've got the support behind you. That is empowering as an artist and it makes you think you can go for it with no judgment.