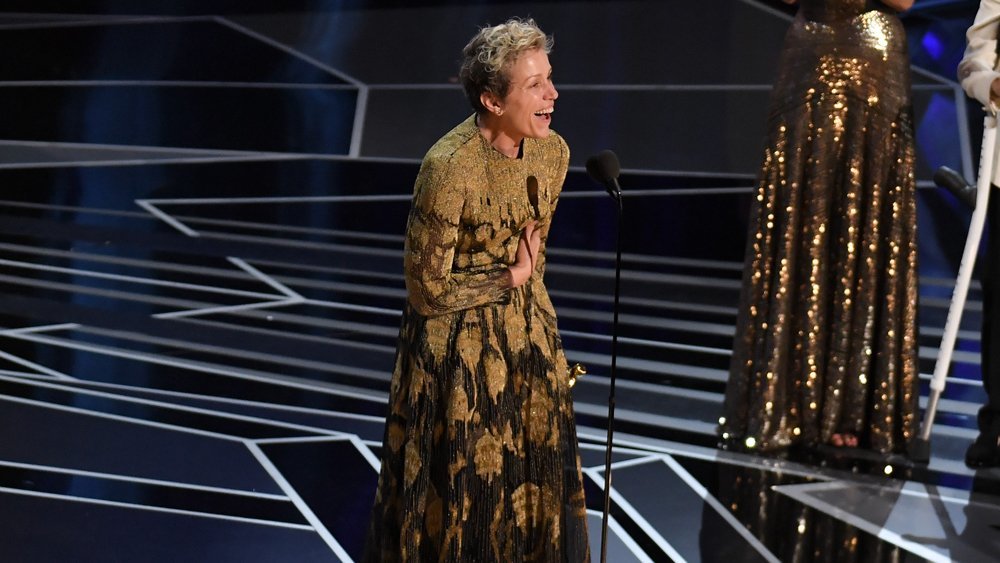 Variety
After last year's unprecedented snafu, the Oscars were just hoping for a nice, uncontroversial show last night. They pretty much got it—from the jokes (mostly safe), to the performances (conventional), to the acceptance speeches (occasionally political, but in a polite way). That being said, let's break it all down, shall we?
The Good

Frances McDormand's amazing acceptance speech. I always love McDormand because, on top of being a phenomenal actress, she's the essence of keeping it real. Even when she's all dressed up, you strongly sense that she'd rather be home in sweats, possibly with a recreational cigarette, and she says what's on her mind, whether you're ready to hear it not. Last night, she did this great thing where she had all the female nominees stand—"C'mon Meryl, if you stand, they'll all follow you"—and made sure they looked around the room and truly took in their collective power. She closed her speech with two words that initially had people scratching their heads: Inclusion rider. (Wait…did she say inclusion WRITER?). Turns out an inclusion rider is a clause an actor or actress can put in their contract, demanding diversity in front of and behind the camera. Inclusion Riders forever, y'all!
The Meh

Jimmy Kimmel's performance. I love me some Kimmel, but he seemed super determined to play it safe here, so much so that his jokes felt a little bloodless. Of course, he ticked off the expected subjects: Harvey Weinstein, President Trump, the #MeToo movement, but his one-liners elicited little more than polite chuckles. Quick—name a single joke he told? Yeah, I can't either. (I admit the jet-ski bit was kind of cute, especially with Dame Helen Mirren offering an assist.)
The Oh-So-Awkward

#MeToo was a theme leading up to the ceremony—and all across the country. So it was a bit disconcerting that Ryan Seacrest, recently accused of inappropriate sexual conduct by an E! stylist, was working the red carpet. (The TV station reportedly employed a 30-second delay, lest anyone confront him on it). E! should have put him on the shelf, at least until the allegations were fully vetted. The whole thing just felt really tone deaf. (See also the unfortunately timed wins for Gary Oldman and Kobe Bryant, who both have been accused of violence toward women in the past.)
 
The Good

Sometimes an awkward moment leads to something ah-mazing. Exhibit A: Taraji P. Henson, slyly confronting Ryan Seacrest on the red carpet. This was some Grade A shading. The 30-second delay guy didn't know what hit him.
The Meh

Can we put a moratorium on the bits where big, glamorous stars mingle with the "little people"? They invariably seem patronizing, even if well intended. That being said, I've now seen Armie Hammer shoot a hot-dog gun into a crowded theater, so that's one less item for the Bucket List.
The Oh-So Awkward

Oh, if you all could've seen my face when I realized that the moving #HereWeAre spot, featuring poet Denice Frohman imploring women to speak their truth, was an ad for Twitter. Yes, that Twitter—ground zero for female harassment. (Been there, been called the "C" word.) Nice try, Twitter executives. We're not buying it.
The Good

Some absolutely gorgeous fashion last night. My faves: Jennifer Garner, Gina Rodriguez, pictured, Lupita Nyong'o, and Greta Gerwig.
Honorable mention: Tariji P. Henson and Jane Fonda. (Also, she wasn't nominated or presenting, but check out the art-deco-inspired dress worn by actress Leslie Bibb, who is also Sam Rockwell's partner. Wowsa!)
The Meh

I love you, Gael Garcia Bernal, but maybe you shouldn't sing. (As I said on Twitter: Pitchy, but sexy.)
The Oh-So-Awkward

I stayed up late and watched the E! after party. They managed to score an interview with Guillermo del Toro, the man of the night, but were completely baffled when he mentioned "candy, sandwiches, and hot dog guns" (he participated in the celebrity movie theater raid). "I guess everyone has unusual snacks!" said one of the E! hosts, in a kind of baffled version of happy talk. Note to the after-party gang—watch the damn show!
 
Bonus Goods 

Co-presenters Tiffany Haddish and Maya Rudolph. Get those two ladies their own buddy comedy, stat!
 
Ashely Judd, Salma Hayek, and Annabella Sciorra discussing #MeToo. It was wonderful to see those outspoken heroines together on stage. "Hi, it's nice to see you all," said Sciorra, whose career had been derailed by an alleged Harvey Weinstein assault. "It's been a while."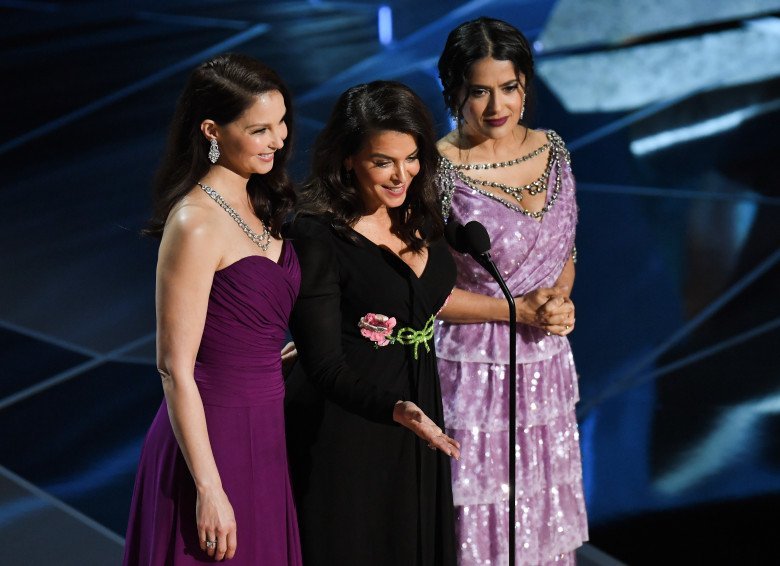 The Walmart Box: I've got to hand it to them, when I think auteurism, I don't generally think Walmart. But I loved all three of the "Box" mini films, especially Dee Rees's.  
My picks!: Out of the 12 categories I took a stab at, I got 11 right. Not too shabby!