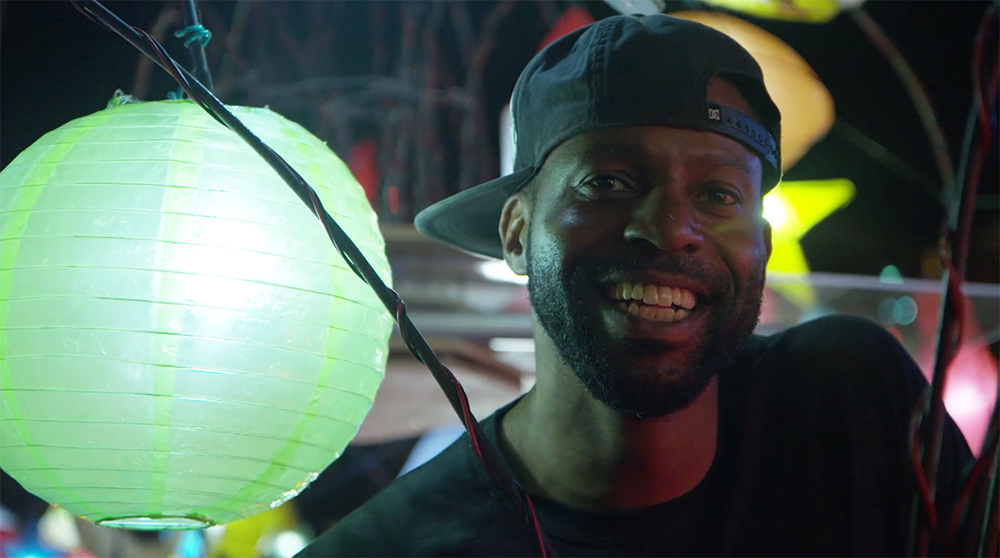 Gabe Dinsmoor
Despite chilly temperatures, hundreds of people gathered in the Inner Harbor Tuesday night to take in the sights and sounds of Light City Baltimore. As soon as the sun set and the exhibitions came to life against the night sky, visitors of all ages—bundled in jackets and scarves and clutching cups of hot chocolate to keep warm—explored the fourth night of the three-week-long free arts and innovation festival.
 
Riverside resident Laura Knapp, who has attended Light City since the inaugural festival in 2016, said she's enjoyed watching the event grow from a few installations scattered near the waterfront to a citywide event.
 
"I really like how many neighborhood exhibitions they had this year and that they're growing that," she said. "It's a fun way for people to walk around the city together in places where they might not normally."
 
While there was a steady stream of people snapping pictures of the multicolored exhibits, grabbing eats from local vendors and food trucks, and riding through downtown in Fireflies' illuminated pedicabs, many said they waited until mid-week to visit the Light Art Walk to avoid lines or congestion around the attractions. 
Angela Montgomery, who started her first Light City experience by stargazing at the Solar Power/Solar System installation, said she and her group of friends wanted to beat the weekend crowds by coming on Tuesday night.  
"But it's great that it gets people down to the city," said Montgomery, who lives in Franklintown. "And it gives them a way to experience art in a way they haven't before."  
The night was packed with entertainment, from performances by the Cristo Rey Jesuit step team and Washington, D.C.-based band The Loving Paupers to a set by WTMD's Sam Sessa on the Club Light City stage. At Pier 5, next to 400 inflatable swim rings floating in the harbor for The Herd installation, Baltimore's beloved avant-garde group, Fluid Movement, performed a Herdling March for onlookers while wearing the blowup art pieces and flashing bulbs on their heads.  
Kathy Carducci, who lives in Locust Point and attended the event with her daughter, said events like Light City bring people from surrounding areas to Baltimore and are a great way to promote the city.  
"I love it. I never want to live anywhere else," said Carducci. "I think it's an awesome city and it's been getting a bad rap lately, so I hope events like this help turn that around."