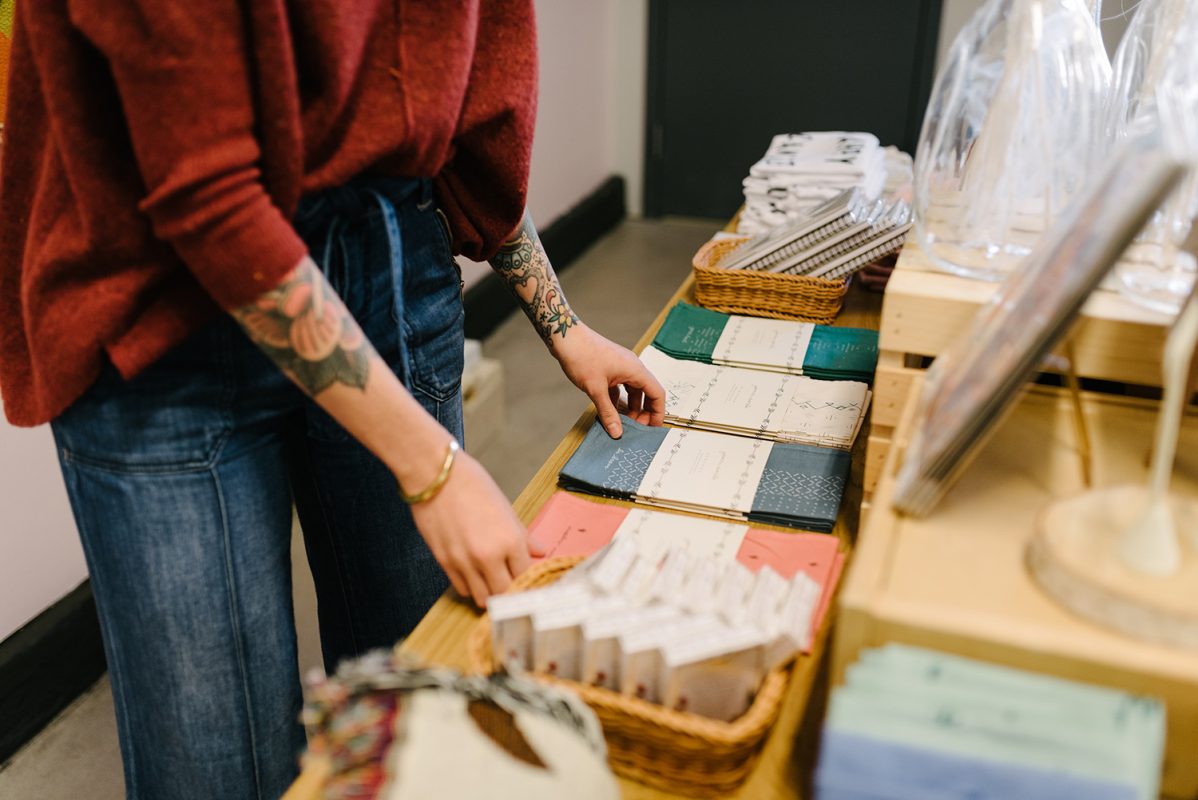 Photography by Kathleen Marie Ward
The season of holiday shopping is upon us and our Baltimore artisans are ready. Starting this weekend with Small Business Saturday, local neighborhood favorites and dozens of holiday markets will be buzzing with cheer and overflowing with one-of-a-kind gifts for everyone on your list.
As we move quickly toward the end of 2019, stop by these special events to enjoy fun activities, taste local flavors, and pickup presents made by local makers.
Bazaart Holiday Art Market
Saturday, November 29-Sunday, November 30
The American Visionary Art Museum is known for highlighting incredible artists and, at its annual Bazaart Art Market, the museum bring hundreds of original creations to the public. The third floor of the Jim Rouse Visionary Center will be filled with jewelry, textiles, paper crafts, metalwork, and more. The market is free and, for this weekend only, patrons can also tour the entire Jim Rouse Visionary Center free of charge. (Make sure you say hi to our favorite kinetic sculpture, Fifi!)
Festival of Trees
Saturday, November 29 – December 1
Visit the Maryland State Fairgrounds for the 30th-annual Festival of Trees. This three-day holiday extravaganza not only features 800 uniquely decorated trees, wreaths, and gingerbread houses, but it will also host more than 100 gift boutiques. Celebrate, shop, and support at the family-fun event that benefits the of children and families who receive treatment and services at Kennedy Krieger Institute each year.
Holiday By The Falls
Saturdays, November 30 – December 22
Whitehall Food Market in Hampden has been hard at work building a communal spot for food and gifts that will open in the new year. Before the grand opening, the vendors are coming together to host a month of weekend pop-ups where visitors can shop for local food and artisan goods throughout the holidays. In addition to the market, a series of ticketed workshops will be held every weekend, including citrus garland-making (Nov 30), coffee cupping (Dec 7), and a cheese class (Dec 14).
Cross Street Holiday Market
Saturdays, November 30; December 7; December 14
The newly renovated Cross Street Market will be hosting a showcase of local makers every Saturday this season. Visit the South Baltimore landmark for unique gifts from local favorites like Balti'Marons, Dogs of Charm City, Maryland Mercantile, 228 Grant Street Candle Co., and many more.
Waverly Holiday Pop-Up Market
Saturday, November 30
Waverly Main Street and Baltimore's 32nd Street Farmers Market will bring together tables of local makers and artisans at this festive event. While you're shopping, you can also get a few photos from your own holiday portrait session with local photographer, Leslie Eames—perfect for a holiday card or gift.
Baltimore Record Bazaar Holiday Show
Sunday, December 1
Looking for a gift for the music lover in your life? At BRB (Baltimore Record Bazaar), attendees will enjoy a full lineup of local DJs as they shop with more than 35 local vendors sharing vinyl, tapes, CDs, vintage clothing, and art.
MICA Art Market
Thursday, December 5 – Sunday December 8
Our local MICA students have been preparing all year for their annual Art Market. The event will highlight more than 275 students, alumni, faculty, and staff selling their artworks throughout a four-floor space. Shop and support—15 percent of your purchase will fund MICA scholarships for returning undergraduate students.
UMBC Craft Fair
Friday, December 6
The 12th-annual UMBC Handmade and Homemade Holiday Craft Fair will host more than 60 vendors from the University community and beyond. The festive holiday event will be held at the SMC Campus Center and shops will feature homemade crafts, jewelry, specialty food items, and more.
Holiday Heap
Saturday, December 7
Mark your calendar for the 13th-annual Holiday Heap, one of Baltimore's favorite craft shows. This year, Charm City Craft Mafia is bringing together more than 50 artists and makers including Annie Howe Papercuts, Baltimore Print Studios, Found Studio, Row House 14, and Geeky Chic Knits.
Kwanzaa Family Day
Saturday, December 7
Honor African-American and Pan-African heritage at this local celebration at the Creative Alliance on Eastern Avenue. This family-friendly event will have art activities, performances, workshops, and local vendors.
Old Tyme Christmas
Saturday, December 7
Join the local businesses in Fells Point for a full day of holiday celebrations and shopping. St. Nick ditches his sleigh and arrives at the Broadway Pier by tugboat at 9 a.m., and then heads into the neighborhood for breakfast, pictures, and local shopping. Judge eggnog and decorating contests, visit the festive family-fun zone to make your own ornament, and sing in the "Carole-oke" Contest, all leading up to the lighting of the tree in Broadway Square and the Parade of Lighted Boats.
Makers Alley
Saturday, December 7
Join for a morning of shopping in the community with 10 local vendors. This event, hosted by Local Color Flowers, will feature treats and gifts including artisanal baked goods, glassworks, body moisturizers, and chocolates.
Merry Mart
Sunday, December 8
Join the Creative Alliance and shop a diverse mix of handmade goods from Baltimore and beyond! This season, the festival will include handmade arts and crafts including accessories, clothing, bags, and jewelry.
Cookies & Cocktails
Wednesday, December 11
Explore Harbor East while enjoying the sights, sounds, and tastes of Christmas. Purchase a passport to enjoy a holiday confection from participating neighborhood shops. Also with the passport, guests will receive a signature ornament and free parking for the evening. Santa Claus will be available for photos and visitors can enjoy music and cocktail bars along the way. All funds will benefit The Family Tree—one of Maryland's leading organizations preventing child abuse, providing parenting classes, and supporting local families through connect and education.
Makers Market at Greenspring Station
Saturday, December 14
Mix and mingle with local artists throughout the day as you shop from more than 20 vendors and artisans such as Charm School Chocolate, J'Adorn Designs, Le Monade, Tiny Dog Press, and more. Guests can also swing by the pop-up shop curated by Taken and make their own special crafts in the DIY corner.
Maryland Art Place Under $500 Sale
Saturday, December 14
Purchase original works of art for affordable prices at this year's Under $500 Sale. The event will feature Baltimore and surrounding area artists with pieces for sale at prices of $500 or less. Mingle with artists and enthusiasts, but arrive early—pieces are first-come, first-serve.
Highlandtown's Inaugural Winter Wine-derland

Saturday, December 14
Some gifts are meant to be sipped. Such is the case at this inaugural event in Highlandtown. With a ticket, guests can taste and purchase more than 50 hand-selected wines, take photos with Santa, eat with local food vendors, and enjoy complementary wrapping. Beer will also be available from the local brewmasters at Union Craft Brewing, Monument City Brewing Company, and Full Tilt Brewing.
Greater Goods Market: Holiday Edition
Sunday, December 15
This monthly indoor-outdoor market is using its December event to celebrate the holidays with local artists and craftspeople. Located inside the garage at R. House in Remington, the market is an easy, family-friendly place to support local businesses. This month, booth fees will support the Keep Punching foundation, which benefits patients, health-care providers, and researchers in their fight to prevent and eradicate brain cancer.
Holiday Bazaar at Waverly Brewing Company
Sunday, December 15
Sip your favorite brews while shopping at Waverly Brewing's annual Holiday Bazaar. Baltimore-area makers like Charm City Threads, Blue Heron Gifts, Beltway Merch, and Frye Glass will be on site with festive gifts and treats.
Atwater's Holiday Market
Tuesday, December 17
Tasty local vendors like Counter Culture Coffee, Hon's Honey, and Keepwell Vinegar will be colliding at Atwater's Hopkins location for their Holiday Market. All proceeds from the gift wrapping station will be donated to the Child Life department of Johns Hopkins Children's Center.
Open Works Maker Mart & Pop-Up Shop
Saturday, December 21
Support local makers and entrepreneurs that utilize the state-of-the-art Open Works fabrication facility and makerspace. Join creators from around Baltimore to find a special, expertly made gift for everyone on your list.