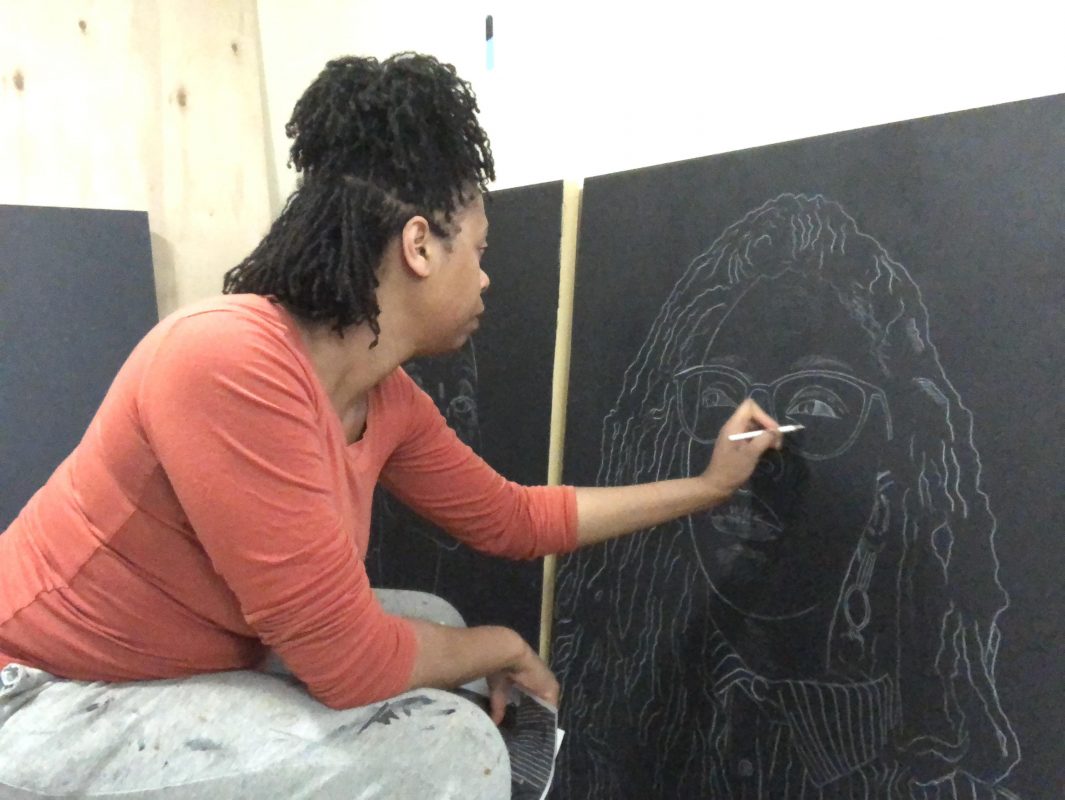 Photography by Arston Jacks
When Baltimore artist LaToya M. Hobbs was a little girl, her grandmother Johnetta would wake her and her cousins early in the morning to recite a prayer in the living room. It was something she dreaded as a child, but now inspires a piece in her latest exhibition titled, "How Johnetta Taught Us to Pray."
The piece is a part of Hobbs' Salt of the Earth series inspired by biblical scripture Mathew 5:13, in which she personifies Black women as preservers of their families, cultures, and communities. It consists of two portraits of Hobbs and her mother in a position of prayer.
"For me it pays homage to the women in my family," Hobbs says. "I've been really thinking about the legacies that have been passed down from generation to generation. I feel like prayer is one of those things."
This exhibition helped win Hobbs the 2020 Janet & Walter Sondheim Artscape Prize, a $25,000 fellowship that the yearly festival—which took place online due to COVID-19—presents to a Baltimore artist to support their work.
At first glance of one of her pieces, it might seem that she's been painting all her life, but the Little Rock, Arkansas native actually spent her early college years studying biology.
While Hobbs was always involved in the arts—whether it was dancing in junior high or singing in the school choir—growing up, she didn't see much representation of people of color with successful careers in fine arts.
"Even though I loved art and I did it all the time, when it was time for me to go to college I was like 'Okay, well I got to get a real job,'" Hobbs says.
However, halfway through undergrad at the University of Arkansas, she realized that she was unhappy. She found her true passion in creating art and, much to her parents' dismay, decided to transfer to UA Little Rock to pursue it.
"I told my mom that I wanted to change [schools] and of course she said, 'You're just not trying hard enough, you're giving up too easy,'" Hobbs recalls. "But I think you really have to be honest and know yourself."
Now, as a teacher at the Maryland Institute College of Art, she encourages her students to pursue careers in whatever form of art they're interested in.
We spoke with Hobbs about her craft, working and teaching in the age of COVID-19, and her plans for the $25,000 prize.
What inspired you to become an artist?
I think art has just always been something that I've been interested in since I was a child. I've always enjoyed, not always visual art, but bands and music so those things have always been a part of my life. But it wasn't until 2007 that I really decided I wanted to be an artist, like to pursue it in my career. I had done dance and choir and art classes all throughout high school and I danced and sang through college, as well, but I think a lot of times with visual art, I know in the [Black community] in particular and in my family, there aren't a lot of examples of people who have a career as an artist.
When people aren't familiar with something, there tends to not be a lot of encouragement in that area. If I can walk up to an average person they can name five singers, they can name five actors, they can name five dancers, but most of the time you can't really get people to name five visual artists unless you're in a situation where people are avidly studying artists or something like that.
How did your family take you changing your focus from biology to art?
I just had to be honest with myself and say, "This is my life. You guys don't have to go to these classes every week, you guys don't have to work in this field. This is something that I'm going to have to do every day and I want to be happy with what I want to do." So that's advice that I always give students, particularly art students who want to paint or sculpt or draw but end up doing graphic design because their parents are like, "Okay, we'll let you be an artist, but you need to do something that's going to make money."
I think we are starting to see more and more examples of different ways that people can sustain themselves as an artist. It's not always limited to the route of being signed by major galleries now.
All of your portraits have a similar look. What techniques do you use in your work?
Earlier in my undergraduate studies, I was focusing primarily on painting as my major. But in my undergrad program at the [University of Arkansas, Little Rock] we had to take a class in every discipline. So, regardless of what your major was as a fine arts person you had to take sculpture, photography, printmaking, you had to take a survey of everything. When I got to printmaking, I really didn't see the value in it at first, I had no intention of being a printmaker [laughs]. But after I started to learn more about the process and learned more about artists like Elizabeth Catlett, who was a really big influence on my work, I saw the possibilities that were available with that medium.
Your art features Black people and Black women especially. How has the resurgence of the Black Lives Matter movement, especially its focus on the inequality of the Black female experience, affected you and your art?
If anything, it's made people more passionate about what they do. I wouldn't say it's changed my work because I've always created images to reflect my community and how I feel about us, the beauty and the power that we possess, and just giving a more balanced perception and interpretation of who we are. I think I've always done that and artists in our community have always done that. Now there's just more of a spotlight on us.
What are some of the challenges and some of the rewards that you didn't anticipate about teaching?
For me teaching is a part of who I am. As I look back in every type of situation, I've been in, whether it was a job or on my drill team in high school, I always functioned in some kind of teaching or leadership position. In high school, I usually was the one who would teach the routines to everybody. In choir sometimes I was the section leader who would make sure everybody knew their part.
In terms of being an art educator, I find it to be a really rewarding and privileged position to hold, particularly being at an institution like MICA, because there are so many wonderfully creative students from all over the world. I learn from them just as much as they learn from me. It does have its challenges…but I think the things that I enjoy kind of overshadow the things that I don't necessarily enjoy.
How have you shifted your approach to teaching since COVID-19?
A lot of that interaction and community with students is not going to be there. So, we're trying to figure out a way to keep it there as best as possible. We had the first taste of that after spring break. At that point I had already had well over a half a semester with my students, so it wasn't as much of a challenge because I had already built the relationships. But in the fall, it's a whole new group and I am electing to do my classes online this semester just because I think that's the best thing for my family. All across the country professors are having to think about creative ways to keep things afloat and keep that sense of engagement. It's going to be challenging, but I think it's definitely doable.
What are some of your plans for the Artscape Prize money?
We have a family goal to be debt free in the next five-to-six years. We've been really thinking about statistics of Black wealth in America and closing the wealth gap. So part of our financial plan is to focus a lot on debt elimination. But aside from that, some of the funds are going to be used to restock materials. I always say you have to invest in yourself to give back in your own practice.