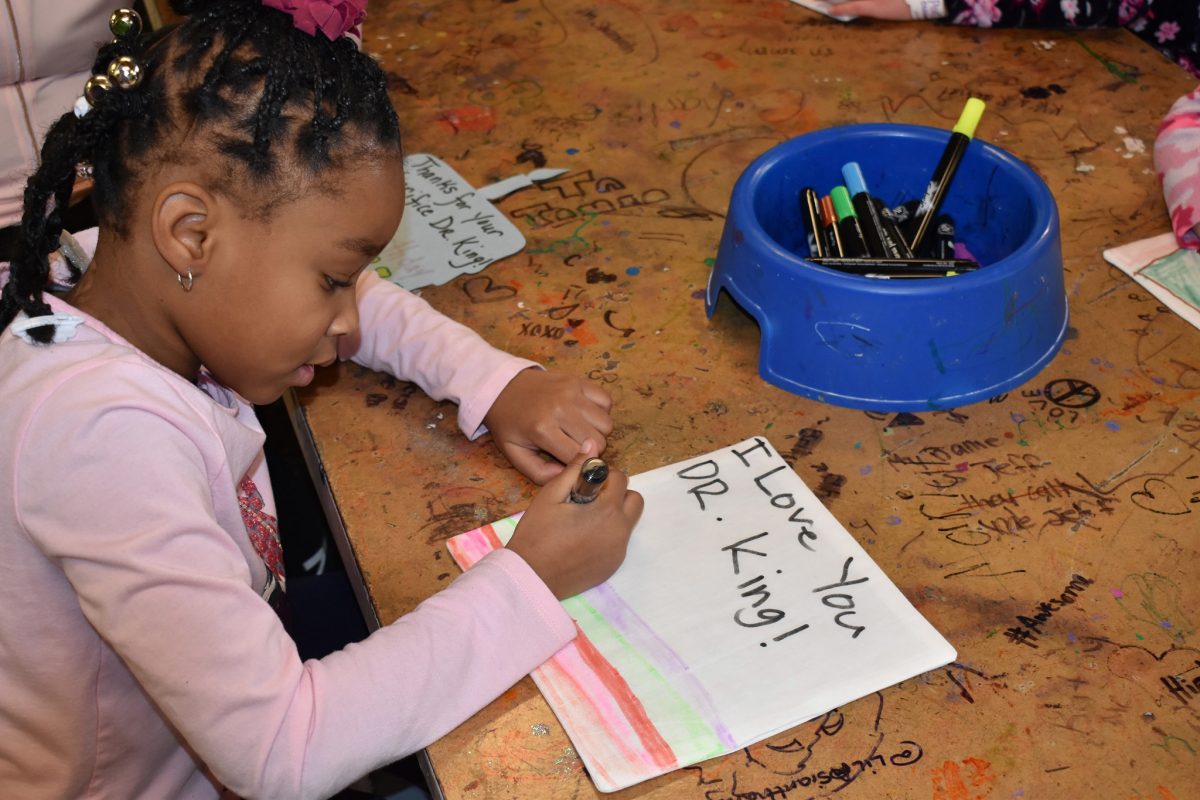 Martin Luther King, Jr. Day is a time to honor and remember Dr. King and his calls for justice as a civil rights leader. Whether you'd like to educate yourself, teach your children, or engage in a live performance, Baltimore has plenty to offer. With a medley of events happening this week, here are some different ways to get involved.
FOR KIDS
INTERACTIVE MUSEUM PROGRAMS AT PORT DISCOVERY
1/18-1/20: Port Discovery Children's Museum is hosting "Be the Light- Celebrating the Legacy of Dr. Martin Luther King, Jr." this weekend in honor of Dr. King. Throughout the day, the event will feature interactive programs and performances inspired by Dr. King's message of promoting fairness. Through celebrating differences in the Baltimore community, attendees will learn how to become changemakers themselves. Port Discovery Children's Museum, 35 Market Pl. All Day. Free admission with museum entry.
MLK DAY AT CREATIVE ALLIANCE
1/19: Repair the World Baltimore at the Creative Alliance will be commemorating the holiday with "MLK Day 2020: An Unequal Education." With Maryland schools highly segregated today, there are many racial achievement gaps as well, as a lack of different perspectives, due to limited diversity. Attendees will view the documentary Teach Us All, sit in on a panel of local experts speaking about education inequality, and hear a discussion about inequality in Baltimore City Public Schools in order to further the conversation about school segregation. There will also be an opportunity to donate and pack mid-year school supplies for middle schoolers in West Baltimore. Creative Alliance, 3134 Eastern Ave. 11a.m.-2p.m. Free.
BIRTHDAY CELEBRATION AT AVAM
1/20: The American Visionary Art Museum is throwing its annual "MLK Dare to Dream Day", a birthday celebration of Martin Luther King, Jr. that runs from 10a.m. to 5p.m. With elements such as a printmaking power patch workshop, artist talk by Kyle Yearwood, slam poetry, open mic, choir performance, an African dance and drum performance, and birthday cake, the event will surely be one to remember. AVAM will also be collecting new and gently used socks to donate to Paul's Place, a charity in Southwest Baltimore that improves the quality of life for residents of the area. American Visionary Art Museum, 800 Key Hwy. 10a.m.-5p.m. Free, RSVP recommended.
EDUCATIONAL
MEMORIAL BREAKFAST
1/20: The 39th annual Martin Luther King, Jr. Memorial Breakfast will be at Live! Hotel in Hanover starting at 8a.m. on the holiday. Keynote speaker Elizabeth S. Morris, associate judge for the Circuit Court of Anne Arundel County, will be presenting, and there will also be food and awards to look forward to. Maryland Live! Casino & Hotel, Hanover, 8a.m.-1p.m. $35.
MLK CONVOCATION
1/21: Loyola University Maryland will be hosting their 27thannual Martin Luther King, Jr. Convocation, "The Fierce Urgency of Now" at 7p.m. in Reitz Arena on campus. The event will be led by pastor and social justice advocate, Reverend Dr. William J. Barber II, who will discuss current event issues related to social and racial justice. Reitz Arena, 4501 N. Charles St. 7p.m. Free and open to the public.
ENTERTAINMENT
DR. MARTIN LUTHER KING JR. PARADE
1/20: The 20th annual Dr. Martin Luther King Jr. Parade hosted by the Baltimore Office of Promotion & The Arts will be from 12p.m. to 2p.m. on Martin Luther King, Jr. Boulevard this year. The parade will feature more than 70 units, including high school and community bands and cheer squads, elected officials, and civic and religious organizations. The 2020 honorary grand marshal is Raheem DeVaughn, three-time Grammy-nominated singer songwriter and international R&B star. Martin Luther King, Jr. Boulevard and Eutaw St. 12-2p.m. Free.
DREAM GARLAND AT ENOCH PRATT FREE LIBRARY
Enoch Pratt's Southeast Anchor Library has created "Share Your Dream", a dream garland open for contributions anytime throughout January and February in honor of MLK. The garland can be found in the library's adult department, on the second floor. Enoch Pratt Free Library, 3601 Eastern Ave. January-February, Free.
YOGA AND VOLUNTEERING
1/20: Volunteers of America Chesapeake & Carolinas are honoring Dr. King with an opportunity to share mindfulness and community service at "Volunteer and Flow." This is a one-hour yoga session followed by a community service opportunity of organizing and sorting merchandise at the VOA Resource Center. All levels of yogis are welcome, and yoga mats will be available for purchase for $5. Volunteers of America Resource Center, Linthicum Heights, 12-1p.m. Yoga, 1-4p.m. Volunteer, Free, RSVP recommended.
LIVE PERFORMANCE AT ENOCH PRATT CENTRAL LIBRARY
1/19: Pratt Library's Central Library will be hosting The Reverend Dr. Martin Luther King, Jr. Celebration 2020: "A Celebration of Freedom" at 2pm in its Wheeler Auditorium. Tenor Charles Sullivan will be leading this special program, performing songs and excerpts from two of Dr. King's most famous speeches. Enoch Pratt Free Library, 400 Cathedral St. 2p.m. Free.
MLK CELEBRATION AT REGINALD F. LEWIS MUSEUM
1/20: The Reginald F. Lewis Museum will be hosting an MLK Day Celebration using various art forms to honor Dr. King. With elements like storytelling, book signings, an MLK virtual reality experience, art exhibitions, and the "Voices of Carmen" concert, this event will be a lively celebration of the civil rights advocate's life. Reginald F. Lewis Museum, 830 E. Pratt St. 11a.m.-4p.m. $5 admission, children under 6 free.