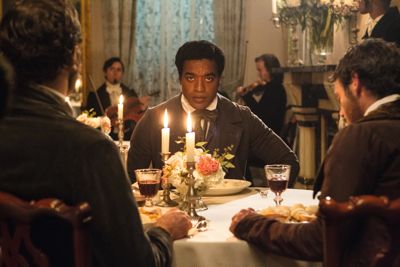 Fox Searchlight
I have a (semi) foolproof strategy for guessing which film is
going to win Best Picture at the Oscars. The film basically has to be
very entertaining/accessible while also making the voters feel good
about themselves. It's really that simple. The film has to give off the
whiff of importance—if not actually be important—but never at
the expense of the entertainment value. (Films that are historical,
literary, or confront social justice are particularly well received).
Auteurship is fine, too—voters like to think of themselves as
highbrow—as long as the film isn't too artsy. If the film has expensive production values, all the better. The Academy likes some bang for its buck.
There are exceptions, of course. Oscar can't resist a big, splashy musical (see: Chicago). And sometimes they dole out make-good Oscars for directors who should've won for earlier, better work (see: The Departed). But for the most part, it's a solid formula.
Let's put it in action, shall we? Here are the past 10 winners.
Argo,
2012: Wildly entertaining and the Iran Contra affair is history, right?
(The more historically edifying, but significantly less entertaining Lincoln, never had a chance.)
The Artist, 2011: Manages to be both irresistibly fun and silent! And French! The voters felt smarter just voting for it.
The King's Speech, 2010: British accents, kings and queens, and wildly entertaining. This film was catnip for the voters.
The Hurt Locker,
2009: An important and serious war film that was also a kick-ass action
film. (And bonus self-congratulatory points: directed by a woman.)
Slumdog Millionaire, 2008: Not literary, per se, but Dickensian in its theme and scope, plus set in India, which, like The Artist, made the voters feel worldly. Also, criminally entertaining.
No Country For Old Men,
2007: Based on a novel by Cormac McCarthy. (Literature!) Directed by
the Coen Brothers (artsy!). Mournful and dark while also being a really
awesome serial killer flick.
The Departed, 2006: This was
one of the aforementioned make-good wins. But it did have a lot of
great fake Boston accents (hell, even Matt Damon and Mark Wahlberg's
accents sounded fake—and they're from Boston) and expensive production values to go along with Marty's way overdue Best Picture.
Crash,
2005: This one—a pseudo-serious, comfortingly liberal multi-arc film
that appealed to the Academy voter's white man's guilt (sorry)—still
gets stuck in my craw. Brokeback Mountain was so much better Alas, it never stood a chance.
Million Dollar Baby,
2004: The gritty poverty, high-pedigree director (Clint Eastwood),
gender twist, and tragic ending, gave this (wildly entertaining)
traditional boxing pic a more Oscar-y feel.
The Lord of the Rings, Return of the King,
2003: This one doesn't quit fit any of the categories, but it's close
enough. Tolkien is semi-literary (well, it's a book, at least). The film
wears its expensive production values on its sleeve. And it's a little
bit of a make-good Oscar for the first two installments of the saga,
which were both worthy in their own right.
Okay, now let's move onto this year.
Of the nine films nominated, only three are really considered contenders:
Gravity
American Hustle
and
12 Years a Slave
Based on the above theory, you might think I'd be going with American Hustle,
which is both historical (ish) and easily the most entertaining of the
three. But . . . a few caveats. I don't think it's historical enough
(who's ever even heard of Abscam?), it bears too much of a resemblance
to last year's Best Picture winner (wide lapels, big mustaches, bad
perms), and it has been the victim of a bit of a last minute smear campaign
by the Oscar-watching press, many of whom consider it too lightweight
for consideration. (For the record, I thought it was just dandy.)
That leaves Gravity and 12 Years a Slave.
Gravity
has the production values, for sure, but that's about it. Sci-fi is a
hard sell for the Oscars. What's more, I've heard a lot of whispers from
my readers—mostly women, interestingly, since Gravity features
such a strong female lead—who say they found it uninvolving (mostly
they were unimpressed by the film's soaring visuals and complained about
the dialogue, which is a little cheesy).
12 Years a Slave
is legitimately edifying (not just pseudo-edifying) and, in the hands
of the brilliant director Steve McQueen, it's extremely involving. No,
not easy to watch, but riveting.
For that reason, I feel that 12 Years a Slave comes close to being a perfect Oscar film: Edifying, engrossing, artsy (it feels auteurish), important.
It's my pick as this year's Best Picture.
My thoughts on a few of the other big races.
Best Actress: Cate Blanchett, Blue Jasmine
There
were some whispers that the Woody Allen controversy was going to affect
Blanchett's win, but I don't see that happening. The works speaks for
itself and it's just too good.
Best Actor: Matthew McConaughey, Dallas Buyer's Club
They say Leonardo DiCaprio is gaining on him—and I would love that, because he's great in The Wolf of Wall Street and so overdue. There's also a chance that 12 Years a Slave
will become a juggernaut, in which case the equally deserving Chiwetel
Ejiofor could swoop in. But I think the McConnassiance, as it's been
dubbed by the press, is too irresistible, both in terms of the concept
(lightweight leading man becomes serious character actor) and delivery
(McConaughey is great in The Dallas Buyer's Club—and The Wolf of Wall Street for that matter). (The fact that he's currently impressing Oscar voters with his work on the HBO hit True Detective only further galvanizes his frontrunner status.)
Best Supporting Actor: Jared Leto, Dallas Buyer's Club
The
closest thing to a lock in the major races. And anyone was concerned
that his nose-thumbing, "grrr, I'm a rock star!" attitude might be
disruptive to the ceremonies, he's been very well behaved and gracious
in all the Oscar dress rehearsals (Golden Globes, Screen Actor's Guild,
et al), even bringing his mother. I don't see anyone beating him.
Best Supporting Actor: Lupita Nyong'o, 12 Years a Slave
This
one is close, between Nyong'o and new Oscar darling Jennifer Lawrence.
Quality of the work should never, ever be a factor when predicting Oscar
winners (sigh), but great as Lawrence is, it's hard to look at her work
side-by-side with Nyong'o's and not pick the 12 Years a Slave
star. Also, Oscar loves anointing a new female superstar, particularly
in this category. (Look no further than last year's win for Lawrence.)
Also helpful? Nyong'o has been dazzling the voting public with her impeccable awards-style and preternatural beauty. I say this is her year.
Best Director: Alfonso Cuarón, GravityThe director/film split is a very rare thing in Oscar's history, although the most recent was last year, when Argo
won for best picture and Ang Lee won for best director. Oddly enough, I
see it happening again, only because Oscar knows the visionary Alfonso
Cuaron a bit better than they know the (younger) visionary Steve
McQueen. Both film's are "director's films" but Gravity seems
to have sprung, whole cloth, from Cuarón's rich magination. I say
history repeats itself and we have another Best Picture/Best Director
split.
Other picks:
Adapted Screenplay: 12 Years a Slave
Original Screenplay: Her
Cinematography: Gravity
Documentary: 20 Feet From Stardom
Foreign Language Film: The Great Beauty
Animated Film: Frozen
I'll be back with my wrap-up after this Sunday's telecast.