One For The Books
When it comes to cooking, it's all about ease for The Ivy Bookshop owners Ann and Ed Berlin.
Ed and Ann Berlin had been living in the New York area for 35 years, but for Ed, a native Baltimorean (City College, Class of '66), home beckoned—and both of them were ready for a change. They settled in Baltimore at the end of 2011.
"I was motivated to move back," says Ed, "but Ann grew up in Salt Lake City, and the fear was that if we moved back, I would have old friends and connections and Ann would come here and wouldn't have anything to do."
Enter The Ivy Bookshop, which was up for sale just as they were arriving in Baltimore. Both Ed, a former technology innovator for CitiBank, and Ann, former head of production for academic publisher John Wiley & Sons, were lifelong booklovers. She tended toward non-fiction and the classics. He liked art books, graphic design, and espionage. On a lark one day, Ed went into the bookshop and made up his mind to buy it. "We decided The Ivy couldn't close," he says simply.
That being said, they knew the risks. "There was a period in the United States when there were a lot of independent bookstores in individual neighborhoods," says Ed, "But with the advent of Amazon and 24/7 availability online, the notion of a neighborhood bookstore became uneconomic." So the Berlins knew that they needed to do something differently if they were going to have a viable business. "We needed to turn it into something more metropolitan," says Ed. "It required a major commitment to community events—that was the challenge for it to be successful."
Seven years later, not only has the bookstore found success—with roughly 26,000 to 28,000 titles in its inventory—but authors from all over the country, including Michael Downs and Doris Kearns Goodwin, come there to read from their latest works. On the heels of their success, the Berlins joined chef Spike Gjerde in opening Bird in Hand, a bookstore cafe near the Johns Hopkins campus. "Baltimore likes home teams," says Ed. "And Baltimore treats us like the home team the way they do the Orioles and Johns Hopkins and lacrosse. We are local merchants wearing our Baltimore hearts on our sleeves."
Equally Baltimore is the fact that the Berlins live in a charming 1905 Roland Park home they believe was once the headmaster's house of the original Roland Park Country School on St. Paul's Street. "When you walk out of the house, the front walkway goes right to what would have been the front door of the school," explains Ed.
There's still plenty of learning taking place under the slate-shingled roof. Not surprisingly, the house is brimming with books, including many for the Berlins' 5-year-old granddaughter, Isobel, who lives with them. There's also a wonderful collection of 20th-century art. "Most people go to an art gallery and just look at the pictures, Ed actually buys them," says Ann. "But what I love most is that everything here has a memory for us."
There are plenty of food memories, too. "My family is from Texas, so my mom made the world's best fried chicken and the world's best chili," says Ann. "We'd go down to visit my grandparents and it was black-eyed peas and the vegetables were cooked to death in salt pork." While Ann does the cooking, she tends toward a utilitarian approach. "I'm always looking for things that are fast, including recipes from Pierre Franey's 60-Minute Gourmet, like this recipe for shrimp in Indian sauce in which I like to substitute chicken." Her cranberry pecan salad, improvised from a friend's recipe, is similarly quick to assemble.
For Ed, family meal time was nothing if not predictable when he was growing up in Baltimore. "We had the same food every Monday, we had the same food every Tuesday," he says, laughing. "Thursday was deep-fried chicken, Friday was meatballs and spaghetti, Saturday was food from Attman's. Unfortunately, Tuesday was liver night and Wednesday was potluck—it was like being in the army, but the food was better."
---
Cranberry Pecan Salad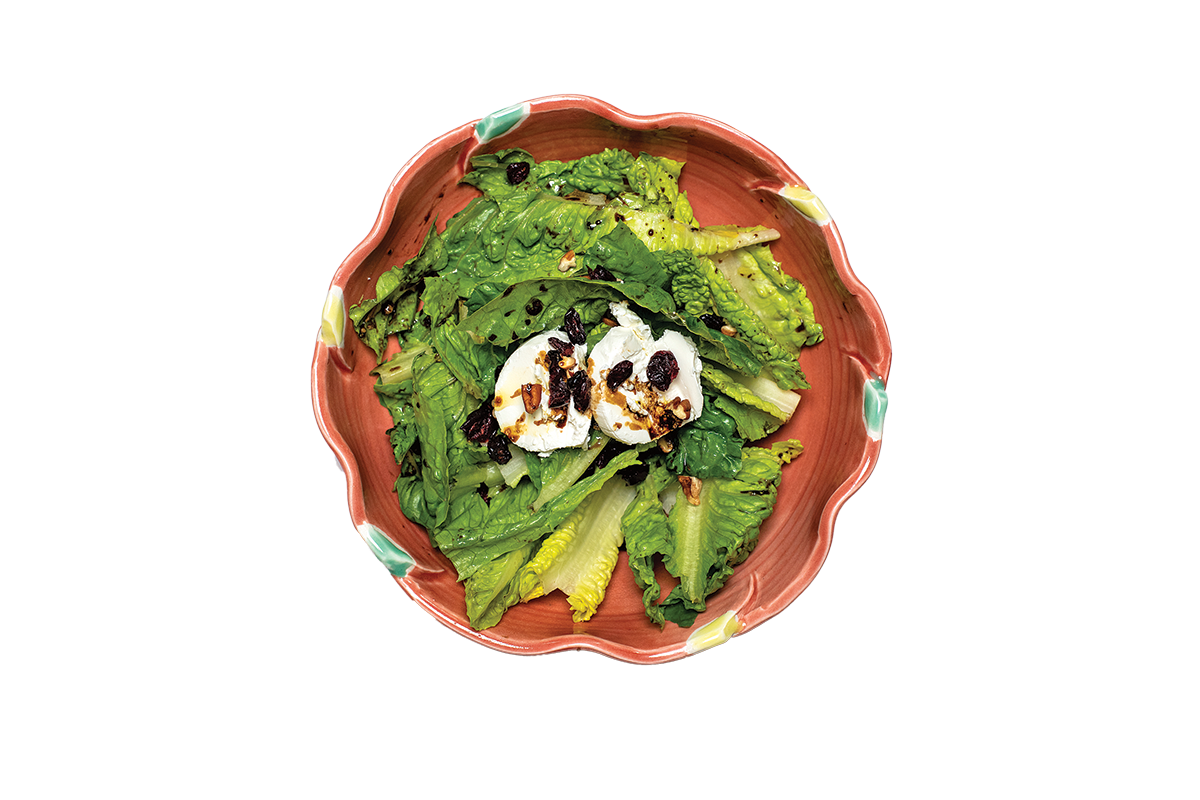 Ingredients:
• 1 head romaine
• ¼ cup chopped pecans
• ¼ cup dried cranberries
• ½ cup crumbled goat cheese or feta
• Balsamic vinaigrette
• ¼ cup balsamic vinegar
• ½ cup olive oil
• Splash of water
• 1 tsp. Dijon mustard
• Salt and freshly ground pepper
Directions
Combine first four ingredients in a bowl. In a separate mixing bowl, combine vinaigrette ingredients. Whisk dressing. Toss salad with dressing, according to taste. Serves four.
Chicken in Indian Sauce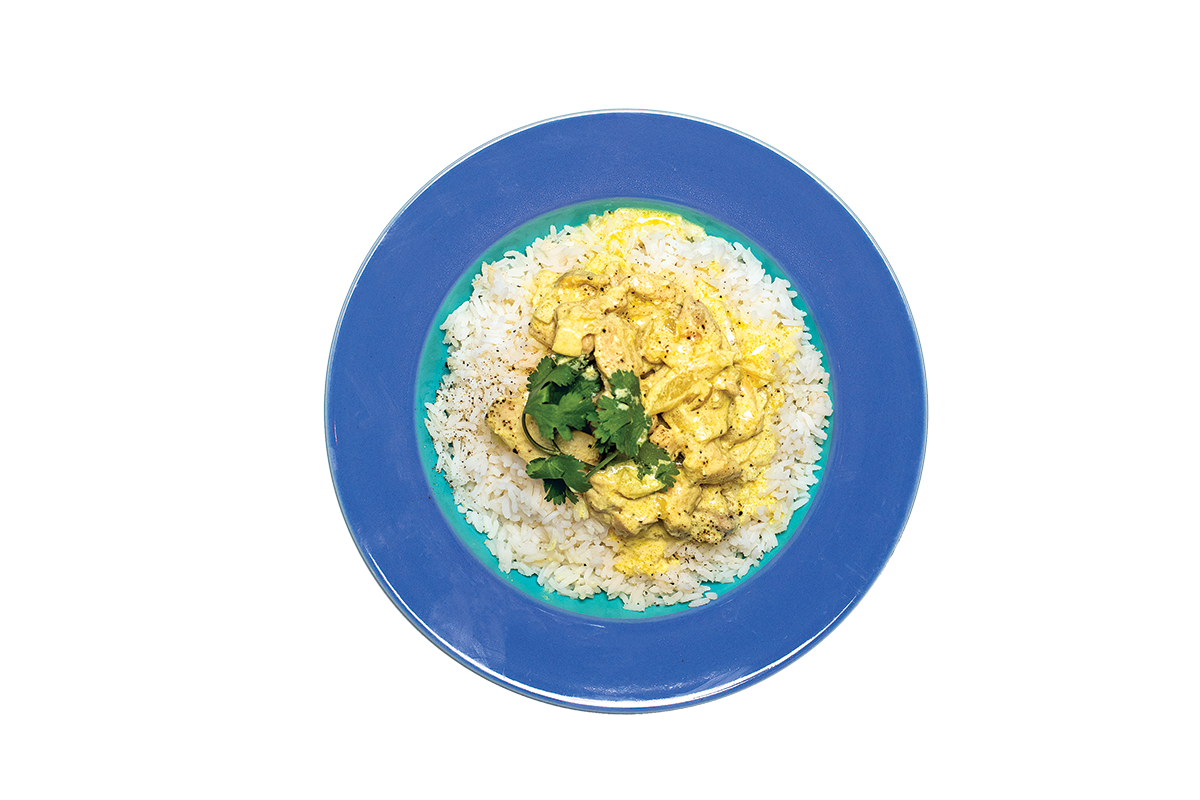 Ingredients:
• 6 chicken thighs, cut into small pieces
• 2 tbsp. butter
• ½ cup finely chopped onion
• Salt and freshly ground pepper to taste
• ¼ tsp. ground cardamom, or use and equal amount of curry powder
• ½ tsp. ground cumin
• Juice of one lime
• 1 cup sour cream
• ½ cup plain yogurt
• ¼ cup chopped fresh cilantro
• Long-grain rice
Directions
Heat butter in a skillet and add onion. Cook briefly and add the chicken. Salt and pepper to taste. Cook about six minutes, stirring often. Cook chicken thoroughly, but don't brown. Add cardamom and cumin and stir. Add lime juice, sour cream, and yogurt. Bring gently to boil, stirring. Sprinkle with cilantro and serve with rice. Serves four.