GameChanger: Jenenne Whitfield
We catch up with the new director of the American Visionary Art Museum.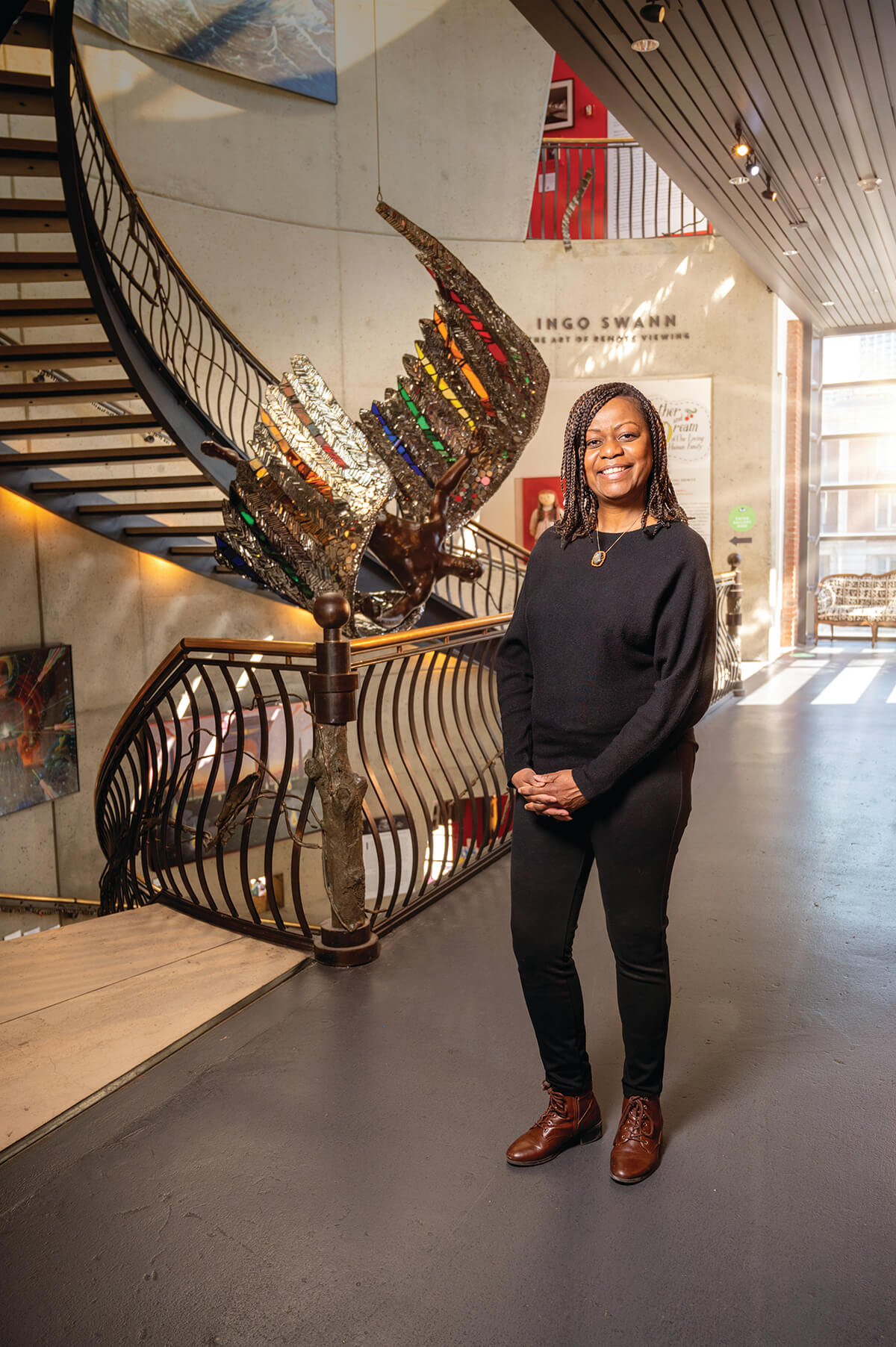 The Baltimore arts community let out a collective sigh of dismay when it was announced that Rebecca Hoffberger, founder and director of the American Visionary Art Museum, would be retiring this year. Hoffberger is, of course, irreplaceable. But if anyone could fill her shoes, it's Jenenne Whitfield, president of the Heidelberg Project, an acclaimed outdoor arts space in Detroit, and co-founder of the United Artists of Detroit, a grassroots network of artists, curators, and arts organizations. The former banker is also certified in divinity, trained in metaphysics, and has taught college students about art as a social practice. She takes over her new post in September.
When you were growing up, you had family in Baltimore. What stands out to you now returning as an adult?
What I'm seeing is not just the wonderful assets. Many cities across the country are going through a resurgence and that obviously means displacing people and drawing greater lines of demarcation. And then the other side is the richness, particularly within the arts scene. Baltimore is on fire. There's a lot of underground art in addition to the institutions. There's something to be said for the juxtaposition of raw grit with shine and polish. Can we find a good balance between the two? Both are going to be needed to teach us where we want to go.
How do you see artists in Detroit speaking to these dichotomies there?
It's an uphill battle. You have to have champions, because what do artists do best? They create. What that calls for is stronger arts administrators, and not just directors of museums, where you're working for the good of your institution. What my work in Detroit has been about is building bridges between the arts community and, say, the corporate community, and getting people to realize that we all benefit when we learn how to celebrate the great things that are happening in our cities.
Looking at your resumé, you seem destined for AVAM.
When I visited for the first time, I spent three hours in the museum alone. If you start talking about things like metaphysics, that night, after I visited, I was staying at the Royal Sonesta, and I awoke to a bright light over the harbor. I thought, is that a streetlight? But it was a star. And to me, it was like a witness or testament to me being here. And what Rebecca [basically] said in The Sun is that she could sleep at night knowing that I was coming, because we connected. People hope for that kind of magic and what Rebecca has put together is something that deserves care and thoughtfulness and that's what I bring. How do we continue this great work, how do we expand it, and how do we help Baltimore see the treasures, AVAM being just one of them, that it has.
Any ideas for what you'd like to do first upon your arrival?
I want to do wrap my arms around the staff. I want to know what they want to do. I want their wings to begin to flap. I'm a newbie, I need them to teach me, and I want to grow with them.