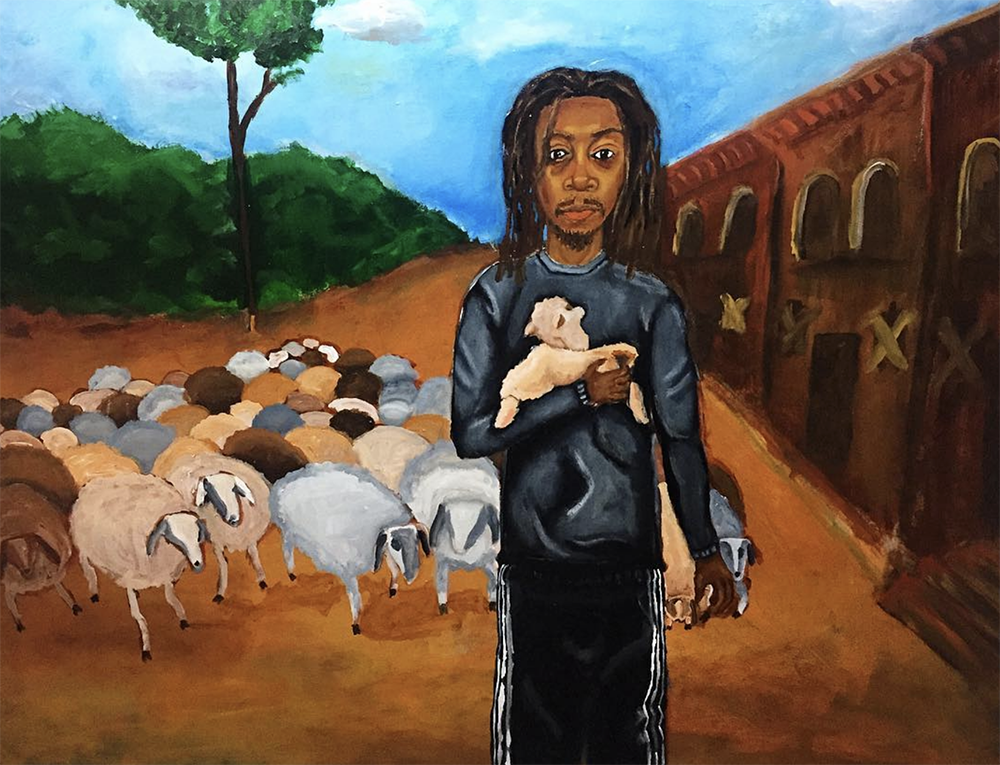 Three years ago, artist Jerrell Gibbs was developing a series of acrylic paintings that revised characters from Charles M. Schulz's Peanuts. Gibbs mimicked Schultz's playful illustrative style, but created nuanced narratives that centered around the life and experiences of Franklin, a silent African-American characterization. His paintings reminded us that—while Franklin's inclusion was well-meaning—his silence, lack of character development, and nonexistent independent story arc were telling reflections about a culture that normalized banal representations of black identity.
As Gibbs now studies in the rigorous Leroy E. Hoffberger School of Painting M.F.A. program at MICA, the scenes he chooses to visualize reflect broad humanizing narratives about mundane instances in black life: smiling children watching television or swimming, young women posing for prom pictures, mothers and young sons sharing intimate conversations on a couch. In these works, Gibbs engages a mature style that meanders between intricately rendered realist figurations and free-form gestural strokes reminiscent of works by artists like Alice Neal, Henry Taylor or John Sonsini.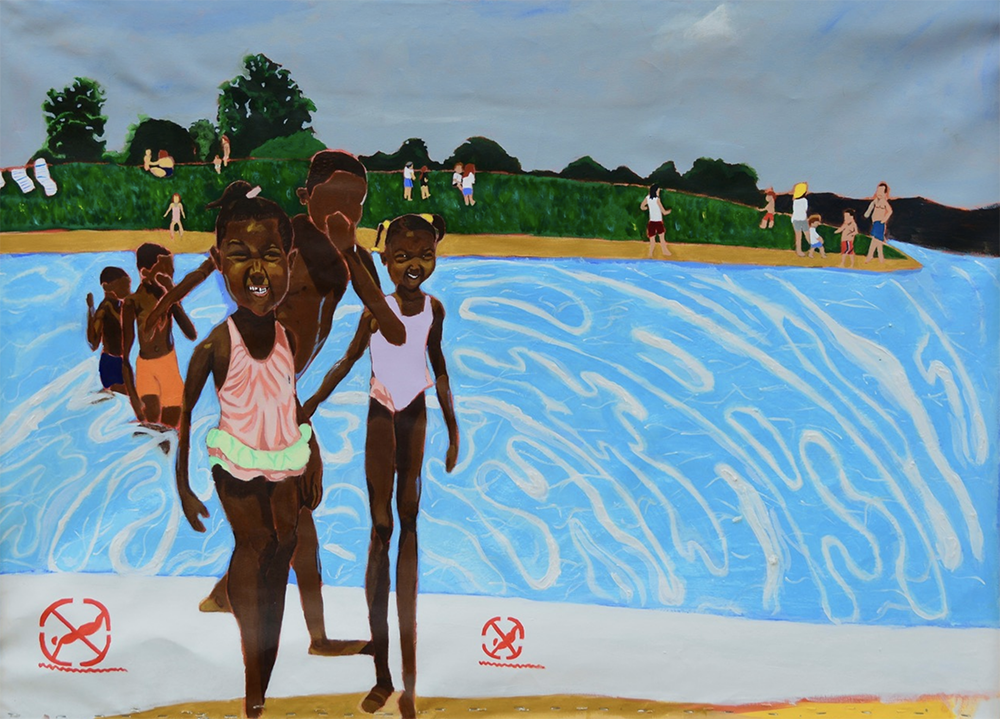 Some of his newest paintings are currently on view at Ida B's Table through January 31, 2019, as part of the restaurant's monthly rotating exhibit, Necessary Tomorrows. We got a chance to visit Gibbs in his studio to view his latest series of oil work on canvas and discuss how his work has evolved over the years.
What inspired this body of work and the evolution in your work?
School and me challenging myself to be a student of all the things I want to master. I want to do this for the rest of my life. If I continue down this path, I want to evolve and dive into the practice of painting and learn what it is to be a really significant artist. I want to continue to grow, master my craft, and be a student of the game first. I'm taking the time to research a lot of the things I have learned in school and figure out ways to get better. Even if it's not something that is easily recognizable, I know overtime that it is something that will start to manifest.
In many of your portraits, you use very gestural style that leaves sections blank or less realized than others. Why does this aesthetic recur in this new series?
Me not knowing the individual [in the paintings] forced me to not want to get too involved with every minute detail. I don't think that was necessarily important. The person wasn't important. It was the environment, the space, and the reaction—everything that was given besides the actual person. The emotion of the imagery, that was what was important. I'm working on not being bogged down by detail.
For "Studying God's Word," in particular, it's unfinished but so is youth. The whole idea of growing up and continuing to learn and taking what you know and applying it to what and who you are at that moment in your life and continuing to shed other things, layers, adding subtraction. That whole notion of youth, growing, maturing is like a play with that whole dialogue. Also just showing the layers of people. We are all a work in progress and so is this painting.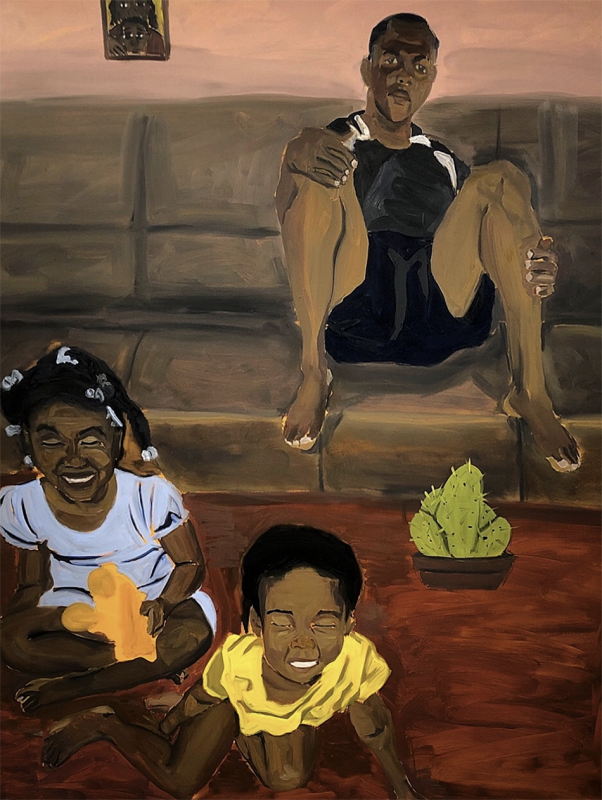 When you were first playing with allowing underpainting to bleed through, there was something about it that didn't feel as fully resolved as it does now. There's something about it that feels like a homage to black memory. Is that your intention?
Absolutely. It's a way to allow the process to be shown just so it can have a dialogue with what it is to be human, continuing to be vulnerable, being okay with the process, and figuring out a way to allow the undertone to function. To pay homage from where you come from and how you've allowed those things to mold and shape you into the being that you are. It's bigger than just showing it, there is a function, a reason for how it operates within each piece. It's not necessary for every painting, but when it necessary I know when to incorporate it.
It's refreshing and very powerful that you focus on the innocence and humanity of black youth.
It's something that I've been working with for years. Even though the body of work had changed, the contexts with which I place these people is strategic. Normalizing us being and existing. Everybody isn't an entertainer, everybody doesn't have to be glorified for their contribution to America in its entirety, just being you is enough. I want to acknowledge that and bring that presence to museums, galleries, and people so that they can view these experiences.