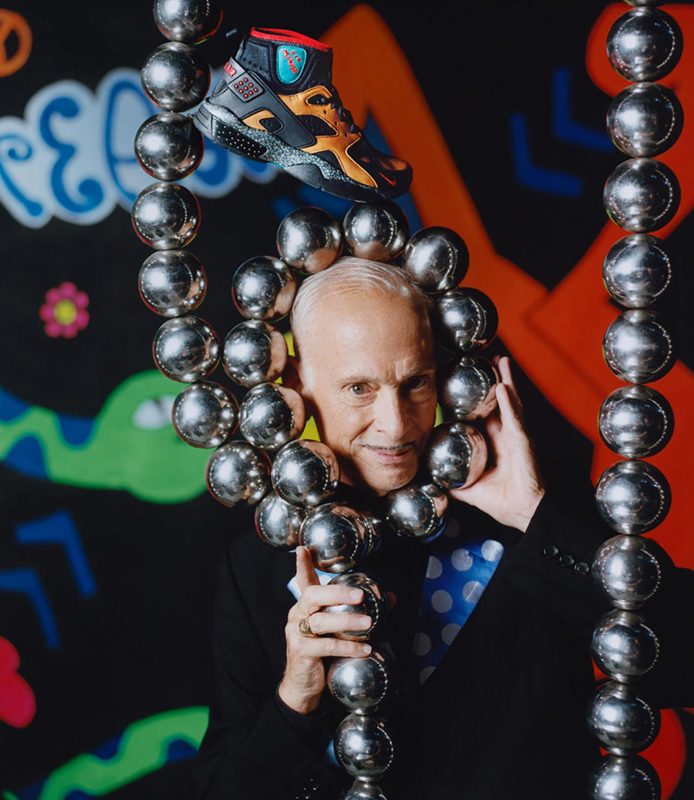 Nike
Writer, director, producer, visual artist, the newest male face of Nike.
Add that last one to the list of achievements by filmmaker and Baltimore icon John Waters, one of three celebrities chosen to be in a new joint promotional campaign for Nordstrom department stores and Nike—the world's largest supplier of athletic shoes and apparel.
The campaign, which is called "No Cover" and launches this month, touts a collection of five classic Nike sneakers, each reimagined with new prints, colors, and materials. It also includes 16 apparel and accessory pieces. Nike and Nordstrom have collaborated before, but this is the first collection designed for Nike by Olivia Kim, Nordstrom's vice president of creative projects and a luminary in the fashion world.
Instead of going with all athletes to represent the collection, Nike and Nordstrom enlisted a more diverse team of celebrities. Aside from Waters, the list includes Megan Rapinoe, co-captain of the 2019 World Cup champion U. S. Women's soccer team, and supermodel Leona Anastasia "Binx" Walton.
"The collection, in a sense, very much matches the personalities of these people who inspire me," Kim says on Nike's website. "It's amazing to have Megan Rapinoe, John Waters, and Binx Walton as faces of the campaign."
When addressing why Waters was a good fit for the project, Kim said: "I've always been inspired by John, because he's always pushed the boundaries in his work. He tells simple stories in a humorous, thoughtful, and provocative way."
Nordstrom x Nike shops are in New York City, Seattle, Los Angeles, Chicago, Vancouver, and Toronto. Sales will expand to other Nordstrom locations, including the store at Towson Town Center, on November 8.
Initial photographs released for the campaign depict a rave set in 1990s New York, and the three celebrities are all participants seemingly caught mid-pose. In one photo, Waters is shown with his head encircled by a garland of what appear to be silver Christmas tree bulbs. Walton is lounging in a blue chair with her legs crossed, and Rapinoe is crouching like a tigress.
According to Nike, the collection is meant to evoke "90s New York street fashion" and free-spirited nightlife at a time when some clubs had no cover charge.
"The assembled pieces form a perfect confluence of classic Nike and Jordan designs and Olivia's style—which is rooted in the rave and hip-hop styles defining 90s New York," the company says on its website. "The collection's name, 'No Cover,' is somewhat of a double entendre to a cover charge one would associate with New York nightlife. In Kim's eyes, this collection is meant for everyone—men and women, the young and the old—in order to promote no judgments and no rules."
At the heart of the collection are Kim's remakes of Nike's Air Force 1, Air Mowabb, Air Footscape, Air Max 98, and Air Jordan IV models. No Cover is one of the first Nike promotions since the company's 2018 "Believe in Something" campaign featuring Colin Kaepernick, the former pro football quarterback who became famous for protesting systemic oppression by kneeling during The Star Spangled Banner.
It places Waters, Walton, and Rapinoe in a pantheon of celebrities who have represented Nike, including Tiger Woods, Michael Jordan, Jackie Joyner-Kersee, Serena Williams, Lebron James, Derek Jeter, and Kobe Bryant.
Waters, 73, who just completed a speaking and book-signing tour in Australia, declined to comment about his new role as Nike pitchman, saying in an email that he'd need to check with the company first. Although he isn't generally recognized for his athletic prowess, he is known for wearing sneakers on late night TV appearances and even the cover of his latest book, Mr. Know It All: The Tarnished Wisdom of a Filth Elder.
He has also weighed in on sartorial matters in his films and books, such as raising the issue of whether it's proper to wear white after Labor Day, in Serial Mom. In his latest book, he advises men above a certain age to stay away from T shirts. "A T-shirt on any man over forty only makes him look fifty," he warns. "Avoid the T-shirt look even if the temperature outside is ninety degrees."