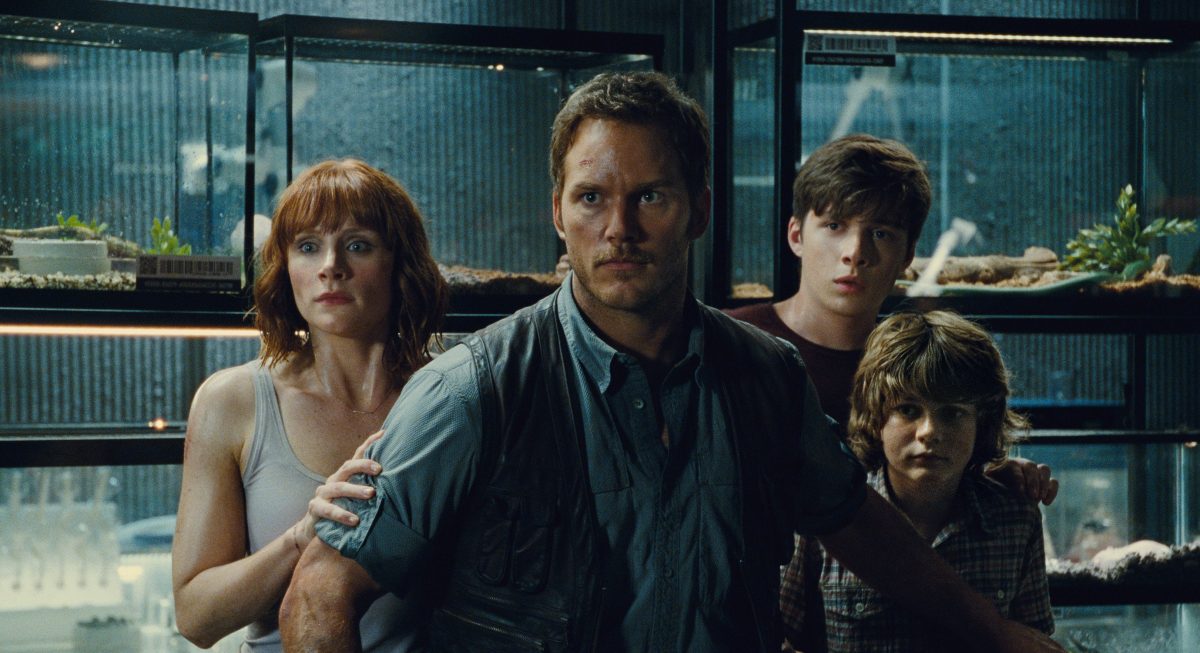 Universal Pictures
Is there anything less perfect than a perfect hero? Because that's what we've got in Jurassic World in the form of dinosaur trainer Owen Grady, played by Chris Pratt. "I'm the alpha, kid," he says roguishly, when someone asks him who's the alpha among the velociraptors he trains. He rides a motorcycle and wears a bandolier when he's in the field. It actually looks good on him. Lots and lots of times, people huddle and cower behind him, as he outstretches his arms, to make himself larger, an oak tree of protectiveness. At one point, to save himself from a threatening dinosaur, he comes up with the ingenious, on-the-spot plan to slather himself in gasoline, to hide his human scent. It works.
"Your boyfriend's a badass," wide-eyed young Gray (Ty Simpkins) says to his aunt Claire (Bryce Dallas Howard), who is the director of the dinosaur theme park Jurassic World.
Thanks for the clarification, kid.
Look, what's wrong with Jurassic World is hardly Chris Pratt's fault. Indeed, Pratt is such an endearing actor that we like Owen despite his generic perfection. But it demonstrates some of the larger problems with the film: A dearth of imagination (they couldn't even bother to give Owen his version of Indiana Jones's dreaded snakes) and a nearly desperate need to cling to gender stereotypes.
Yeah, Jurassic World has to be the most gender normative film I've seen in a while. The men basically do everything—the park's daredevil owner: a man. The film's bad guy (Vincent D'Onofrio), a warmonger who wants to militarize the dinosaurs, a man. The scientist creating the dinosaurs in the lab—a man. Owen's assistant raptor trainer, a man. Even the two little kids at the center of the story—both boys. I mean, seriously?
As for Aunt Claire: She's the stern, no-nonsense type we often see in rom-coms, just waiting to be loosened up by the love of a rascally man. She's particularly uptight because her theme park is floundering. In a bit of exposition I'm hardly the first to call meta, Claire explains to some investors that kids have gotten bored with the spectacle of seeing live dinosaurs—they need more, more, more! Enter the Indominus Rex, a T-Rex hybrid (although exactly what he's a hybrid of is classified) that's bigger, stronger, and meaner than all the other dinosaurs combined. Owen, of course, disapproves of this dinosaur, especially since it's kept alone in a wooded fortress, a recipe for disaster. His words prove instantly prophetic once Indominus Rex escapes and begins to wreak havoc on the theme park.
Since Aunt Claire was busy being important, she didn't have time for her visiting nephews, Gray and Zach (Nick Robinson), so she gave them VIP passes to the park and made vague promises to spend more time with them over the weekend. Of course, Zach and Gray get trapped on a dinosaur safari after the park is already in lock down, so Owen and Claire have to go after them together, which is awkward, because they once dated and it didn't take—she's so uptight, you see. But by the end of the movie, not only have Owen and Claire fallen in love, Claire has managed to loosen up and find that maternal instinct she so sorely lacked. (Thank. Gawd.) One thing Claire never manages to find? A pair of sensible shoes. She spends the whole film chasing dinosaurs in a pair of kid heels.
Okay, so about those dinosaurs. They're cool, I guess—massive, scaly, slobbery, razor-toothed. They were cool the first time, too. This time they're cool in 3D (more, more, more!). Indominus Rex doesn't act that differently from T-Rex, except he apparently is way smarter and "kills for sport." Director Colin Trevorrow uses the same trick Spielberg often employed back in his dinosaur-wrangling days—tight shots of tremulous faces or an errant drop of blood, panning out to reveal that the dinosaur is RIGHT THERE. It was exciting then and it's exciting now—just as people being snacked on by dinosaurs or scrambling to safety the split second before the big guys chomp down remains fun, too. And speaking of fun, shoutout to Jake Johnson and Lauren Lapkus, who do some amusing work as Jurassic World's geeky tech types, who watch all the action from their control room with jaded amusement that turns to righteous disbelief.
But here's where I'm going to get (even more) killjoyish. The whole thing is an elaborate fantasy, so it seems a bit churlish to say, "that's not believable!" But even a film like this needs some internal logic. And without giving too much away, there's a giant threat that is released, but never contained; and a T-Rex makes a cameo that seems wicked cool but actually makes zero sense. Much like San Andreas, a film that Jurassic World resembles more than glancingly (giant disaster, great special effects—all in the service of a dude saving the day), the film gives us faux closure. Although in this case, perhaps they're just saving it for the sequel. By then, I'm sure the dinosaur will be part transformer.