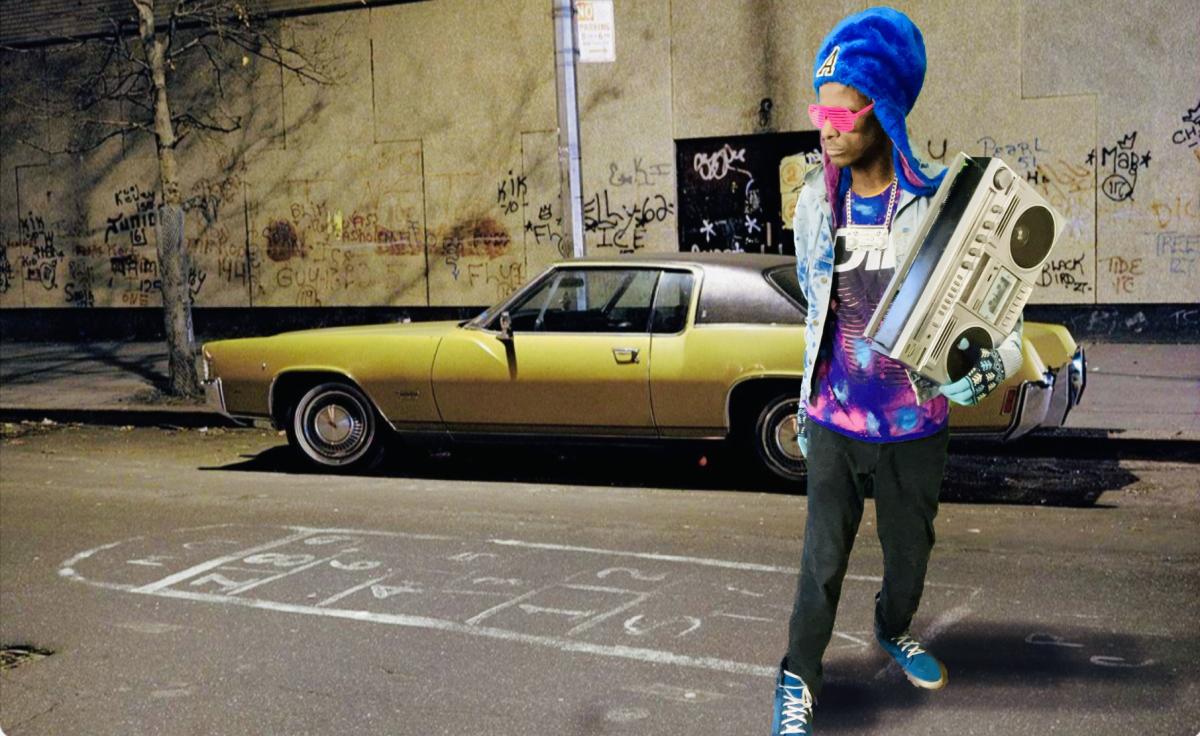 —Landis Expandis via Facebook
During a stay in the intensive care unit in the wake of a Lymphoma diagnosis and resulting liver and kidney complications in May, local artist Landis Expandis was limited to intravenous feedings—leaving him understandably ravenous. But instead of letting that discomfort overwhelm him, he did what he does best—translated his feelings into art. 
"As soon as my hands worked, I was back to drawing pictures," he says, adding that he would use his iPad to sketch the foods he dreamed of, but couldn't eat. It was a pathway for the diligent creator to return to doing what he loves.
Best known as the frontman of local rock and soul quintet All Mighty Senators, the Baltimore musician, DJ, and whimsical visual artist spent roughly two months in the hospital before moving to a rehabilitation center where he underwent six rounds of chemotherapy. He returned home in July, and, thankfully, has since received clean scans. But, as he points out, he still has a long road to recovery.
"You don't just walk out of cancer like walking out of the shallow end of the pool," he says. "It's a journey. I'm walking around with a cane. Getting upstairs is still a chore, and I have doctor visits often."
While he continues to prioritize his health, Expandis—a MICA grad who has been a steady presence in the local art scene for the past 35 years—is getting back at it, creating with his hands (which were previously shaky from chemo) once again. Eventually, he'd like to jump back into his most recent musical project, Landis Harry Larry—a synth, funk, and punk trio in which Larry and Harry are Expandis' digital clones. ("That's why you never see them walking down the street," he jokes.) But for right now, his focus is fashion. He's painting bags and T-shirts, and adorning jackets (such as this one, worn by his wife, Freda Mohr) with studs and patches. 
Beginning this week, some of these designs—among other Expandis creations including records, handmade props used in music videos, and holographic projections of his visual artwork, as well as merchandise—will be available for purchase at Mount Vernon Records as part of Landis World, a music and art pop-up installation that will run Nov. 17-Dec. 22. 
"Landis is one of the renaissance men in Baltimore," says Mount Vernon Records owner William Hicks, a close friend of Expandis who will perform as DJ Cheeky Willie (alongside Baltimore experimental pop musician, Glorian) at the Nov. 17 opening. "He's not only cool, but he sticks to his guns about what his visions are. We wanted to give a peek into what he does and how he does it."
Similar to the tribute concert that supporters organized for Expandis at the Ottobar last summer, proceeds from the show will support the artist as he gets back on his feet: "It's the kind of love you dream of," Expandis says of the outpouring of support he's seen in the wake of his diagnosis, which he calls "absolutely magical." "I wish that I could cut a piece off and share it with everyone."
Expandis—who will make a masked appearance at the exhibit opening Friday, from a safe distance—is looking forward to the installation as an opportunity to showcase his work more holistically. 
"It's weird being a multifaceted artist because I don't really see myself the way other people see me," he says. "Some people know me as a DJ and go 'Hey DJ Landis!' And then another person might see me and go, 'Oh, it's Landis the painter.' Older cats probably know me only as a musician. But I'm all of those things. Even when I'm not creating, I'm designing things in my head—[be it] a song, a painting, or a garment."
As he—slowly but surely—returns to creating art in all of the forms he's used to, Expandis is simply happy to relish life's small joys. 
"Once you face your mortality, everything you experience after that is golden," he says. "Just drinking a cup of coffee is the most amazing, beautiful thing. I'm sitting here making art in my studio, breathing air, drinking ginger ale, and listening to Schoolhouse Rock. It's the best thing that there is."