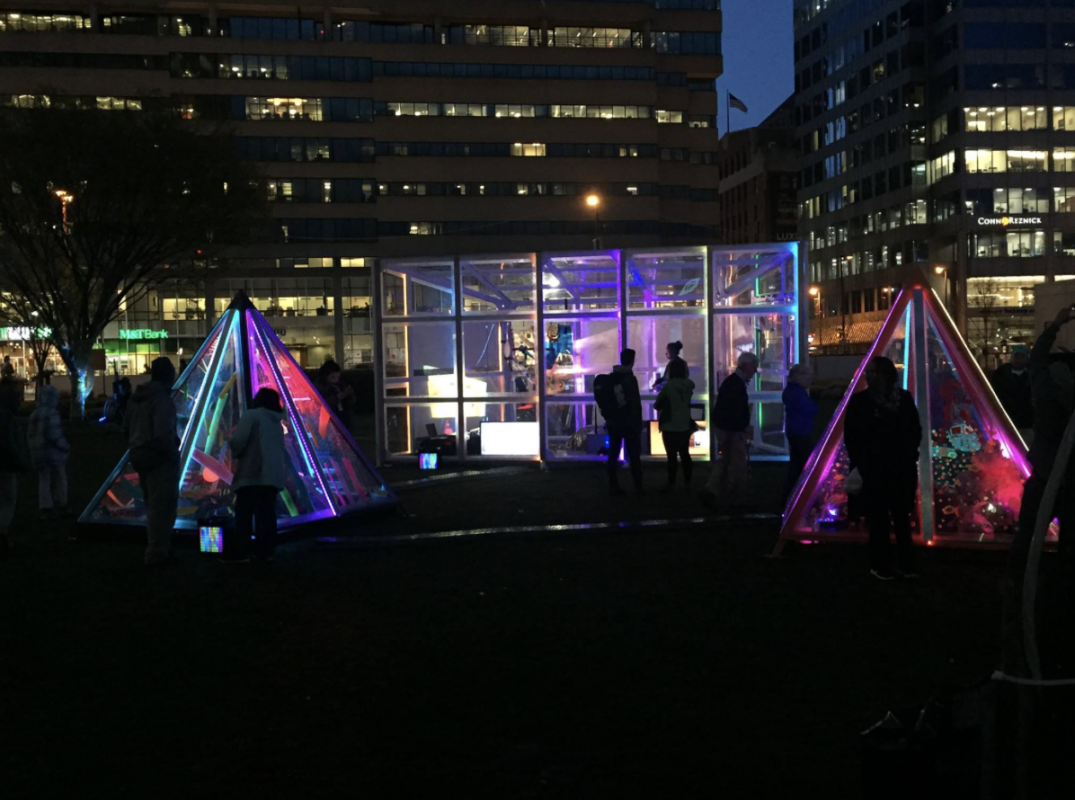 Courtesy of the Baltimore Office of Promotion & The Arts
Not only did the second annual Light City festival achieve many abstract goals—sparking important social conversations and inspiring artistic creativity within the community—but it also brought about a major boost to the Baltimore economy.
A recent survey commissioned by organizers at the Baltimore Office of Promotion & The Arts (BOPA) reveals that the nine-day festival had a total economic impact of more than $44 million, with $26 million generated in direct spending and more than $18 million that rippled through the economy indirectly.
"We couldn't be more pleased," says BOPA's outgoing CEO Bill Gilmore, mentioning that the total impact increased by nearly $10 million from 2016. "We're building momentum. The goal was always to make incremental increases and we did that in just about every category. It's exciting to move the needle across all measures."
The study, conducted by Pennsylvania-based research firm Forward Analytics, estimates that 470,000 people visited the glowing installations scattered throughout the Inner Harbor after dark, and 33 percent of the total attendees hailed from out of state.
"The survey acts as a benchmark for us to use in our planning from year to year," Gilmore explains. "It gives us a good reporting mechanism to see why people came and what they're interested in."
Results indicated that the majority of out-of-state visitors came from D.C., Pennsylvania, Virginia, New Jersey, and New York. Almost all—81 percent, to be exact—indicated that Light City was their "main reason" for visiting Baltimore, and each spent an estimated $80.
BOPA has already begun accepting proposals from artists who wish to be featured at next year's free festival, which is set to run April 14-21.
Though next year's event will continue to feature Light City's signature illuminated attractions, concerts, performance art, local food and drink vendors, and daily innovation conferences, the schedule will be tweaked slightly. Instead of running Neighborhood Lights (a program where various Baltimore communities showcase their own installations) in conjunction with the Inner Harbor festivities, the individual neighborhood showcases will kick off the festival April 6-8, with some installations on view for a longer period.
"We thought giving Neighborhood Lights its own weekend would give them a little more spotlight so that it wouldn't necessarily compete with the downtown festival," Gilmore says. "It also gives us three full weekends of activity."
The economic impact study comes on the heels of Gilmore's resignation announcement after 37 years with BOPA. He says that he is most proud of the artistic integrity that has been showcased throughout festival by the community at large, and he is confident that the nonprofit will find a replacement who will be able to "grow Light City into adolescence" in the future.  
"To be considered one of the top-tier light festivals in the world is an amazing accomplishment," he says. "It's only a two-year-old, and still has a long was to go to maturity, but I'm excited to see it grow and thrive for many years to come."