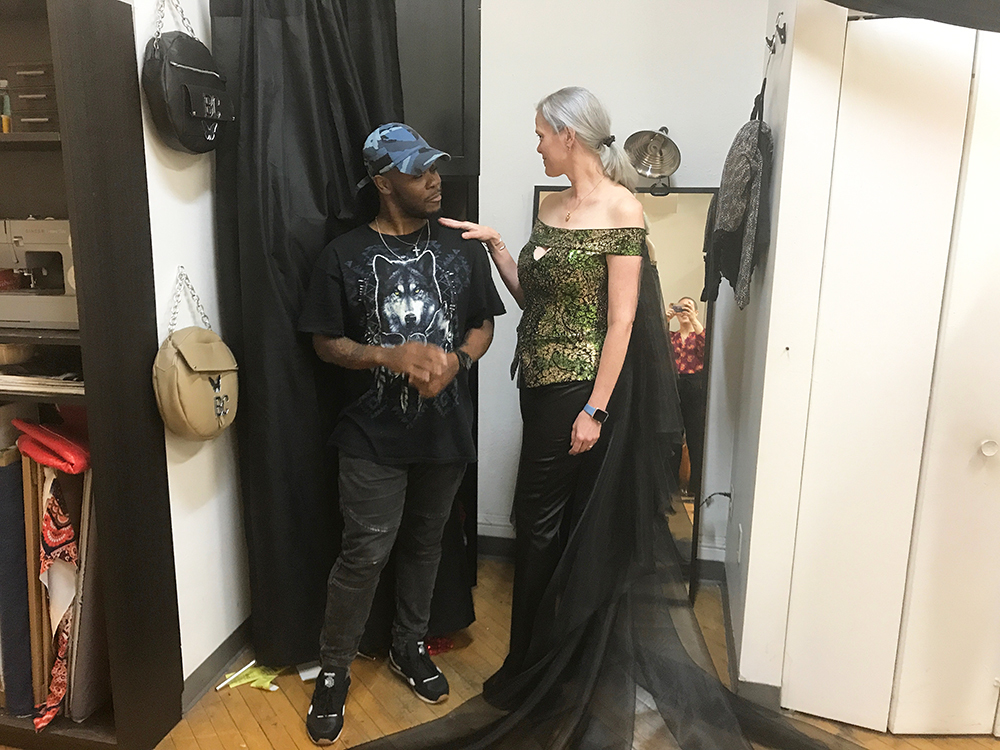 Walters Art Museum
On the second Saturday in October (aka this Saturday, October 13), The Walters Art Museum will host its annual gala, this year celebrating a year of transformation with their theme "Metamorphosis." While this isn't exactly the Met Gala, The Walters and executive director Julia Marciari-Alexander enlisted local design prodigy Bishme Cromartie to make her outfit and encourages patrons to dress to the nines as well. We talked to Marciari-Alexander and Cromartie about the design process, their inspiration, and what to expect from this year's event.
How did this collaboration come about?
Julia Marciari-Alexander: He did a photo shoot at the Walters for Bmore Art and I loved it.
Bishme Cromartie: It was just so weird. I did a collection called "The Chrysalis" because I felt like I was going through the process of being a caterpillar and coming out of my chrysalis as a designer. So, when I got the information about this event I kind of teared up because it felt like the universe letting me know that I am going in the right direction.
JMA: I was so nervous meeting you, I was like, "Oh my god, I'm going to meet a real-life designer. He is going to be all stiff and art-y." But you just were so awesome and put me at ease immediately, and your collection is just so beautiful.
BC: I appreciate it. I'm prolonging the fittings because I don't want it to end.
JMA: You can just be my personal stylist forever.
Why did you choose to have a local designer make your outfit?
JMA: We have such a commitment at the museum to Baltimore and the ways that the collection inspires Baltimore, and to have someone for whom that is 100-percent true being the star of the evening is just awesome.
BC: Don't make me cry again. My mascara is not waterproof.
JMA: Fashion is art and we have a lot of examples throughout our collection of fashion throughout the ages, so this collaboration is just another piece of that.
What inspired the garment?
JMA: Well first, we walked through the museum with Bishme. Our collection is really about design, and I think that most of the works in the collection were used as inspiration in some way. Walking around with Bishme was just amazing because I was seeing the collection through his eyes and seeing his mind click in terms of what he was interested in and how it would fit with his development as an artist.
BC: I got chills walking through because we were standing in the museum talking and I realized we were standing there looking at one of my favorite artists' paintings. I love Sir Lawrence and his work as far as draping and stuff. To see one of my favorite artist's paintings for the first time in person was amazing and has been an eye opener to keep going and how things come full circle.
JMA: Seeing you looking at the Lawrence Alma-Tadema paintings and knowing the way this painter treats fashion and treats fabric has been a guiding force in your creativity and to have that happen right here, that made me cry. That was a moment of wonder. You had a moment of wonder and we got to experience that with you.
How much input did you have on the piece Julia?
JMA: The most interesting conversation that we had about the outfit—and I say outfit—was whether it was going to be a dress or pants. I saw myself wearing a dress, but Bishme really wanted to put me in pants.
BC: When you guys came to me, I was told you were open to different styles, so pants were a thought. But then when I got to meet Julia and got to know her, I thought she needs to stand out. A dress would've been expected, so for me I really just wanted to create a moment that reads well with the theme of the night. And then once I saw the invitation, I wanted the fabric to sort of mimic how the invitation looked with the detailing.
How is this event different from others in the city?
JMA: We don't have any auctions, it's really just a beautiful party in an extraordinary setting. This isn't about an exhibition, it's about the museum and celebrating the opportunity for everyone to have access to creativity. The money from tickets goes straight into our operating budget and covers a lot of our education programs.
BC: I love the fact that the theme of this event has a message behind it that I and other people can connect with. It's about transition in our lives and growing. It's not just a theme, it's something that everyone experiences. Everyone is developing, and I think that's why this experience has meant so much to me.
I've heard you want this to be sort of the Met Gala of Baltimore. Do you think people will get that and incorporate the theme into what they choose to wear?
JMA: Absolutely! We saw it last year with a lot of people you could tell thought about what they put on. Our theme last year was Egypt and I felt like our patrons got it and really stepped up their game in bringing their most beautiful clothing to reflect the collection well without being culturally inappropriate. I'm really interested in connecting our collections with contemporary artistic practice primarily through the lens of people in Baltimore and what better way to do that then through what we all are wearing.
This year I think we've been really intentional about how we've presented the event and I think people will understand even just from a feeling level the theme and what kind of event they are going to. It's elegantly fun. But it does make you think.
What are you most excited for at this year's event?
JMA: Sitting with Bishme. It is such an honor to be wearing something of yours because there is no one else that could've made something like this for me. Plus, we just really like each other.
BC: My fittings with Julia. I don't want them to end.
JMA: Also, there is no one in this town that cares more about fashion than our Mayor [Catherine Pugh] and the opportunity to sit you right next to her and to let her see the amazing creativity that lives here in Baltimore all the time and to talk about your work and mentorship with the Baltimore Design School—the school she set up. That's just so exciting. That's what a museum can do.