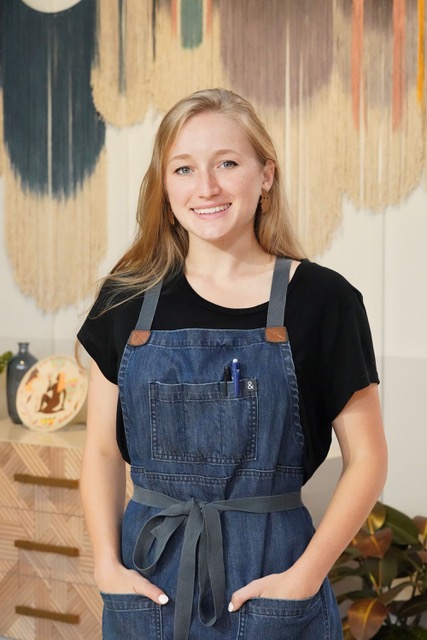 While some of us were baking bread and taking walks at the height of the pandemic, Monkton resident Jessie Lamworth was auditioning for a role on NBC's Making It with hosts Amy Poehler and Nick Offerman.
Within two days of finding out that, yes, she'd be appearing on the crafting reality series featuring makers from around the country, she was on her way to Los Angeles to tape the show, whose third season debuts on June 24.
"I've always made things ever since I can remember," Lamworth says. "I used to make a lot of parting gifts for teachers at the end of the year that were specially tailored to them. And I'd always go super above and beyond with my science and math projects to make them visually appealing. It's always been the way that I learned."
Although The Park School graduate—who does everything from sewing to woodworking to painting to drawing to digital art and making multi-media sculptures—was always gifted in the arts, she first set her sights on a career in engineering.
"That became my priority because it seemed to be what people thought was good or impressive," she says. "Whenever I told people that I wanted to go to college for engineering they would go, 'Oh, wow,' and their eyes would widen. I hate to use the stereotype of a dumb blonde, but I do think that a lot of people see young blonde females and are really surprised if you are pursuing engineering. I knew something was wrong about it, but I just assumed that's the way it was and that was the only way I could make my way in the world."
After graduating from Haverford College in 2018, Lamworth worked for a consulting firm in New York City. In September 2019, she quit her job to pursue something more creative.
"I moved into my parent's basement before it was cool," she says with a laugh, "and it was the best decision I ever made in my life. I quit with the plan of taking six months to fill out a portfolio and either use that portfolio for applying for a more creative job or grad school."
But six months later, by March 2020, COVID was hitting the United States. Ironically, the timing was perfect. Making It talent scouts found Lamworth via her colorful Instagram account, @jamworth, in which she displays her wares from textiles—such as a literal "Tea Shirt" made of tea bags—to punny food portraits, such as one of Ella Fitzgerald, dubbed "Nutella Fitzgerald" out of Nutella.
"I had never heard of the show before," she says, "but as soon as they scouted me and said, 'Please apply,' I started watching and immediately fell in love with it. I could relate to people who were from all different backgrounds and using their problem-solving skills and creativity to make beautiful things and have fun doing it—I wanted nothing more than to be a part of it."
Back in Baltimore, now that the show has been taped, Lamworth calls her star turn on the series, "the best experience of her life." Although technically she was competing for the title of "Master Maker" and $100,000 in prize money with the other cast members, Lamworth said there was nothing but a friendly sense of camaraderie during the timed craft competitions—in which contestants are given materials to make two handmade projects per episode while on the clock.
"It's such a good-hearted, good-natured show," she says. "My favorite part was working with the other makers who were always looking to lend a hand, give me advice, or make me laugh. In person, Nick and Amy are just as nice and hilarious as they were on TV—they are so kind and genuinely interested in what we are making. They have so much fun on the show that it is completely contagious."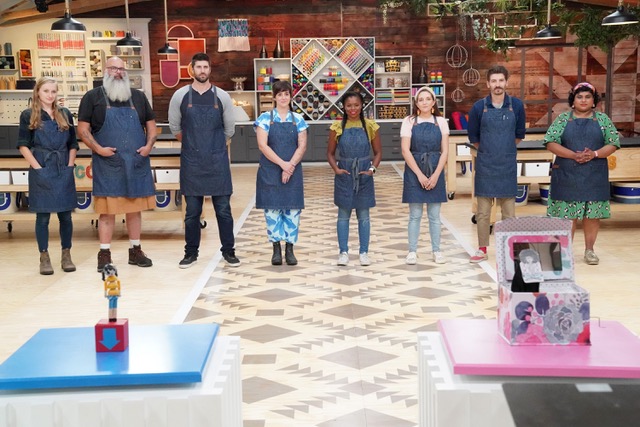 Creatively, Lamworth says she has grown by leaps and bounds. "I'm really proud of what I made on the show," she says. "It pushed out of my comfort zone. The time limitations are real—we really did need to make things in three hours. I'm not used to doing things like that in a time crunch, and with cameras in my face while I worry about what I'm saying and how I look in the process."
Her reality TV show debut could soon make Lamworth a household name—Making It reached an audience of 20 million last season—though she's humble about the idea of getting recognized.
"I have no idea who will watch or what they will think of me because I don't know how I'm going to be edited, but I doubt I will be the villain," she says, laughing. "I really hope that people will like the creative person that I am and want to collaborate with me or hire me for projects."
The show has finished taping, but, of course, Lamworth isn't allowed to say if she took the final prize. Whether or not she won, she says, she would love to open up an art studio in Baltimore and travel to collaborate with her newfound maker friends.
"My ultimate dream," she says, "is to have a space where I can work and also have people from around the block stop by and make things with me. It would be a great community gathering spot."