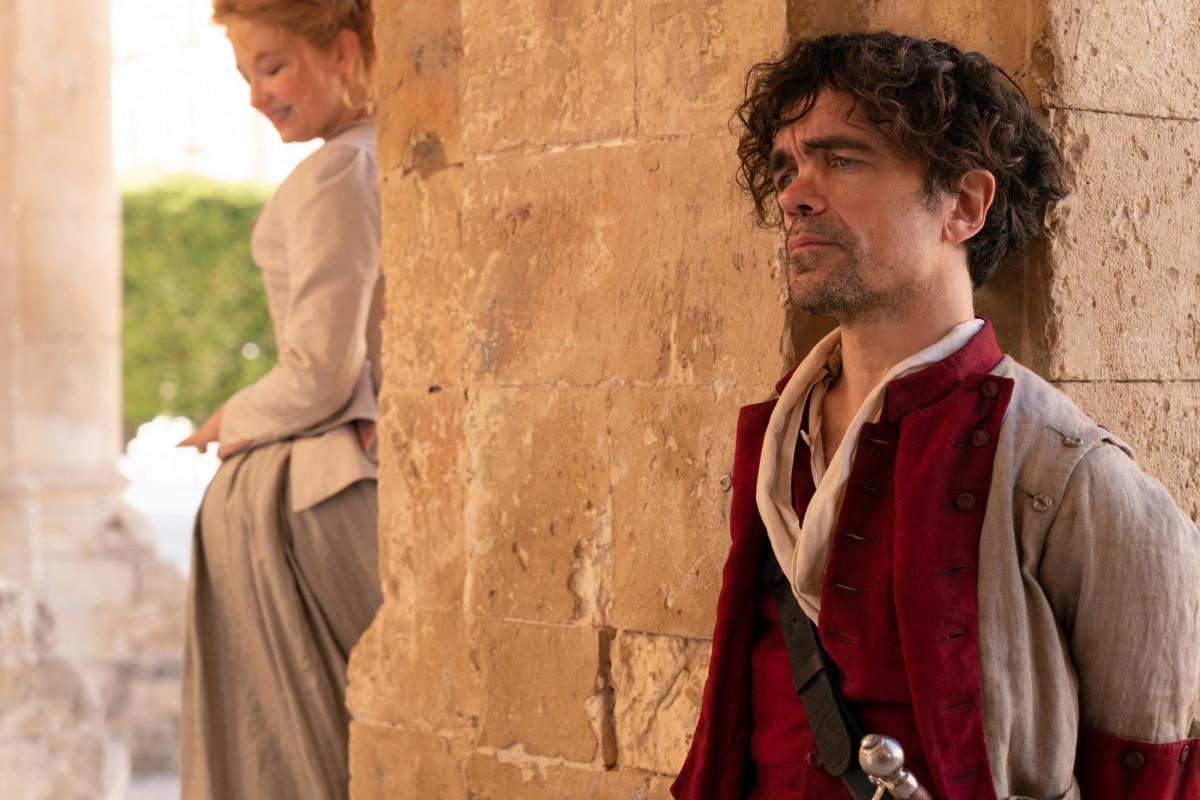 United Artists Releasing
I have now seen Joe Wright's Cyrano two times. The first time I saw it, I confess to having been somewhat baffled by it. The actual thoughts running through my head were, "Is this film awful . . .or a masterpiece?" It's that kind of film, with its own rhythms, rules, and idiosyncrasies. Now that I've seen it a second time, I'm leaning closer to putting it in the masterpiece column, although I'm not sure I'll ever be 100-percent on its wavelength.
I think the thing that threw me off, for starters, was the music. You hear Cyrano musical, and you think it will be Disneyfied thing, with catchy ballads and stomping choruses and playful expositional songs, as handmaids and the occasional bluebird swirl about cheerfully. This isn't that kind of musical. Based on the off-Broadway play that was adapted by Erica Schmidt and scored by Aaron and Bryce Dessner, of the rock band The National, the film is moody, voluptuous, and at times, downright, gloomy. The music itself tends to be on the dronish side, with occasional spoken word bits and mournful, Celtic-tinged fiddling. There is exactly one great song, "Wherever I Fall," which comes toward the end of the musical, on the battlefield, and is not even sung by the lead players (musician Glen Hansard, of beloved indie film Once, is one of its singers). You won't be belting these songs in the shower.
What this Cyrano does have is its wonderful director, Wright (Atonement), and its outstanding cast, led by a mesmerizing Peter Dinklage.
Casting Dinklage as Cyrano (he also played the role off-Broadway) is a stroke of genius. He's one of the most extraordinary actors of our day—a man with dwarfism who, through sheer charisma and formidable acting chops, has managed to fashion himself into a Byronic-style leading man. The sarcastic, brave, brooding wordsmith Cyrano is not that far from Game of Thrones' Tyrion Lannister, the role that won Dinklage four Emmy awards—but who cares? It's a wonderful character and Dinklage plays him to perfection. We believe him both as a swashbuckler and poet, and a deeply insecure, self-loathing man. Dinklage isn't the best singer, but his deep baritone mirrors that of The National's Matt Berninger, so it works.
The rosy-cheeked, strawberry blonde Haley Bennett makes a perfect Roxanne—giddy, strong-willed, spoiled, sunny, and undeniably captivating. "Even her imperfections are perfect," Cyrano sighs. Not for nothing, Bennett is the best singer of the bunch, too.
As Christian, the young guard who woos Roxanne with Cyrano's words, Kelvin Harrison Jr. is great here—everything he needs to be. Sturdy, lovestruck, youthfully earnest, and so handsome that even Cyrano himself seems a bit in love with him.
The rest of the cast, from Ben Mendelsohn as the dastardly De Guiche (who is nonetheless a tragically yearning figure his own right), Monica Dolan as Roxanne's protective maid, and Bashir Salahuddin as Cyrano's wise best friend, are excellent.
As for Wright, he and cinematographer Seamus McGarvey play masterfully with texture, physicality, and light. In one scene, as Roxanne writes a letter to Christian, the wind blows the papers artfully around her chamber and she wraps herself in a billowing curtain. In another scene, as Cyrano waits expectantly for Roxanne in the back room of a bakery—this is the famously heartbreaking scene where he thinks she's confessing her love to him, only to finds out she's speaking of Christian—the bakers slowly glide about the kitchen with a balletic sensuality. Throughout the film, light bursts through windows and around columns. On the battlefield, the film is practically stripped of its color and becomes dank and dark.
There have been so many cheery adaptations of Cyrano over the years, we tend to forget that it's essentially a tragedy. It's about the uselessness of war and pride getting in the way of love. Wright and his crew have not forgotten this fact. There are no bluebirds singing here. This Cyrano is a beautiful bummer.