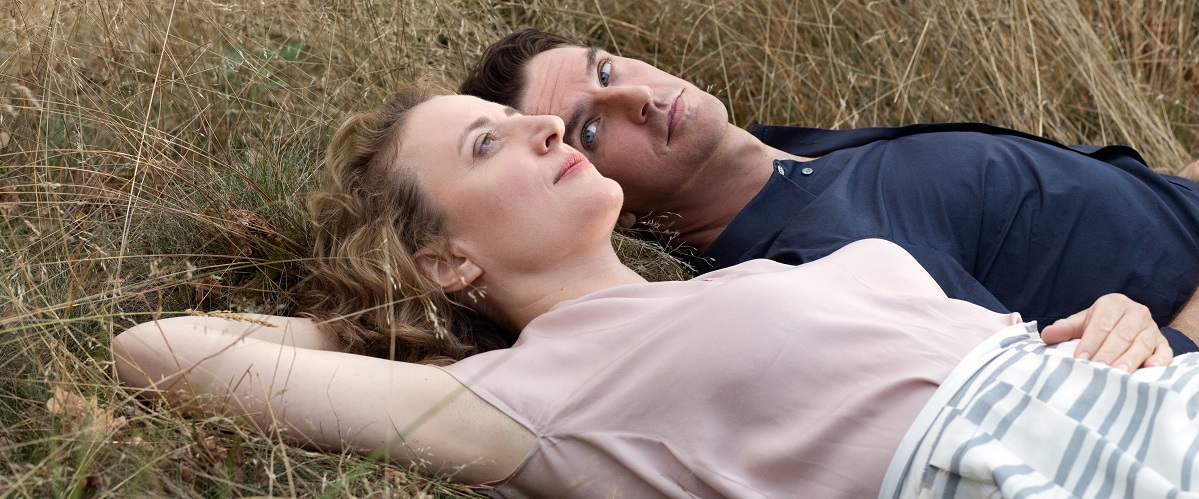 Bleecker Street
Germany's I'm Your Man is the mashup we never knew we needed—the sci-fi rom-com. It manages to be smart, witty, and, yes, even romantic, while exploring a love affair between an uptight archeologist and a handsome robot. Along the way, the archeologist begins to interrogate her own feelings about romance and love—and we in the audience do the same.
Alma (Maren Eggert) thinks she's done with love. She has just come off a bad breakup and, to make matters worse, her ex has a serious new girlfriend. She's going to bury herself in her studies of metaphors in cuneiforms and not bother with all that embarrassing emotional stuff. But then her boss gives her an opportunity she can't refuse—he'll provide her with extra money for her research if she agrees to participate in an experiment: For three weeks, she is to live with a robot, designed to be her perfect match. At the end of the three weeks, she is to report on not just the efficacy of the robot, but the ethical ramifications of allowing these robots to live among us, perhaps even marry.
Not only is she skeptical, she is borderline mortified. Especially when she meets the robot, Tom (Dan Stevens), and he is dashingly handsome, slender and blue-eyed and dapper, built to her precise specifications.
"Your eyes are like two mountains I could sink into," he says to her, making her roll those eyes.
But here's the rub: These humanoid robots are adaptive. Since their entire mission is to please their partner, they learn as they go. Tom quickly learns that Alma doesn't like mushy sentiments or even things like bubble baths dotted with rose petals.
"93 percent of women dream of this," Tom says at first, baffled.
"Guess which percentage I'm in?" she retorts.
Soon, Tom gets it. Less overt displays of affection, more interest in Alma's work. Less talk of romance and more discussion of philosophy.
And Alma—and we—begin to crack.
The truth is, I was rooting for Tom and Alma as much as I've ever rooted for any couple in a traditional rom-com.
Yes, of course, it helps that Tom is played by Stevens—but then again, no one's going to order a schlubby robot (or heck, maybe they are…it takes all kinds).  Tom may not be human, but he wants something—one thing, in fact—to be loved by Alma. This is the key to his appeal (fiction writing 101, give your protagonist a desire).
But, of course, Tom isn't human and, as Alma mutters bitterly at one point, when she's talking to him, she's actually alone, talking to herself.
Both performances are excellent here, with Stevens making Tom enormously appealing without ever seeming too human. And Eggert is convincingly closed off and prickly, until she reluctantly succumbs to Tom's charms.
Director Maria Schrader really pulls off a sleight of hand here—creating a film that feels like a confection but is actually grappling with some serious themes. Unlike Spike Jonze's Her, which explored man's growing dependence on technology, I'm Your Man is more an exploration of the nature of happiness and desire and the meaning of love. Is happiness more important than human connection? Or can true happiness only be achieved through human connection?
Pretty heavy stuff for a rom-com.
I'm Your Man opens Friday, October 1 at the Charles Theatre.