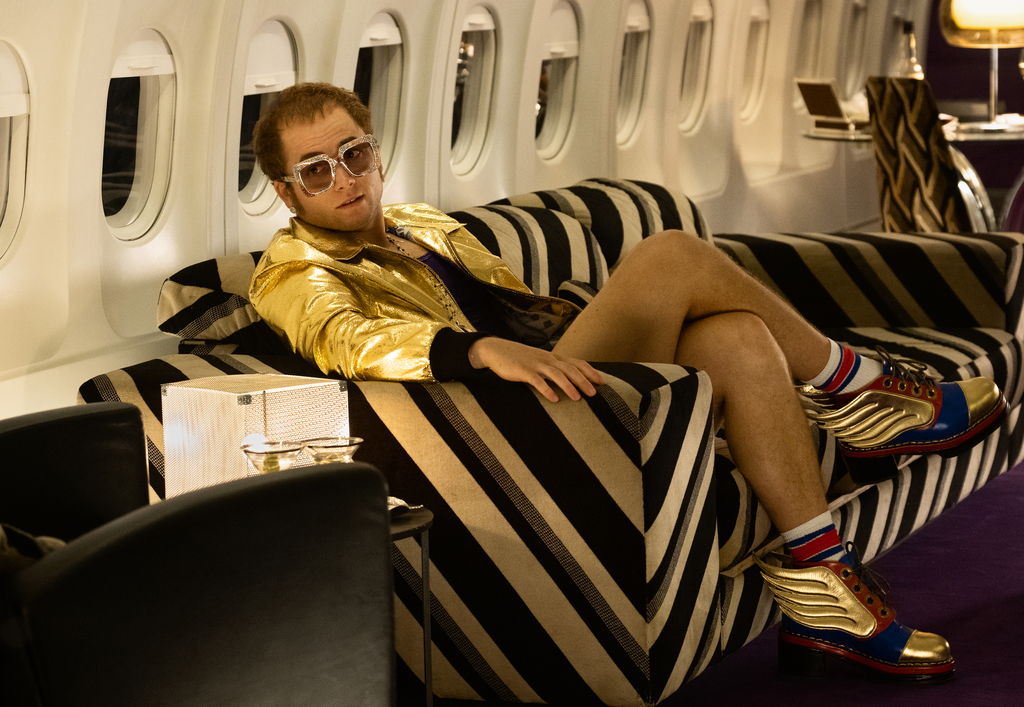 Paramount Pictures
I'm not sure why it never occurred to me that Elton John was sad. All that flamboyance, all that exuberance made him seem so joyful—but of course it had to have been masking something, right? In director Dexter Fletcher's electrifying new biopic, Rocketman, the case is made both ways: That Elton was never happier than when he was on stage, resplendent in platform boots, furs, and bedazzled eyeglasses. But that his rock star alter ego was an escape from profound feelings of loneliness and shame.
The film starts with Elton (Taron Egerton), in full stage regalia, at an AA meeting, where he admits to being addicted to alcohol, drugs, sex, shopping, and, well, what else have you got? Then we drop in on important bits of his life—and his "imperial" period of fame—to gain a clearer picture.
He was born, as most of you know, Reginald Kenneth Dwight in Middlesex, England, the son of a cold and largely absentee father (Steve Mackintosh) who would not so much as give his son a hug and a self-absorbed mother (Bryce Dallas Howard), who resented her small life. Only his grandmother (Gemma Jones), who noted young Reggie's prodigious talents on the piano, was a positive force; she was the one who took Reggie to the Royal Academy of Music, where he plopped down on a piano bench and played a Mozart sonata by ear. Eventually, he abandoned Mozart for Elvis and Motown, performing backup in local clubs to American touring artists. It was there that he got the bit of (possibly apocryphal) advice that would change his life: "You got to kill the person you were born to be in order to become the person who you want to be."
And Elton John was born.
Rocketman is a love story of sorts, between Elton and Bernie Taupin (Jamie Bell), the writer who would become his lyricist and best friend. The two men were instantly simpatico—Elton "heard" the songs the moment he read the lyrics—and the film shows them as young men bashing about London, giddy with their new friendship. Taupin is neither surprised nor upset when he finds out that his best friend is gay but he makes it clear: He loves Elton, but not like that.
Unlike the far more prosaic Bohemian Rhapsody, Rocketman fuses the traditional biopic with magical, kaleidoscopic, and sometimes poignant musical set pieces. It has moments of great giddiness, such as a scene at the famous Troubadour club in LA where Elton, finding his voice and his miraculous connection with an audience, levitates off the piano bench (the crowd levitates right along with him). It has moments that send chills down your spine, such as when Elton sits down at his family piano and composes "Your Song" on the spot, as Bernie and his family look on in quiet awe. And it has moments of deep sadness, such as when Elton, already a wealthy and famous man, is reduced to tears by his aloof father.
(One mild complaint: Because Elton didn't write the lyrics to his songs, it's a somewhat questionable choice to use them to illustrate his interior life. Still, because Taupin and Elton had such a psychic connection, it's fair to say that Taupin was often expressing what Elton could not.)
All of this is anchored by a truly remarkable performance by Egerton, who did all of his own singing for the role. He gives us the full Elton: both wildly charismatic and wildly self-destructive, both a master of the universe and a scared little boy; an artist, friend, addict, and lover forever searching for that hug.