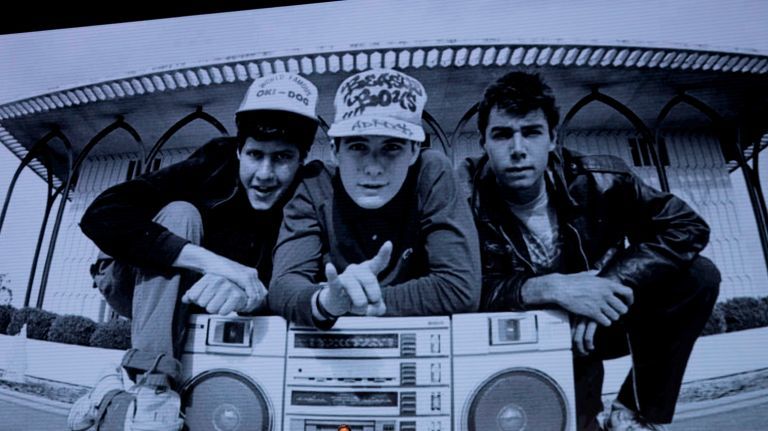 Beastie Boys Story, the new documentary about the life and times of the seminal punk hip-hop group The Beasties Boys, is a bit jarring at first. Directed by Spike Jonze, and shot at Brooklyn's King Theatre, it's ingeniously presented as a film within a film. Spliced together from several different shows, it has bandmembers Adam "Ad-Roc" Horovitz and Mike "Mike D" Diamond narrating documentary clips about the band's rise to fame in front of a live audience.
So the first jarring bit is obvious: There are two Beasties on that stage, not three. Adam "MCA" Yauch, the band's bassist—always a searcher and deep thinker, who went on to become a Buddhist, a filmmaker, and a humanitarian—died from cancer in 2012 at the age of 42. There's no Beastie Boys without Yauch, as Horowitz and Diamond acknowledge. His death may've actually been the one thing that could've broken the band up.
The other jarring thing is how, well, middle-aged the guys look. At one point, they were the very soul of youth—impudent, rowdy, nose-thumbing—and now they're two guys in their early 50s. Of course, they still have a certain youthful quality—it's a hallmark of those of us in Generation X that we retain a 20ish sense of style (and self) well into our middle years. They're both trim and dressed in slim-cut khakis and sneakers. They still act kind of goofy on stage. But the lines in their faces are undeniable.
Still, for fans of the Beastie Boys (and I'm a massive one), this doc is treasure trove—a lesson in the band's history, a license to crank up the old tunes, and a wildly nostalgic trip down memory lane.
What makes the Beasties so fascinating is that their debut album—Licensed to Ill—was something of a false start. On the one hand, it was all them—three Jewish kids from New York, obsessed with Run DMC, who wanted to imitate their heroes while adding their own bratty, chaotic, fun-loving spin. On the other, it was a parody album. "Fight For Your Right (to Party)," in particular, was meant as a send up of frat boys and their beer-bong-loving ways. But as Horovitz and Diamond express honestly, at some point—as the video was in constant MTV rotation and they went on to fill up massive arenas—the band became the thing they were parodying. The line between who they were and who the crowds wanted them to be barely existed anymore.
It didn't help that Russell Simmons of Def Jam records, who had produced that first record, didn't really appreciate them as artists. To Simmons, at least as far as the Beasties saw it, they were generic white boy rappers. Simmons was wise enough to realize that a trio of cute, frattish white rappers were poised to break through, but perhaps too busy with other projects to see that the Beasties had a fierce intelligence, a deep appreciation of musical history (particularly punk, funk, jazz, and hip-hop music), and, most importantly, genuine talent.
Their next album, Paul's Boutique, released by Capitol Records, was a commercial flop. In that sense, Beastie Boys Story has the trajectory of a typical rock biopic (there's a reason those movies often have the same plot): You start with the wild success and excess of the first album, which is followed by too much partying, too much spending, too much everything. And then you have a humbling failure that brings the party to an abrupt end.
But from there, the script is flipped: For one, Paul's Boutique, with its sophisticated sampling, clever rhymes, and complex beats, is now considered one of the best rap albums of all time. And the boys never really stopped hanging out together. They were best friends—they loved two things above all else: music and each other. There was no way they were going to stop doing what they loved.
Well, you know the rest—hit albums beyond their wildest dreams, headlining music fests, and real adulthood for all three (marriage, kids, the whole bit).
Yauch, in particular, was a true renaissance man, founding the film studio Oscilloscope and mounting the Tibetan Freedom Concert at RFK Stadium. In some ways, Beastie Boys Story plays like an homage to their fallen compadre. It's obvious that they both adored him, even idolized him. There are a few times when Horovitz breaks up when talking about his old friend, and needs Diamond to finish a sentence for him. It's tough to watch.
Despite that, the film is joyful, funny, life-affirming, and funky as hell. The Beasties have all these great memories about the band—and we do, too. The live audience—lots of gray haired Brooklynites in band tees, who laugh, whoop, cry, and sing along with the footage—are like stand ins for us at home. In a way, we all grew up together. As if we had any choice.
Beastie Boys Story is now streaming on Apple TV+